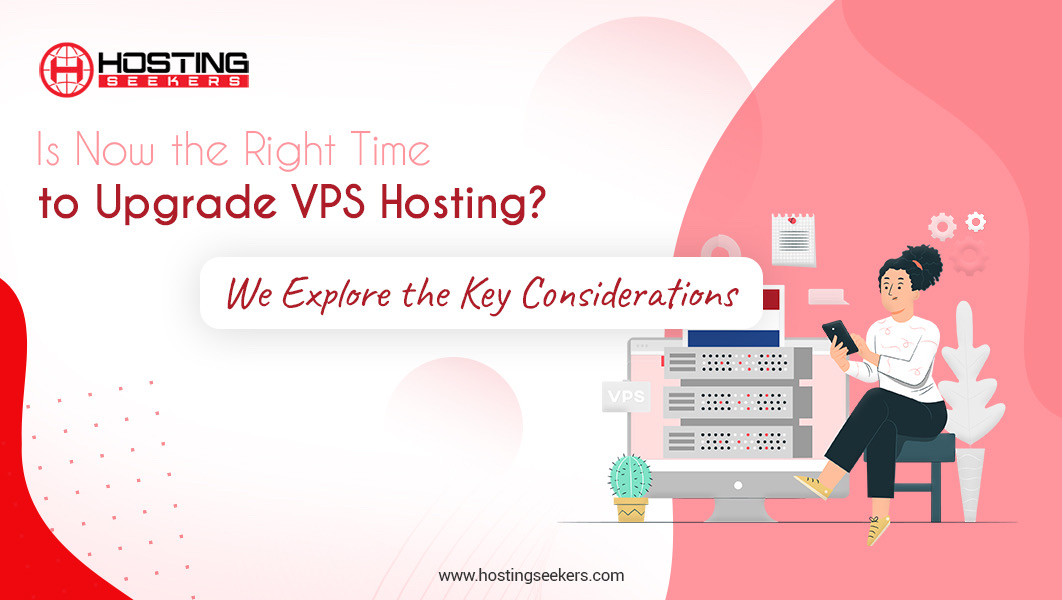 When Should You Consider Upgrading to VPS Hosting?
IT
May 25th 2023
Businesses face several important decisions when first creating a presence in the online world of eCommerce. One of the first choices they need to make is how to host their website. Over time, their first choice may need to be reconsidered. This article discusses when it's time to upgrade to a VPS Hosting Services. So, let's get started.  
---
Beginning with a Shared Server
Many companies start with a solution that hosts their website on a single physical server owned by a cloud service provider (CSP) and shared with many other customers. Several factors contribute to the attractiveness of a shared server approach. The following are the most significant reasons for using a shared hosting services.
Cost

– Hosting a website on a CSP's shared server is significantly less expensive than using a dedicated server.

Technical expertise

– Little technical expertise is required of shared server customers. The CSP handles the configuration, management, and maintenance of the shared server environment. 

Simplicity

– It's very easy to start with a shared server using the operating system and tools the CSP offers.
When sharing a server with others, customers may be subjected to inconsistent performance and resource availability issues due to the needs of neighboring websites. The limited resources of a shared server can become more than an annoyance over time and impact the website's ability to meet a client's business objectives. 
---
Benefits of a Virtual Private Server
While a dedicated server will certainly meet their needs, a company may need more IT budget or technical expertise to use it effectively. A dedicated server is much more expensive than the shared alternative and demands more hands-on technical involvement from the customer. Fortunately, a solution bridges the capabilities of shared and dedicated servers. 
A VPS offers a less expensive way of obtaining a more powerful and consistently performing website. While they are more expensive than shared servers, a VPS costs substantially less than employing dedicated hardware.
The following benefits can be expected when moving from a shared server to a VPS:
Consistent resource allocation – Resource shortage issues that plagued a website in a shared server will be diminished with a VPS. In a well-managed VPS environment, a business is guaranteed designated allotments of bandwidth, CPU, memory, and other resources to run its website. These resources will remain the same due to the usage spikes of other tenants of the same hardware as they would in a shared server. A VPS ensures that resource availability will always stay within the contracted allocation.
Enhanced security – A VPS offers the strengthened security that many organizations need. Using the dedicated resources of a VPS, a company is protected from security issues like sensitive data being inadvertently left in memory or sharing inbound connections with hundreds of other websites. The isolated nature of a VPS enhances the security of the website and protects company and customer information. 
Regulatory compliance – A VPS can be configured and managed to conform to various regulatory standards like PCI-DSS or HIPAA. It is often impossible to reach compliance in a shared environment where data from multiple clients reside on the same server. Companies operating in regulated industries need a VPS's privacy and security features to remain compliant.
Flexibility – Companies can customize a VPS to a degree impossible with a shared server. In a shared server environment, you are restricted to the generic offerings of a CSP. This often implies a Windows environment and a set of management tools that may not fit the business goals. A VPS allows for more customised configuration and the ability to run alternate operating systems like Linux. 
---
Signs an Upgrade is Required
When the performance and limitations of a shared server reach a tipping point, businesses need to upgrade to a better hosting platform. The following signs indicate it might be time to consider getting off a shared server. 
Experiencing degraded website performance – One of the first and most alarming indications you need to upgrade your web hosting solution is inexplicable performance degradation. Users may start complaining about inconsistent response times randomly caused by strain on the underlying shared hardware. 
Competing for limited resources – Competition for resources from a finite pool is probably contributing to the degraded performance a website is experiencing. In a shared server, you have no control over what other customers are doing, which can result in less than adequate availability of critical resources. This problem can't be effectively solved unless a website is migrated to a VPS or dedicated server solution. 
Acquiring regulated data – Businesses that acquire new regulated data streams need the enhanced security and compliance provided by a VPS. It's very possible that through an acquisition or entry into a different market, new and more sensitive data needs to be protected. Continuing on a non-compliant shared server is not a viable option. Quality CSPs offer HIPAA and PCI-compliant VPS hosting solutions to protect sensitive information assets. 
Outgrowing a shared server – Normal and expected business growth can strain the resources available on a shared server. Companies should monitor and track website usage and performance and proactively upgrade to a VPS before a business-critical website starts to act badly, potentially driving customers away. 
---
Planning the Upgrade to a VPS
A business can be negatively impacted by the signs that an upgrade is needed. As it becomes obvious to company decision-makers that moving to a VPS makes business sense, they should conduct an informed search for a reliable provider. Factors to consider when selecting a CSP include:
The availability of the OS and application customization the business requires.

Certifications that demonstrate compliance with any regulatory standards that must be met.

Stellar customer support will assist with usage or configuration problems that could hurt your business.

A competitive pricing plan.
---
Migrating a Website to a VPS Solution
After deciding to upgrade from a shared server to a VPS, several steps are recommended to ensure a smooth migration. It's a fairly simple roadmap that is often performed by your vendor if you are upgrading within their infrastructure or moving to a fully managed VPS solution. In some cases, these steps need to be carried out by the customer. 
Step 1: Make a complete backup of your site. This includes all files, databases, and email messages if you save them.
Step 2: Set up and configure the VPS.
Step 3: Upload your site data to the new VPS. You can use the vendor's control panel to import your databases.
Step 4: Conduct extensive testing to make sure everything is working correctly.
Step 5: Point your domain name servers to the new names provided by your CSP. 
---
Conclusion
The right time to upgrade from a shared hosting environment to a VPS varies based on business requirements. Businesses often outgrow the capabilities of a shared server and are forced to find a new method of effectively communicating with their customers. Ideally, the right time to move is before your business is affected by the shortcomings of a shared server. 
Sometimes, the move is dictated by a need to protect sensitive data and secure regulatory compliance. Other migrations to VPS solutions are driven by the need for more consistent performance and availability. Whatever the reason, upgrading to a virtual private server is a cost-efficient way to supply a more secure and better-performing website that all businesses should investigate. 
Trending Posts
Table of Contents Introduction What is WHMCS? What is the Cost o...

Summary:  SSD vs SAS vs SATA drives in detail to determine which of these t...

In our today's blog, we will discuss Dell vs HP vs Lenovo to help you choos...