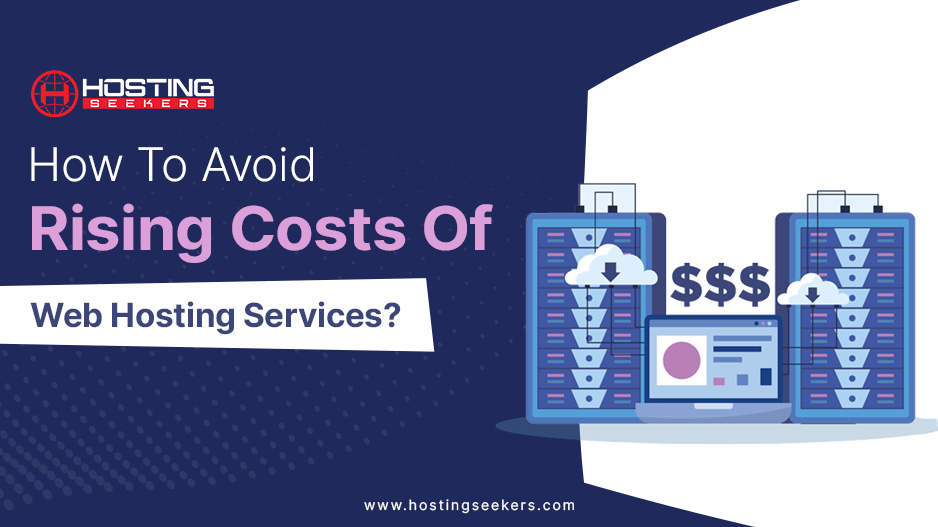 How To Avoid Rising Costs Of Web Hosting Services?
IT
September 22nd 2022
Saving money on web hosting services, domain names, marketing services, etc. is a top priority for many people. There are several ways to save money on web hosting when it comes to taking your business online.
Hosting is one of the most important determinants of a website's success or failure. It might be costly if you are not diligent because everything affects the cost of hosting your website. Therefore, you can tailor certain variables to your specific needs and budget.
This article will walk you through some of the best ways to save money on web hosting without sacrificing quality or features. So, if you are a new website owner or just want a better deal on your current hosting plan, read on for tips that can help you cut your costs.
But first, let's examine why you should be concerned about hosting fees in the first place.
One of the most significant recurrent expenses for website owners is typically web hosting fees. However, it might be among the biggest costs for a new website. Many free web hosting providers offer huge discounts to help businesses with low budgets.
These reductions are typically only available for a short period of time, and eventually, the prices rise. If you want to keep your costs low, you must choose your web hosting service provider wisely.
Tips for Saving Money On Web Hosting Budget
1. Buy A Web Hosting Plan For A Longer Period Of Time
This advice may seem insignificant in comparison to other financial advice you may have received, such as always selecting a short-term web hosting service plan. However, the situation is reversed in actuality.
When you buy a hosting package for 12 months or more, the majority of providers will give you a sizable discount. They are aware that they will have your business for a longer time. The majority of web hosting providers are renowned for their inexpensive introductory rates for brand-new clients, however, once your plan expires, the prices rapidly increase.
Therefore, buying a longer-term plan is always a good choice if you want to reduce your hosting costs. This way you will be able to keep costs down for an extended period.
2. Only Pay For Necessary Services
Web hosting providers offer an abundance of additional services. But do you need them all? Most likely not.
Therefore, when comparing different web hosting plans, be sure to carefully study the plan's inclusions. If you are aware that you will never utilize certain features, there is no purpose in paying for them.
As an illustration, they may provide email marketing tools, Digital Marketing Suite, daily backup plans, an online store builder, etc. If your firm does not need these additional services, you should not pay for them.
To save money, get only the products and services you require. It will help you minimize your existing web hosting costs and save you significant money over time.
3. Commence With Shared Hosting
The most common and cost-effective option for any new online business is shared web hosting. By sharing a server with other website owners, you can reduce your hosting expenses and save money.
A premium shared hosting package is an excellent option to launch a website. Initially, a new website typically does not receive a great deal of traffic. Shared hosting is the most cost-effective choice for such websites, thus it is ideal for them.
You may always upgrade to a more expensive type of hosting, such as VPS or Dedicated Hosting, as soon as your website begins to expand and generate revenue online. However, shared hosting is now the most cost-effective option.
---
---
4. Search For Web Hosting Companies That Provide Freebies
Numerous web hosting businesses include complimentary bonuses with their hosting plans. These freebies can range from a complimentary domain name to a complimentary SSL certificate.
When searching for a web hosting service, be sure to opt for one that provides these extras. It will help you save money each month on web hosting.
Choose a web server that provides you with more than one freebie. For instance, some hosting services provide their customers with a free domain name, a free SSL certificate, and numerous other essential features.
5. Register Your Domain Name With Hosting Plan
People frequently recommend purchasing the domain name and hosting from separate vendors. However, if you wish to save money, you can register your domain name with your web hosting company.
Many respected hosting providers offer free domain registration with their hosting plans when purchasing web hosting services. Unfortunately, these organizations frequently offer absurdly low prices for web hosting packages to entice new clients. Therefore, if you want to save money, this is a wonderful option for you.
However, before registering a domain name with a hosting company, you should verify the renewal cost. In addition, some providers impose substantial fees for domain name renewal. Therefore, if you wish to save money on domain names and web hosting, verify the renewal fees prior to registering your domain name with your hosting provider.
6. To Save Money, Use Coupon Codes
Look for coupon codes and other deals when you want to buy web hosting for your new website. There are a lot of sites that offer these coupon codes or discounts for first-time users.
Costs for web hosting can add up quickly, especially if you buy a package with more features. But you should do some research before you buy hosting services.
There are a lot of real affiliate websites that work with many web hosting companies. These websites give their visitors coupons and discount codes that can't be found anywhere else. Also, when new customer signs up through their affiliate link, they often get paid by the web hosting company.
Make sure to look at these affiliate sites to see if they have any deals or offers. It will help you save money on hosting costs in the beginning.
Final Words
There are many ways to save money on web hosting, but one of the best is to pick one hosting provider and stick with them. You can get discounts for being a loyal customer and for buying from them for a long time if you do this.
You'll also be able to get to know the provider, which will make it easier to negotiate better terms in the future. Also, before you sign up for a hosting plan, look around and compare prices.
Price differences between providers are often big, so it's important to make sure you're getting the best deal possible.
Lastly, don't be afraid to ask for coupons or discounts. Many hosting companies have deals for new customers, so it's always a good idea to ask.
Trending Posts
Table of Contents Introduction What is WHMCS? What is The Cost o...

When it comes to upgrading or buying a new PC, choosing between AMD and Int...

In our today's blog, we will discuss Dell vs HP vs Lenovo to help you choos...