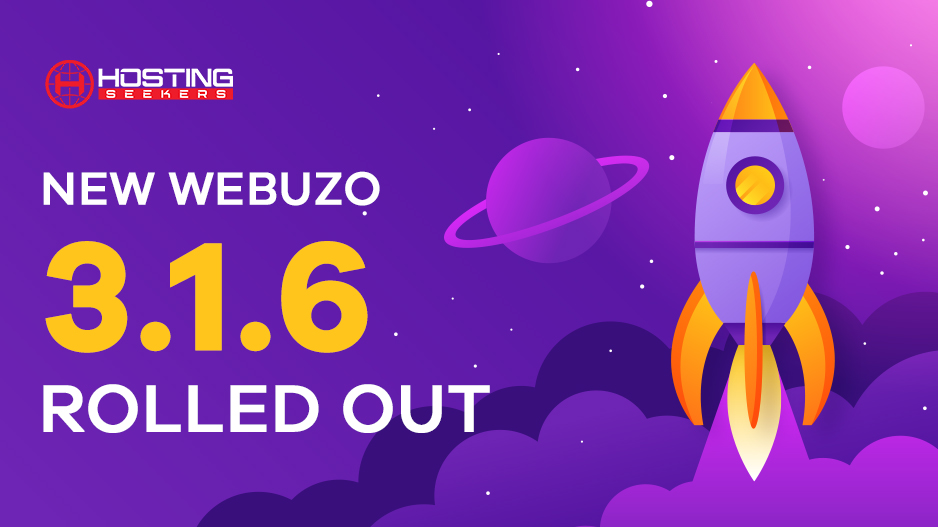 Latest Webuzo Version 3.1.6 Out Now
Business News
January 5th 2022
The popular multiuser control panel, Webuzo got another upgrade this Monday. In the latest update on its website, the Webuzo team announced its newly released version 3.6.1. The new version comes with several powerful features, some bug fixes, and task changes. 
---
Users can see the following new features in Webuzo 3.1.6:
1.  CloudLinux Support – CLoudLinux is an industry-standard product and aids in resource isolation between users.  As of now, this is a beta integration. However, it will be stabilized in the coming weeks. 
Learn to install  CloudLinux in Webuzo here: 
https://www.webuzo.com/docs/installing-webuzo/install-cloudlinux-os/
2.  Suspended Users List utility
3.  Email utility to email all users of the server.
You can find the following amendments in the new version: 
1. Users can now Enable / Disable Plugins via Webuzo CLI.
2.  PHP FPM sockets can now be created only for users with domain-specific to any  PHP version. This is done to improve the memory utilization by each user on the system.
3.  Improvement in the LetsEncrypt / ZeroSSL integration for domains hosted in Cloudflare.
4.  Improvements in the MYSQL root password resetting and CLI utility. The team is working on creating the /root/.my.cnf file for the root user to log in to MySQL from the command line.
---
SSD Vs SAS Vs SATA: Which Is Better For A Dedicated Server?
---
5.  The new version will now allow DKIM and SPF setting for Primary Domains as well.
In terms of bug fixes, the Apps List that was not working properly earlier has been fixed in the new 3.6.1 version now.
It is advised for the users to upgrade their Webuzo Control Panel immediately to experience the benefits of this amazing release. 
---
About Webuzo
Webuzo is a Multi-User Control Panel developed for hosting providers, website owners, and resellers. Webuzo can be easily installed on different types of servers. It also supports Ubuntu, CentOS, and AlmaLinux. It's a powerful and convenient Web Hosting Control Panel allowing users and hosting providers to automate server management tasks while offering the customers tools needed to manage their websites.
Trending Posts
Table of Contents Introduction What is WHMCS? What is The Cost o...

When it comes to upgrading or buying a new PC, choosing between AMD and Int...

In our today's blog, we will discuss Dell vs HP vs Lenovo to help you choos...