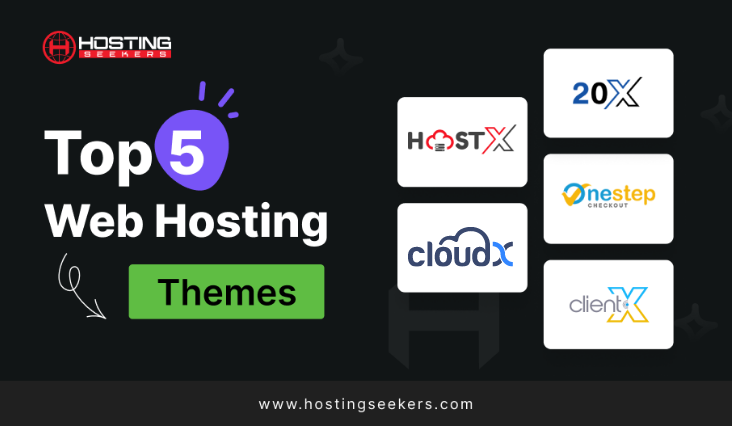 Top 5 Web Hosting Themes for Stunning Website Designs 2023
Web Hosting Tips
August 16th 2022
Table of Content
Have you ever come across websites that seem impossible to replicate? Well, surprise! You can actually create your website by utilizing suitable templates and selecting the best web hosting themes and designs.  
Although the multitude of options available online can be overwhelming, there are ways to choose the most appropriate web hosting themes for your website. Several factors should be considered, such as the overall design style, color schemes, navigation, SEO features, and functionalities related to the client area. This article will explore the top 5 web hosting themes that will help you upscale your business. Let's start with the basics of choosing web hosting WHMCS themes.
---
How to Choose the Right Web Hosting Theme?
Determine your website's purpose: Understand the primary objective of your website. Whether it's a blog, business site, e-commerce platform, or portfolio, identifying the purpose will guide your theme selection. 
Assess design and aesthetics: Look for a web hosting theme that aligns with your desired design treatment. Consider the overall style, layout, and visual elements. Pay attention to the theme's professionalism, readability, and user-friendliness. 
Responsive and mobile-friendly: Ensure that the web hosting theme is responsive and optimized for mobile devices. With a growing number of users accessing websites through smartphones and tablets, responsiveness is crucial for a seamless user experience. 
Customization options: Check if the web hosting theme offers customization features that allow you to tailor the appearance and functionality to suit your needs. Look for options to change colors, fonts, layouts, and add custom elements. 
Compatibility with plugins: Consider the compatibility of the web hosting theme with popular plugins. Plugins enhance the functionality of your website, so ensure that the theme supports the ones you plan to use, such as SEO plugins, e-commerce plugins, contact forms, etc. 
SEO-friendly features: Look for a web hosting theme that incorporates SEO-friendly features. These may include optimized code, fast loading times, clean URLs, schema markup, and integration with SEO plugins to help improve your website's visibility in search engines. 
User reviews and ratings: Read reviews and ratings of the web hosting theme to gather insights from other users. This can provide valuable information about its performance, support, and overall user satisfaction. 
Support and updates: Check if the theme developer offers regular updates and provides customer support. Regular updates ensure compatibility with the latest versions of WordPress or other content management systems, while reliable support can help address any issues or queries you may have. 
Demo and trial options: Whenever possible, explore demo versions or trial options of web hosting themes. This allows you to experience the theme firsthand and determine if it meets your requirements before making a final decision. 
---
To make the process easier for you – we've shortlisted the top 5 best web hosting themes for your website. The best part is, all these themes are WHMCS-friendly, meaning users can perform all the functionalities end-to-end:
Price : $144.00  
$86

.40 

One time only

Best suited for web hosting providers and other hosting-related services providers (SSL, VPN, Domain, VOIP, IPTV), HostX, a WHMCS Web Hosting template, is our most recommended web hosting theme.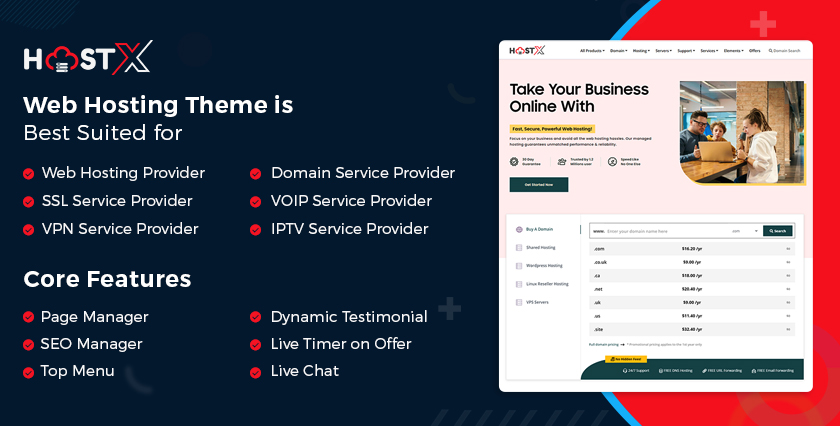 In addition to the fact that HostX is highly customizable, these are the main reasons why HostX is the best web hosting theme:
i. Page Builder Features
HostX offers an advanced page manager that provides all critical page builder features, including intuitive navigation, managing and customizing pages, and different color template options.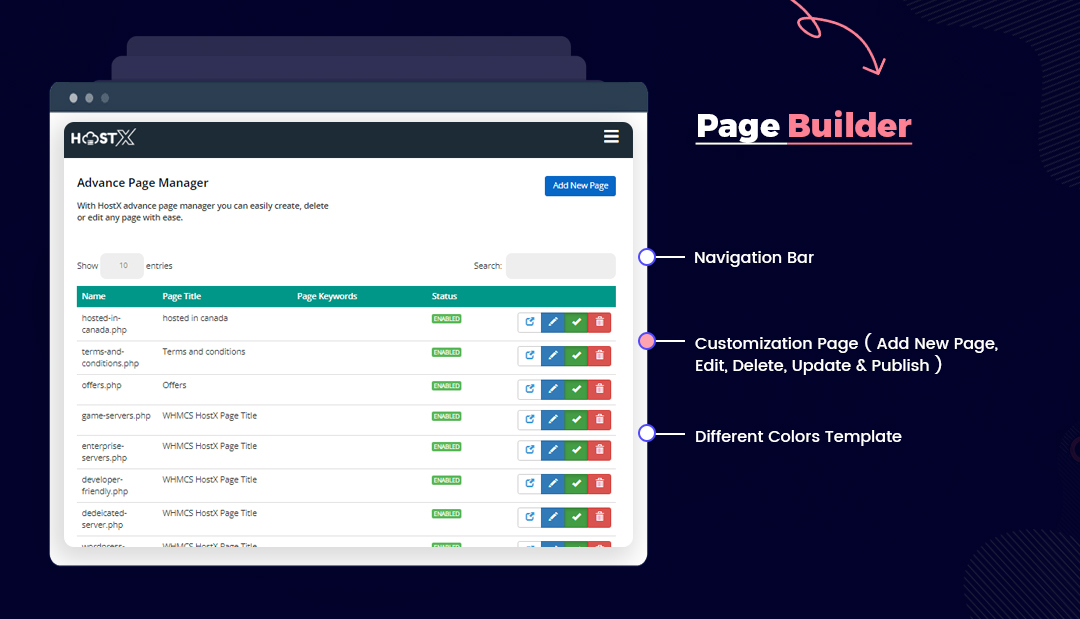 ii. SEO Features
Your website won't be any good if it isn't SEO optimized. Therefore, HostX offers features to manage your SEO, including site maps, meta tags, and other SEO elements that can be added as add-ons.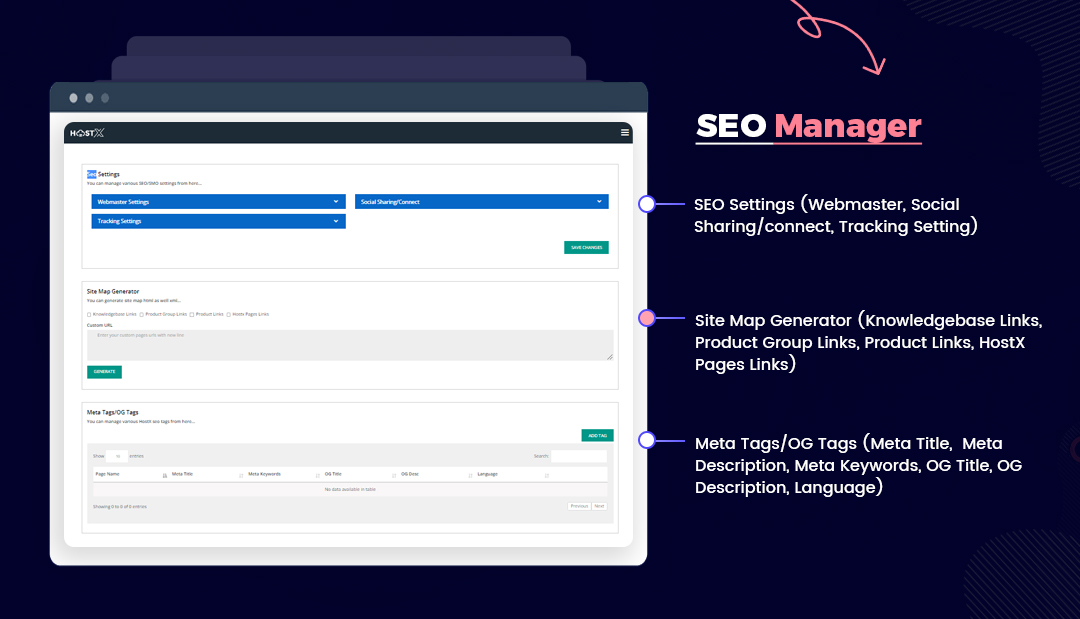 iii. Pricing Options
HostX offers three different pricing options depending on where your business is located. So, you will pay according to what makes the most sense for your business. The pricing options include an option for startups (including bootstrapped), medium-sized businesses, and for professional companies that require the capability for more than two domain names. You can also upgrade to different pricing options as you scale your business.
iv. Location Specific Features
Thanks to the internet – the world has no boundaries! And so, HostX offers location-specific features, including the capability to set currency from the backend. HostX also supports geoIP location. So, with HostX, you can be assured that you are no longer location bound.
v. Other Attractive Features
HostX goes above and beyond in its offerings and is supported by RTL. What else? This theme is well suited for IPTV service providers and VPN service providers as well.
What makes the HostX WHMCS Theme unique?

HostX includes the user area for specific products and the client area. HostX also offers one-pay checkout while the default process involves – package, configuration, and sign-up – to improve users' buying process.
---
Price : $99.50  
$5

9.40

  One time only

A custom user interface of ClientX offers site navigation with the ability to navigate the top and side menus. This client area template best suits startups with a single website and enterprises with multiple websites.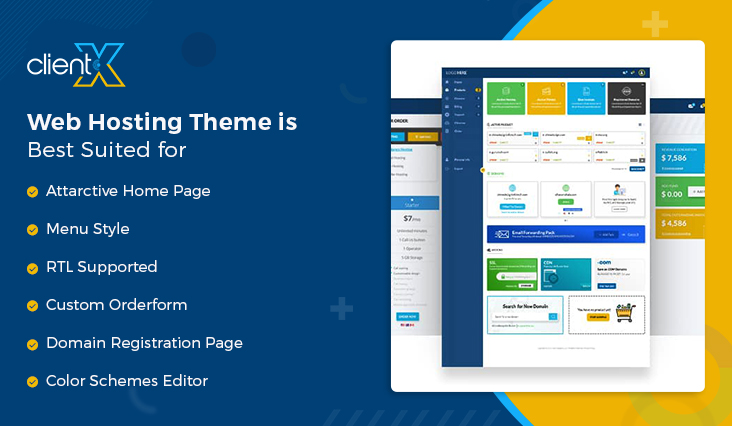 i. Homepage Features
For a seamless user experience, ClientX offers an attractive customizable homepage with menu options and a custom order form.
ii. Dashboard Features
ClientX supports RTL, a color schemes editor, and domain registration. The theme also offers a new dashboard layout and management, along with multiple styles.
---
Discount Price : $29.95   
$17.97

  

One time only

Another client area template on our list is TwentyX, a child theme with a modern look and feel. If you have an eye for design, you will appreciate the overall design treatment of this theme. Hence, this best web hosting design theme is best suited for you if you are looking for a mobile-friendly option at a highly competitive price.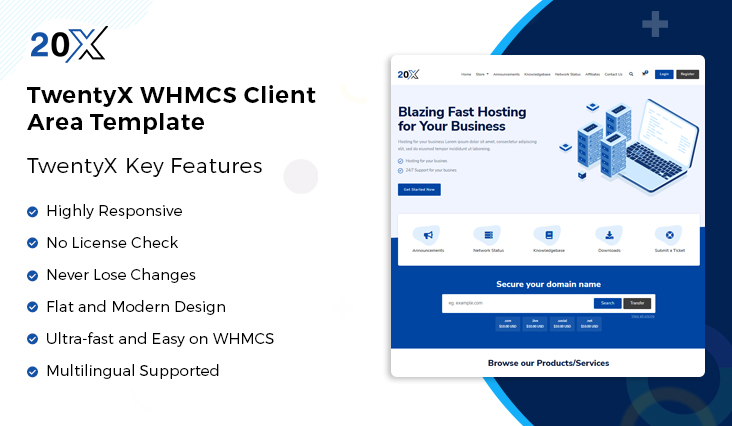 i. Responsive
The unique selling point of TwentyX is its high responsiveness on different device types. It also offers multiple client page options for users. It is ultra-lightweight, reducing the time for your users to open the site.
ii. Other features
TwentyX is compatible with multiple languages – you can support your website in various languages in different regions/locations. Also, as mentioned earlier, it offers a very intuitive design for end users to navigate the website.
---
Starting Price:

$144.00  
$
115.20
A perfect theme to start your business that comes with an abundance of personalized features. This highly intuitive theme enables you to modify and update your theme within a single click. Also, get a bunch of the best features that allow you to edit or change layouts, fonts, color schemes, fonts, multi-navigation and much more.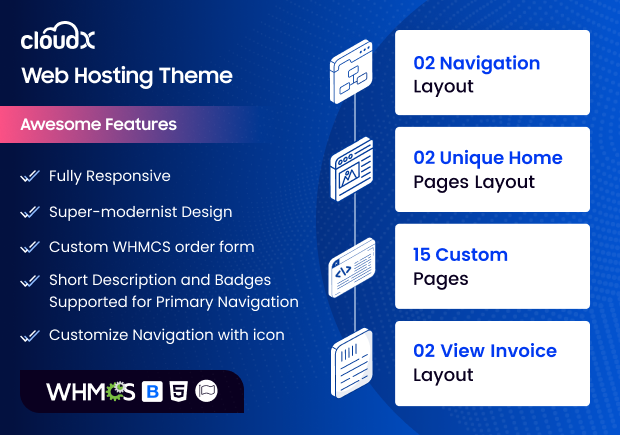 What makes CloudX unique?
Personalization   
You can design your website with this highly customizable theme. It provides top-notch personalized options that make the theme most flexible and user-friendly. 
Top-notch Features  
–Multi-layout unique homepage style.   
-15+ Pre-build unique Layout.   
-Multi-layout navigation & header style.  
-Multi-layout invoice page.   
-Multi-layout VPS / Dedicated pricing table.   
-Customized order form. 
---
Price :$130.00 
$78.00

 

One time only

Another theme focusing on the conversion rate and reduced checkout time is WHMCS One Step Checkout Order form. This WHMCS theme aims to make the checkout process for your users more straightforward and efficient. This theme is best suited for startups with a single license and enterprises with multiple website licenses.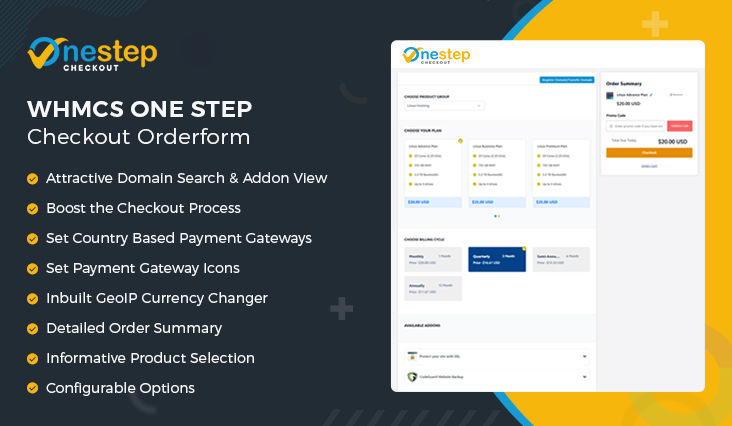 i. Payment Gateway
With this theme, you can set payment gateways based on the country and location of your offerings and your users. You can also set Payment Gateway Icons from WHMCS Admin.
ii. GeoIP Currency
WHMCS One Step Checkout Orderform offers an inbuilt GeoIP currency changer. It also provides a mini cart for mobile devices, a detailed order summary, and configurable options.
---
Summing Up
While all the above options are the top 5 best web hosting templates, each of them has its own unique selling points, the selection for the best theme will boil down to your criteria and needs. However, HostX is a clear winner as the best web hosting template with all its offerings for the web hosting providers. This fully customizable web hosting theme enables you to build your website within a day.
---
Frequently Asked Questions
Q. What are web hosting themes/templates?
A. Web hosting themes and templates refer to pre-designed layouts and visual designs that can be used to create websites. They provide a framework for organizing content, designing the overall look and feel, and customizing the website's appearance. Professionals create these themes and templates that can be easily applied to websites like blogs, e-commerce sites, portfolios, and business websites.
Q. Are web hosting themes customizable?
A. Yes, web hosting themes are highly customizable. While they provide a ready-made design, they offer flexibility for customization to match your brand and unique requirements. You can modify the colors, fonts, layouts, and other elements of the theme or template to create a personalized website. Many themes and templates also come with built-in customization options or support popular website builders, allowing you to easily make changes without any coding knowledge.
Q. Can I use web hosting templates with my existing website?
A. Yes, you can use web hosting templates with your existing website, but it depends on the website platform or content management system (CMS) you are using. Most CMS platforms, such as WordPress, Drupal, and Joomla, support the use of templates. You can install a new template and apply it to your website without affecting your existing content. However, it's important to note that some templates may require specific versions or compatibility with your CMS, so it's advisable to check the compatibility before making any changes.
Q. How do I choose the right web hosting theme for my website?
A. When selecting a web hosting theme/template for your website, consider factors such as its compatibility with your content, functionality, responsiveness, customization options, and overall design aesthetics. Additionally, ensure that the theme aligns with your brand image and supports essential features like reliable customer support and regular updates.
Q. Are web hosting themes/templates SEO-friendly?
A. Yes, many web hosting themes and templates are designed with SEO (Search Engine Optimization) best practices in mind. These themes and templates often have clean code, optimized page structures, and built-in features that improve your website's visibility in search engines. However, it's important to choose a reputable theme or template from a trusted source and follow SEO guidelines when creating content and optimizing your website. Additionally, plugins or extensions specific to SEO can further enhance your website's search engine performance.
---
Some other links worth checking:
6 Best WHMCS Alternatives For 2023
Steps To Start A Reseller Web Hosting Business From Scratch
Latest Top 6 Web Hosting Trends and Stats for 2023
How To Avoid Rising Costs Of Web Hosting Services?
Trending Posts
Table of Contents Introduction What is WHMCS? What is the Cost o...

Summary:  SSD vs SAS vs SATA drives in detail to determine which of these t...

In our today's blog, we will discuss Dell vs HP vs Lenovo to help you choos...