Types of Web Hosting and their Differences in 2023
Web Hosting Tips
May 5th 2021
Web hosting essential service that allows individuals and businesses to make their website accessible on the internet. It involves storing website files and data on a server, allowing users worldwide to access the site through their web browsers. As the internet continues to evolve, various types of web hosting have emerged, each catering to different needs and requirements. Let's explore the five types of web hosting.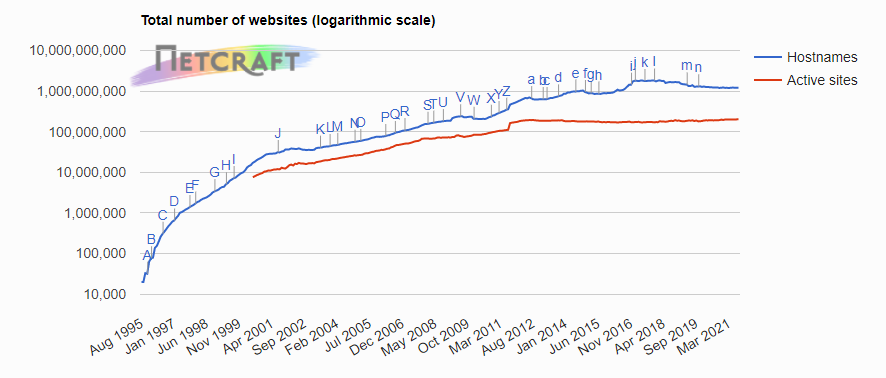 Check out the usage statistics of different web hosting providers worldwide HERE
With different types of web hosting services available online, this can be a confusing area to deal with. If this sounds like something you are struggling with, we can help!
Web hosting needs of websites depend on the overall objective of your business. So to start off, create a vision for your website/business. Estimate your requirements and then head over to an online web hosting listing directory like HostingSeekers to understand your best options, read the experience of users with different providers and analyze the benefits you can expect from a range of hosting options. 
Selecting the Web Hosting Service Providers for your business can impact the speed, security, and overall performance of your website and hence, the business. Therefore, it is crucial for you to pay for the right web hosting provider, especially when you are just starting out.
---
The Dilemma, What To Do?
What are the various web hosting types? Should I go for free or paid web hosting? What's the best shared or dedicated web hosting? Which one will be best for me: cloud or virtual server hosting? What are the top web hosting service providers? 
Confused between so many options and don't know which type of web hosting services will fit your business requirements?
If you say yes, then this article is for you.
Here we will disclose the different types of hosting and what each type of hosting service are best for. Besides, we will answer all of your queries related to all types of web hosting services.
So, let's get to the main point.
---
How to Select the Right Web Hosting Provider for Your Business?
1. Layout your business plan
To understand how you expect your business to grow, have a business plan in place. Your existing and future business strategy will help you to understand your current web hosting needs.
2. Understand the factors that you need to consider
Before you choose a hosting provider, understand the Factors You Need to Consider. Some of these factors include the expected speed, performance, uptime, memory, support needed, etc.
3. Visit an online web hosting directory
You can either spend a good deal of time researching a list of web hosting providers or then researching the plans they offer. Or, you can simply head over to an online web directory that has already shortlisted the best-performing web hosting providers and laid out their plans.
4. Compare your options
Before you buy, compare your options, understand the features offered by all the shortlisted web hosting companies and compare the user reviews of these companies.
5. Finalize the one that suits your needs
Once you are convinced which provider fulfills most of your needs, finalize it. Next, check with them for the support they offer, the prices they'll charge at the time of renewal, etc. If everything looks good, go ahead and buy the right package from the right provider!
---
Main Types of Web Hosting and Who Should Use Them?
Here are 5 different types of web hosting services you need to carry out your online business:
Shared Hosting

VPS Hosting

Dedicated Hosting

Managed Hosting

Cloud Hosting
---
Factors to Consider When Choosing the Best Web Host for Your Business
---
Note: Before you proceed to different types of hosting, you must know the factors to consider while choosing a Web Hosting Service.
Since the requirements of all websites are not the same as large enterprises and so every website requires something different as per their business needs.
Let's find out what type of web hosting suits your business.
5 Types of Web Hosting You Must Consider in 2023
1. Shared Hosting
Shared Hosting hosts various web pages in one web server, divided into several folders, each containing a single web. All the resources of a computer, like RAM, CPU, Internet, etc., are shared among various websites hosted on it, which is why it is called shared hosting.  
 Since several clients share the same resources, only some can access your crucial data. You will be allotted your own private and exclusive space with the highest security standards, and the load generated by the web on the server will be shared. This is one of the most famous types of web hosting.
Pros
Shared Hosting offers a large number of business advantages, among which the following stand out:
Shared Hosting is much cheaper than VPS Hosting or Dedicated Hosting.

 

The maintenance and management of the server are not your headaches. It is the responsibility of Shared Hosting Service providers.

 

You can access multiple email accounts along with your domain.

 

You will get complete support for MySQL and PHP.

 

You don't need advanced technical knowledge to manage your website using shared hosting.
Cons
Perhaps there are several amazing benefits of using shared hosting, but there are some serious drawbacks also. For example:
Your crucial database might be prone to cyber-attacks or malicious software affecting your entire website.

 

While sharing the resources with other websites, you may experience slow processes and slightly sluggish website loading.

 

There will be several limitations regarding the memory for storage space and CPU.

 

Your hosting plan might have only a few hosting features compared to other hosting.
---
Top 7 Best Shared Web Hosting Providers of 2023
---
2. VPS Hosting
A virtual Private Server is a virtualized space hosted on a physical machine or computer network that occupies multiple VPS servers. Each VPS operates independently, with users having full control over their server resources, including RAM, CPU, disk space and IP addresses, tailoring them to their specific requirements.  
VPS hosting solution is well-regarded for delivering exceptional performance, reliability and security without sharing resources with other VPS instances on the same machine. Opting for reputable VPS service providers is highly recommended for those seeking a hosting option that combines top-notch features with cost-effectiveness.
Pros
Among all the major advantages of VPS hosting you find the following:

You will get a completely dedicated IP address for your website.

 

You will get faster and more reliable hosting services to run your business smoothly.

 

If your website reaches peak traffic, then your website won't get crashed.

 

You will be able to customize and install the applications and programs you need to run your business.

 

You will have complete access to configure your server according to your requirements.

 

As your business grows, you start getting more traffic, you can add more resources to your website easily.
Cons
The cost of VPS hosting plans will be a bit higher.

 

You require advanced technical skills to perform admin tasks and server configuration as misconfigured servers might lead to serious vulnerabilities.

 

You will have a very poor tolerance to hardware failures and there is no guarantee of the actual server availability.
---
How to choose best VPS Hosting Providers?
---
3. Dedicated Hosting
Dedicated hosting refers to a hosting server that provides exclusive and complete access to a single website or client. This type of hosting can be set up either internally, within an organization's infrastructure, or externally, as a service provided by a hosting provider. With dedicated server hosting, the physical resources and machinery are entirely dedicated to a single account, ensuring that the user does not share server space with other accounts or clients.
Pros
Web application and other failure issues will not affect your website's availability and speed.

 

You will get complete access to the server and will be able to make all the necessary setting changes to your website.

 

Since you will get a server exclusively, you can install your own applications and perform special configurations to speed up your website.

 

Using a dedicated server means you will get a super-fast performance along with stability and 100%-page load time.

 

Your website will be highly secured with measures like firewall and antiviruses due to which your -functions will work better.

 

With your dedicated hosting, you will get 24/7 technical support throughout the year, and you will never face any technical difficulty.
Cons
The cost of dedicated hosting is a bit higher than shared and VPS type hosting and if your website doesn't get too much daily traffic then, choosing dedicated hosting might not be a great option for you.

 

You must know about configuring web hosting servers and installing applications correctly.

 

If you have purchased dedicated hosting for your business, then you cannot simply walk away with your server if you are unhappy with your service provider.
---
Top 7 Dedicated Server Hosting Providers in USA
---
4. Managed Hosting
Managed Hosting is a premium web hosting solution where the service provider assumes full responsibility for managing all aspects of your website's resources. This alleviates you from the burden of overseeing technical intricacies, allowing you to concentrate on critical business operations, particularly if you are running a sizable enterprise.
Pros
Your website will be super-fast all the time and if the traffic spikes up, your service provider team has got your back.

 

You will get a properly configured server and applications, so don't have to worry about any technical assistance.

 

You will get the freedom to install any application or software that fits your business requirements.

 

You never have to worry about your website's security or data breaches as everything is managed by professionals.
Cons
Managed hosting is costly as whenever you need to install some application or any technical task, you need to take purchased technical assistance from the provider.

 

All of your website's control is given away to your service provider and you cannot perform configuration tasks on your own.
---
Introducing Managed WordPress Hosting on HostingSeeker's Marketplace
---
5. Cloud Hosting
Cloud Hosting entails utilizing servers built on cloud computing technology. In essence, it involves hosting on virtual servers, liberating businesses from the constraints of physical hardware or dedicated servers. 
 The decision to opt for cloud hosting grants the advantage of paying solely for the resources utilized, eliminating the necessity of investing in hardware for managing online operations. With the flexibility to procure the desired amount of storage space, the servers remain seamlessly connected to the cloud, ensuring efficient performance and accessibility.
Pros
Everyone can access your website from any device from all around the world.

 

You will save software, hardware, and technical costs to manage your online business.

 

Your website is more secure on the web than it is on your hard drive.

 

Cloud's highly encrypted security will never let hackers or malware attack your website.

 

Your vendor will manage and optimize everything for you, so you don't have to worry about your technical knowledge.

 

You can expand your storage space and features at any time as per your business needs.
Cons
Since no cloud service providers offer permanent data accessibility there might be downtime with your website about which you can't do anything.

 

You will always have to depend on the Internet connection to access or run your website.
---
List of Top 10 Cloud Hosting Providers
---
Summing Up
Choosing the appropriate the right hosting type depends on factor like website, budget, size, expected traffic and technical expertise. Analyzing and understanding the unique needs of your business will lead to a well-informed decision, ultimately, ensuring a smooth and successful online presence.
Happy hosting!
---
Frequently Asked Question
Q. What are the different types of web hosting?
A. Here are 5 different types of web hosting you need to carry out your online business:
Shared Hosting

VPS Hosting

Dedicated Hosting

Managed Hosting

Cloud Hosting
Q. How many types of web hosting?
A. Here is the list of the Best types of hosting services 
1. Shared hosting service
2. Reseller hosting business
3. Virtual Dedicated Server
4. Dedicated hosting service
5. Managed hosting service
6. Colocation web hosting service
7. Cloud hosting
8. Clustered hosting
9. Grid hosting
Q. What is VPS Hosting?
A.  Virtual Private Server is a virtual space located in a physical machine or computer network that integrates multiple VPS servers.
Q. What is Cloud Hosting?
A. Cloud hosting basically refers to the servers based on cloud computing technology. 
Q. What is Dedicated Hosting?
A.  A hosting server with a completely dedicated server exclusively to a single site is what we call dedicated hosting
HostingSeekers is a popular

web hosting directories

that list over 500 hosting providers from across the globe. Visit our website & choose a hosting provider based on our genuine user reviews and your specific business needs. In case you need any assistance regarding web hosting, feel free to

contact us

& we are here to help.
Trending Posts
Table of Contents Introduction What is WHMCS? What is the Cost o...

Summary:  SSD vs SAS vs SATA drives in detail to determine which of these t...

In our today's blog, we will discuss Dell vs HP vs Lenovo to help you choos...