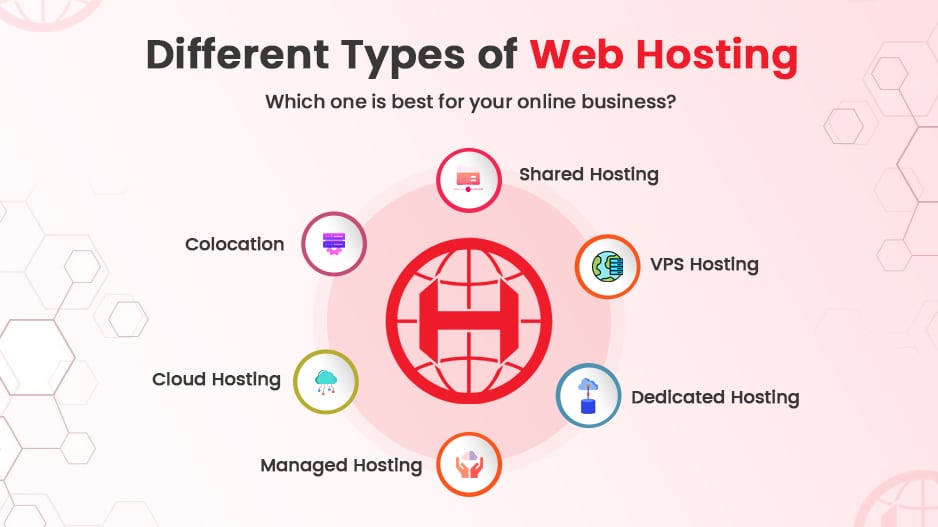 What are the 5 Types of Web Hosting? | Beginners, Listen up!
Cloud Industry, IT
May 5th 2021
The Dilemma, What To Do?
What are the types of web hosting? Should I go for free or paid web hosting? What's the best shared or dedicated web hosting? Which one will be best for me: cloud or virtual server hosting? What are the top Web Hosting Service Providers?

Confused between so many options and don't know which type of web hosting will fit your business requirements?

If you say yes, then this article is for you.

Here we will disclose different types of web hosting and what each type of hosting is best for. Besides, we will answer all of your queries related to all types of web hosting servers.

So, let's get to the main point.
Types of Web Hosting and Who Should Use Them?
Here are 5 different types of web hosting you need to carry out your online business:
Shared Hosting

VPS Hosting

Dedicated Hosting

Managed Hosting

Cloud Hosting
Note: Before you proceed to different types of web hosting, you must know the factors to consider while choosing a Web Hosting Service.
Since the requirements of all websites are not the same as large enterprises and so every website requires something different as per their business needs.
Let's find out what type of web hosting suits your business.
1. Shared Hosting
This type of web hosting hosts various web pages in one web server, which is divided into several folders and each folder contains a single web. All the resources of a computer like RAM, CPU, Internet, etc., are shared among various websites hosted on it and this is the reason it is called shared hosting.

Since several clients share the same resources but this does not mean everyone can access your crucial data. You will be allotted your own private and exclusive space with the highest security standards and the load generated by webs on the server will be shared. This is one of the most famous types of web hosting.

Pros
Shared Hosting offers a large number of business advantages, among which the following stand out:
Shared Hosting is so much cheaper as compared to VPS Hosting or Dedicated Hosting.

The maintenance and management of the server is not your headache. It is the responsibility of Shared Hosting Service providers.

You can access multiple email accounts along with your own domain.




You will get complete support for MySQL and PHP.

You don't need any advanced technical knowledge to manage your website while using a shared hosting
Cons
Perhaps there are several amazing benefits of using shared hosting, but there are some serious drawbacks also. For example:
Your crucial database might be prone to cyber-attacks or malicious software that might affect your entire website.

While sharing the resources with other websites, you may experience slow processes and a slightly sluggish website loading.

There will be several limitations regarding the memory for storage space and CPU.

Your hosting plan might have only a few hosting features as compared to other hostings.
---
2. VPS Hosting
A VPS Server aka Virtual Private Server is a virtual space located in a physical machine or computer network that integrates multiple VPS servers. All the settings for each VPS server are independent of each other and the users can manage their own server resources like RAM, CPU, disk space, IP, etc, as per their requirements. This is another famous type of web hosting.
Every VPS has its physical resources, which allows them to perform efficiently. Besides, the latter is not shared with other VPS that are created on the same machine. So, if you are looking for hosting that offers great performance, reliability, and security at affordable pricing, then go for VPS hosting.
Pros
Among all the major advantages of VPS hosting you find the following:

You will get a completely dedicated IP address for your website.

You will get faster and reliable hosting services to run your business smoothly.

If your website reaches peak traffic, then your website won't get crashed.

You will be able to customize and install the applications and programs you need to run your business.

You will have complete access to configure your server according to your requirements.

As your business grows, you start getting more traffic, you can add more resources to your website easily.
Cons
The cost of VPS hosting plans will be a bit higher.

You require advanced technical skills to perform admin tasks and server configuration as misconfigured servers might lead to serious vulnerabilities.

You will have a very poor tolerance to hardware failures and there is no guarantee to the actual server availability.
---
3. Dedicated Hosting
A hosting server with a completely dedicated server exclusively to a single site is what we call dedicated hosting. This type of hosting can be configured internally or externally as a service. In dedicated server type hosting the physical machines and resources are solely dedicated to one account and the user doesn't share the space with other accounts or clients.
If you use dedicated hosting, this means all the space and resources will solely be used by you and you can use them however you want. It is like renting a room inside a flat, on the other hand, VPS hosting is like renting a flat within a building.
Pros
Web application and other failure issues will not affect your website's availability and speed.

You will get complete access to the server and will be able to make all the necessary setting changes to your website.

Since you will get a server exclusively, you can install your own applications and perform special configurations to speed up your website.

Using a dedicated server means you will get a super-fast performance along with stability and 100% page load time.

Your website will be highly secured with measures like firewall and antiviruses due to which your functions will work better.

With your dedicated hosting, you will get 24/7 technical support throughout the year and you will never face any technical difficulty.
Cons
The cost of dedicated hosting is a bit higher than shared and VPS type hosting and if your website doesn't get too much daily traffic then, choosing dedicated hosting might not be a great option for you.

You must have knowledge of configuring web hosting servers and installing applications correctly.

If you have purchased dedicated hosting for your business, then cannot simply walk away with your server if you are unhappy with your service provider.
---
4. Managed Hosting
Managed hosting is a type of web hosting in which all your websites' resources are managed by the service provider and you don't have to worry about anything. If you are handling a large business and don't have time to manage your website, then choosing this type of web hosting is the best option for you.
In managed type hosting you will get plenty of resources, disk space, and servers so that your business runs smoothly all the time seamlessly and you can focus on exactly what's important.
Pros
Your website will be super fast all the time and if the traffic spikes up, your service provider team has got your back.

You will get a properly configured server and applications, so don't have to worry about any technical assistance.

You will get the freedom to install any application or software that fits your business requirements.

You never have to worry about your websites' security or data breaches as everything is managed by professionals.
Cons
Managed hosting is costly as whenever you need to install some application or any technical task, you need to take purchased technical assistance from the provider.

All of your website's control is given away to your service provider and you cannot perform configuration tasks on your own.
---
5. Cloud Hosting
Cloud hosting basically refers to the servers based on cloud computing technology. Simply put, it is the type of hosting on virtual servers, so that you no longer have to depend on a computer or some physical server.
Choosing cloud hosting means you only pay for what you actually need and you don't have to invest on purchasing hardware to manage your online business. You can purchase as much storage space as you want and your servers will always be connected to the cloud.

Pros
Everyone can access your website from any device from all around the world.

You will save software, hardware, and technical costs to manage your online business.

Your website is more secure on the web than it is on your hard drive.

Cloud's highly encrypted security will never let hackers or malware attack your website.

Your vendor will manage and optimize everything for you, so you don't have to worry about your technical knowledge.

You can expand your storage space and features at any time as per your business needs.
Cons
Without the Internet, no one can access your website.

Since no cloud service providers offer permanent data accessibility so there might be downtime with your website and about which you can't do anything.

You will always have to depend on the Internet connection to access or run your website.
---
Among Different Types of Web Hosting, What's Your Pick?
Everyone who's going to start a web project always thinks about the types of web hosting their business requires and the top trends of Web Hosting 2021. Therefore to make it super simple, we have come up with this technical guide. Here we have disclosed 5 different types of web hosting along with their advantages and disadvantages. Whatever your business is, you can read this article comparing the pros and cons of each type of hosting and choose the best type of web hosting for your business even without any fear of making a mistake in your choice.
Happy hosting!
---

Some other resources worth checking: