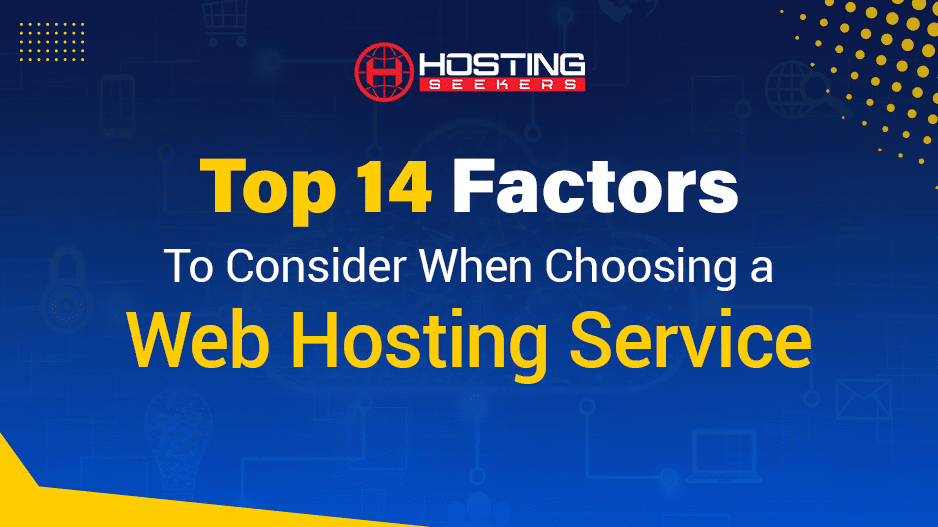 Factors to Consider When Choosing the Best Web Host for Your Business
Web Hosting Tips
January 22nd 2021
Table of Content
Introduction
If you are facing obstacles in finding the best web host for your business, you have landed in the right place. A reliable web host is crucial for delivering the best online experience and establishing a strong web strategy for your business. Your website is a vital communication tool and a platform to showcase your products, brands, and services.
With a variety of hosting options available on the web, selecting the best hosting company can be challenging. Staying updated with the top web hosting trends is essential to ensure you drive a significant online presence to your website. This guide aims to help you make an informed decision.
---
Understanding the Importance of Selecting the Best Web Host
When it comes to website hosting, it's vital to understand the impact it has on your online presence. A reliable web host ensures that your website is always accessible to visitors, providing a seamless browsing experience. Here are a few reasons why choosing the right web host is crucial:
Website Performance: The loading speed of your website plays a significant role in user satisfaction and search engine rankings. A reputable web host will utilize powerful servers and cutting-edge technologies to ensure fast page loading times, reducing bounce rates and enhancing user engagement.
Uptime Guarantee: Downtime can be disastrous for your website, leading to loss of traffic, potential customers, and revenue. Look for a web hosting provider that offers a high uptime guarantee, typically 99.9% or above, ensuring your website remains accessible to users at all times.
Scalability and Resources: As your website grows, you'll require additional resources to accommodate increased traffic and data. Opt for a web host that offers scalable hosting plans, allowing you to easily upgrade your resources as your website expands, without experiencing any downtime or performance issues.
---
Top 14 Key Factors to Consider when Choosing the Best Web Host for Your Business
Here are the top tips to consider before choosing a web host:
1. Your Website Type
2. Its Uptime
3. Its Pricing
4. Website's Performance
5. Control Panel
6. Website's Scalability
7. Website's security
8. Backup
9. Error monitoring
10. Customer Support
11. Storage Availability
12. Website's Analytics
13. Ratings and Reviews of the Host
14. Addon Services
---
Lets Discuss these Points in Detail
Now, let's explore these tips in detail and decide accordingly which hosting company and package best suits your needs.
1. Your Website Type
The initial and crucial step is to identify the nature of your website. Verify whether the web hosting provider has experience working with businesses like yours. For instance, if you operate an e-commerce store, you should consider factors such as performance, network latency, capability to handle background tasks, and efficient front-end delivery activities. This will ensure that your website operates professionally and effectively.
2. Uptime
Maintaining an online presence is of utmost importance for your business website. Therefore, when searching for a hosting provider, it is essential to assess their stability. An excellent indicator of stability is a high uptime score. The closer the score is to 100%, the more reliable the service availability is guaranteed to be. Opting for a company that offers uptime above 99% ensures a professional and dependable web hosting service.
3. Pricing
When searching for the ideal web hosting provider, you will come across numerous service providers offering similar services at varying prices. The reason behind this is the multitude of factors that need to be considered when selecting a web hosting company. Your specific requirements play a crucial role in this decision-making process.
For instance, if you plan to host a basic webpage with minimal traffic, opting for the most affordable service would generally suffice. However, if you have a more complex website that requires additional features and functionalities, it becomes essential to consider other factors as well. In such cases, prioritizing professionalism and ensuring the web host meets your specific needs becomes crucial.
4. Website Performance
In order to achieve outstanding performance, it is crucial for your website to possess a robust internet connection. The speed of this connection is directly correlated to the available bandwidth. When faced with a slow connection, the loading time increases significantly, causing frustration for users. Consequently, the speed at which your website connects to servers serves as the foundation of any company.
It is of utmost importance to exercise caution, as Google considers page speed when determining search rankings. If you aim to enhance your SERP rankings and attract a larger volume of organic traffic, it is imperative that your website loads swiftly.
5. Control Panel
The control panel is an essential component of managing a website. It serves as the user interface that allows you to directly manage various aspects of your website and hosting environment. Choosing a user-friendly control panel is crucial because it simplifies the process of making changes to your website. If the control panel is overly complex or challenging to use, it can become a significant inconvenience whenever you need to make even small modifications.
Among the popular control panels available, cPanel web hosting stands out as one of the most widely used options worldwide. Other notable control panels include sPanel, Plesk, and DirectMail. If you are uncertain about which hosting control panel is best suited for your business, you can refer to a comprehensive guide such as "Plesk vs cPanel vs DirectAdmin" to gain clarity and make an informed decision.
6. Scalability
Scalability is a crucial aspect for every online merchant, regardless of the nature of their business. As they aim to grow and expand their operations over time, it is essential to ensure that the chosen web hosting company offers the option to upgrade to higher hosting plans. This approach not only proves to be cost-effective but also convenient, particularly when the existing hosting resources are fully utilized and there is a need to scale up.
Frequently switching between hosting providers is not advisable. Instead, it is advisable to select reliable hosting providers and maintain a long-term association with them. Certain hosting companies offer various types of web hosting, such as VPS hosting, shared hosting, reseller hosting, and dedicated hosting. This allows merchants to select a hosting plan that aligns with their specific requirements.
7. Security
A reliable web hosting company should prioritize the use of encryption technology to ensure secure communication between users and servers, as well as between the web host server and your business server. This measure is crucial for safeguarding your sensitive data from potential hackers.
If you haven't implemented effective website security measures yet, it is essential to do so without delay. With that in mind, here are several factors to consider when searching for a potential web hosting provider:
SSL Certificate: Secure Sockets Layer (SSL) certificates facilitate the encryption of data transmitted between your web server and visitors' browsers. By implementing SSL, you can protect your users' sensitive information from being compromised.
Antivirus Scanner: An antivirus scanner plays a vital role in detecting and removing any malicious software that could potentially damage your website. It helps ensure the integrity and security of your web content.
Firewall: A firewall is a robust security system that filters and prevents various types of cyberattacks. By employing a firewall, you can fortify your website's defenses and enhance its overall security posture.
DDoS Mitigation: Distributed Denial-of-Service (DDoS) mitigation measures are designed to prevent intruders from overwhelming your server resources and causing disruptions to your website's availability. Implementing DDoS mitigation techniques can help protect your website from such attacks.
8. Importance of Backups
Ensuring the availability of backup services is of utmost importance to prevent any unfortunate loss of website files. By having reliable backup services in place, the risk of starting from scratch is eliminated, and the restoration process becomes swift and hassle-free. 
It is always advisable to opt for a web hosting service that offers regular automated backups along with a convenient single-click restoration feature. This eliminates the need for manual website backups, alleviating any concerns in that regard.
Related Article: Why Is Website Backup is Necessary?
9. Error Monitoring
When starting out with web hosting, it's natural to seek guidance to ensure a smooth experience. To safeguard your users' satisfaction, your hosting provider will diligently monitor all aspects and promptly notify you of any concerns.
Respected companies prioritize transparency by clearly communicating any performance, security, server usage limit, or other issues they detect. This professional approach ensures that you stay informed about potential glitches and enables you to address them promptly.
Related Article: Top 10 Best Website Monitoring Services and Tools
10. Customer Support
Customer Support plays a vital role in the web hosting industry, where continuous availability and efficient problem-solving are paramount. A reputable hosting service provider should prioritize high-quality customer support that operates round the clock and caters to customers' diverse language needs.
Uninterrupted assistance from a responsive support team is invaluable when it comes to troubleshooting issues. It is essential for the hosting company to offer various channels of communication, such as live chat, email, or phone support. The support team should promptly respond to customer inquiries, aiming to resolve them in the shortest possible time. Additionally, the company should also provide extensive documentation that allows customers to easily access relevant information and resources.
11. Storage Availability
It is evident that your website will contain various types of content, such as text, images, videos, and other media files, in addition to code. Therefore, your chosen hosting company will allocate dedicated storage space where you can store all the necessary files for your website.
The amount of storage space required will depend on the nature of your business and the continuous addition of new files. It is important to select a web hosting company that offers a service tailored to your specific needs. It is advisable to communicate your requirements to the hosting company beforehand. If you require more storage space, inform them accordingly, and likewise, if you need less. This proactive approach will help you save money by avoiding unnecessary storage costs.
12. Analytics & Reports
It's great to see that you recognize the importance of analytics in driving your marketing and content strategy. The availability of real-time updates can indeed make things more accessible and help you make data-driven decisions. When choosing a web host, it's beneficial to consider their built-in analytics offerings.
Also, look for a web host that seamlessly integrates analytics into your website. It should be easy for you to set up and connect your website to an analytics platform or tool of your choice. This integration will allow you to track essential metrics and gain valuable insights.
13. Ratings and Reviews of the Host
When selecting a company for web hosting services, it is crucial to dedicate some time to examine the ratings and reviews from past customers. This valuable feedback offers insights into the provider's reliability and the quality of their services.
It is advisable to prioritize a web hosting provider with a solid reputation in the market, even if it means paying slightly more. Opting for a reputable host can prevent potential complications and challenges down the road, making it a wise long-term investment.
14. Addon Services
When expanding your business, it is advantageous to consider incorporating add-on services. These services enable you to establish multiple domain names and websites while remaining with a single hosting provider. The added benefit of this approach is cost savings, as you avoid the need to pay for multiple hosting services. Furthermore, such consolidation provides SEO advantages. Therefore, it is crucial to conduct thorough research and make wise choices when selecting and implementing these services to enhance the professionalism of your online presence.
---
Summing Up
By diligently following the recommendations, you can significantly enhance your confidence in selecting a suitable web hosting service. The process of choosing a reliable provider requires thorough groundwork and extensive research. It is essential to remember that dedicating a few additional days to thoroughly evaluate potential options before deciding can be a wise investment, saving both valuable time and financial resources in the future.
---
Frequently Asked Questions
Q. How do I choose a good web host?
A. Before choosing a web host you can consider these 14 points: Your Website Type, Its Uptime, Its Pricing, Website's Performance, Control Panel, and many more.
Q. What are the four basic types of web hosting?
A. Here are the four basic types of web hosting services 
1. Shared web hosting service
2. Cloud hosting
3. Dedicated hosting service
4. VPS Hosting
Q. What is web hosting?
A. Web hosting is an online service that allows you to publish your website on the Internet.
Q. Do I need a domain for a website?
A. To make an identity of your website you definitely need a domain name.
Q. What is WHOIS?
A. WHOIS is a public database that contains a list of general information about who owns a domain and how to get in contact with them.
---
Some Other Links Worth Checking: –
Trending Posts
Table of Contents Introduction What is WHMCS? What is the Cost o...

Summary:  SSD vs SAS vs SATA drives in detail to determine which of these t...

In our today's blog, we will discuss Dell vs HP vs Lenovo to help you choos...