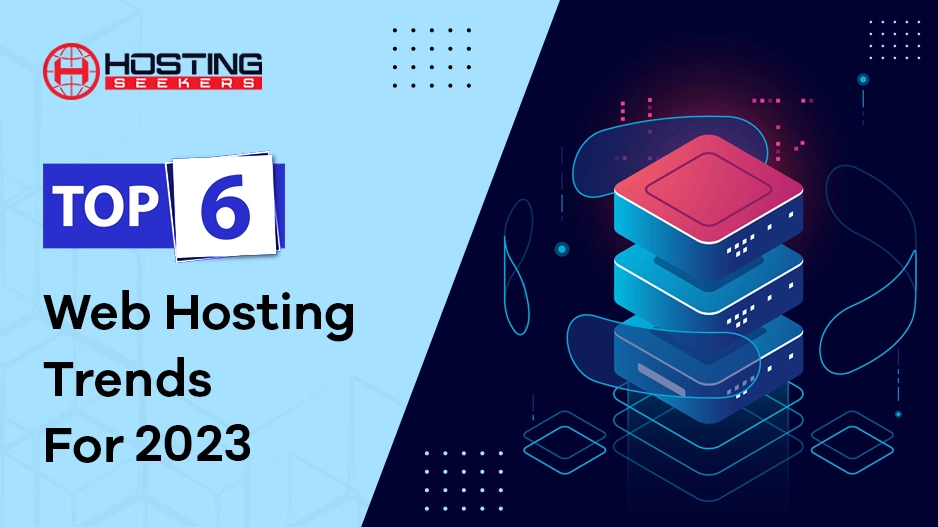 Latest Top 6 Web Hosting Trends and Stats for 2023
Web Hosting Tips
May 22nd 2023
Table of Content
---
Web Hosting Trends

In this evolving landscape of the digital world, web hosting remains the backbone of success and online presence. As we enter into the good promising year 2023, it's crucial to stay ahead of the competitive curve and embrace the latest trends that will shape the future of web hosting. From cutting-edge technologies to user-centric experience, this blog unveils the top six web hosting trends for 2023 that will revolutionize the way businesses thrive in the competitive digital world. So, let's dig deep into the web hosting trends for 2023 that will keep your company updated.
Before directly shifting towards web hosting trends, let's understand how the web hosting market is evolving and changing the business perspective around the globe.
---
Advent of Web Hosting
There are more than 2 billion active websites. With the online world enhancing and becoming increasingly dominant in every aspect of our life, web hosting holds the entire internet together to enable us to run our business seamlessly. An industry that didn't even exist before the advent of the world wide web is now the strong pillar of the modern digital world
History of Web Hosting
Let check out a history and rise of web hosting;
1969 – A historic milestone is achieved as two computers are connected for the first time. The immense machines, each resembling a small house, are situated at UCLA's research lab and Stanford University.
1973 – Transatlantic connectivity marks a significant advancement as European organizations gain access to ARPANET, the precursor to the Internet, originating from the U.S. Defense Department.
1984 – A pivotal moment occurs with the advent of domain names. The introduction of extensions such as .edu, .gov, .mil, .com, .net, and .org establishes a new era in web addressing.
1985 – Symbolics.com etches its name in history by becoming the first registered .com domain, paving the way for the future of online presence.
1989 – Tim Berners-Lee revolutionizes the digital landscape by creating the World Wide Web at CERN, enabling the seamless retrieval of hypertext documents across the network.
1992 – Metropolitan Fiber Systems (MFS) introduces colocation web hosting through MAE-East, an Internet exchange point. Prominent organizations, including the United Nations, establish their own websites, propelling the proliferation of online presence.
1994 – The launch of Geocities democratizes web hosting by providing free hosting services to a broader audience, fostering widespread participation in the digital realm.
1997 – Jomax Technologies, later known as GoDaddy, emerges as a pioneering force in the hosting industry. Today, GoDaddy stands as one of the world's largest hosting providers. Additionally, virtual web hosting emerges as a viable solution for website owners.
2001 – RoseHosting pioneers commercial Linux VPS hosting, opening up new possibilities for businesses and individuals seeking advanced hosting solutions.
2006 – The democratization of cloud hosting takes a significant leap forward as Amazon unveils its Web Services platform, granting access to scalable and flexible hosting services for the masses.
2008 – Google follows suit by launching its Cloud Platform, empowering users with access to cloud hosting capabilities within one of the world's most expansive networks.
2015 – The depletion of IPv4 addresses in North America marks a turning point, prompting wider adoption of IPv6 addresses and solidifying the future of Internet Protocol.
2017 – A remarkable milestone is reached as the number of global internet users surpasses the 4 billion marks, underlining the pervasive influence and importance of the online world.
These game-changing events transformed web hosting, resulting in huge growth and connectivity in the digital sphere. They fostered a global community, revolutionized online interactions, communication, and business practices.
---
Captivating Statistics That Illuminate the Digital World
As per Internet Live Stats, there are more than 18 billion websites, and it keeps on increasing every second. This number also refers specifically to websites that resolve to an IP address; However, this numerical value pertains specifically to websites that are associated with a corresponding IP address. It is important to note that this figure encompasses parked domains as well. However, it is widely accepted within the industry that a significant majority of these websites, specifically less than 25%, are considered active or regularly updated and maintained.
In addition, Global Industry Analyst Inc, the total value of the web hosting industry is more than $70 billion and is expected to boost over $150 billion by 2026. Moreover, speaking about the country US bags first rank in having more than 50 million domains followed by China which has over 16 million hosted domains in total.
---
Top 6 Web Hosting Trends For 2023
Gear up for the future of web hosting with these game-changing web hosting trends you can't afford to ignore in 2023!
Now let's discuss these hosting trends in detail and understand the logic behind we have picked these for you:
1. General Web Hosting Trends 
– Targeting Markets
Web hosting companies, much like other businesses, run on continuous hard work and efforts of retaining old clients and attracting new ones. Nonetheless, not all market segments can be covered by a single web hosting provider. Finding a niche is still the best way to stand out among hundreds of competitors.
When it comes to pricing and a variety of hosting services, it can be difficult to compete with giant and established web hosting providers. Thus, if you're on to starting a web hosting business, it's a great idea to target niche markets. By doing so, your site rankings can improve on search engines due to less competition.
Furthermore, by focusing on a specific group of customers, you'll be able to connect with your customers on a more personal level. Finding your USP can also help differentiate your web hosting company from the competition. Nonetheless, it's still just as important to pick an audience large enough to bring profits.
– Cloud Hosting – Riding the Cloud Wave
Cloud-based web hosting technology provides businesses with scalable and flexible pricing models, enabling them to access hosting resources as needed in response to website traffic fluctuations. This convenient option is particularly beneficial for expanding businesses seeking flexible hosting solutions. As a result, the cloud hosting sector is experiencing significant growth, consequently driving the overall expansion of the hosting industry.
As per the industry forecast, cloud hosting is expected to witness a high CAGR of over 18% per year between 2019 to 2025, which makes it the fastest-growing hosting type.
Related Article: What is Cloud Hosting?
– Green Hosting – Go Green with Your Website
Have you ever heard about Green Hosting?
You may not know what it is exactly. Well, we will help you with this.
The hosting industry impacts the environment. Yes, that's true. The internet's annual CO2 output equals 31 million cars driving across the globe at once.
No idea how this is happening.
Okay.
Think about the physical location where the website data is being stored. This is termed a data center.
Besides the web developers that are managing the servers, the hardware gets their fair share of work too. When you use your smartphones, tablets, smartwatches, laptops, etc. they tend to get hot after some time. Therefore, it is important that the hardware in data centers should be stored in a cool and controlled environment. But this needs incredible energy-intensive maintenance as well as results in a significant amount of CO2 output.
Green hosting providers utilize eco-friendly initiatives to reduce the carbon footprint of their data centers. As climate change awareness has grown and activist movements like extinction and rebellion are gaining steam, more businesses are under pressure to project a green, climate-conscious image. Therefore, the demand for greener hosting solutions is increasing. This is done by gaining renewable energy certificates (REC) or carbon offset certificates (VER).
RECs certify that a hosting provider helps in generating renewable energy. The money obtained from this purchase finances the operational costs for green energy initiatives. On the other hand, the other certification VER certifies that the hosting company helps in decreasing the number of greenhouse gases.
---
2. Web Hosting Company Trends
Many web hosting companies are expanding beyond traditional hosting, including additional services like website builders, domain registration, email hosting, and specialized hosting for specific platforms or applications.
Related Article: Factors to Consider When Choosing a Web Hosting Company
– GoDaddy Emerges As The Prominent Web Hosting Service Provider.
According to data compiled by HostAdvice, GoDaddy emerges as the prominent web hosting service provider, commanding a substantial market share with a user base encompassing 10.49% of all websites globally. In comparison, the Google Cloud Platform follows closely as the second most popular provider, with a slightly lower market share of 6.10%.
– HostGator Stands As The Most Prominent Brand
Among the web hosting platforms under New Fold Digital (formerly Endurance International Group), HostGator is the most prominent brand with a substantial market share. Approximately 32.9% of all websites hosted by New Fold Digital opt for HostGator as their preferred hosting platform.
3. Pricing Competition 
The global market of the web hosting industry is booming. As per reports published by Market Research Future, the hosting market is expected to achieve USD 154 billion by 2023 having a 16% CAGR for the forecast period 2016 – 2023.
The aforementioned figures indicate that there is vast potential for all web hosting businesses. But it takes a lot to stand out among the competitors. It is important to have resource-intensive, competitive, and cost-effective hosting plans so that you can attract customers. It is important that the services offer the ideal security tools management to operate in a hybrid internet ecosystem. In addition to this, there should be a dedicated technical support team and abilities to support new technologies. With thousands of website hosting companies available in the market today, it will be difficult for you to choose one. The only differentiating factor will be the domain size and the services that you provide.
As the demand for web hosting spikes, the price wars follow suit and continue to heat up. The web host industry is getting extremely competitive day by day. Thus, apart from unique tools and features, web hosting companies often compete with their prices on the line. To attract new customers, they start to offer tempting and fairly discounted buy-in deals.
The costs in building a site vary greatly depending on the complexity or simplicity of your needs. The price of a website boils down to several items: web hosting, domain, content creation, graphic design, web development, and marketing among others.
In web hosting, there are different price schemes offering different features and options. Shared web hosting usually offers the cheapest prices. Nonetheless, finding the right features, the best hosting services software, and the right price for a website can provide a smooth platform for businesses on the web.
Shared web hosting services usually come cheap, and they provide excellent server performance and features. However, there is always a reason for cheap prices, so website owners will have to be wary and check if the web host provider can cover all the demands of the website they need. For a shared web host, it costs around $3 to $10 per month.
Related Article: What are the Different Types of Web Hosting?
---
4. Domain Name Trends
Besides traditional top-level domains (TLDs) like .com, .org, and .net, new TLDs such as .tech, .io, and .app have gained popularity, allowing businesses and individuals to find more relevant and memorable domain names. Enterprises focus on securing domain names that align with their brand identity or include relevant keywords to improve search engine visibility.
Speaking about domain name statistics, 34.98% of domains are .com domains. Also, the second most popular domain TLD is .tk. Over 5% of all TLDs are .tk domains, making it the second most popular domain extension after .com
Related Article: Domain Vs Subdomain Vs Add-on Domain Vs Park Domain
---
5. Security Trends
– HTTP has become the new normal
Last July 2018, Google Chrome started to mark non-HTTPS websites as "not secure." Google Chrome promised a fair ranking boost to encourage sites to shift to HTTPS. This made offering free HTTPS the norm in the web hosting arena. Not shifting to HTTPS can significantly affect site rankings, which can be costly for businesses on the web.
For web hosting providers, offering customers HTTPS is not just nice but also a must-have. Not doing so can make you lag in the race, especially now that many web hosting companies offer free HTTPS.
Related Article: Difference between HTTP vs HTTPS
– Security Protocols
In light of the staggering 1.9 billion compromised personal data records between January 2017 and March 2018, web hosting providers have significantly intensified their focus on implementing robust security protocols. The prevalence of data breaches and detrimental cybersecurity incidents in recent years has compelled hosting providers to bolster their security measures with greater vigilance.
Consequently, safeguarding user privacy has assumed an unprecedented level of importance within the realm of web hosting services. A robust and comprehensive web hosting solution must now incorporate an array of advanced tools and functionalities to protect customers' personal information. Prominent security protocols encompass stringent compliance checks to identify content management systems (CMS) vulnerabilities, adherence to industry-standard SSL certification, and the adoption of encrypted data storage practices.
---
6. Artificial Intelligence: AI has become the spotlight in the web hosting industry.
The prominence of AI has taken center stage, revolutionizing the web hosting industry by introducing unprecedented convenience and a plethora of opportunities. Leveraging its cognitive and learning abilities, AI optimizes server performance through predictive analytics. Furthermore, AI-powered advanced firewall technology swiftly detects encrypted patterns and identifies potential threats cyber attackers pose. Additionally, data centers employ AI to efficiently manage heating and cooling systems, effectively mitigating security breaches and hazards.
---
Final Thoughts
The web hosting landscape for 2023 is poised to witness several prominent trends that will shape the industry. Cloud hosting continues to gain momentum, offering scalability and cost-effectiveness. Managed server hosting provide comprehensive support and management for businesses seeking hassle-free operations. Containerization and serverless architecture offer efficient application deployment and resource utilization.
---
Frequently Asked Questions
Q. What is the future of web hosting?
A. The future web hosting will be a combination of Green Hosting, Cloud Hosting, HTTPS protocols, and the use of AI and security protocols to cover the target market.
Q. Which type of web hosting is best?
A. The best type of web hosting for your business depends upon the business type you are handling. If you are handling a small website or blog then Shared hosting is best. In case if you are dealing with a large enterprise with a crucial database, then dedicated hosting is the best option.
Q. Do I need hosting for the website?
A. All websites existing on the internet require hosting and if someone does not use a hosting service, then they need to set up their own server, which is an advanced (and often expensive) task. So purchasing a hosting plan is a feasible option.
Q. Can I Create my own website?
A. Setting up your own website is possible and simple if taken the right steps to create a website.
Trending Posts
Table of Contents Introduction What is WHMCS? What is the Cost o...

Summary:  SSD vs SAS vs SATA drives in detail to determine which of these t...

In our today's blog, we will discuss Dell vs HP vs Lenovo to help you choos...