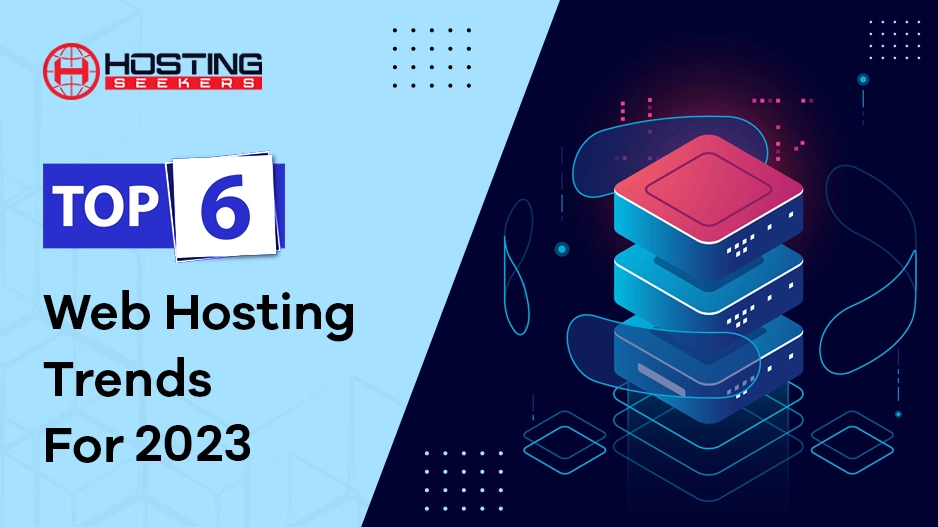 Top 6 Web Hosting Trends For 2023 | HostingSeekers
Cloud Industry
IT
Marketing
January 22nd 2021
Table of Content
Web Hosting Trends

Over the years, web hosting has grown into a mature IT industry since its inception. The hosting plans have been diversified as the features have become more advanced. Even today, web hosting remains a competitive business and a must-have service for anyone launching a website, blog, or online store. But what will be the future of web hosting and what is the web hosting trends?
Staying updated with web hosting industry trends and top cloud service models is definitely a challenge. This is because there are constantly moving pieces on the board. A few factors affecting the hosting industry include advancements in technology, innovations, and unique real-world occurrences (the outbreak of the COVID-19 pandemic).
The overall growth of traditional web and app hosting resources clearly defines that all the workload is going to be shifted towards IaaS and SaaS services and so it becomes important to understand the difference between PaaS vs IaaS vs SaaS. This shift and customer segmentation allow service providers to address all the emerging demands making everything valuable for businesses.
---
Top 6 Web Hosting Trends For 2023
Here are the top trends you must start using this year:
Green Hosting
Cloud Hosting
Pricing Competition
 HTTPS as the norm
Security Protocols
 Targeting markets
---
Now let's discuss these web hosting trends in detail and understand the logic behind we have picked these for you:
Trend 1: Green Hosting
Have you ever heard about Green Hosting?
You may not know what it is exactly. Well, we will help you with this.
The hosting industry impacts the environment. Yes, that's true. The internet's annual CO2 output equals 31 million cars driving across the globe at once.
No idea, how this is happening.
Okay.
Think about the physical location where the website data is being stored. This is termed a data center.
Besides the web developers that are managing the servers, the hardware gets their fair share of work too. When you use your smartphones, tablets, smartwatches, laptops, etc. they tend to get hot after some time. Therefore it is important that the hardware in data centers should be necessarily stored in a cool and controlled environment. But this needs incredible energy-intensive maintenance as well as results in a significant amount of CO2 output.
Today, web hosting services have started investing in carbon offsetting schemes. They have started actively participating in the eco-friendly environment as this decreases negative impacts on the environment. This is done by gaining renewable energy certificates (REC) or carbon offset certificates (VER).
RECs certify that a hosting service provider helps in generating renewable energy. The money obtained from this purchase finances the operational costs for green energy initiatives. On the other hand, the other certification VER certifies that the hosting company helps in decreasing the number of greenhouse gases.
---
Trend 2: Cloud Hosting
Cloud Hosting has been undoubtedly a game-changer.  Cloud hosting doesn't have a physical server. But, it basically stores data across multiple computers. Later it gives access with the help of a network connection like the Internet. This has endless processing power and storage space.
There are no typical server configurations. Cloud hosting is more budget-friendly as it eliminates the constraints of physical servers. Cloud hosting knows how to provide a more efficient platform for your data as required site resources are obtained from multiple different virtual servers. You get a comprehensive hosting solution that is scalable as well as reliable. Companies of today have understood the value of cloud hosting and have incorporated the same as it has the ability to access distributed computer processing and storage capabilities.
Investing in cloud hosting gives the opportunity to businesses so that they can provide a central repository for all their data, communication, and processing. With this central hub, employees of businesses can work from any remote location, using any internet-connected device as per their preference.
Cloud hosting is the trending form of hosting that allows a website to rely on a cluster of servers that work together. These cloud-based servers provide virtual resources that are available 24/7.
---
Trend 3: Pricing Competition
The global market of the web hosting industry is booming. As per reports published by Market Research Future, the hosting market is expected to achieve USD 154 billion by 2023 having a 16% CAGR for the forecast period 2016 – 2023.
The aforementioned figures indicate that there is vast potential for all web hosting businesses. But it takes a lot to stand out among the competitors. It is important to have resource-intensive, competitive, and cost-effective hosting plans so that you can attract customers. It is important that the services offer the ideal security tools management to operate in a hybrid internet ecosystem. In addition to this, there should be a dedicated technical support team and abilities to support new technologies. With thousands of website hosting companies available in the market today, it will be difficult for you to choose one. The only differentiating factor will be the domain size and the services that you provide.
As the demand for web hosting spikes, the price wars follow suit and continue to heat up. The web host industry is getting extremely competitive day by day. Thus, apart from unique tools and features, web hosting companies often compete with their prices on the line. To attract new customers, they start to offer tempting and fairly discounted buy-in deals.
The costs in building a site vary greatly depending on the complexity or simplicity of your needs. The price of a website boils down to several items: web hosting, domain, content creation, graphic design, web development, and marketing among others.
In web hosting, there are different price schemes offering different features and options. Shared web hosting usually offers the cheapest prices. Nonetheless, finding the right features, the best hosting services software, and the right price for a website can provide a smooth platform for businesses on the web.
Shared web hosting services usually come cheap, and they provide excellent server performance and features. However, there is always a reason for cheap prices, so website owners will have to be wary and check if the web host provider can cover all the demands of the website they need. For a shared web host, it costs around $3 to $10 per month.
---
Factors You Must Consider When Choosing a Web Hosting Service
---
Trend 4: HTTPS as the norm
Last July 2018, Google Chrome started to mark non-HTTPS websites as "not secure." To encourage sites to shift into HTTPS, Google Chrome even promised a fair rankings boost. This made offering free HTTPS the norm in the web hosting arena. Not shifting to HTTPS can greatly affect site rankings, and that can be costly for businesses on the web.
There are many benefits to using HTTPS. It helps a website rank higher on search engines, it builds customer trust, and more importantly, protects sensitive data. Switching to HTTPS is crucial for a website's security. This ensures that all information gathered on a website is secured and impossible to steal by most Internet thieves. Thus, search engines and site visitors tend to stay away from websites that don't have HTTPS in them.
For web hosting providers, offering customers HTTPS is not just something that's nice to have but also a must-have these days. Not doing so can make you lag in the race, especially now that there are many web hosting companies offering free HTTPS.
---
Trend 5: Security protocols
With the 1.9 billion records of personal data that were compromised between January 2017 and March 2018, web hosting providers are now putting more emphasis on security protocols. Several instances of data violations and cybersecurity meltdowns in the past years are forcing hosting providers to enforce more tightened security.
Thus, offering user privacy protection is now more crucial than ever among web hosting providers. A powerful web hosting solution must be able to provide the extra tools to protect the personal information of customers. Hosting security protocols, such as compliance checks for CMS vulnerabilities, the standard SSL certification, and encrypted data storage, are now more pervasive.
Domain privacy is also one of the best features a web host offers. It is an add-on service offered by many web hosting providers. When a customer registers a domain name, their personal details are in WHOIS, a publicly available database. Domain privacy protection ensures that all the personal data of customers are protected and hidden from the rest of the world.
---
Here is how you can start a reseller web hosting business from scratch

---
Trend 6: Targeting markets
Web hosting companies, much like other businesses, run on continuous hard work and efforts of retaining old clients and attracting new ones. Nonetheless, not all market segments can be covered by a single web hosting provider. Finding a niche is still the best way to stand out among hundreds of competitors.
When it comes to pricing and a variety of hosting services, it can be difficult to compete with giant and established web hosting providers. Thus, if you're on to starting a hosting company, it's a great idea to target niche markets. By doing so, your site rankings can improve on search engines due to less competition.
Furthermore, by focusing on a specific group of customers, you'll be able to connect with your customers on a more personal level. Finding your USP can also help differentiate your web hosting company from the competition. Nonetheless, it's still just as important to pick an audience large enough to bring profits.
---
Wrapping Up Web Hosting Trends
There are plenty of opportunities that lie in the web hosting industry. But it is important you have to pay attention to a few factors like environment, cloud, and privacy protocols in relation to web hosting. You will get the best hosting results only when you find the right solutions you can develop and offer to your customers.
---
Frequently Asked Questions
Q. What is the future of web hosting?
A. The future web hosting will be a combination of Green Hosting, Cloud Hosting, HTTPS protocols, and security protocols to cover the target market.
Q. Which type of web hosting is best?
A. The best type of web hosting for your business depends upon the business type you are handling. If you are handling a small website or blog then Shared hosting is best. In case if you are dealing with a large enterprise with a crucial database, then dedicated hosting is the best option.
Q. Do I need hosting for the website?
A. All websites existing on the internet require hosting and if someone does not use a hosting service, then they need to set up their own server, which is an advanced (and often expensive) task. So purchasing a hosting plan is a feasible option.
Q. Can I Create my own website?
A. Setting up your own website is possible and simple if taken the right steps to create a website.
Trending Posts
Table of Contents Introduction What is WHMCS? What is The Cost o...

Summary:  SSD vs SAS vs SATA drives in detail to determine which of these t...

In our today's blog, we will discuss Dell vs HP vs Lenovo to help you choos...