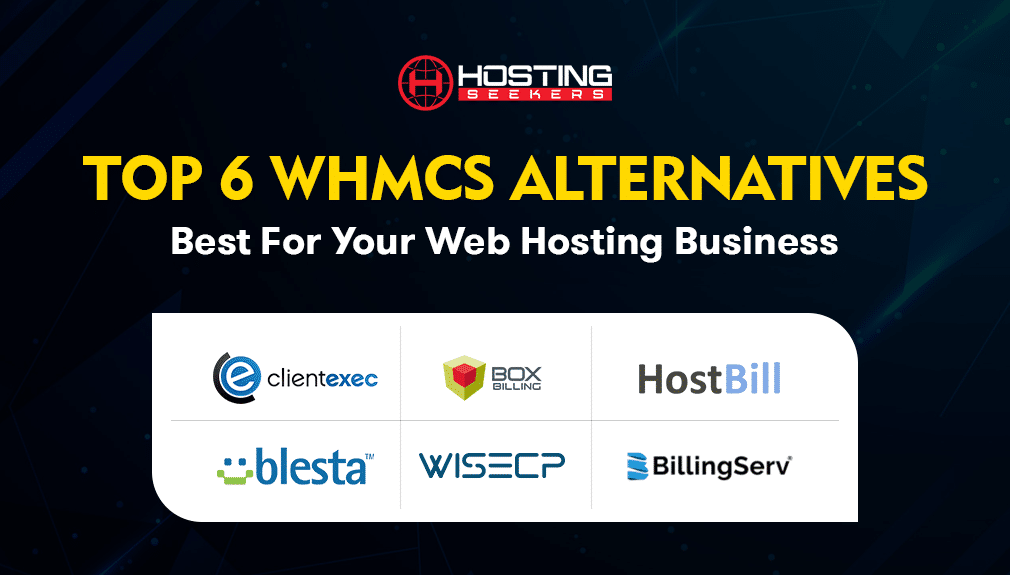 6 Best WHMCS Alternatives For 2023 [Tested and Reviewed]
WHMCS
April 16th 2021
Introduction
WHMCS is the popular choice for managing hosting business, automated billing and offering excellent client support. However, there might be chances that you are looking for WHMCS alternative solutions. In this blog post, we will explore the top 6 best WHMCS alternatives that meet the diverse needs of the hosting industry.
So, let's start with a brief introduction to WHMCS.
---
Understanding WHMCS
WHMCS is a popular and comprehensive billing and client management platform designed specifically for web hosting businesses. It is a powerful automation platform that streamlines various aspects of running a hosting company, making it easier for providers to manage their operations efficiently and provide outstanding client support.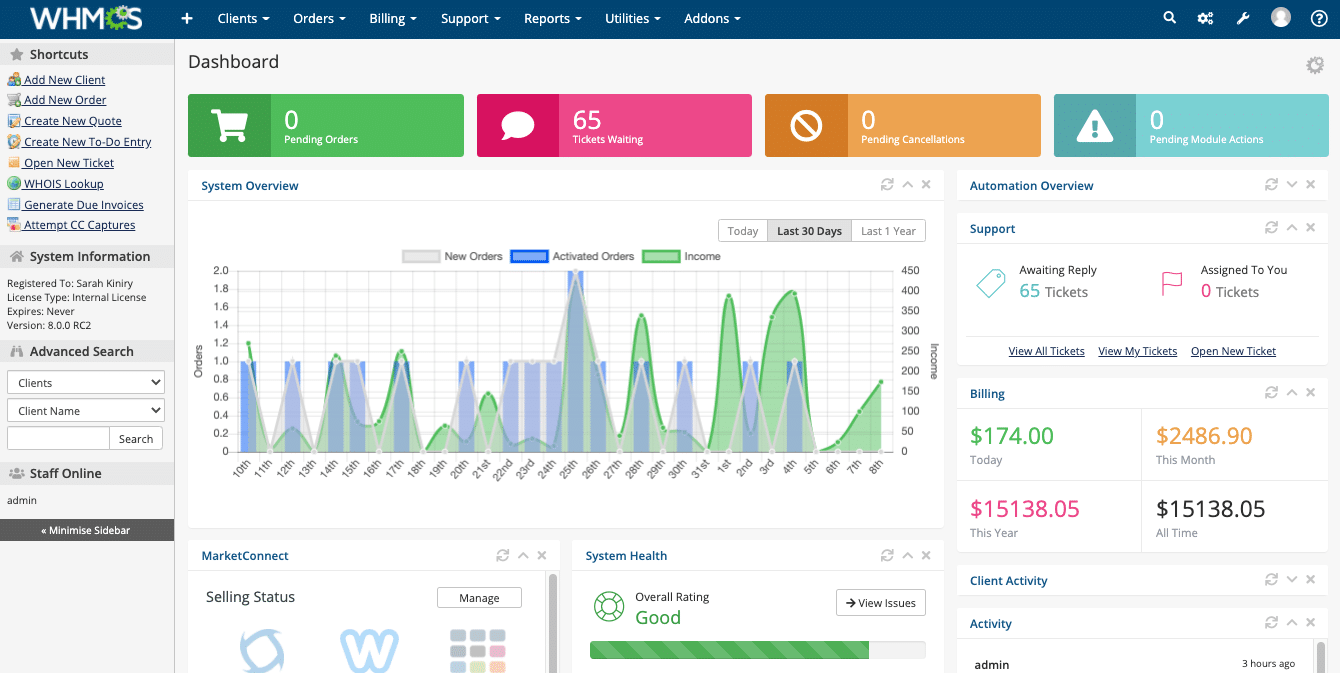 Basically, it's a ready-made solution that automates all the operations required to run a web hosting and domain registration company. Moreover, it is highly compatible with most of the service providers and control panels like:
cPanel & WHM

Plesk

DirectAdmin

Interworx

Virtualmin

Website Panel

Helm

SolusVM

Enom

Liquid Web

ResellerClub

Weebly

Symantec

Cloudflare
---

---
WHMCS makes customer onboarding super simple and comprises all the necessary tools like Billing Management, Customer Support, Reports Manager, Order Management, Domain Registration, and Fraud Management tools to manage customers easily.
Apart from all this, WHMCS can be used to set up cPanel accounts and activate automatic provisioning on the following:
VPN Accounts

VPS Hosting

Email Accounts

Domains

Gaming Servers
So, that's all about WHMCS, its features, and compatibility. Now, let's move to its pricing to understand its services and cost.
---
What is The Cost of WHMCS?
The total cost of WHMCS depends upon the total number of clients and the branding options you need. Currently, you can get started with WHMCS just at $18.95/mo* excl VAT.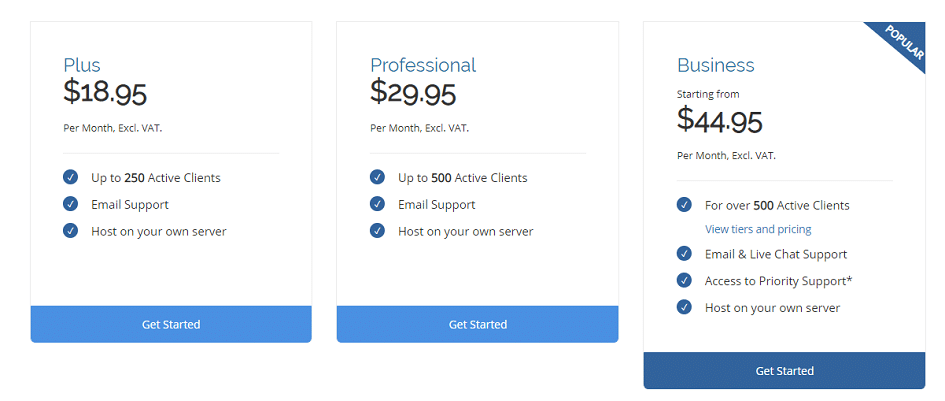 Apart from its plans, WHMCS offers the following services to get started with WHMCS instantly:
Installation & Configuration – Starting at $24.95
Integration Service – Starting at $34.95
Migration Service – Get a quote
After reading all this, you might be thinking that if WHMCS gives us everything to manage our business seamlessly, why would one be looking for WHMCS alternatives.

Well, read the subsequent section to know the reasons for the same.
---
Explainer: Why You Should Start Looking For WHMCS Alternatives?
WHMCS is a great way to automate your web hosting business, however, its continuously increasing cost is something that is making its existing users switch to other better WHMCS alternatives.
      As per a recent study, WHMCS is going to raise its current pricing as per the number of clients, which is as follows:
Unlimited Clients – $1.3k/mo*

1k Clients – $45/mo*

2.5k Clients – $100/mo*

5k Clients – $175/mo*

10k Clients – $300/mo*

50k Clients – $850/mo*

100k Clients – $1k/mo*
Since everyone says WHMCS is an all-in-one client management platform with the best billing and support interface. But what if you find these features in other web hosting business management solutions with some better functionalities added?

Wouldn't that be great?

Yes, of course.
So, this is the reason why existing WHMCS clients are looking for some great WHMCS alternatives available in the marketplace.
---
What are the Types of Web Hosting? Check Out Now!
---
Top 6 WHMCS Alternatives You Should Consider Using
If you are also the one who's looking for alternatives to WHMCS, then here is the list of the top 6 WHMCS alternatives you may love:
Now, let's dive deep into the details to understand what's best about these alternatives to WHMCS.
---
1. ClientExec
ClientExec is one of the best web hosting business management tools that enable hosting business owners and resellers to manage and monitor billing, configuration, and every other web hosting account management task. It is a platform that offers a variety of value and amazing features for its price.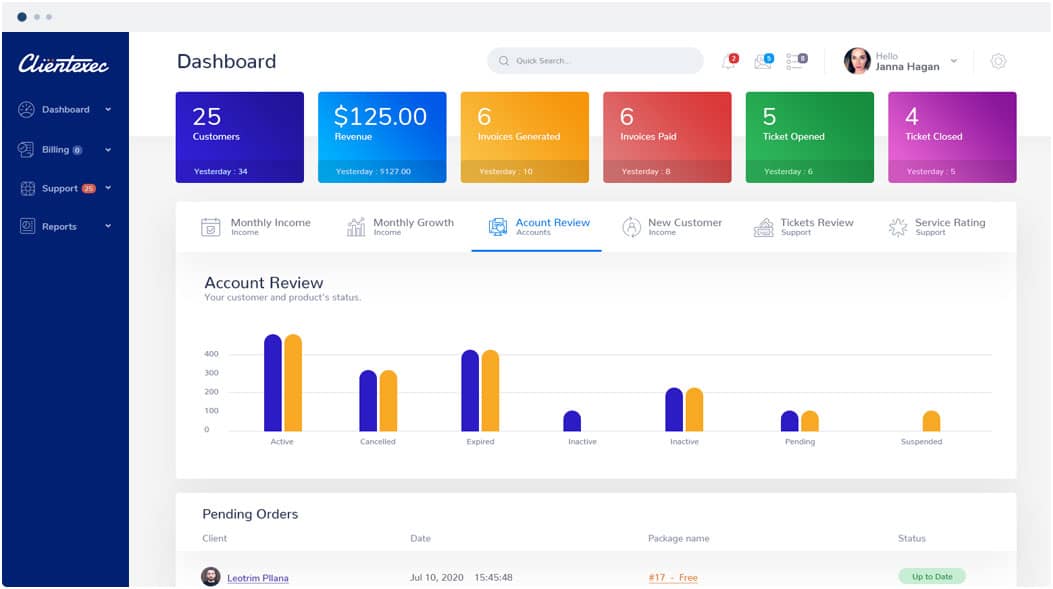 It is capable enough of managing a web hosting company's billing cycle as it automates everything from billing, accounts set up, invoicing, domain registration, and every other detail required to keep your business running. Moreover, it's the best choice if you are getting started with your own reseller hosting business.

What's Best About ClientExec?
Collecting payments is easy with Invoice Automation

Easy account management with clean & wide GUI

Simple set up, automated provisioning with registrars

No limit on payment gateways

Live support (Ticketing, Knowledgebase, Chat, Email)

Tracking, routing, and delivering messages

Easy setup, automate daily tasks, and monitoring

Easily merge billed items and accepts all the major credit cards

Functionality to archive invoices and track all the credits

Detailed sourced reports, revenue reports, support reviews

Offers separate user interface for clients and admin

Multiple billing and profile functions to manage checkout
Plans & Pricing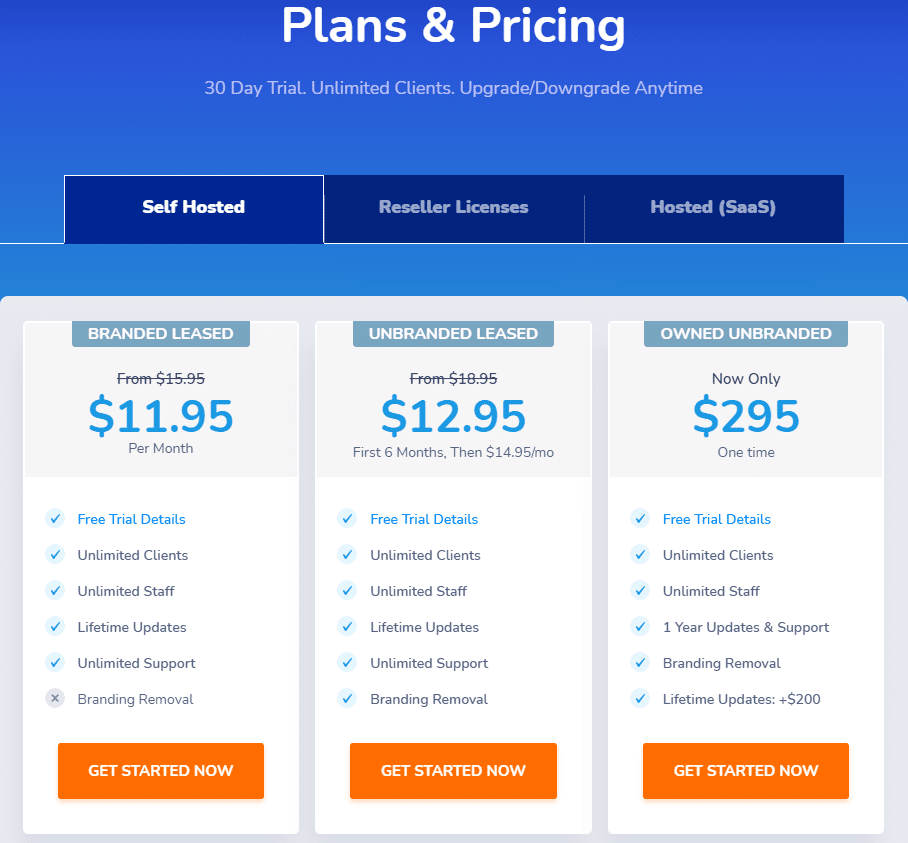 ---
Why Choose ClientExec Over WHMCS?
WHMCS costs almost twice than ClientExec
ClientExec comes for free with Scala3 and Scala4 Cpanel hosting plans
ClientExec lets you set your business on autopilot with its automation services
With ClientExec  you can integrate your billing system and configure everything easily
You will get more than 15 options for payment gateways and taxation customization
Clientexec REST API allows to connect it to various third-party applications
Creation of tickets from emails is super easy with Clientexec than it is with WHMCS
ClientExec can carry out the billing and tech support tasks in a better way than WHMCS
---

---
2. BoxBilling
If you are looking for free open-source WHMCS alternatives, then BoxBilling is the best option for you. It is a free solution to manage billing, clients, and orders specially designed to make everything easy for business owners and clients.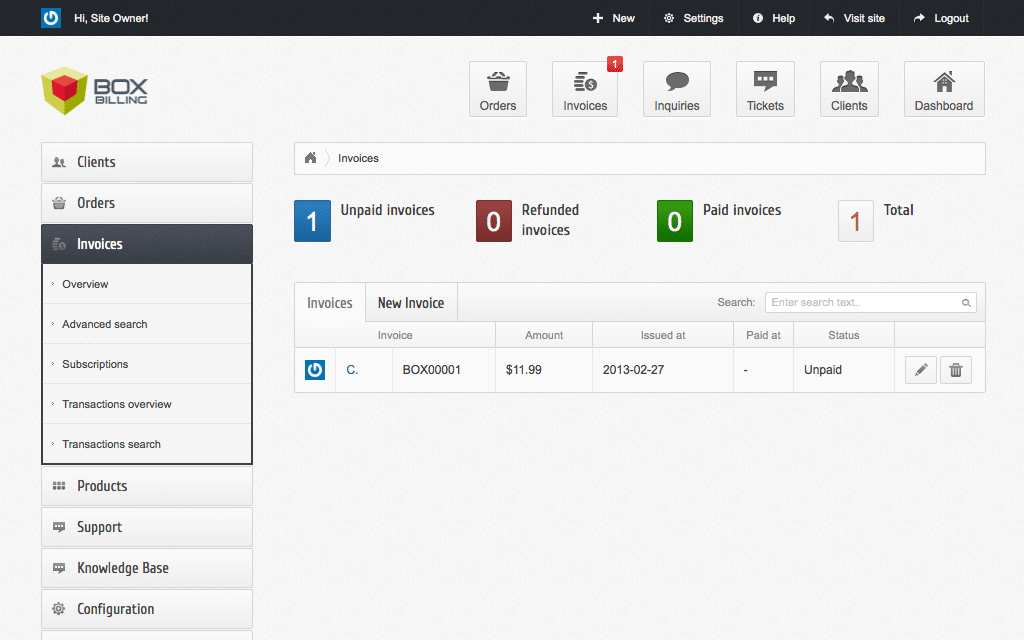 With this, you can sell any product related to web hosting, software licensing, custom products, servers, or even downloadable products. Besides, it is user-friendly and easy-to-use to manage your hosting business.
What's Best About BoxBilling?
Automated billing, product provisioning, & invoicing

Automatically creation of hosting accounts

Multiple currencies & auto-accept one time/recurring payments

Shared and best reseller hosting accounts

Custom recurring billing products

Effective Web 2.0 AJAX powered interface

Automatic account suspension in overdue

Up-to-date knowledgebase, news, and announcements

Issue invoices to clients easily without any product setup

Issue customized invoices, notify clients, and collect money

Create customized invoice lines and select the taxes

Set up a custom taxation rule for any desired invoice 

Easy refunds and clients can pay in their own currency
Plans & Pricing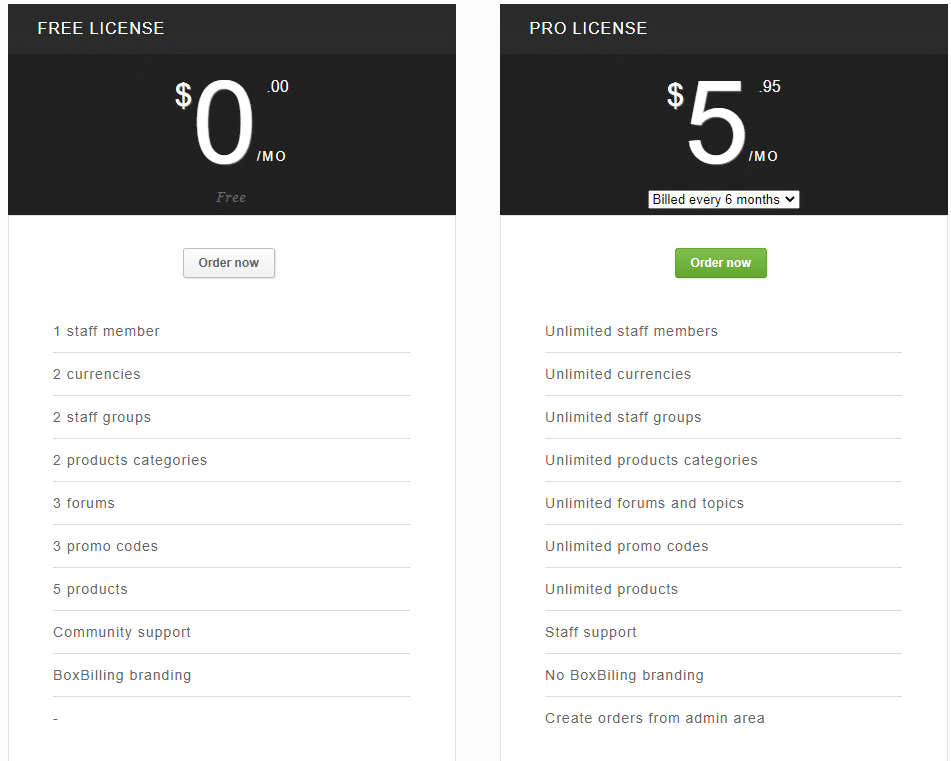 Why Choose BoxBilling Over WHMCS?
BoxBilling fees is low for a startup at $5/mo for the pro version
Boxbilling is specially built for sales and offers the most flexible invoicing
You will get powerful automation, and an integrated helpdesk for anytime support
It offers easy product provisioning for optional payment gateways, which is a plus point
No matter what's your language, you can use its multi-language interface for easy access
If you are a developer, BoxBilling will allow you to build your own add-ons easily
With BoxBilling business owners can start selling simply in just a little time
In BoxBilling you always call the same API no matter which interface you are using
BoxBilling module extends API, so new features can be accessed from mobile & other devices
You can avoid API floods requests easily & per time span limits can be easily defined
There are many payment gateways available for BoxBilling, which makes it highly flexible
---

---
3. HostBill App
HostBill App is one of the most powerful and highly flexible online business management systems. It allows you to manage billing, clients, and support platforms. With this, you can handle everything that needs to keep your business running.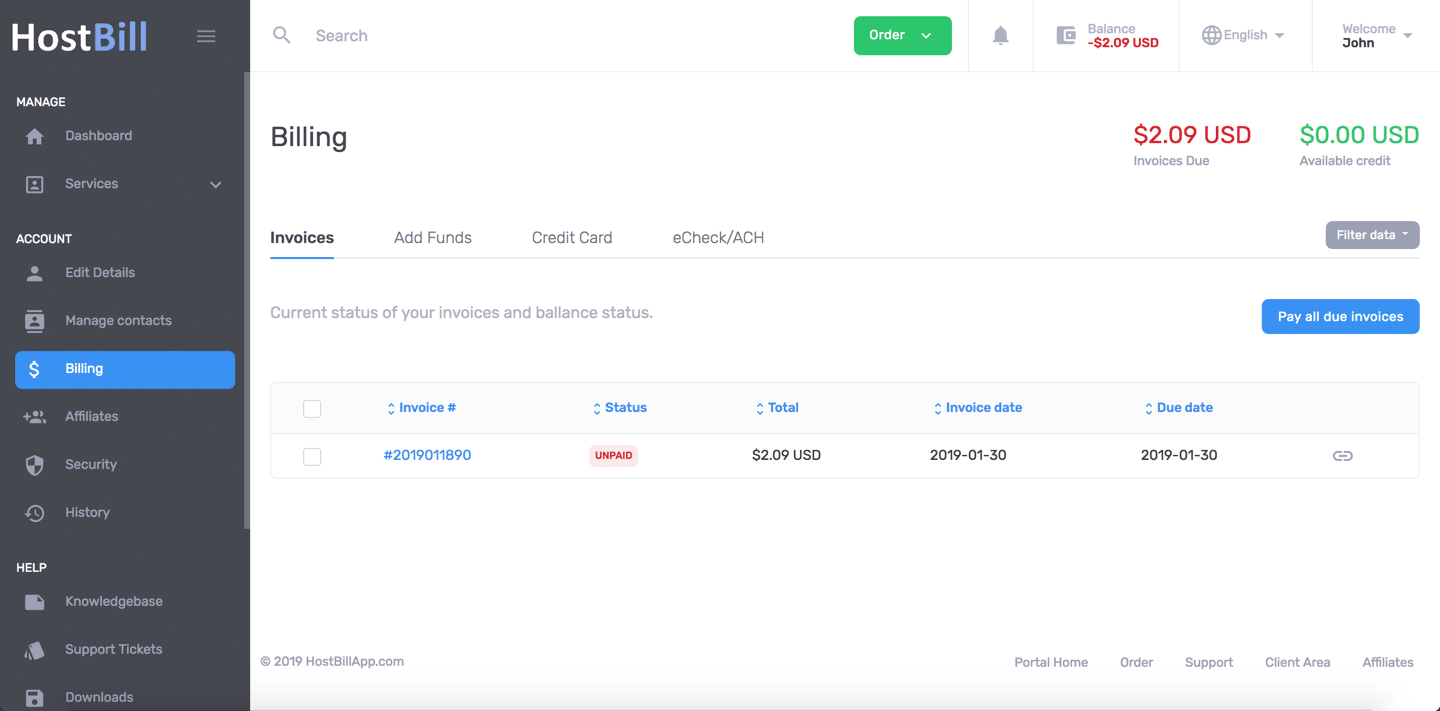 It automates the invoices, payment collection, service provisioning and is suitable for all the SSL Resellers and Cloud/IaaS/best VPS hosting Providers.
What's Best About HostBill?
Automated Billing and hosting automation

Easy Client and Domain Management

Cloud, SaaS, Web-Based Deployment

Automated Provisioning and Integrations

Hourly Billing and supports multi-currency

Recurring/Subscription Billing & Tax Calculation

Easy Customer & Inventory Management

Easy Payment Handling & Payment Gateway Integration

Taxation, Contact, Order, Invoice Management 

Product configurator and Ecommerce Integration

Multiple Collaboration Tools and Self Service Portal

Support Multi-Currency and Recurring Billing

Superfast Invoice Processing & Discount Management

Multiple Billing Rates and Customizable invoices

Tax Calculator, Software Development & Recurring Billing

Customizable Billing, Provisioning, DiscountManagement
Plans & Pricing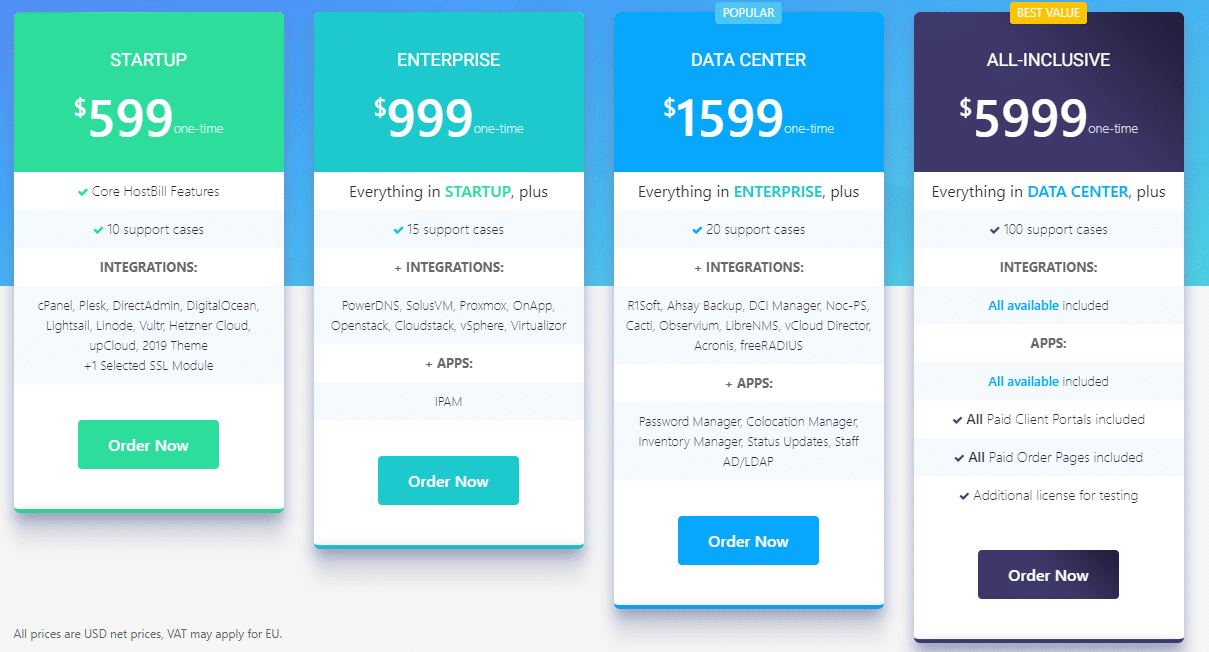 Why Choose HostBill App Over WHMCS?
HostBill supports over 90 payment gateways, which makes is the most demanding automation software
All-in-one billing and automation platform for hosting, colo, cloud, VPN service providers
For large-scale hosting or web companies,  HostBill is the best way to manage business essentials
Its all-in-one client portal lets your customers manage all of their services from a single panel
HostBill can handle your client acquisition, through invoicing, payment collection, automated provisioning
You will get an extensive range of advanced features and multitude of modules and apps with HostBill
Easy integration with multiple control panels, order pages, domain registrars, and payment gateways
Most advanced solution for Hosting, Cloud/IaaS/VPS Solutions Providers, SSL Resellers  with best features
Hostbill will keep your payment automation services up-to-date with its constant feature updates
It allows you to choose from a gamut of Hostbill templates to match your internal business design
Using HostBill means you can enjoy multi-channel support that's starting from email to Live Chat
---
4. Blesta
Blesta is a web-based billing automation solution, but it is not just limited to web hosts. With this, you can manage your payments, business services, invoices, manage clients, and so much more.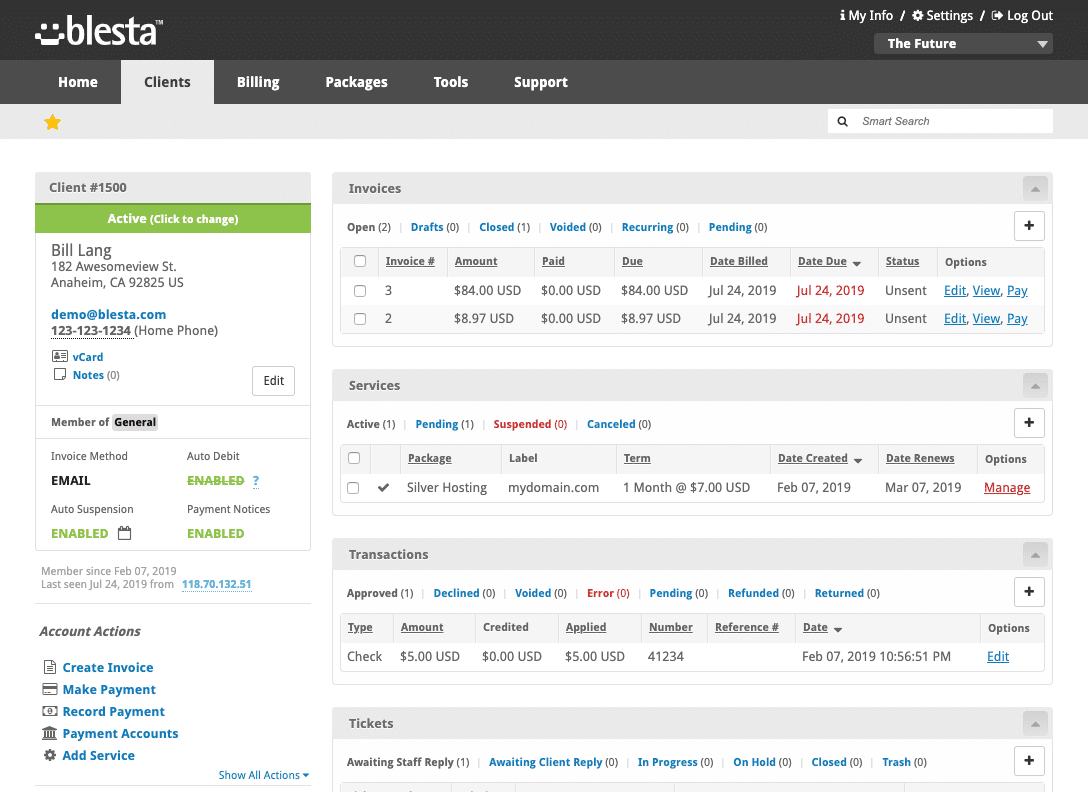 It is an automated billing automation solution that is highly secured, easy-to-use, and makes your online branding super simple. No matter if you are a top-level web hosting service provider or a reseller, you will never regret choosing Blesta as WHMCS alternatives.
What's Best About Blesta?
Supports Multi-Currency Billing

Seamless Client Management

Automated Billing and Provisioning

Integrated Support Features

Developer Friendly System

Mobile-Friendly and ready-to-use

Accept Payment Gateways (Authorize.net & PayPal)

Invoice, track and accept multiple currencies

Automatically suspended & unsuspended once paid

Categorize clients into various groups using unique settings

Simply create time or quantity based inclusive coupons

Smart search for invoices and other databases

Blesta is multi-language supported

Bullet-proof security overall industry

Easily understandable, open, commented code
Plans & Pricing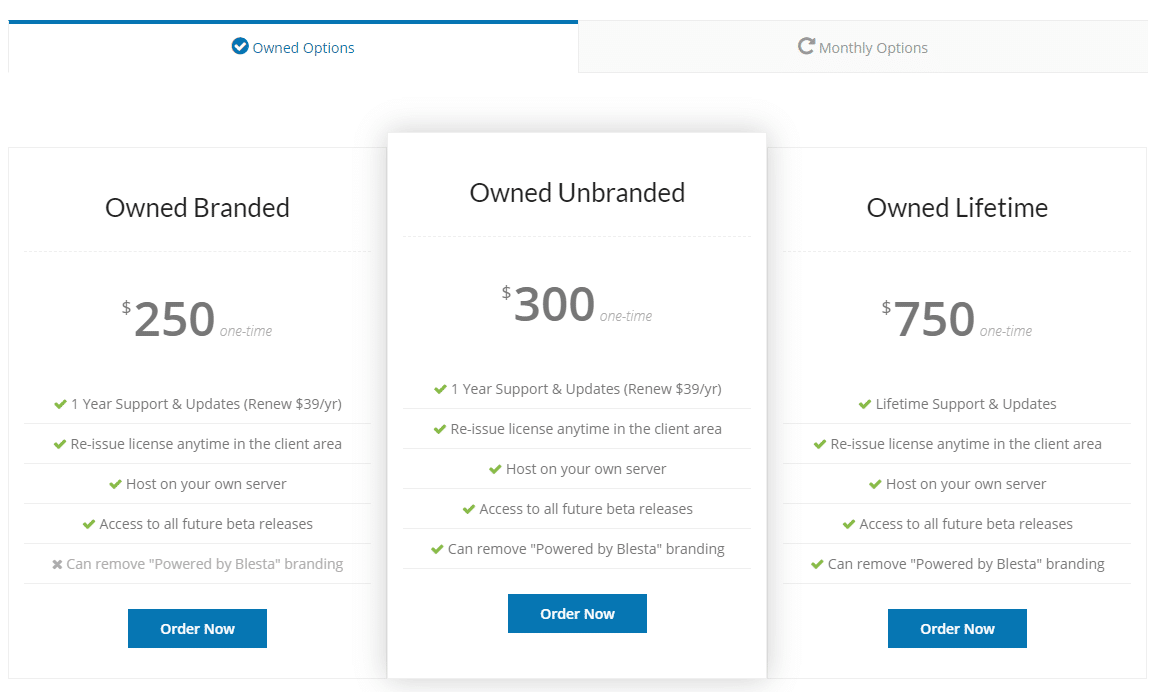 Why Choose Blesta Over WHMCS?
Blesta is developer-friendly  and makes it easy to manage your business and automate it
You will get just enough for license protection with Blesta as its files are encoded properly
Blesta allows you to integrate with your favorite control panels, virtual servers, and other licenses
With Blesta you can customize the entire interface, from the dashboard, billing overview to widgets easily
Your support team will love its clean, modern ticket system along with its helpful knowledgebase
With Blesta you will get Multi-Company under a single installation & Constant Payment Reminders
You will get Professional Invoices just like over even better than WHMCS with all the details
Blesta generates and send invoices automatically
With Blesta, your customers can attach multiple billing methods to their accounts easily
Blesta will approve or suspend accounts automatically, so don't worry about manual suspension
You can customize your dashboard colors as you like and set up the templates to alter the style
With Blesta you can use add-ons to extend and enhance your platform's functionalities
---

---
5. WISECP
Another amazing WHMCS alternative is WISECP, which is a modern web hosting and digital workflow automation tool. It automates client handling, billing, customer support, and all other operations to keep your business running.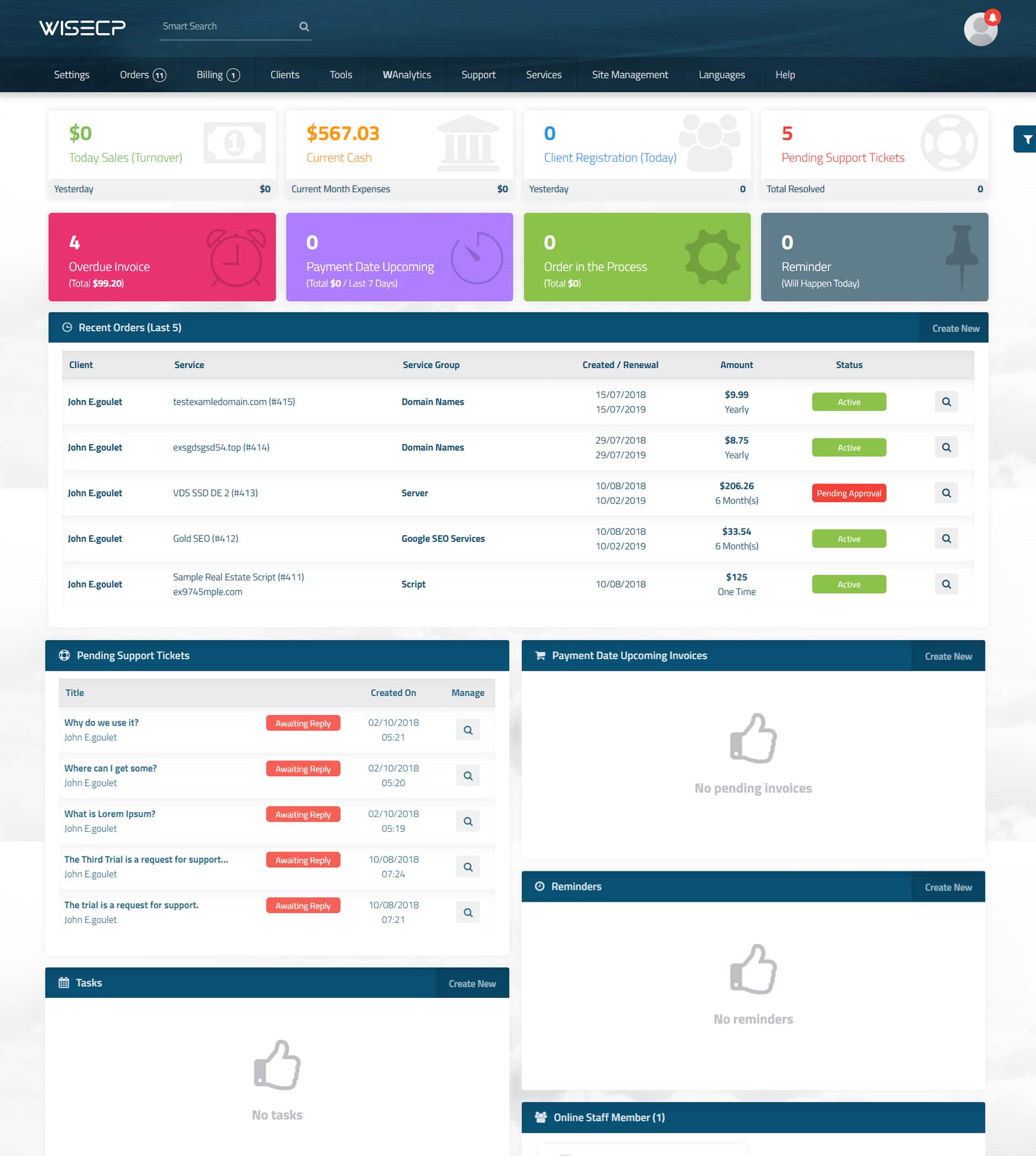 This is another most popular WHMCS alternatives, enables businesses and individuals to simply manage the products, services, sales, clients, and enforcement operations. WISECP comes up with an internal website interface along with the system, which means you can work without any theme and it is highly creative, professional, and user-friendly and makes it easy for users to navigate throughout your website.
What's Best About WISECP?
Automated Billing and Provisioning
Comes with built-in fraud protection & advanced analytics
Integrated Website and Control Panel
Multi-Language and simple translation
Effective Web 2.0 AJAX powered interface
High-level "Smart Search" feature in the admin area
Smart search for invoices and other databases
Seamless Client Management
Advanced reporting and real-time client tracking (WAnalytics)
Advanced client support system (Ticket System)
Free and built-in software licensing addon
Issue customized invoices, notify clients, and collect money
Customizable Billing, Provisioning, DiscountManagement
Advanced Customer Document Verification System
Comes with built-in fraud protection
Integrated Website and Control Panel
Built-in advanced analytics
Multi-Language and simple translation
Advanced Domain Name Management
Hourly Billing and supports multi-currency
Accept Payment Gateways (PayPal and more.)
Mobile-Friendly and ready-to-use
Built-in SEO Tools to manage webpages
Unique Graphical User Interface
Highly Advanced Reseller System
Plans & Pricing

Why Choose WISECP Over WHMCS?
Compared to WHMCS, WISECP does not comprise the complex and highly technical order system
It carries invoicing transactions, accounting, clients, and other operations in no time
It comes with an integrated internal website interface, so you don't have to look for a theme or draft
It offers a highly creative, professional, and clean web interface to make navigation easy for your visitors
With its "Only Client Panel" feature, you can make the website interface invisible and use the system a panel
It lets you apply client panel and product purchase links to various themes or to your existing website
Every function of WISECP is super simple to use and understand for both client and the admin
With WISECP, everything is simple, clear, and understandable to understand, set up & use
It is cost-effective and more advanced than WHMCS in every sense
Offers Modern Security and Product/service listing Features
Supports 150+ ready-to-use currencies automatically and automatically exchange rates over API
Advanced multi-language creation and highly functional management and control interface
Automatic language and currency display & ultra-security system to prevent malicious attacks
---

---
6. BillingServ
BillingServ is a completely cloud-based platform enabling businesses easy billing, fewer costs, high stability, and seamless automation. It allows all types of businesses to simplify the billing cycle and accept payments online for your online web hosting products and services.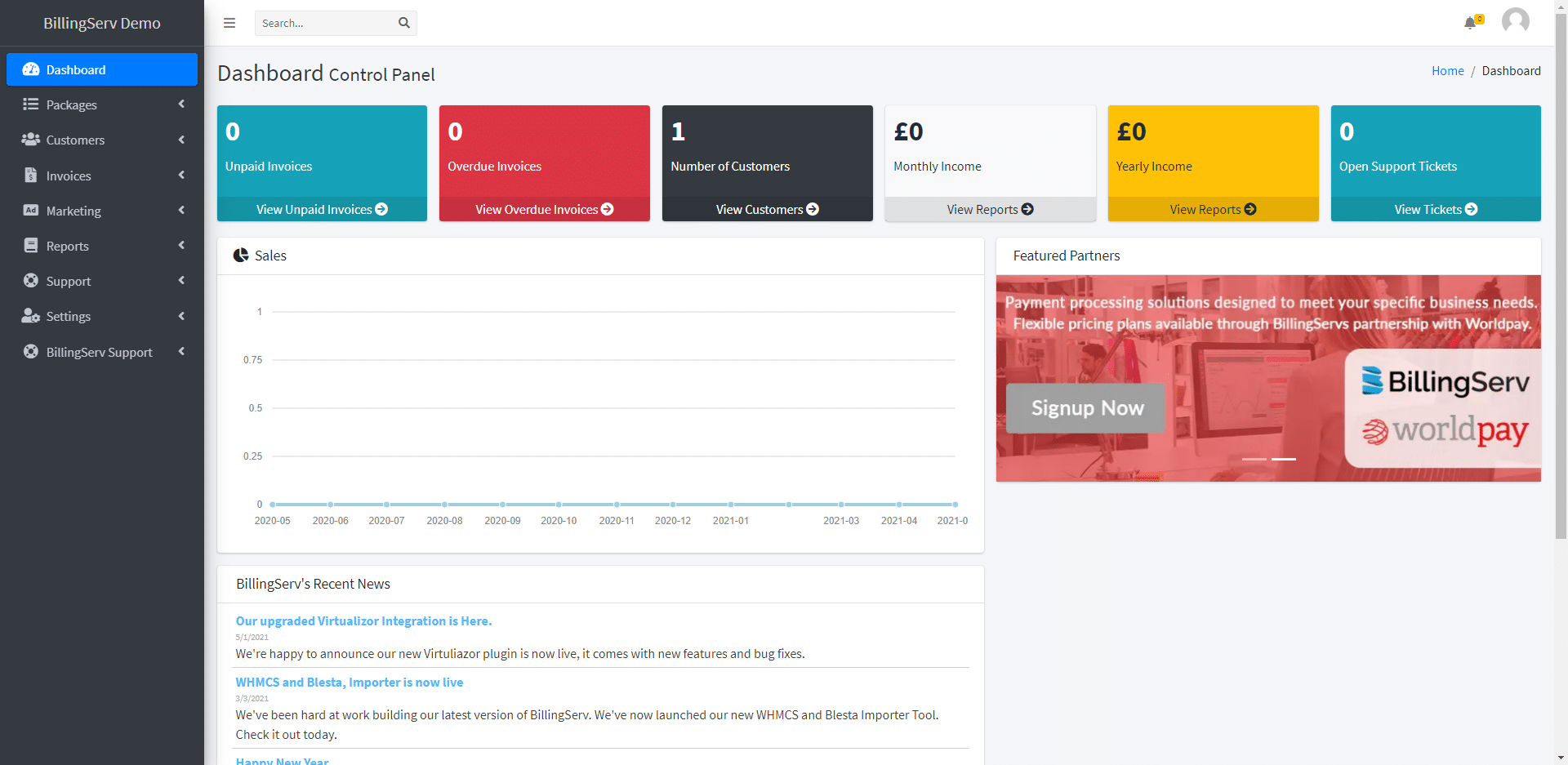 It is affordable, highly reliable, and you will pay for exactly what you need, no need to pay for unnecessary features.
What's Best About BillingServ?
Biggest payment gateways (Stripe, PayPal, GoCardless)

Billing history and transactions insights

No additional payment to use your own brand

Selling digital goods is super simple

Automated Payment Reminders

Completely Automated Account Provisioning

Customer Management and Easy Access

Fully Hosted with 100% uptime with failover

Web Hosting Integrations (DirectAdmin, cPanel, Plesk)

No need to install, setup or maintain anything

Easy management of security patches

Affordable, Multiple features to help with billing

Simple Payment processing, invoicing, billing
Plans & Pricing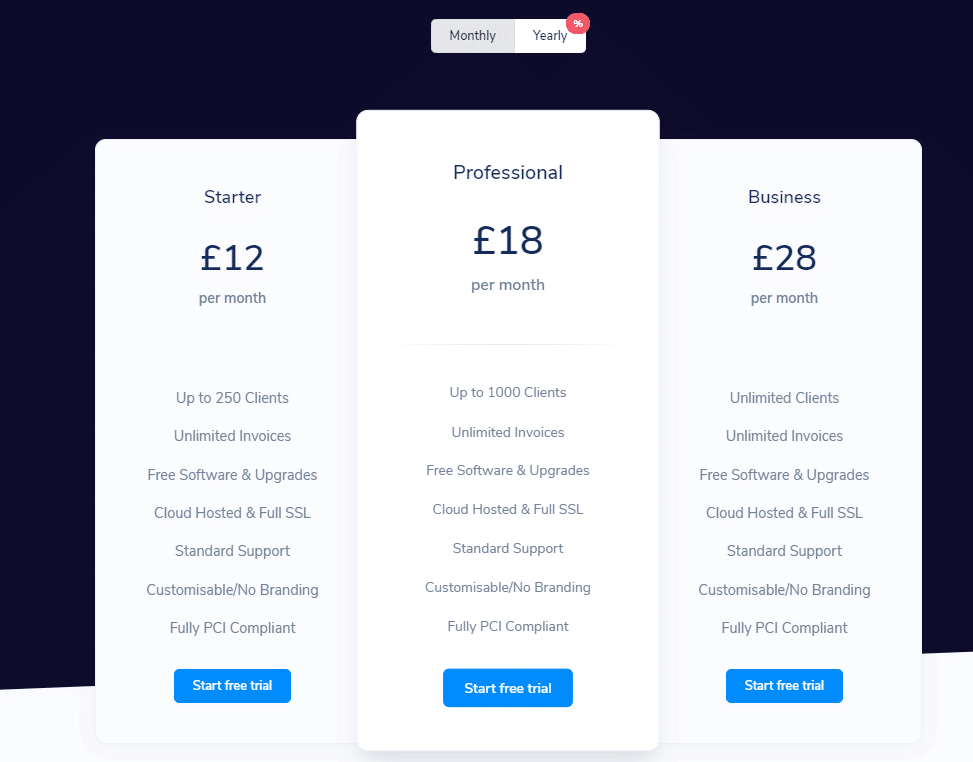 Why Choose BillingServ Over WHMCS?

BillingServ so much popular is that it is so secure and scalable
You can integrate BillingServ with cPanel, VPS.net, Enom, NameCheap, and a whole lot more easily
Its payment and invoicing options include credit/debit, check, and 10 other payment gateways.
BillinServ is great for email marketing that comes with CampaignMonitor & sales forecasts
BillingServ comes with built-in DDoS protection, which makes it one of the best WHMCS alternatives
It allows you to integrate with cPanel/WHM or Plesk, and any other domain registrar or SSL provider
With BillingServ setting up packages is simple and anyone can do this without technical assistance
BillingServ is a comprehensive online ordering service — ensuring your business runs smoothly
It makes all your transactions incredibly seamless with a variety of different formats
---
Conclusion
The 6 best WHMCS alternatives discussed in this article have emerged as powerful contenders, offering a plethora of features and functionalities to meet the diverse needs of hosting businesses. 
Each alternative brings its unique strengths, whether it's advanced billing automation, comprehensive client management, or seamless integration with popular hosting control panels. As the hosting landscape evolves, these alternatives are poised to reshape the way companies manage their operations and provide top-notch customer support.
---
Some other links worth checking:
A Detailed Guide on Web Hosting
Trending Posts
Table of Contents Introduction What is WHMCS? What is the Cost o...

Summary:  SSD vs SAS vs SATA drives in detail to determine which of these t...

In our today's blog, we will discuss Dell vs HP vs Lenovo to help you choos...