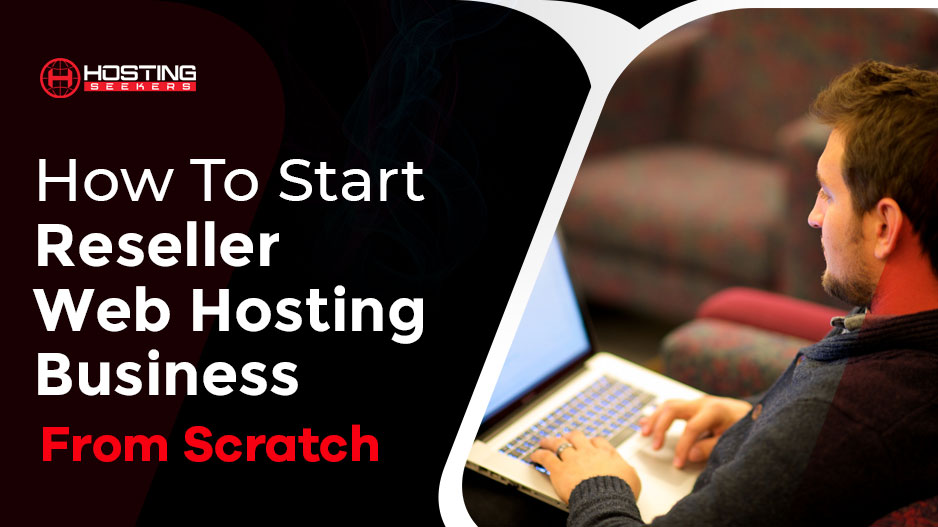 How To Start A Reseller Web Hosting Business From Scratch
Reseller Hosting
June 18th 2021
Table of Contents
If you have ever considered diving into the world of web hosting and want to establish a profitable venture with low upfront costs, reseller hosting is an excellent option to explore. By becoming a reseller, you can purchase hosting resources from established hosting providers at wholesale prices and then resell them to your clients at a markup, allowing you to generate revenue without having to manage the intricate technical aspects of running a full-fledged hosting company.
Also, The global web hosting services market size is projected to grow from $108.54 billion in 2023 to $395.84 billion by 2030, at a CAGR of 20.3%. (Source: Fortunebusinessinsights.com) 

---

---
What Is A Reseller Web Hosting Business?
A reseller web hosting business is a type of hosting service where individuals or companies purchase hosting resources from an established web hosting provider and then resell them to their own customers under their own brand. Essentially, resellers act as intermediaries between the original hosting provider and the end-user clients.
A reseller web hosting business is considered lucrative for several reasons, making it an attractive option for aspiring entrepreneurs. Unlike traditional web hosting businesses that require substantial upfront investments in server infrastructure and other operational costs, reseller hosting offers a more cost-effective and accessible approach.
---
Why Is A Reseller Web Hosting Business Lucrative?
A traditional web hosting business requires a huge investment in buying the server, and infrastructure, setting up employees' workspace, and systems. On the other hand, reseller web hosting trends in 2023 eliminate all of these costs and still allow you to enjoy its benefits.
Here are three key reasons why a reseller web hosting business is lucrative:
No Initial Investment
Ease of Setting Up
High Returns
Therefore, if web hosting is the field for you, the benefits will definitely outweigh. All you need is an interest in this field, a passion to not just start but also run a business.  
---
Steps To Start A Reseller Web Hosting Business
Starting a reseller web hosting business requires careful planning and execution. Here is a step-by-step guide to help you set up your reseller hosting venture successfully:
1. Set Relevant Business Goals
If you've already attempted setting up a business before, you'd know what goal setting is. For the best reseller web hosting business, we suggest setting pointed business goals and defining how you'd package your services.  
For instance, what services would you sell – just hosting? Or maybe add on like SSL certificate, domain names, or even hosting consulting services for your client, etc. This will help you define a niche within hosting. 
Next, define the goals in terms of customer acquisition and expected business growth. This will keep you on track. 
2. Define Your Client
Once you've finalized your service offering, define your client/target audience. You can basically target anyone with an online business or a website, irrespective of the scale of their operations and the nature of their business. Most of the reseller hosting providers serve web developers, bloggers, online designers, online businesses, etc.  
Be specific when defining your target client's persona. This will include the client's demography, geography, and industry. Once you know your target client, it will be easy for you to plan and structure your hosting plans tailored to the clients' needs. 
3. Choose Your Reseller Web Hosting Provider
Choosing your parent reseller web hosting provider is the MOST IMPORTANT part of your hosting business. The features you want to offer to your customers must align with what your provider is offering you. While choosing the parent hosting provider, we recommend you check: 
What do they provide – shell access or WHM panel access? 

Do they offer a free WHMCS license?

Do they provide the option to create a custom package in the WHM panel? 

How many sites can you host in your reseller hosting?

Do they provide the option to take the backups and restore the backup?

Do they offer an upgrade option in case your package allocated disk or bandwidth gets used to its maximum capacity?
---
Cloud Computing vs. On-Premises – Choose The Best Platform To Save Your Sensitive Information
---
4. Get Started – Website & Branding
Select a name for your company that accurately describes your goals. Keep it memorable and create a logo that complements the brand. It is the first aspect of your company that customers notice. So, give it some thought! Your brand defines your long-term engagement with your customers.
Next, create a website that is clear and simple for your potential customers to utilize. Create effective call-to-action buttons so that customers may purchase your services with only one click. A trustworthy SSL certificate, a secure website, and effective billing mechanisms should all be in place.
5. Finalize Your Plans & Packages
After carefully selecting your hosting provider and purchasing a suitable plan, the next crucial phase involves refining your hosting plans and prices. It is essential to create attractive packages that provide value to your clients while ensuring a reasonable profit margin, as determined in Step 1. Convince (and offer) your clients that they are getting the best web hosting deal that they can think of!
Pro Tips for Crafting Your Hosting Packages: Enhance your plans with enticing add-ons, such as a complimentary 30-minute consultation to assist clients with their web server hosting needs.
6. Offer 24*7 Support To Your Clients
Providing exemplary customer service is a pivotal aspect that we strongly advocate and strive to incorporate into our businesses as well. Ensuring an exceptional customer experience not only fosters lasting relationships with your clients but also encourages them to endorse your services within their circles. 
Emphasizing the significance of delivering top-notch client support cannot be overstated. We firmly urge you not to compromise on anything less than round-the-clock assistance for your valued clients.
7. Market Your Business
Congratulations on finalizing your business plan and goals! Now comes the exciting part: reaching your target clients. For the best reseller hosting business, you have three effective strategies to consider. 
Option one involves leveraging paid marketing channels. You can run targeted paid ad campaigns to reach potential clients. This approach allows you to reach a specific audience and gain visibility quickly.
8. The X Factor (s)
Trust stands as the paramount pillar of your business. To cultivate confidence in your clients, ensure you proudly display a trust seal obtained from BBB, as it serves as a tangible testament to your commitment to meeting all the requisites of a reputable online enterprise. Let trust be your defining X factor! 
Furthermore, it is essential to grasp the ever-evolving market needs and diligently enhance your offerings. Perpetually assess your competitors and scrutinize their offerings to gain valuable insights. By refining and augmenting your own products or services, you can make them more appealing and alluring.
---
Find out the best Cloud Service Models of 2022 for your business: IaaS vs PaaS vs SaaS
---
Summary Of How To Start A Reseller Web Hosting Business From Scratch
Starting a reseller web hosting business from scratch requires minimal initial investment and can be straightforward. Define clear business goals and strategies, identify your target market, and select a reliable server provider.
Customize your offerings and sell them on your website at a profitable margin. Employ creative marketing techniques to attract customers quickly. Analyze competitors, prioritize excellent customer support, and continuously expand your services to meet client needs. Now is the opportune time to embark on this venture if you have a passion for web hosting.
Trending Posts
Table of Contents Introduction What is WHMCS? What is the Cost o...

Summary:  SSD vs SAS vs SATA drives in detail to determine which of these t...

In our today's blog, we will discuss Dell vs HP vs Lenovo to help you choos...