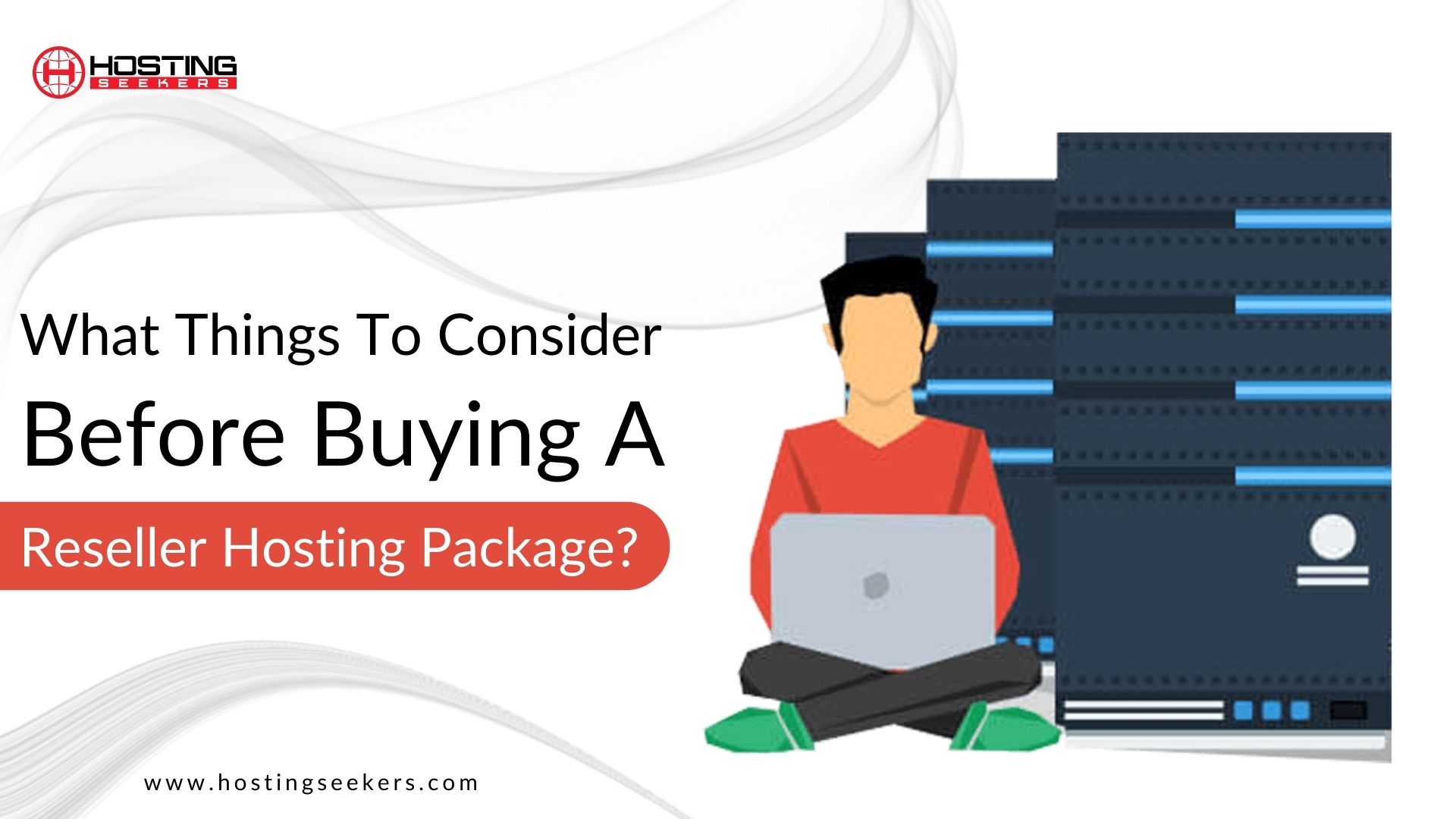 What Things To Consider Before Buying A Reseller Hosting Package?
IT
Technology
September 14th 2022
Reseller hosting can be a lucrative business for entrepreneurs as well as a valuable revenue stream for developers who want to host their clients' websites as part of their services. However, if you are going to provide hosting to your customers, you do not want to provide a service that disappoints them.
At the same time, you want the best reseller hosting packages that will allow you to easily manage your clients while also allowing you to grow your business.
As a reseller hosting provider you choose can make or break your business. If you get this step right, you'll be off to a great start. If you choose the wrong provider, on the other hand, your reseller hosting business may have trouble getting off the ground. But if you take a few easy steps, you can find a service that meets all of your needs.
With the right hosting provider on your side, you can provide your customers with the best possible experience. You can also avoid a lot of the time-consuming admin that comes with running a successful reseller hosting business.
10 Things To Look For In Reseller Hosting Packages
Your hosting provider completely dictates your services as a hosting reseller. A good place to start is to choose the right hosting package. If you mess up this step, you may have a hard time. So, here are ten things you should look for in a reseller hosting package.
1. Bandwidth
Every website is unique and has specific requirements. For instance, if you operate a business website, you may need less bandwidth than those who operate a video-heavy entertainment platform. You must ensure that the hosting plan provides sufficient bandwidth for your website. If you upload huge files and stream movies, you will need additional bandwidth for your website. Additionally, be sure to review their data transfer policy, as some organizations may limit the amount of data you can upload each month.
2. Control Panel
A web host reseller hosting provider should offer a control panel. You may manage your files, alter passwords, add accounts, and set the many features of your website using the control panel. You may be familiar with control panels such as Plesk or cPanel, but there are many lesser-known alternatives. Always confirm with your service provider and learn which control panels they offer.
3. Technical Support
It can be difficult enough to troubleshoot problems with your own website, but when you're in charge of other people's websites, it's critical that you have the right technical support in place in case problems arise. This is especially important if there is a backend problem because, as a reseller, the parent host manages all of those processes for you. As a result, you should only use a host that offers 24 x 7 technical support, so that you can get help whenever you need it.
4. White Label Branding
White label branding refers to the legal authority you have as the best reseller web hosting company to market hosting services as your own. This essentially means that the parent hosting company's name is not mentioned anywhere.
This is significant because brand integrity is critical to a company's success. You can use your company's name on all of the services you provide, allowing customers to associate your products with your company. As a result, make certain that the parent hosting company allows for white label branding.
5. Authorized Amount Of  Storage
The reseller hosting bundle should provide you with ample space for your websites. If you want to store a large number of media files on your website or utilise a large amount of storage space for backups, you should seek for hosting packages with enough space. Determine if the unlimited domain hosting plan offers unlimited storage space.
6. SSL Certificate
Additionally, you should seek for reseller hosting packages that contain an SSL certificate, especially if you want to sell online items or services. With this functionality, your customers will be able to execute safe HTTPS-based transactions. This ensures that critical data, such as passwords and credit card information, is transmitted in a secure portion.
7. Uptime
Uptime measures a web server's reliability. So, if the server was 'up' 90% of the time, its uptime is 90%. When a web server is 'down,' all its websites are down. Why is uptime important? No one likes error screens on websites. It's also bad for the website's and company's reputation. Search engines monitor website uptime. Low uptime websites aren't recommended in search engine rankings. Partnering with a low-uptime firm as a Reseller Hosting provider will drive away clients. When shopping for a Reseller Hosting plan, check sure the firm has a 99.9% uptime record. Anything less isn't worth your money.
8. Security Features
Your reseller hosting package should have a number of security features to keep hackers and other threats away from your site. You should look for packages with things like firewalls, daily backups, protection against malware, email scanning, and login alerts, to name a few.
9. Compatible Service Terms
Your Terms of Service as a web host reseller must follow the guidelines for legal usage set forth by your hosting company. It's crucial to carefully study the terms of service of the hosting company before making a purchase. Their rules can contradict with the way you want to promote, share, or resell their hosting services. Additionally, you should confirm that there are no limitations or guidelines that can turn off your target market from purchasing goods.
If you're unsure, ask the prospective hosting provider for advice. A decent hosting company ought to be open to working with you to make sure that your Terms of Service adhere to their own rules.
10. Customer Feedback
Finally, before deciding on a company, make sure to read through their online reviews. Learn what their customers have to say about the company's dependability, technical support, and what other resellers think about their hosting. If the feedback is positive, this could be the company for you.
Bottomline
As a reseller hosting provider, you are responsible for managing the hosting of your clients. At HostingSeekers, we understand the significance of this to a client, especially if their business depends on the website's constant availability. If you want to offer the greatest hosting to your clients, it is crucial that you choose the correct provider for your resale business. With any luck, the information provided here will send you in the correct direction.
Trending Posts
Table of Contents Introduction What is WHMCS? What is The Cost o...

When it comes to upgrading or buying a new PC, choosing between AMD and Int...

In our today's blog, we will discuss Dell vs HP vs Lenovo to help you choos...