Want to Start A Business Online? We Can Help You Start A Web Hosting Business Simply
IT
Technology
October 6th 2021
Summary: This article discloses a simple step-by-step solution to start a business online within a few minutes even without having so much technical expertise. So, stay tuned!
In today's fast-paced, internet-driven world, a website with beautiful graphics and meaningful content holds no value without a good web host. 
Web hosting services are the foundation of websites as well as online businesses. In this digital world, a good web hosting company is the backbone to start a successful web hosting business or to launch a successful Reseller Web Hosting Business. 
So does that mean that the web hosting business is the field to be in right now?
Let's revisit this question after understanding what exactly a web hosting company does.
---
What Exactly Does A "Web Hosting Company" Mean?
A web hosting service is essentially a network infrastructure that makes websites available on the internet across the globe. It generally starts with a server or a very powerful computer. This is stored in a highly secured and purposefully built facility called the data censor. It provides network and powers connectivity with temperature control and backup systems. 
If you are a web hosting company, what you are actually purchasing is the physical disk space on the server as well as the bandwidth which provides the network connection for the server. Hosting is the home of your website. If you have a website, you will need a host to run it. Although web hosting might sound intimidating and complex, it is in fact, very simple. Not sure which cloud hosting provider to choose? Here's the detailed comparison of AWS vs Azure vs Google Cloud.
---
Types of Web Hosting To Start A Business
Free Web Hosting
Reseller Hosting
Shared Hosting
VPS Hosting
Dedicated Servers
Managed WordPress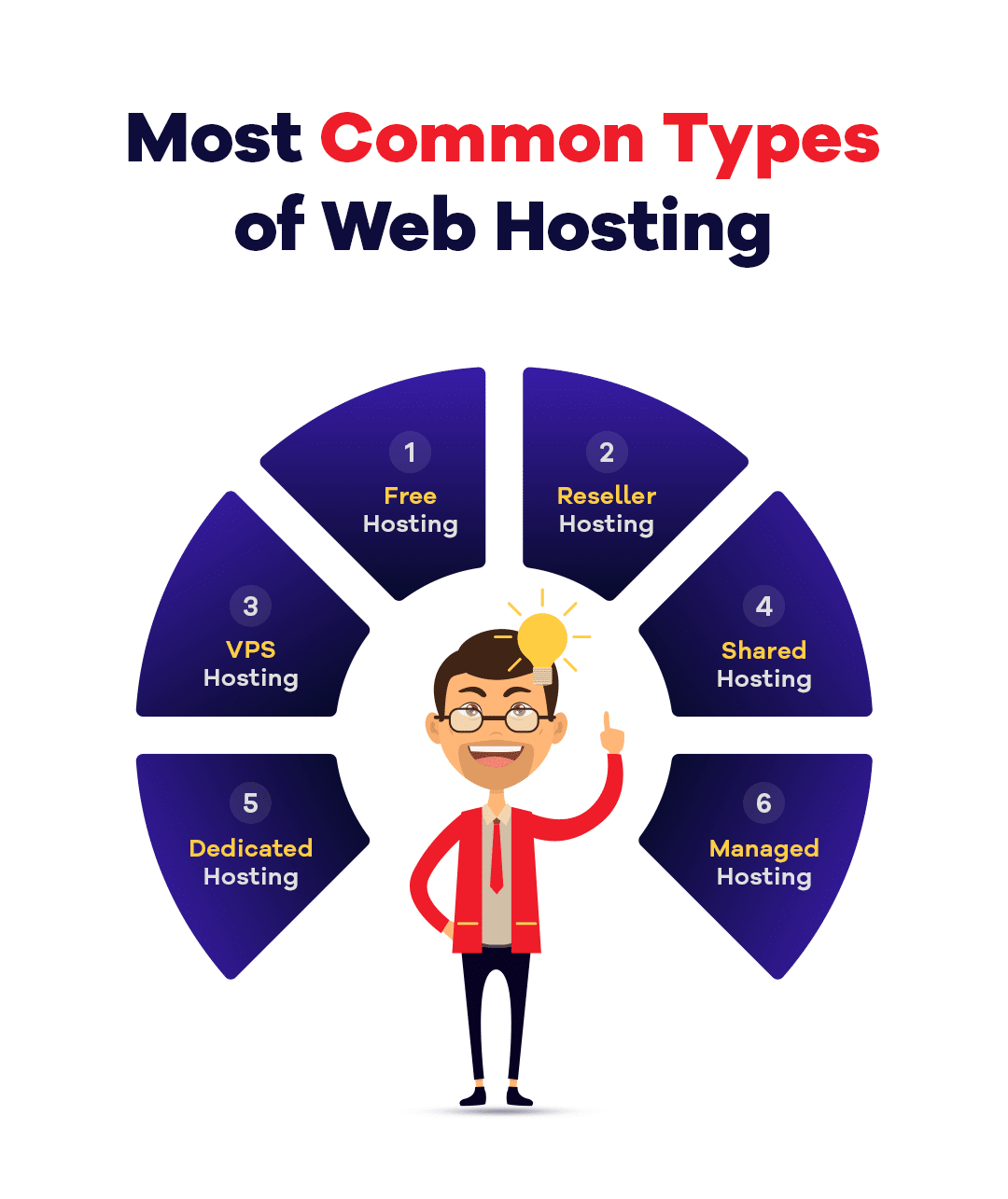 There are different types of web hosting to start a web hosting business – free hosting, best reseller hosting, shared hosting, virtual private servers, managed WordPress hosting, and dedicated server hosting.
Free Hosting
This is a good choice when you want to start a business for fun since the features you get in this type are fairly limited. In this case, the speed is relatively slower, there is no guaranteed uptime and there are advertisements on the websites. 
Reseller Hosting
Best Reseller Hosting is the kind where you get a bulk amount of hosting space and then sell to clients or website owners. You can pursue this as your side hustle for a recurring source of income on the side. Each website gets its own panel and shares the disk space. It is a low-cost option for you to start a business online. However, you may not find a variety in the customizations. 
Shared Hosting
In this case, there are multiple websites sharing the hosting. It is the most popular kind of web hosting since it is economical. This is a suitable option for beginners as well to start the best web hosting company. However, since websites are sharing the hosting service, the speed might be slower and more unpredictable.
Virtual Private Servers (VPS)
This is a more advanced form of shared hosting service. Websites are still sharing the web host but in a partitioned manner. Unlike in the case of shared hosting, these websites do not generally compete with each other. If there is a large amount of traffic on some websites in this network, it does not affect the other websites a lot. If you are still not sure about the best cloud servers model for your business then IaaS vs PaaS vs SaaS guide will help you.
Dedicated Servers
Websites have the entire web server to themselves. This is recommended for websites that have a huge amount of traffic. This has the best level of security for everyone going to start a web hosting company. However, since this type is not shared between websites, one website has to bear all the costs. 
Managed WordPress
These are web host companies that usually have automatic and regularly managed updates and backups. There are also staging environments and better support and caching. The security is heightened as well. Not only does this ensure faster websites, but also faster recovery from glitches. This kind of web hosting, however, is a little more expensive than the other types. 
So is it the right time to start a business related to hosting right now?
Absolutely!
---
Why Is It The Right Time To Start A Web Hosting Company?
Today, there are about 3,30,000 web hosting companies in the world. With the internet world at its peak, users realize the importance of a good web host. Even small online businesses now have their own websites. Moreover, website owners understand how essential it is to invest in a good web host which is fast and secure. With the advent of Covid-19, several offline businesses transitioned online as well.
---
The web hosting services market is expected to hit USD 216 billion by 2025, growing at an annual rate of 13.25%.
– Source
---
Keeping this in mind, this is the right time to start a business.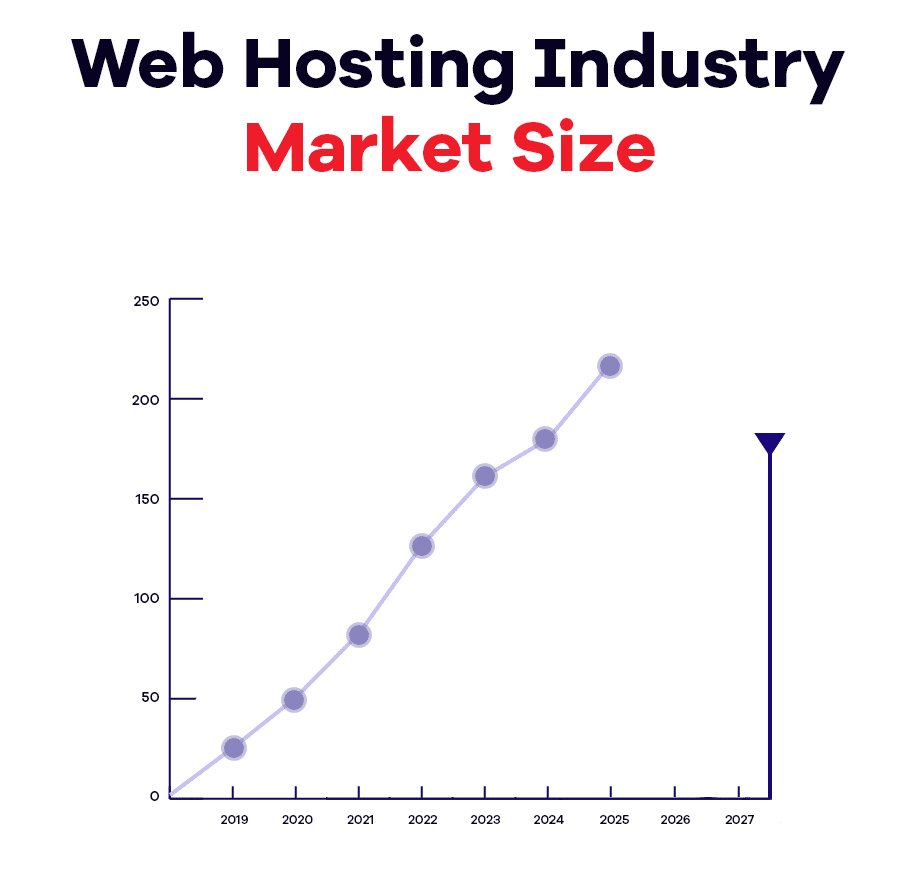 ---
How To Start A Web Hosting Business?
Step 1: Define Goals
Step 2: Find Your Niche
Step 3: Know Your Market
Step 4: Business Model
Step 5: Choose The Right Kind Of Hosting
Step 6: Choosing The Right Hosting Partner
Before you start a business online, understand your motivation to start it. This will help better in defining the process of starting your web hosting business. With all the information available online, it is extremely simple to start a web hosting company today. Here are some steps you definitely need to include in your strategy to be a successful and best web hosting company.
Step 1. Define Goals
Ask yourself why you want to start a business or company? Clearly defining these goals might be helpful for you. It will give you as well as your client a good idea of the path ahead. This is generally the first step in starting any new venture. This step can serve as the backbone for your business model, and later, your operational activities. A clear plan with distinct goals can also differentiate you from other companies in the market. Here, you can also gauge your target audience and the business methodology you want to stick to.
Step 2. Find Your Niche
In the world of web hosts, there are giants who are well established. It is difficult for a newbie to compete with them. However, if a new hosting company tries to find its niche, it is easier for them to also find its target group. Moreover, finding a specialization helps the company to attract such clients. A differentiating factor or a unique selling point is extremely important in this case, where there are millions of hosting companies already. It might also help establish a first-mover advantage for the company. Having the right kind of information in an industry where competition is fierce is essential. 
---
What is Cloud Server Hosting? Here's everything you need to know
---
Step 3. Know Your Market
After you have defined your goals and found your niche, you need to assess the market in order to start your business. This market research is crucial for success. Initial research includes finding similar companies, or competitors, to assess their pricing plans and structures. The best of these competitors can be adopted by you, if feasible. You will also need to keep in mind your strengths, weaknesses, opportunities, and threats, to tackle any bottlenecks in operations. 
Step 4. Business Model
Creating and strategizing a solid business model is extremely crucial before you decide to invest your money and time to start a business. It is a great way to also evaluate your idea's business potential. Identifying the service you plan to sell can be helpful. An attractive logo and effective branding can take you a long way in pulling customers. Additionally, a concrete pricing plan which might be acceptable to clients is of utmost importance. From the company's perspective, you might need to chalk out your typical recurring and fixed expenses. 
Step 5. Choose The Right Kind Of Hosting
 If you want to start your own web hosting company, you need to know the different kinds of web hosting. Keeping in mind your objective and goals, and your budget, you should consider all the factors to choose the right kind of hosting. For example, if you are a web professional, reseller hosting might be ideal for you. On the other hand, if you are looking to start a business targeting small online businesses to host, then shared hosting might be the right choice for you.
Step 6. Choosing The Right Hosting Partner
If you are interested in reseller hosting, you will need to do your research on the different hosting partners. You have to be mindful that your host allows resellers. You can assess the services and pricing plans to be sure of your choice. They should also be able to provide you with constant support in case you face issues in reselling. Once you have decided this, you can customize plans and packages for your own clients.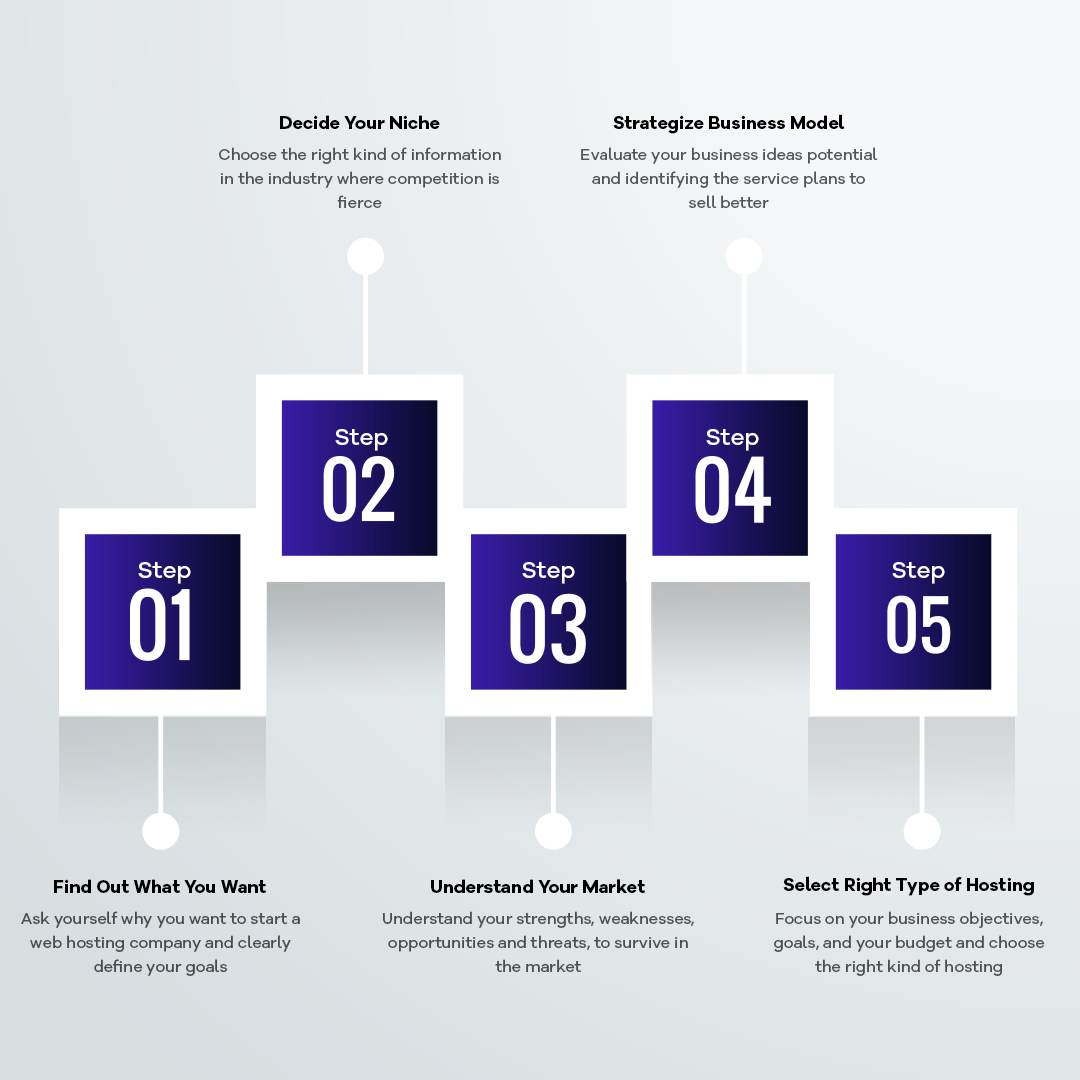 ---
Important Elements Of A High-Performing Web Hosting Company
Disk Space Availability
Server Hardware
Uptime Guarantee
Bandwidth Limit
Speed and Connectivity
1. Disk Space Availability
Disk space availability is an important factor that most website owners look out for. This is the amount of server management space that is allowed to a website owner from a web hosting company. It includes all texts, images, graphics, databases, etc. It is here that website owners can upload content and make it available for the public to use and view. It is usually measured in bytes, kilobytes, megabytes, or gigabytes. In this case, the operating system, control panel, and applications play a major role.
2. Server Hardware
The three components that website owners look for are – Hard drive, RAM, and CPU. Since the CPU handles all the processing, it is essential that the processor is powerful and fast. Multi-core processors are the best bet for website owners. A faster hard drive will obviously imply that a website performs better.
3. Uptime Guarantee
Uptime guarantee offered by a web hosting company is the percentage of time that the website will be up and running for the public. For example, if a web hosting company guarantees 99.9% uptime, this means that 99.9% of the time the website will be available and accessible. So, the higher the uptime guarantee offered by a web hosting company, the better it is for the website owner. 
4. Bandwidth Limit
Bandwidth is simply the amount of data that a website owner can upload to or download from a website in a month. Web hosting companies that provide unlimited bandwidth are the most popular. If the bandwidth is limited, the website cannot be accessed after exhaustion of the bandwidth limit. 
5. Speed and Connectivity
A website's speed is highly dependent on the company that is hosting it. The page speed is the amount of time that a website takes to download all the information and data from its host and make it available to the website customer. Websites that are hosted by reliable hosts have more customers and consequently also rank higher on search engines. So, it's time to start a business right away.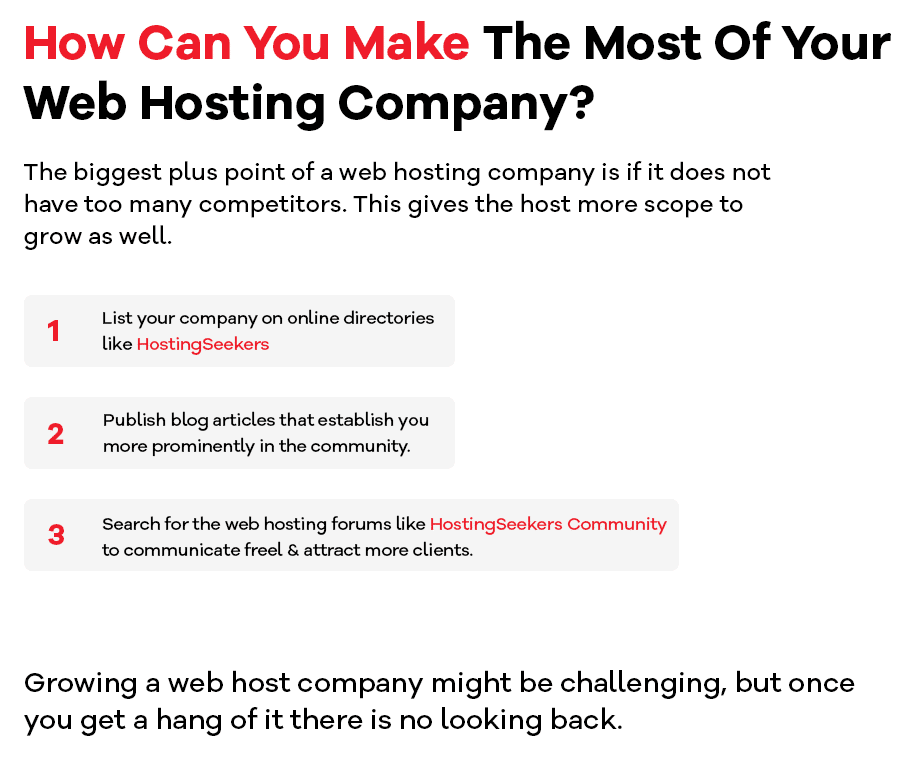 ---
Start A Business With World's Best Web Hosting Companies
As per Grand View Research, the web hosting industry is currently valued at USD 56.7 billion. It is growing at an annual rate of 15.5%. Here is a list of some of the world's best web hosting companies to start your business online with.
These are based on different aspects like refund policies, best available plans, customer satisfaction, best customer support systems, and minimal hidden costs. 
World's Best Web Hosting Companies
Bluehost
InMotion
HostGator
GoDaddy
HostWinds
Ionos
1. Bluehost
Bluehost is an old and established web hosting company, which is considered to be one of the best in the industry to start a business. It is a great place for WordPress and has different shared hosting, the best VPS hosting, and dedicated hosting options. The pricing plans are nominal and affordable, suitable for every kind of client. It is reviewed by clients greatly, specifically for its user-friendliness and reliability. Bluehost is also one of the largest web hosts in the world, with a market share of about 3.24%.
2. InMotion
InMotion is another popular web hosting company globally considered the best start a business on the Internet. They are a cheap hosting provider with enough basic features to get started. They offer the first year free to clients. A major disadvantage is that there are no daily automatic updates or backups. There are no dedicated custom cache plugins too. However, the clean-looking interface with shortcut buttons is a win for this hosting company.
3. HostGator
Hostgator is a popular choice among web hosts. They have a guaranteed uptime of 99.9%. If it drops below 99.9%, then the client can get a month's credit on their account. Like most other web hosts, it also provides free malware tools and complimentary website backups. The customer service and support are considered to be top-notch in the case of Hostgator.
4. GoDaddy
GoDaddy is the largest web host with a total market share of about 18.5%. There are several discounts available for clients routinely. With a great reputation in the industry, GoDaddy allows you to pay in multiple ways as well. However, clients have complained that this web host does not have live chat support for customers which solves their problems immediately. However, its brilliant features and comprehensive user interface compensates for the shortcomings. 
5. HostWinds
HostWinds is renowned worldwide for having the simplest plan structures which are easy to understand. If you are a beginner who is looking for basic pricing and raw features that will help you understand the tips and tricks of the industry better, this web host is highly recommended. A major complaint about this particular web host is that it does not deliver what it promises at times, causing annoyance to clients. 
6. Ionos (1&1)
With the second-highest market share, Ionos (1&1) takes away about 6.15% of the market. It is widely used because plans start from as cheap as USD 0.50 a month. Particularly popular in European countries, they also provide round-the-clock support to clients. 
---
Still, confused about Cloud Computing vs. On-Premises? Read this guide
---
How to Pick the Right Web Hosting Company To Start A Business?
1. Check The Important Elements Of A Good Web Host
Check that the uptime of the web hosting company is more than 99% to ensure no loss of customers. Additionally, make sure that the web hosting company chosen has enough space to provide for the website requirements. A web hosting company with unlimited disk storage space is always a plus. The loading or page speed is an important factor in determining how much traffic a website is capable of getting. 
2. Customer Support
Make sure that the web host is efficient in providing the right kind of assistance at the right time while starting a business. For example, at any given point if the server is down, the website owner can immediately contact the web host to gauge the issue and resolve it as soon as possible.
3. Check Reviews
Checking web host reviews on different web hosting company directories might be helpful. Experienced customers and industry experts highlight the pros and cons of every web host here. This is a great way to understand the different web hosts and compare the ones that are similar. Matching a website owner's requirements to the features available is a very important step. This can almost make or break the website. Hosting directories like HostingSeekers give great data and overviews on the different players in the industry.
4. Read Blogs
It is important to understand the different terms used by web hosting companies. Moreover, it is also crucial that a website owner is updated about the latest trends and opinions by experts before you get started with a web hosting company. Several directories online publish blog articles regularly. These not only have the latest trends but also reflect how well a specific web hosting company might be doing in a particular country. 
5. Go For A Free Trial
Many web hosts offer a month's free hosting, after which a plan which is suitable can be picked. This gives the website owner a clear picture of the features of the web host as well as the requirements to work on. If the two match, the web host might be a good choice for the website owner to get started with a business.
6. Discover discounts and packages
Web hosts generally have amazing discounts to offer website owners, even those who are just starting out. Many of these discounts and offers are available on web hosting directories. In a competitive market like this, only web hosting companies that make their customers happy while starting their own web hosting business survive well.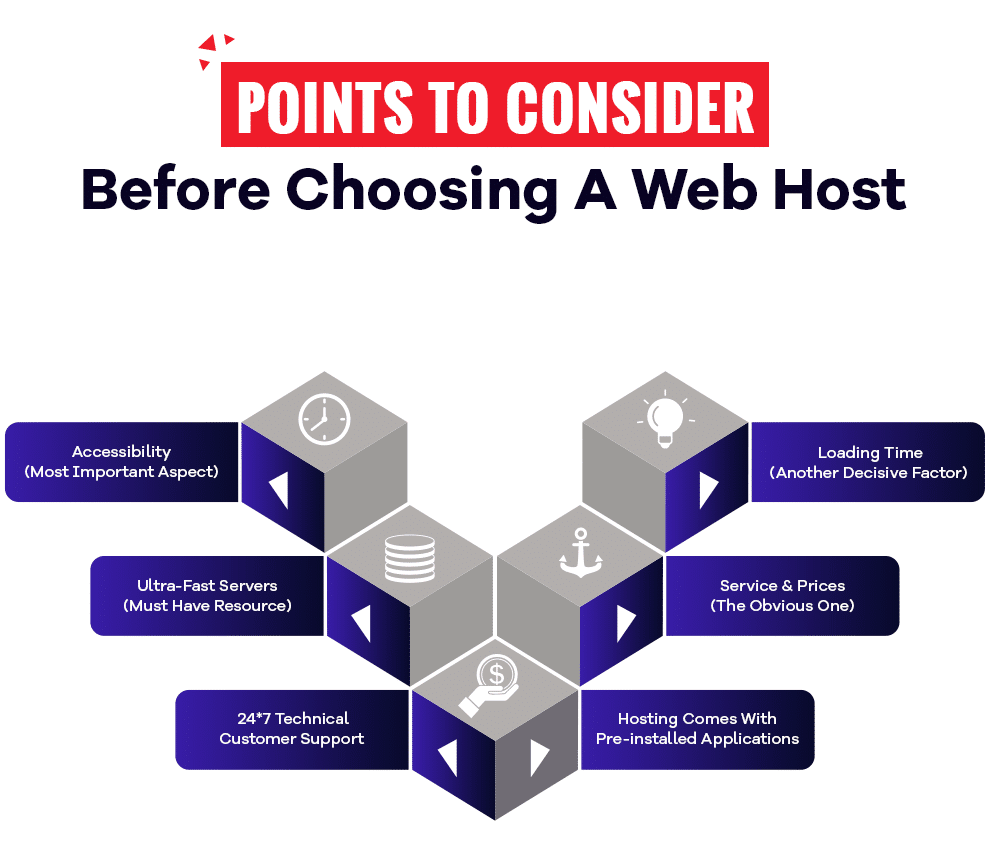 ---
Important Terms Related To Web Hosting
What is SSL?
SSL or Secure Socket Layers is a common term in the industry. It is used as security when any browser transaction is made. For example, a customer's credit card information or passwords are secured by SSL. It is essential to safeguard any confidential or sensitive information that is entered on a browser and sent to another system and one must consider this point while starting a web hosting business.
Paid SSL is when a website obtains a certificate and verifies its business identity for the customers to feel secure. These are very widely used in e-commerce websites. On the other hand, free SSL is when the website owner only gets the validation of owning the cheap domain hosting.
What is an IP Address?
IP stands for internet protocol. It is a unique digit code that marks the device that is connected to the internet at any given point. These IP addresses are usually mapped to a particular domain name. There are two main kinds of IP addresses – shared and dedicated. A shared IP address is a code that is shared by multiple websites.
These websites generally also share the same server. In contrast, a dedicated IP address is solely for a single website. Dedicated IP addresses reduce a website owner's risks of being insecure or blacklisted because of other websites on the same server. Any kind of SSL compatibility issues can also be avoided with a dedicated IP address. So, keep one must know this point while starting a web hosting business.
---
Frequently Asked Questions
Q 1. How much does web hosting cost?
A. Starting and hosting a web hosting business completely depends on the type of web hosting that is done. For example, shared hosting is the more economical type, while dedicated server hosting is more expensive. There are many other options that can be chosen according to the budget of the website.
Q 2. How can a web host buy a domain name permanently?
A. A web host cannot do that. There are annual renewals for domain names.

Q 3. What is the meaning of best WordPress Hosting?
A. It is a form of hosting for WordPress sites.
Q 4. Can I start a new business website without a host?
A. Yes. However, it is not recommended to businesses who want to look professional and give the best user experience to their customers.
Q 5. Can you host a website for free?
A. There are some free web hosting companies. However, paid web hosting is considered significantly more efficient and professional.
---
Conclusion
It is an already established fact that the majority of the world is running online today and web hosts are key elements in the system. Expecting a rise in the number of internet users and websites, the growth trajectory of web hosting companies looks upward. This article gives you a detailed guide on web hosting and an overview of the different aspects of the industry, especially if you are planning to start your own web hosting company. The detailed guide about starting your own business will eventually lead to better website hosting and higher website rankings.
Trending Posts
Table of Contents Introduction What is WHMCS? What is The Cost o...

When it comes to upgrading or buying a new PC, choosing between AMD and Int...

Summary:  SSD vs SAS vs SATA drives in detail to determine which of these t...