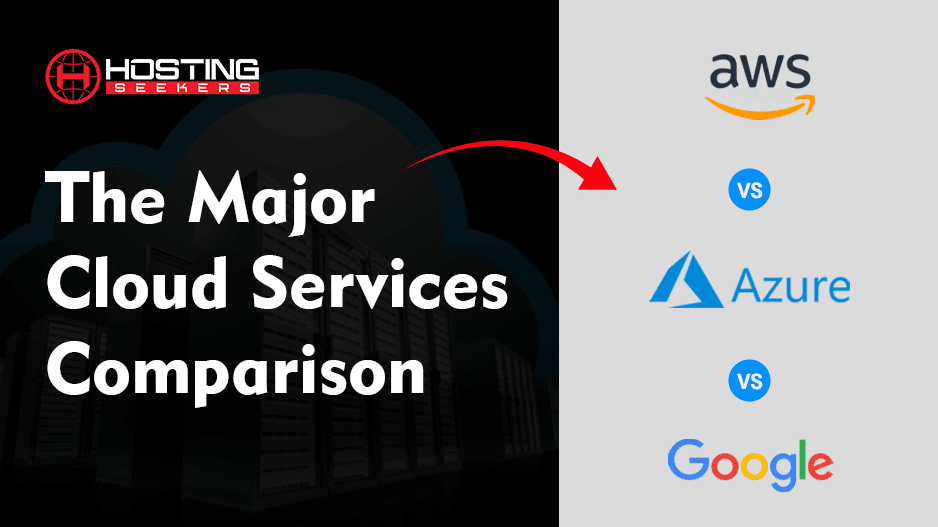 AWS vs Azure vs Google Cloud – Who's The Best Cloud Service Provider?
Cloud Industry
IOT
Technology
August 13th 2021
Technology is evolving so fast that traditional on-premises data centers are shrinking rapidly with the evolution of the latest cloud technologies. Now doing business in the cloud has become the most delightful way to secure your website and run it smoothly. Moreover, Cloud computing makes sense from both performance and strategic points of view as it's the best way to reduce cost and enhance agility.
---
Multi-Cloud – What's That?
Infrastructure as a Service (IaaS) is the most popular service model in which third-party service providers host and maintain their core infrastructure, including hardware, software, storage server, data centers, and network services. All the customers using this service will be charged only for the infrastructure they use along with the ease of managing the hosting of applications in a highly encrypted environment.
This multi-cloud IaaS world is dominated by 3 tech giants Amazon Web Services (AWS), Microsoft Azure, and Google Cloud Platform (GCP). Hence, it gets challenging for companies to choose one of these IaaS providers as they offer unique benefits at competitive prices.
As a business owner if you are confused, here is a comprehensive overview and comparison of the top three cloud service providers along with their services, features, and other aspects. We are sure our research will help you make the right decision!
---
---
AWS vs Azure vs Google Cloud – A Brief Overview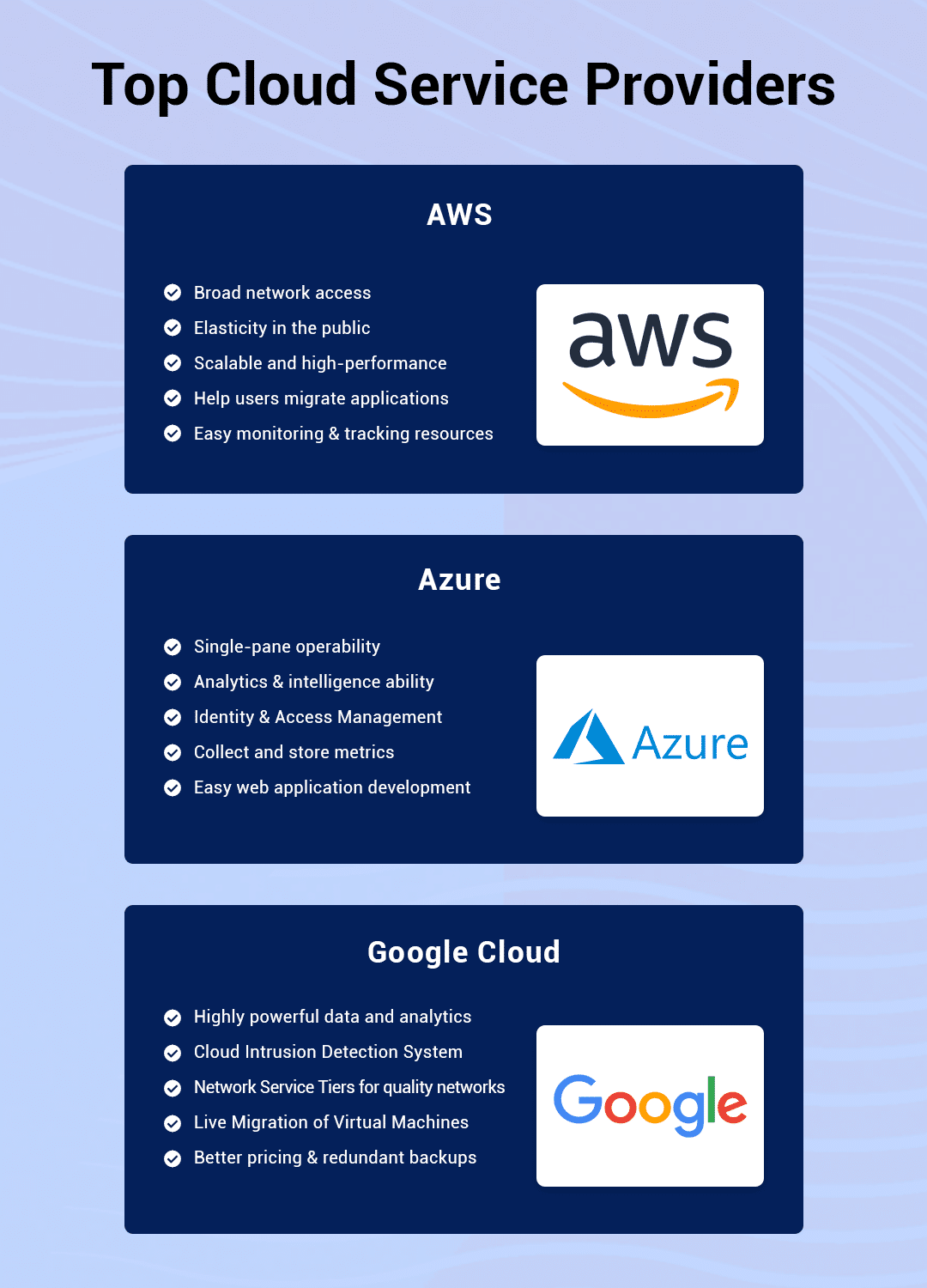 Most of the iconic companies like Netflix, Spotify, PBS, and others rely on cloud services to serve better to its users. This is because it allows them to better focus on what's working for them. Their entire infrastructure is situated in the cloud. These major cloud service providers AWS vs Azure vs Google Cloud constantly update their technicalities to keep their services up-to-date. 
However, when it comes to your business, you have to consider several factors and features that suit your clients best. So, here is a complete checklist of the main factors you must consider while comparing these major cloud service providers:

1. Consumption Rate

No matter if you are going to use the cloud all the time, frequently, or just a few times in a day, measuring the consumption rate is essential. Check if the cloud provider allows you to choose an hourly or monthly billing model and provides you an option to choose among one or the other.
2. Scaling
It's all about the elasticity to offer enough computational resources on demand. Also, make sure your cloud service provider has the ability to deliver these resources anytime and anywhere.
3. Support Mechanisms
Another most important point to take into account is the cloud services support mechanism in case of data loss incidents and making sure that the technical support available all the time.
4. Robust Authentication System
In order to access cloud services, all you need is a username and password. However, you also must check if the cloud service provider offers you two-step authentication to secure your business better.
5. Legal Compliance
Your cloud service provider must comply with the legislation that's applicable to them no matter where their information systems and businesses are located.
---
Now, let's get started with a quick overview of AWS vs Azure vs Google Cloud:
Amazon Web Services (AWS)
AWS is one of the most powerful cloud service providers for large as well as small organizations, including enterprise-grade service providers. Since AWS came into IaaS and PaaS cloud markets early, so now it is well-positioned as a leading cloud service provider. As a result, Amazon is now having deep financial pockets and has become the largest cloud infrastructure with a huge catalog of 175+ mature cloud services.

Now, AWS has a complete suite of computing, storage, deployment, mobile development, application, security, email, remote computing, and analytics services in order to help businesses with ongoing technological changes. Besides, AWS cloud offers: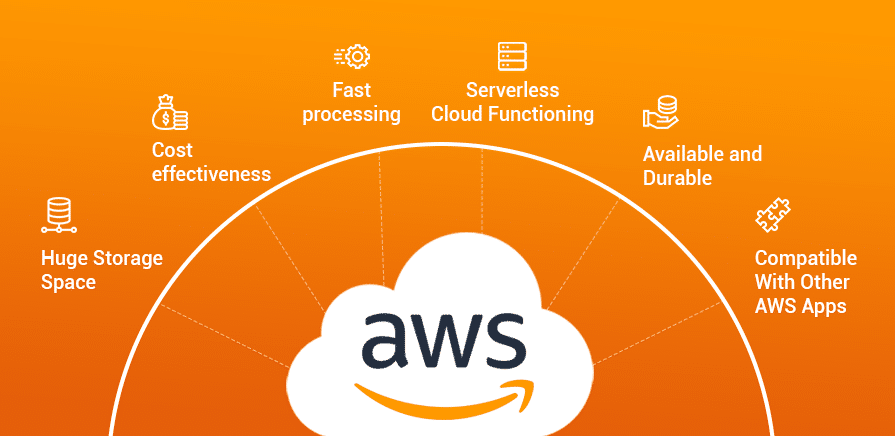 ---
Microsoft Azure
Azure is another powerful, secured, and integrated platform for companies that depend on Windows-based standardization. Today Azure is competing head-to-head with AWS and the best feature why businesses love this platform is for its Linux friendliness because it relates to virtual guests OS and Linux compatibility platforms. Azure's IaaS platform has always been its strength and now it has started coming up with in-build, readymade server applications, like Java, PHP, Node.js, etc.
GCP services are available in 54 different regions worldwide and serve businesses to increase productivity while deploying the current technologies. Moreover, it is the easiest enterprise cloud that allows easy configuration and effortless management.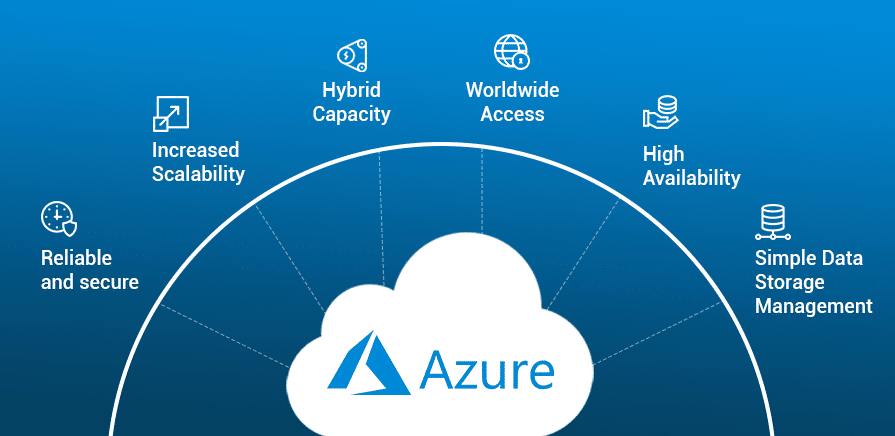 ---
Google Cloud Platform
If we talk about the biggest cloud service providers, the Google Cloud Platform cannot be skipped. Although it's a newcomer as an IaaS provider, it supports almost all the generations of Linux along with Windows Server versions up until 2016. Now, it has expanded more than 21 regions that are divided into around three zones each. Because of this, the reach of GCP is less than Azure and AWS, however, Google's effort to reach out to these regions is still in process.
GCP is an innovator with a unique cabling system that starts from Guam and connects the servers of Australia, South Pacific, Asia, Japan, and the US mainland. Google is adding its data centers so quickly that there is no reliable count at the moment.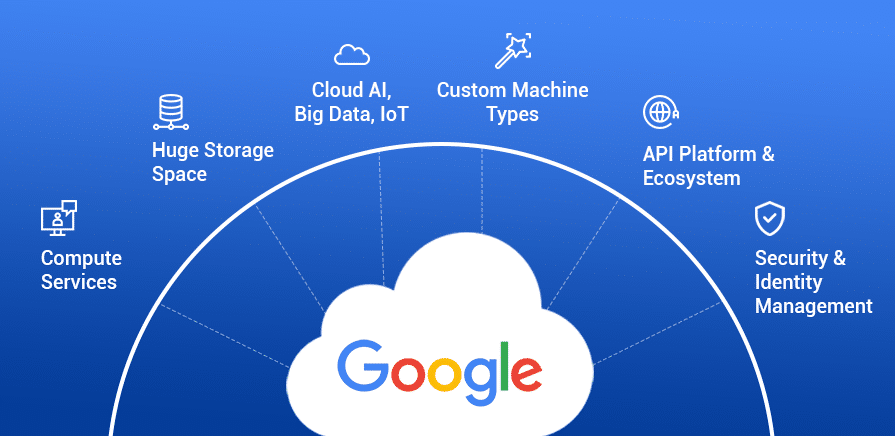 ---
AWS vs Azure vs Google Cloud Services Comparison
| | | | |
| --- | --- | --- | --- |
| Feature | AWS | Azure | GCP |
| API Management | Amazon API Gateway | Azure API gateway | Cloud Endpoints |
| Graph-based databases | Neptune | Azure Cosmos DB | – |
| Isolated network virtual environments | Virtual Private Cloud | Virtual network | Virtual Private Cloud |
| Platform-as-a-Service | Elastic Beanstalk | App Service, Cloud services | App Engine Standard/Flexible Environment |
| Private virtual servers | Lightsail | Virtual Machine Images | Virtual Private Server Google |
| Container managed service | EC2 Container Service (ECS) | CI/CD Tools | Google Container Engine |
| Kubernetes Managed Service | Elastic Container Service for Kubernetes (EKS) | Azure Kubernetes Service (AKS) | Kubernetes Engine |
| Docker Container Registry | EC2 Container Registry (ECR) | Azure Container Registry | Container Registry |
| Serverless Containers | Fargate | Container Instances | Cloud Run |
| Cloud advisory capabilities | Trusted Advisor | Azure Advisor | Cloud Platform Security |
| Resource provisioning and orchestration | OpsWorks (Chef-based), CloudFormation | Azure Automation, Resource Manager, VM extensions | Cloud Deployment Manager |
| Billing | Usage and Billing | Azure Billing API | Stackdriver Monitoring, Cloud Billing |
| Cloud infrastructure on premises | AWS Outposts | – | GKE On-Prem |
| Object Storage | Simple Storage Services (S3) | Blob storage | Google Cloud Storage |
| Archival storage | S3 Infrequent Access (IA), Glacier | Storage (Cool), Storage (Archive) | Nearline, Coldline |
| Disk for instances | Elastic Block Store (EBS) | Disk Storage | Persistent disk |
| File storage | Elastic Block Store (EBS) | Disk Storage | Cloud Filestore |
| Transfer large amounts | AWS DataSync, Snowball Edge, Snowmobile | Import / Export, Azure Data Box | Storage Transfer Service |
| Backup | Glacier, Storage Gateway | Azure Backup | Coldline |
| Hybrid storage | Storage Gateway | StorSimple | – |
| Disaster Recovery Service | Site Recovery | Azure Site Recovery | GCP Disaster Recovery |
| Relational databases | RDS, Amazon Aurora | SQL Database | Cloud SQL, Cloud spanner |
| Managed service to deploy, orchestrate apps | Service Fabric | App Engine | – |
| Cloud advisory capabilities | Trusted Advisor | Azure Advisor | Cloud Platform Security |
| Resource provisioning and orchestration | OpsWorks (Chef-based), CloudFormation | Azure Automation, Resource Manager, VM extensions | Cloud Deployment Manager |
| Processor ( maximum processor in VM) | 128 | 128 | 96 |
| IaaS – Deployment | Elastic Compute Cloud (EC2) | Azure Virtual Machines | Compute Engine |
| Connection with on-prem environments | AWS Managed VPN | VPN Gateway | Cloud VPN |
| Managed DNS | Route 53 | Azure DNS | Google Cloud DNS |
| Inbound traffic redirection manager | Traffic Manager | – | – |
| Global content delivery network | CloudFront | Content Delivery Network | Cloud CDN |
| Serverless | Lambda | Functions | Cloud Functions |
| Batch computing | AWS Batch | Azure Batch | – |
| Automatic instance scaling | AWS Auto Scaling | Virtual Machine Scale Sets, PAAS, AutoScaling | Instance Groups |
| Caching | ElastiCache | Azure Redis Cache | Cloud Memorystore |
| Database migration | Database Migration Service | Azure Database Migration Service | – |
| Managed data warehouse | Redshift | SQL Data Warehouse | Big Query |
---
Market Share of AWS vs Azure vs Google Cloud
In the cloud industry, AWS holds the highest position in the market without any doubt. So, whenever the market share of a particular business goes higher, it shows that several businesses or companies are practicing that particular cloud service. The following statics will better clarify the things: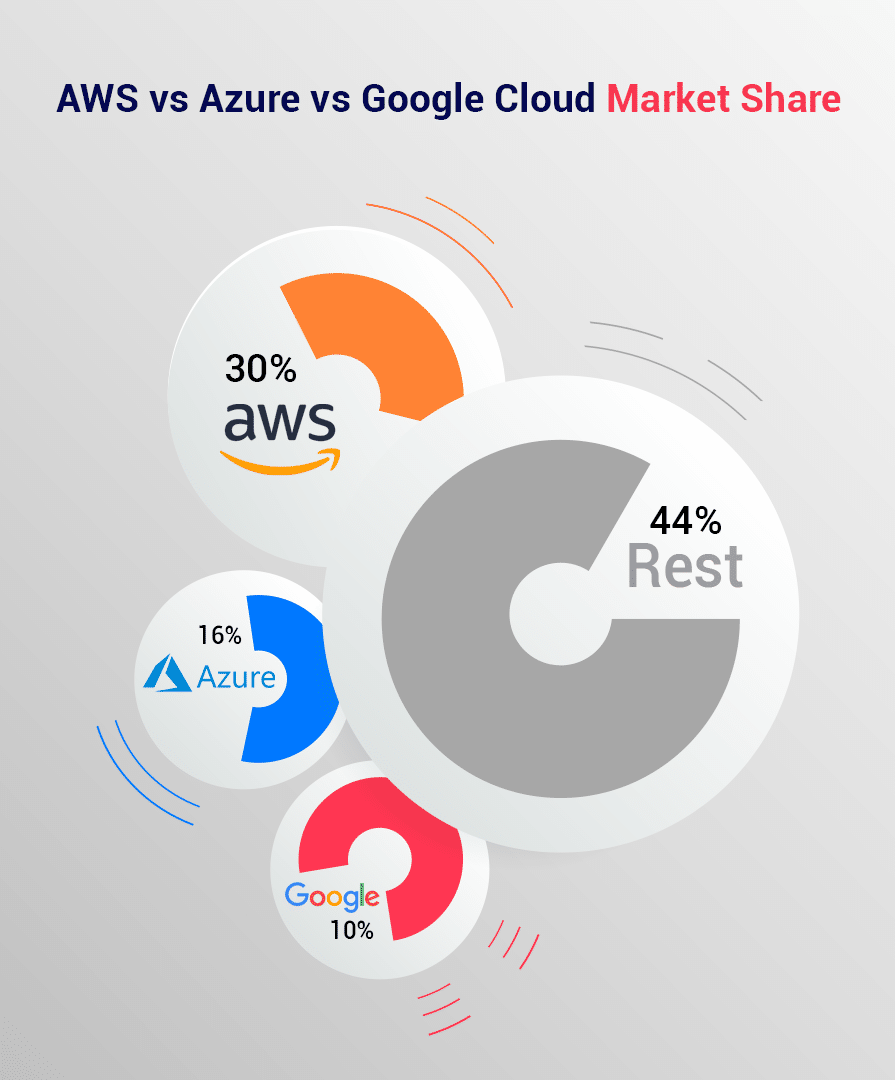 AWS is the cloud market leader with more than 30% of the cloud share

Microsoft Azure is the second highest-used cloud service provider with a 16% market share

GCP is in the third position with about 10% cloud market share from all around the world.
---
AWS vs Azure vs Google Cloud – Strengths and Weakness
All these three cloud computing giants have their own pros and cons. Before you finalize one cloud platform, it is essential to find out the bright and dark sides of every service. Here is the list for you:
Service Provider

Pros

Cons

AWS

Dominating position in the cloud industry
Complex to use without technical skills
Feature-rich
Cost management is quite complex
Highest global reach
Disaster recovery
Wide range of services

Azure

Hybrid Cloud
Requires Management
Integrated with Microsoft software and tools
Data Transfer Fees
Best for startups & developers
Complicated Pricing
Open Souce Technical support
Works great for Windows-based businesses

GCP

Future-proof infrastructure
Less stable SDK APIs
Serious and powerful data and analytics
Confusing Interface
No server, just code
Complex pricing schema
Cost-efficient
Expensive technical support
Best for Cloud-based apps
---
Plans and Pricing – AWS vs Azure vs Google Cloud
AWS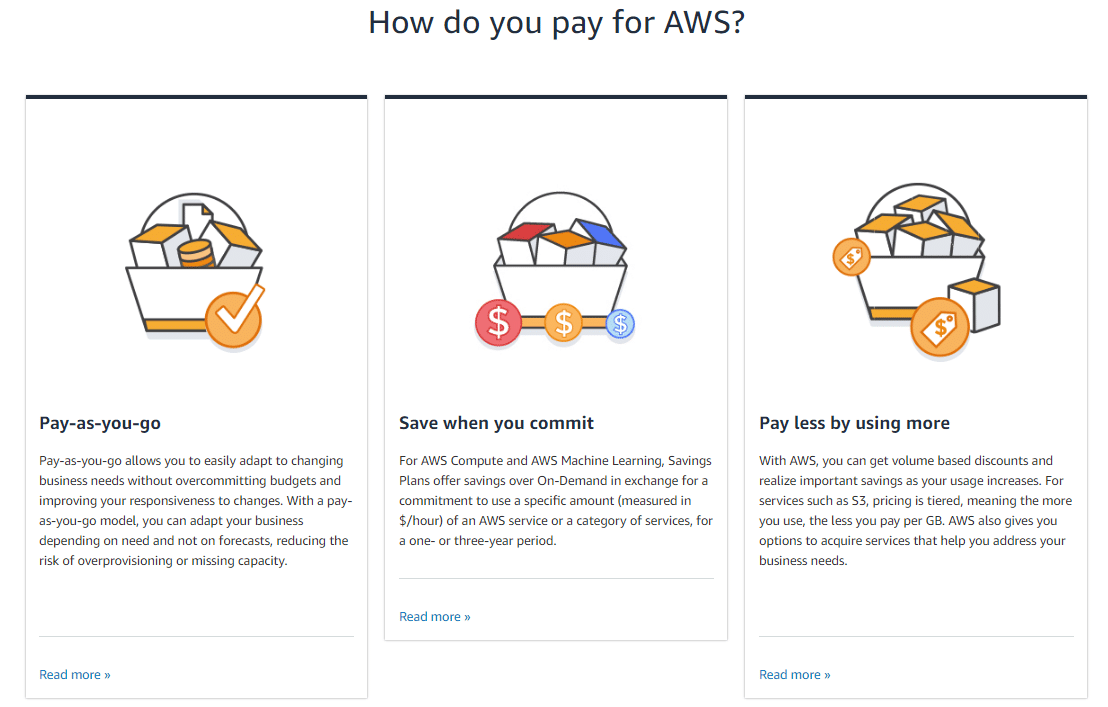 ---
Microsoft Azure

---
GCP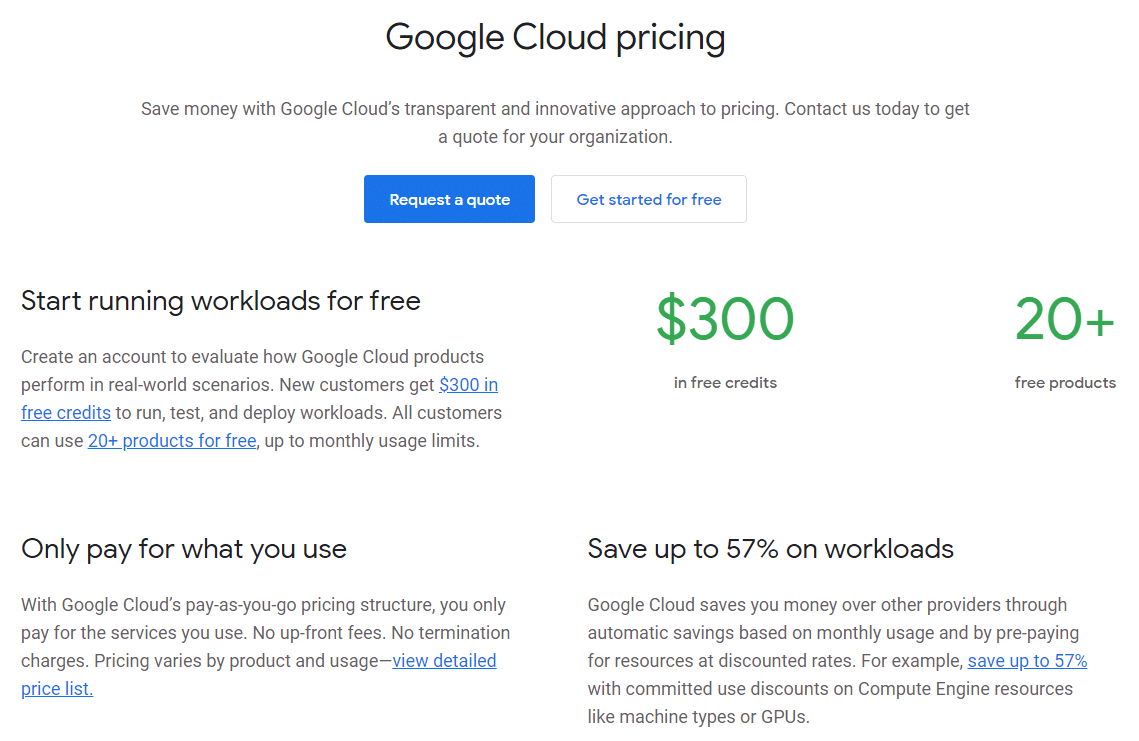 ---
AWS or Azure or Google Cloud – Who's The King?
Since the goals and requirements of every business are different from the others, so is the cloud service provider it chooses. The cloud service provider's selection for a particular business depends upon its specific audience and business goals. All three AWS, Azure, and GCP offer competitive prices, plans, storage capabilities, and data recovery services.
In case your business is dealing with heavy workloads and sensitive information, then AWS is the perfect choice for you. However, if you are not so sure about cloud services and are thinking of getting started with the public cloud, then Azure is the best hybrid cloud alternative. Moreover, if you are handling a cloud-native business and want to manage everything without breaking the bank, then you must prioritize the Google Cloud Platform.

Wishing you luck with your business on the cloud.
Trending Posts
Table of Contents Introduction What is WHMCS? What is the Cost o...

Summary:  SSD vs SAS vs SATA drives in detail to determine which of these t...

In our today's blog, we will discuss Dell vs HP vs Lenovo to help you choos...