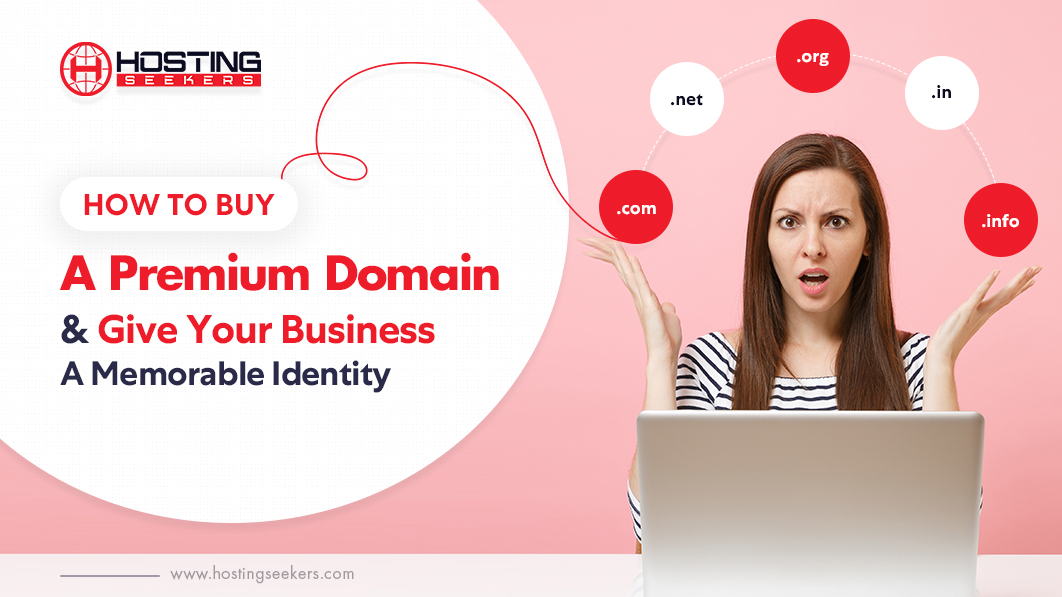 How To Buy A Premium Domain & Give Your Business A Memorable Identity
IT
February 8th 2022
If you have been thinking of giving your business an elite identity, buying a premium domain is what you should consider. Read this blog on how to buy a premium domain and how it can benefit your business.
---
The first thing that pops up in your mind when you decide to move your business online is its name. In technical terms, this 'name' is referred to as the DOMAIN name. You would find many low-cost domain names on domain finder websites. But if you happen to find domain names on WHOIS Lookup that are pricey, you have most probably found premium domain names. Puzzled? 
Read the blog to know more about premium domains & how to buy a premium domain.
---
---
What is a Premium Domain?
There are over 2 billion websites at present. This means, over 2 billion domain names are already taken. All these domains are owned but not necessarily in use. Further, some of these domains are more desirable than others. These "desirable" domain names are what we refer to as "premium domain names". 
To define, premium domains are domains owned by any individual or company but are not being used. Many of these domains are available for sale. Premium domain names are lucrative. 
A premium domain can range from a 3-figure number to a 7-figure number as per the demand. Since these are lucrative, businesses buy premium domain names as investments and sell them when their value hikes.
But why are these domains so lucrative & have a higher value than typical domains? Let's find out. 
---
Premium Domain Names – What Makes A Domain Premium
There are no set rules that define any domain as 'premium'. Instead, it is decided on the domain registry. Whether a domain will be 'premium' or not depends on the owner and the price that potential buyers are ready to pay.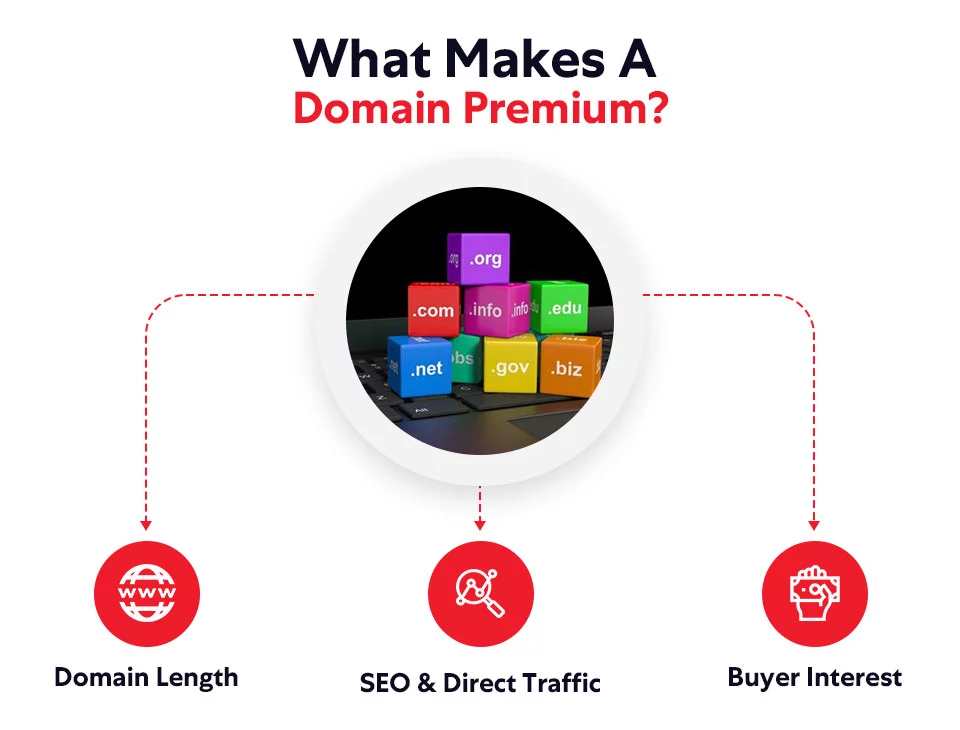 However, there are certain characteristics that distinguish premium domain names from typical domains. These characteristics can help the buyers determine if the price they are ready to pay is justified. 
Domain Length
The length of premium domains for sale tends to be short. It is said that the shorter, the better. This length comprises just 2 or 3-letters as companies use these for abbreviations. While some premium domain names may be lengthy too, good domains barely comprise more than a couple of words. 
SEO & Direct Traffic
Often most premium domains exactly match the words people search for on the internet. It can also comprise one or more keywords. Domain names with exact matches are often priced higher. Further, a premium domain that includes keywords tends to bring additional organic traffic to a site. 
Buyer Interest
A domain name may not appear appealing at first look. However,  if it gets high bids on being auctioned, it's easier to turn into a premium domain. Usually, this is the case when a newly launched firm wants to buy an existing domain that matches its name or any product or service. So, if the buyer is willing to pay higher for an existing domain, its chances to become a premium domain increase. 
---
---
How Do Premium Domains Work
A premium domain is made available for sale mainly either by the Registries or by its owners. In both cases, the pricing and buying process differ greatly. 
Often Registries select new domains with their potential for having a high

domain value

and popularity. Such domains are referred to as Registry domains & are made available as

premium domain names for sale

by the Registry. Also, in most cases, Registry premium domains have special pricing for acquisition as well as transfer or renewal. 

In the case of domains sold by their existing owners, the buyers usually have to pay a one-time purchase fee. Also, the maintenance cost (transfer & renew) and transfer) of such domains does not vary from the usual cost for other domains with the same extension. 
Note: You will need to renew your domain registration every year. This means there are domains that have either expired or tend to expire. You can get them renewed by domain registrars at a regular cost along with the benefit of a backorder service fee.
---
Why Should You Consider Buying Premium Domain Names For Your Business
By now, you know what is a premium domain and what makes them 'premium'. Now, it's time for learning the benefits of buying premium names for your brand.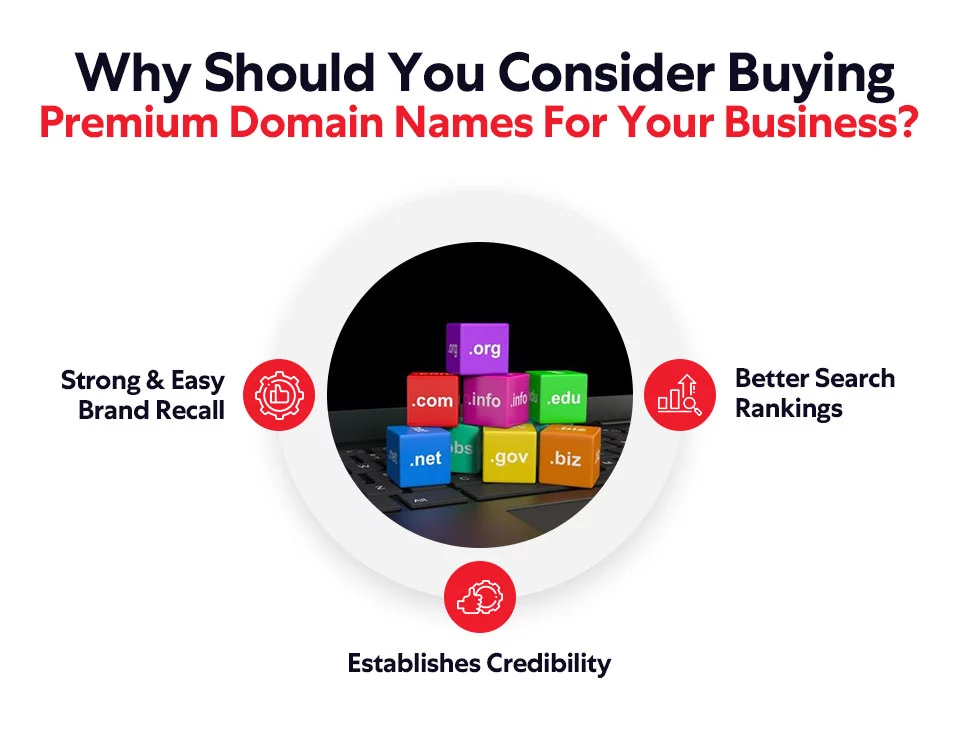 So, here we go.
Strong & Easy Brand Recall
The foremost target of marketers is to get their brand's name stuck to the mind of their prospective customers. Having a domain name that is short, catchy, and to-the-point makes it easy for potential customers to remember.  
For instance, if you are selling web development services, a domain name such as webdevelopment.com is easier to recall than something like bestwebdevelopmentservices.com
Strong brand recall distinguishes you from your competitors and results in increased search traffic to your site. 
Better Search Rankings
Premium domains are a surefire way to improve your search engine rankings. It is an investment that will definitely impact your search engine ranking positively. How? 
This is because a premium name is generally short and keyword-specific making it easily viewable by the search engines against any relevant search query. 
For example, search engines will fetch a domain name webdevelopment.com than bestwebdevelopmentservices.com against a search query, "web development services".  
In addition, a premium domain can drive you more traffic & site growth through direct navigation. Users when searching for a keyphrase can directly enter your domain, such as webdevelopment.com, car.com, etc. 
Establishes Credibility
Since premium names seem more prestigious, potential customers are more likely to visit your site and avail your products or services. It is similar to visiting a well-designed shop in the market to visiting a worn-out store. 
Also, your keyword-specific premium domain will immediately paint a picture in your prospects' minds. And they will tend to visit your website every time they are in need of relevant services or products. 
---
---
How To Buy A Premium Domain – The Process
The process of buying a premium domain name from the aftermath marketplace is the same as buying an ordinary domain.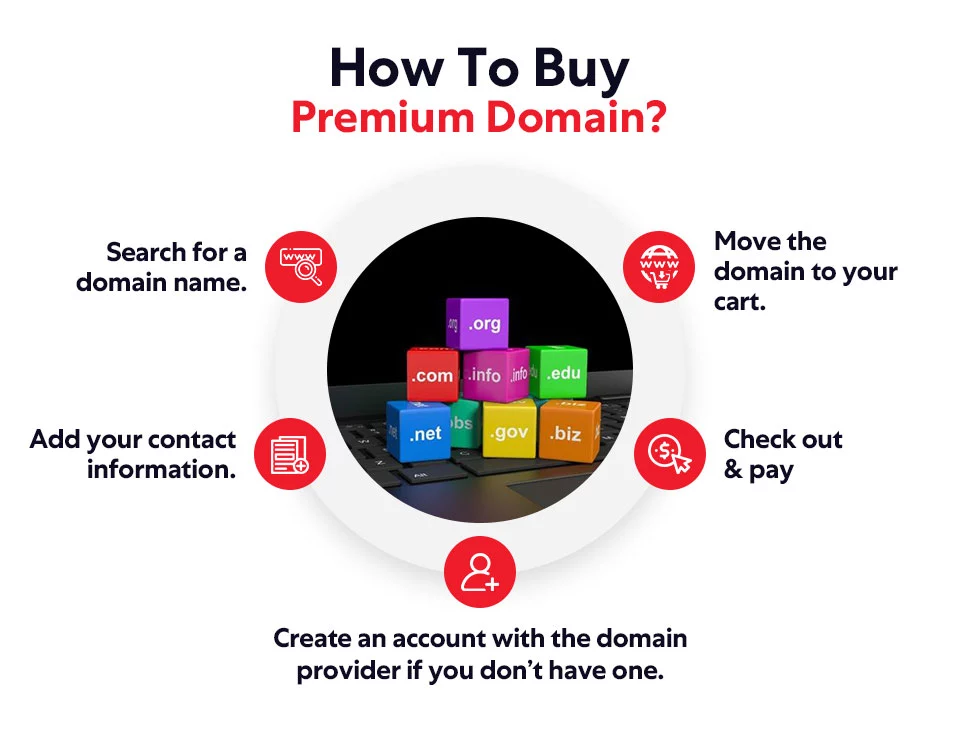 Through this simple process, you can become the proud owner of a premium domain. Please note here that the premium domain name you buy will renew at the regular price of the extension for any succeeding years that you own the domain. 
---
How To Register A Premium Domain Name
Once you buy a premium name, you need to register it to start enhancing your website and online brand. There are two ways to do it:
Build a website to register a premium domain, or

Register an existing premium domain 
Build A Website to Register a Premium Domain 
If you want to register a premium domain name you just bought, you will need to build a website. If you don't build a website, your domain will not be accessible via Google search.
Web hosting providers, like Bluehost, provide you with a free domain name as part of their hosting package. Some other hosting platforms like GoDaddy, allow you to pay a registration fee and choose from a comprehensive list of premium domains for sale. Here, you can also customize the extensions you'd like to buy.   
While you would find many hosting providers out there with each having pros and cons, you must do your research to decide which one is right for you. 
You can also register a domain name with domain.com directly if you don't wish to build a website and make it available to the market.
Register An Existing Premium Domain
As you now know, many short and prestigious domains are already owned by their owners, even if they are not actively in use. So, in order to register an existing premium domain, you will need to first locate its owner and negotiate the price to buy it. On agreeing upon a price, you will need to transfer the premium domain to link it to your website.
However, this process is that easy & you may have to seek assistance. Here is where domain brokers come to play. These are experienced in handling such big and complex transactions, which can reach the millions. Also, domain name brokers can help you get the best market price for your existing premium domain. 
---
Recommendation Read: HTTP vs HTTPS – What to choose?
---
Best Place To Buy Premium Domains for Sale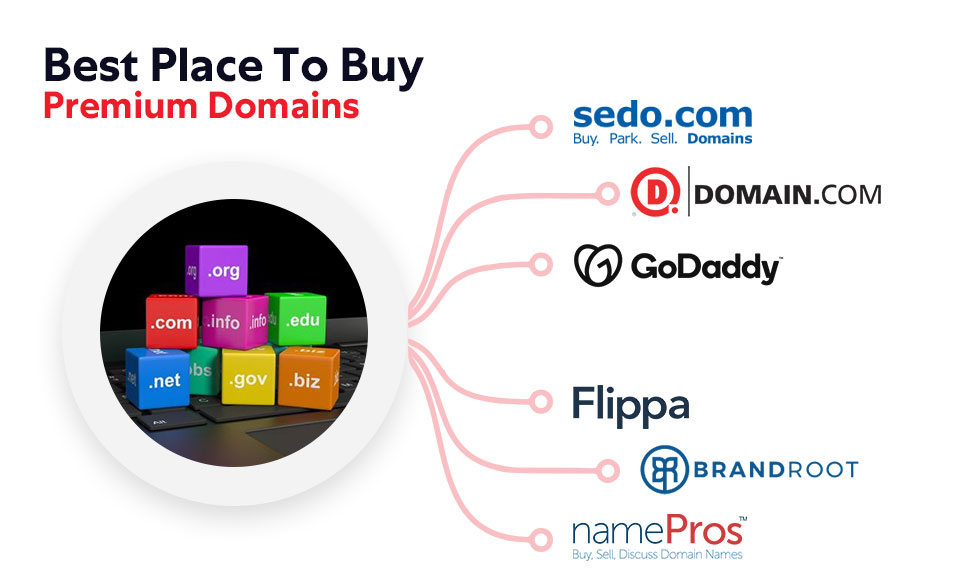 There are several good domain marketplaces where you can find your preferable premium domain name. The top ones are discussed below. 
The best domain registrars on the market today, domain.com helps you easily find a premium domain for sale. This simple and fast domain search tool offers top-level domain (TLDs) and even discount domain names at very competitive pricing. Simply visit the website and choose the "premium domains" option from the drop-down menu. 
Also, the user-friendly domain management section is another noticeable characteristic of domain.com. From here, you can transfer your domain to any hosting provider & can even build a website. 
One of the biggest domain marketplaces in the world, Sedo offers a reliable platform for domain owners to exhibit their premium domains for sale. The best thing about SEDO is you can conduct your domain search based on the keywords you are targeting. 
On SEDO, you can find four types of domain listings:
Negotiable

Buy Now

Expiring domain auctions

Marketplace auctions
Plus, SEDO also offers domain brokers, in case you want a professional to negotiate on your behalf for a premium domain. 
It is the world's largest domain registrar with millions of domains listed. It is a one-stop solution for all your domain-related needs and offers services like domain finder, domain brokers, domain name generator, etc. It also has its marketplace where you can find thousands of GoDaddy domain names.  
It is another biggest domain marketplace where domain owners list their domains for sale, of which most are premium domain names. Most of these domains are available for direct purchase or auction. 
You can 'watch' the premium domain names you are willing to buy and 'follow' auctions to stay on top of bidding. If you want to purchase a domain, you can simply bid on it.  Flippa also offers broker services just like SEDO. 
Brandroot is a well-known premium domain name generator. The platform generates thousands of top-shelf business names that are available. Brandroot hosts more than 22000 .com names that are attractive and brandable. 
All you need to do is type in a couple of keywords relevant to your niche, choose from the results and check out. 
A leading online community to buy premium domain names. However, it is not a standard domain registrar service. Besides, you can also share and seek information about building businesses, buying and investing in domain names, etc.
Namepros have a dedicated domain section where premium domains are listed as buy now, auction, bargains, and make an offer.
---
Visit HostingSeekers to get a list of affordable domain hosting providers. 
---
Frequently Asked Questions
Q 1. How to buy a domain for cheap? 
Ans. While there's no surefire way to buy a domain for cheap, you can bid as per your budget in domain auctions on platforms like Flippa, SEDO, GoDaddy. If your bid gets accepted, you can be the owner of the domain. Also, some types of web hosting providers offer domain names for free as part of their hosting package. 
Q 2. How do I buy a premium domain name? 
Ans. To buy a premium domain name of your interest, simply: 
Search for a domain name 

Add the domain to your cart. 

Create an account with the domain provider or sign in to your existing account.

Add your contact information.

Check out & pay
The process is the same as that of buying a regular domain.
Q 3. Does GoDaddy own premium domains?
Ans. Yes, GoDaddy offers both ordinary as well as premium domains. You can either buy them directly or bid in the auctions. 
Q 4. Is it worth buying an expensive domain? 
Ans. Premium domains are expensive for reasons like popularity & preference. Such domains can get your business more visibility and traffic while increasing your brand credibility. So, if you are trying to grow your business, you should consider buying an expensive domain. 
Q 5. What is the most reliable domain?  
Ans. The most reliable domain is .com followed by .co as the second. People tend to assume that any URL ends with .com 3.8 times more than any other domain extension. 
---
Conclusion
If you are looking for a valuable parking spot for your business, premium domain names are worth the investment. If you find any premium domain available for sale, registration is an easy & affordable process to acquire. However, if you want to buy a domain name that is being sold at a high price, using a domain broker is a reliable way to acquire the desired premium domain name at a fair price.
Trending Posts
Table of Contents Introduction What is WHMCS? What is The Cost o...

When it comes to upgrading or buying a new PC, choosing between AMD and Int...

In our today's blog, we will discuss Dell vs HP vs Lenovo to help you choos...