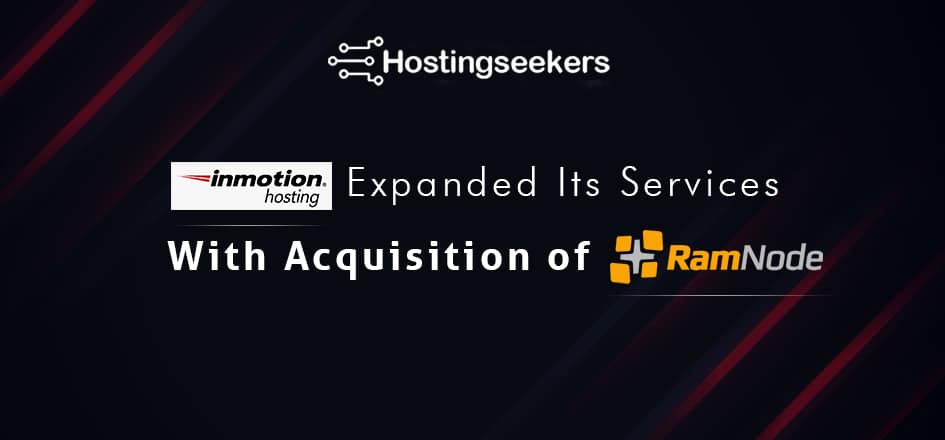 InMotion Hosting Expanded Its Services With Acquisition of RamNode
Business News
March 9th 2021
InMotion Hosting, a California-based leading Shared Hosting Service Provider announced that it has acquired an Atlanta-based company RamNode.com that provides VPS and Internet-Related Services. The acquisition will leverage the RamNode team and the company and will be operated as it is without any change in its core product line.
The company RamNode, its clients, team, and 5 data centers located in Seattle, New York City, Netherlands, Atlanta, and Los Angeles will now be under the InMotion Hosting umbrella. Initially, it was just a rumor, but later InMotion Hosting's co-founder Sunil Saxena declared the acquisition of RamNode.
The Web Hosting Service provider, RamNode was founded by Nick Adams in 2012 and has established itself as a leader in high-performance virtual private servers (VPS) service providers. Soon the company expanded the business and became an early-mover in unmanaged servers space. Nick Adams approached InMotion in 2020 to check for the possibility of acquiring RamNode and after the acquisition, he expressed his satisfaction with his decision to handover RamNode to IMH. 
"As far as I can see, InMotion Hosting needs the business to grow exponentially and open to put time and efforts into it. They have the right strategy, vision, and techniques to make it happen. The resources of InMotion Hosting are capable enough to develop, deploy, and grow hosting business. So now I'm confident enough that RamNode is in the right hands and will soon touch the new heights of success." said Nick Adams, Founder of RamNode. He added, "IMH is also acquiring the entire team of RamNode and I'm glad for it."
From now on, InMotion Hosting will run and manage the RamNode brand as a separate entity. There will be no re-branding, integration or modifications will be done to the core products and services.
Sunil Saxena, Owner at InMotion quoted, "RamNode will be our main focus now and we will try our best to maintain its standards, quality, support, and culture. Also, the existing and new customers will get the best services always as they expect from RamNode. Nick is a good man and we have known each other well professionally and personally. So, the quality of services will never be compromised and we look forward to building high-performance cloud hosting on OpenStack. " 
During the deal, Nick Adams and Sunil Saxena focused on RamNode's culture, core values, and how they came across common ground as they moved through the acquisition.
All the newest products of RamNode have OpenStack as their internal infrastructure platform and IMH has started offering a complete suite of on-demand OpenStack cloud-based solutions. This collaboration between the two companies will accelerate IMH solutions demand in the coming future.
About InMotion Hosting
InMotion Hosting is an industry-leading Shared Web Hosting, VPS Hosting, WordPress Hosting, and Dedicated Server service provider all across the globe. The company is well-known for its 99.99% uptime, industry-leading awards, extraordinary technical support, and customer services. With millions of customers worldwide, the company strives to deliver better cloud services, tools, and products.
InMotion Hosting has listed its business on Hostingseekers. Hostingseekers is the fastest-growing web hosting directory covering more than 250 Web Hosting, Domain, SSL, Server companies across the globe.