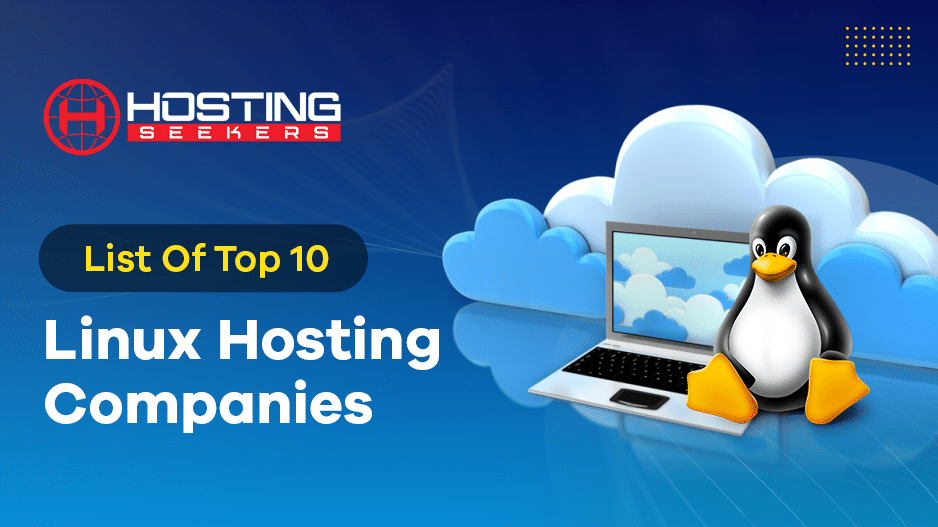 10 Most Successful Linux Hosting Companies You Can Trust
Linux World
August 26th 2021
Summary: This article discloses complete detail about Linux hosting and a list of the 10 best Linux hosting services providers that will help you manage your business operation simply through Linux OS.
What is Linux Hosting?
Linux is one of the most used operating systems in the world. Linux was created by Linux Torvalds in 1991 and runs under the General Public License (GPL). This is undoubtedly a freeware operating system, several entities develop distributions for it.
A few common examples of Linux distributions Redhat, Slackware, Fedora, Ubuntu, and Centos are some examples.
Linux is one of the most used operating systems for servers. It is useful for both small and big websites.
It is known as one of the most stable operating systems that are easy to maintain. The configuration files make it popular as they are easy to access as well as update.
Earlier, there were no control panels so it was very challenging to manage everything. Technicians had to take the help of Linux servers by SSH with ASCII terminal for maintenance.
You must have heard of Red Hat? This was the first and most well-known Linux distribution used for web hosting in the 2000s. Linux Hosting was that time in its initial stage. Later, CentOS was developed from the Red Hat Enterprise Linux distribution and is now the standard Linux for the hosting server.
We hope now you have understood what Linux Hosting is. The Linux hosting Services are meant to host customers' files. The files are accessed publicly on the internet, or else, held privately. This is a great way to protect files with passwords if required.
---
Top 10 Best Linux Hosting Providers You Can Buy in 2023
Here is the list of the best Linux Hosting Services for large and small businesses ;
1. Hostgator
2. Bluehost
3. Dreamhost
4. Inmotion Hosting
5. Cloudways
6. SiteGround
7. A2 Hosting
8. Hostinger
9. DigitalOcean
10. FastComet
---
List of Top 10 Linux Hosting Companies Offering Best Plans
There are thousands of Linux Hosting services providers across the globe but we have mentioned the top 10 in the list.
Who doesn't know about the Hostgator's mascot? Yes, the friendly geek alligator. But Hostgator has a lot more to offer. It gives 24/7/365 support and a 45-day money-back guarantee.
Key features of Hostingator Linux Hosting:
Lightning Fast Website allows you to o

ptimize your website performance with varnish cache-enabled Linux shared server hosting services plans.

One-click Script Installs web apps like

WordPress, Magento, Drupal, etc. with a single click.
Intuitive control pane helps in effortlessly managing your web hosting with a powerful and intuitive control panel.
Plans & Pricing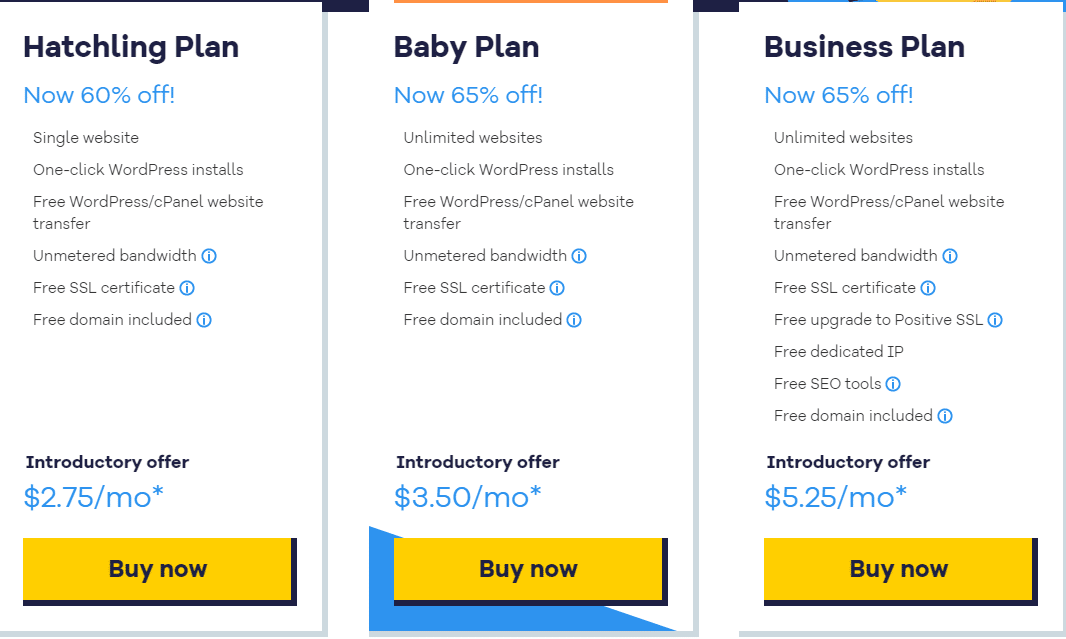 ---
Starting in 2003, Bluehost is on a mission to make businesses better with its amazing Linux Hosting Services. One of the major reasons for their success is the use of open source technology in their product and cloud-based solutions. Based in Utah, USA, Bluehost is one of the world's largest providers of cloud-based online solutions.
Features of Bluehost
You get a flexible domain manager, allowing admins to keep track of their domains, emails, etc.

You can create an unlimited number of email accounts.

You get clean but simple user interfaces with one-click WordPress installation, external tools, and more.

Besides this, you also get a powerful cPanel web dashboard, which makes website administration effortless for new customers.
Plans & Pricing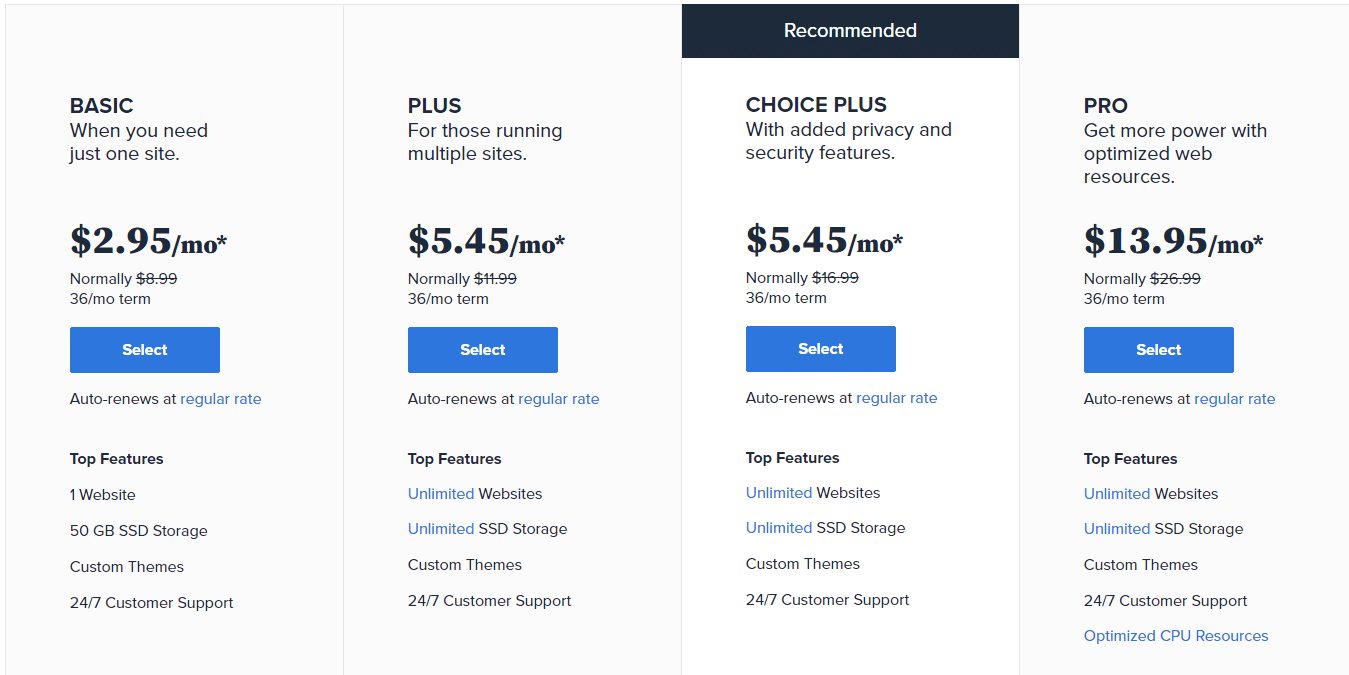 ---
Do you know that Dreamhost has been the winner of PC Mag's Best Web Hosting Service for two consecutive years?
With Dreamhost, you get the best Linux hosting, blog, or e-commerce shop online in a snap.
Features of Dreamhost
Operates multiple data centers with redundant cooling and emergency generators.

Provides 100% uptime to customers.

The award-winning customer support.

Free domain name with WHOIS privacy protection.

Solid uptime and reliable support.
Dreamhost Pricing Plans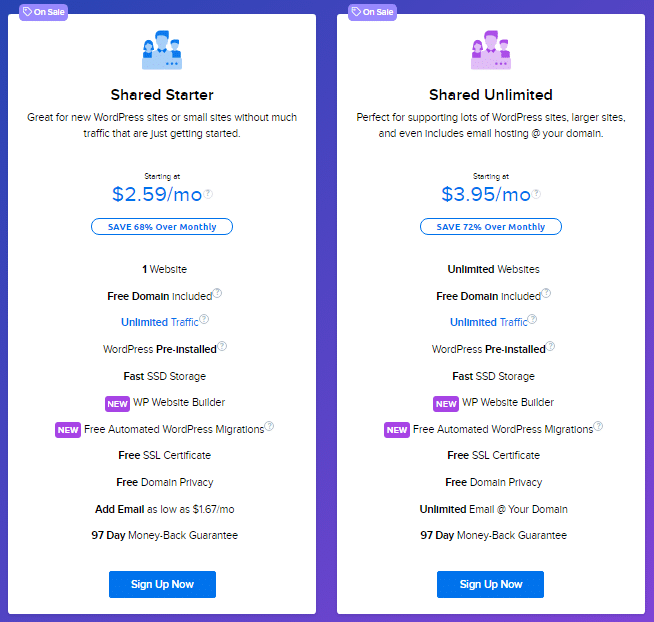 ---
The US-based team wants you to succeed in your projects. This company has experts who have a vast knowledge base and the major proof is the 3K do-it-yourself articles and an active community. All this can help you get started with setting up Linux hosting services and answer all your queries as quickly as possible.
Features of Inmotion Hosting
Inmotion's shared hosting plans support database-driven content management sites like blogs, forums, and wikis.

Customers get free SSD hosting, domain name, SSH access, Google app integrations, and secure mails with shared hosting plans.

The VPS services provided by Inmotion offer free cPanel & WHM, automated backups, root access, dedicated IPs, and many more.

Inmotion offers multiple hosting plans for Linux dedicated servers with low server pings and 99.99% guaranteed uptime.
Inmotion Linux Pricing Plan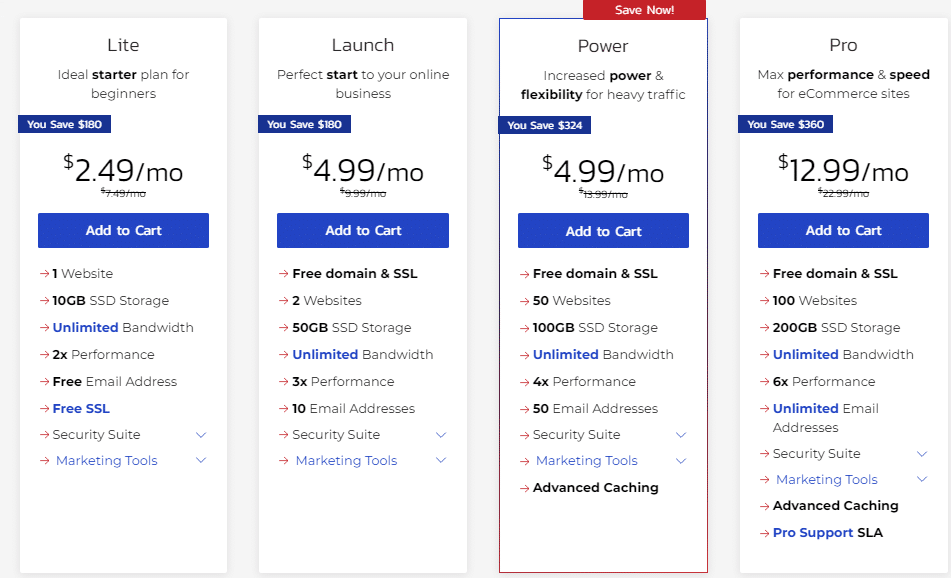 ---
This hosting company is relatively new. Cloudways was started in 2011 making deploying, monitoring, and managing high-performance applications on top of major cloud infrastructure providers.
Features of Cloudways
With Cloudways, you can choose from five popular cloud providers, including DigitalOcean, Google Cloud, AWS, Linode, and Vultr.

With this hosting, you get feature-ready-made CDN, auto-healing servers, and optimized stacks. All this helps in boosting the server load times.

The automated backup facility keeps data safe.

Effective monitoring allows for faster troubleshooting.
Cloudways pricing plans

---
---
This is a robust hosting service provider providing exceptional Linux hosting environments at a genuine rate. SiteGround is a popular company having different web services as per your requirements. 
Their Linux environment is the best. This is because SiteGround offers features like top-notch security, reliable email and domain management, advanced caching mechanisms, and many more.
Additionally, this company is also known for delivering premium customer support. Therefore, this is a good company for those who're looking for the best hosting service for their web presence.
Features
SiteGround offers genuine technical expertise to all its customers.

They Encrypt free SSL certification making the website communications more secure.

They have robust email management capabilities while creating personalized email accounts.

SiteGround is an expert team of technical support that makes troubleshooting effortless and is available 24/7.
Plans & Pricing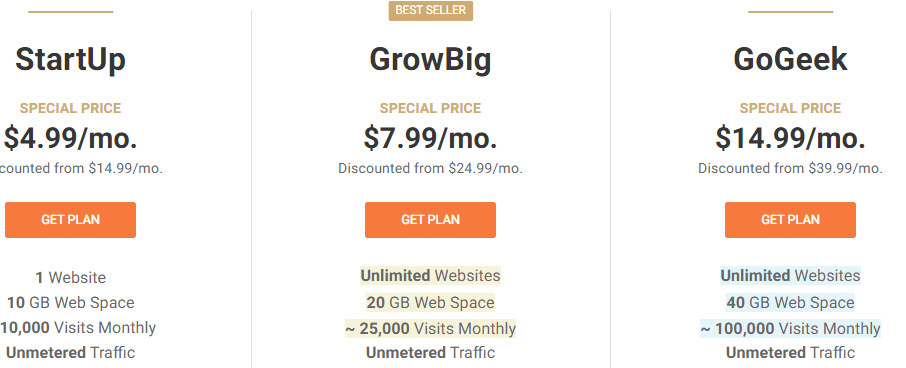 ---
Since its launch in 2003, A2 Hosting has been called Linux Hosting experts.  They offer a full line of Linux Web Hosting services that are bound to meet the specific needs of businesses. Each is hosted on a blazing fast SwiftServer platform. Users can even choose to host on our Turbo Servers featuring up to 20X faster page loads compared to those competing Linux Hosting options.
Features
A2 Hosting optimizes its hosting plans for WordPress, Joomla, Drupal, Magento hosting, and OpenCart.

Customers experience up to 20 times faster page load with A2 Hosting's Turbo Servers.

Flexible and responsive than traditional servers.

Free Let's Encrypt SSL certification with premium SSL options with each of their plans.
Pricing Plan
---
Hostinger is a fantastic choice for Linux server hosting due to its flexible feature set and competitive pricing plans. It is developed to provide the best Linux experience to new website owners and is optimized accordingly.
The control panel is great for beginners as well. This hosting company is also ideal for its top-quality customer support making it an excellent choice for new customers. If you're someone who is looking for the best Linux VPS at an affordable rate, Hostinger is a great option for you.
Features of Hostinger
Has dedicated IPv4 and IPv6 addresses for all Linux hosting plans.

Default support for standard Linux distributions (CentOS, Ubuntu, Debian, Suse, and Fedora)

It has robust yet straightforward management tools. This further helps in optimizing the performance of your Linux VPS servers.
Pricing Plan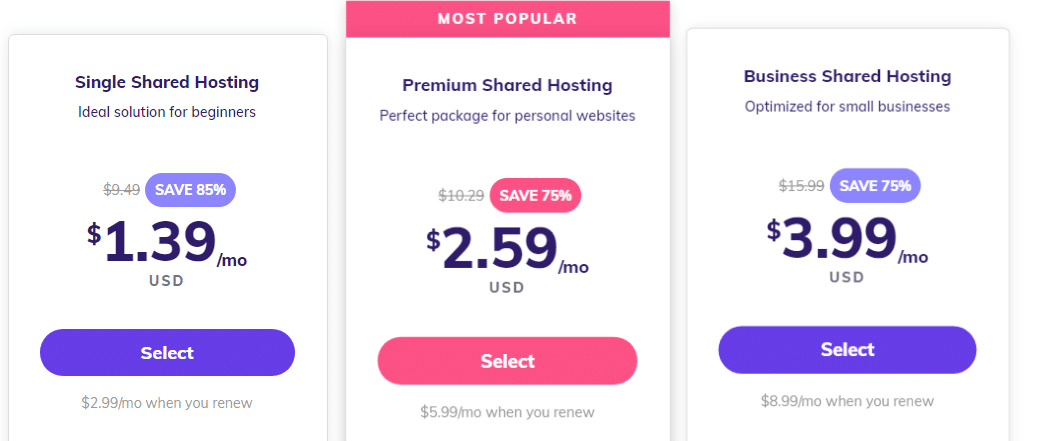 ---
This is a popular cloud-based hosting provider that gives unmatched flexibility. It gives pre-built open-source tools making server management easier and 24/7 support. 
Customers can integrate external tools as per requirement. DigitalOcean also provides industry-standard web protections with 99.99% guaranteed uptime. You get features like scalability and intensive web hosting. 
Features of DigitalOcean
You get customized droplets, aka Linux VPS services with different CPU, memory, and SSD configurations.

Free daily backups with their subscriptions for making sure their website data is sound and secure.

The customer's private network provides end-to-end security and effective isolation.

The compelling monitoring tools offered by DigitalOcean give customers to keep their servers in check very quickly. 
Pricing Plan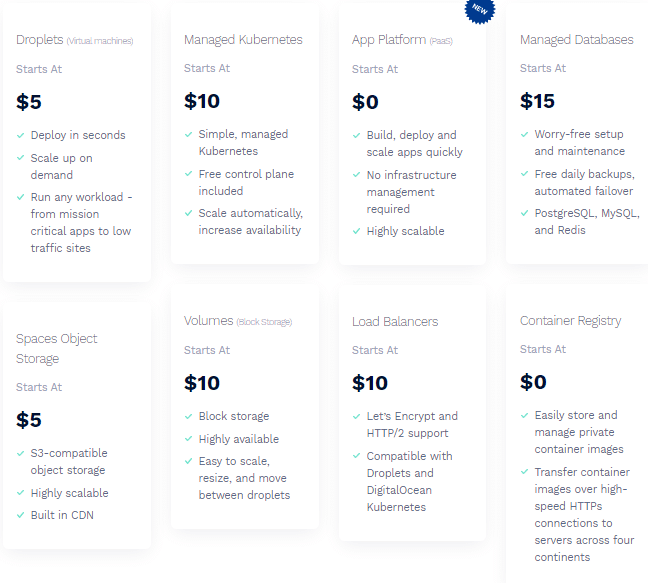 ---
FastComet is a reliable name in the world of hosting providers who offer lucrative features at a reasonable price. The company provides several Linux web hosting plans that can help both starting website owners and experienced ones.
Their managed Linux hosting is quite popular among tech enthusiasts due to its top-notch features and robust management capabilities. FastComet is arguably among the fastest web hosting service you can get, so if you're after speed, consider FastComet an excellent choice for you.
Features of FastComet
You get free Cloudfare CDN to its customers. This helps speed up traditional websites significantly.

You get a popular cPanel admin dashboard for managing Linux web servers effortlessly.

FastComet offers free data backups to its customers on a daily and weekly basis to keep sensitive data secure.

The ultra-fast SSD hostings from FastComet allow the server to serve both static and dynamic web pages relatively faster.
Pricing Plans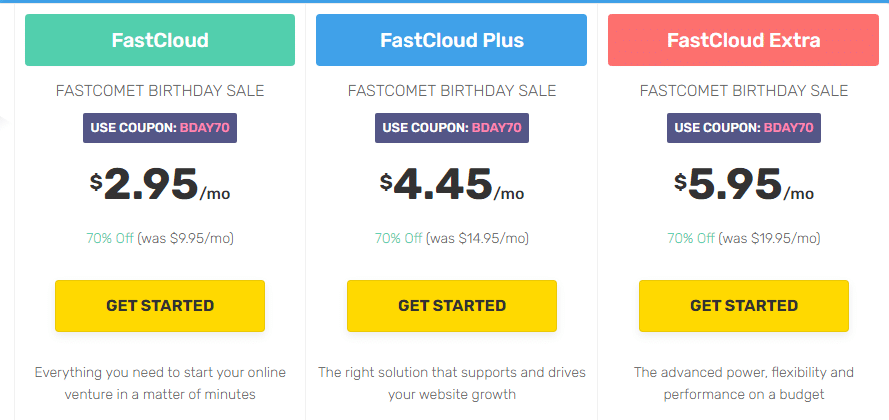 ---
Factors to Consider While Choosing Linux Hosting?
Before taking the final decision of buying a Linux Hosting Plan, these are the features that you should consider:
1. CPU
CPU execution load time is a serious concern. When you go for a Linux VPS server, it's less heavy than a regular computer. Web servers usually consume more CPU space. Therefore, it's important to select the proper CPU for a faster response as per your business requirements.
2. RAM
RAM is a significant element you have to consider. The type and volume of the RAM matter. 1GB RAM capacity with a single core CPU handles effortlessly a website with 2000 visitors per day. 
A 512 RAM also performs well and runs flawlessly. But when you have heavy sites like gaming and live chat, it slows the complete process. The speed of the website does matter. Well, it has to be fast. So, being the owner of an online business, you have to be really precise about your requirements.
3. Disk Space
Disk space depends on the total amount of data you want to have on the server. 
Well, the data type depends on the website that you're hosting. There has to be less 
The disk space required is less when there are personal blogs. 
Facebook and Twitter take a huge chunk of disk space. So before purchasing a Linux server, explore your hard disk space requirements.
4. Bandwidth
Bandwidth should also be considered for a Linux server. Everything depends on the total number of users that visit your website. 
A small website needs a minimum of 300GB of bandwidth. For larger websites, the volume of the bandwidth starts with 1000GB so that media-heavy pages can be run easily.
5. Overall Performance
Besides all this, overall performance is also important. Here is how performance is measured:
Server uptime

Page loading speed

Distributions

Website monitoring systems

Security protocols
6. Scalability
When it comes to Linux hosting, scalability is also evident. The service has to be scalable containing layers of backup hardware resources that handle the increased traffic loads on the server. Look for plans and services that are scalable and will be able to match the future resource requirements.
---
What are the benefits of Linux Hosting?
1. Budget-friendly
You want the best server, but that doesn't mean budget won't be a constraint. Linux is the best option for budget-conscious ones. This is because it cuts off all the extra software you need to make the most out of a Windows server. Linux is an open-source solution and by this, you mean you can access the software that you require for your perfect operating system.
2. Most Stable
Linux server is considered the most stable platform in the market today. There is no need to worry about rebooting the system or downloading updates.
As Linux is stable, there are rare chances that it is going to crash. The server is always up and running for hundreds of days consecutively.
3. Open Source Platform
One of the biggest benefits of Linux is that it is open-source software. Linux has been there for a very long time and this is why it has been reviewed by thousands of developers from across the globe. These programmers have thoroughly reviewed the code and started working on the bugs that pop up in the operating system.
This further creates a platform that runs smoothly. This is the only service that provides open-source solutions to its customers. The only reason for this is it is a collaborative system that anyone can contribute to.
The open-source nature of Linux is intended to encourage more innovation in the server space.
4. Security
Linux is unscathed in many of the biggest cyber-attacks to date. As it is an open-source platform so finding the vulnerabilities is easy.
Apple and Windows are however giants in the operating system industry. But this makes them a huge target for cybercriminals.
5. Privacy
There is a lot of discussion regarding the lack of privacy options in Windows 10.
The operating system has a lot of information to profile its users. For some, it results in better usability while for others it means a lack of privacy.
Linux needs minimal data from its users. As the system is customizable, you can always eliminate any unreliable software that you don't like.
6. Ease of Use
Linux is preferred by most developers. Linux has modularity and this means you can design the solution as per your requirement.
 Programmers can build their own solutions from scratch with the help of the source code. The only thing they have to remember is, the derivatives created have to be free and open-source.
7. Versatility
Linux isn't is not only an amazing operating system for brand-new devices but it also offers value to older machines too. If you have an old desktop system, you can run something on it as well.
This clearly means that your old hardware can be revived. This helps programmers especially the ones that have more curiosity for learning.
8. Plenty of Choices
When you are working with Windows or the Apple system, you get stuck with a specific structure. It is completely the choice of the developer which aspect of an operating system should be prioritized.
But in the case of Linux, the system is comparatively more customizable. By this, we mean that you have complete control over how your system turns out.
As there is much free software available, you can pick any as per your suitability.
9. Good Performance
Linux has one of the best performances the server available today. With Linux, multiple users are working on the same server hassle-free. It is also perfect when it comes to networking purposes. It is connected with various devices without running into issues. When you have a Linux server, you will have a good reputation as it performs exceptionally well when it comes to performance.
10. Multitasking Abilities
When you start using a Linux server, you can easily multitask. Linux effortlessly handles different programs that are consequently running at the same time. While the other operating systems may put the programs in sleep mode whenever you open something else.
In the case of Linux, the program keeps running in the background as you are working on something else. This helps in multitasking.
11. Flexibility
The Linux platform is flexible and adaptable. As it is an open-source platform, developers know how to customize it based on your individual requirements. Having this level of flexibility makes the platform more secure. With the help of security protocols, you can make the platform more secure. While hiring a programmer, it becomes easy for you to implement new techniques and strategies with the operating system.
Linux servers are way superior to the other servers and as an online merchant, you owe it to yourself to investigate them. Even you don't know exactly how they work, explore them before making the final decision. 
You have finally understood the benefits of Linux hosting.
No matter whether you need to create a website for your online blog or e-commerce business, or you want to practice running your own servers,  there is an important decision that you have to make. Should you run a server on Linux or Windows?
---
Ending Thoughts
Linux web hostings have different packages like shared, dedicated, managed/unmanaged VPS, cloud hosting, and so on. These hosting plans are for startups and larger enterprises needing more solid hostings. Managed VPS services have been on a steady rise for this reason. You get top-notch hosting services that take care of everything providing you with a comprehensive plan.
Regardless of your requirements, we've tried to outline all the possible solutions for you. Simply select the Linux hosting that best serves your purpose.
Trending Posts
Table of Contents Introduction What is WHMCS? What is the Cost o...

Summary:  SSD vs SAS vs SATA drives in detail to determine which of these t...

In our today's blog, we will discuss Dell vs HP vs Lenovo to help you choos...