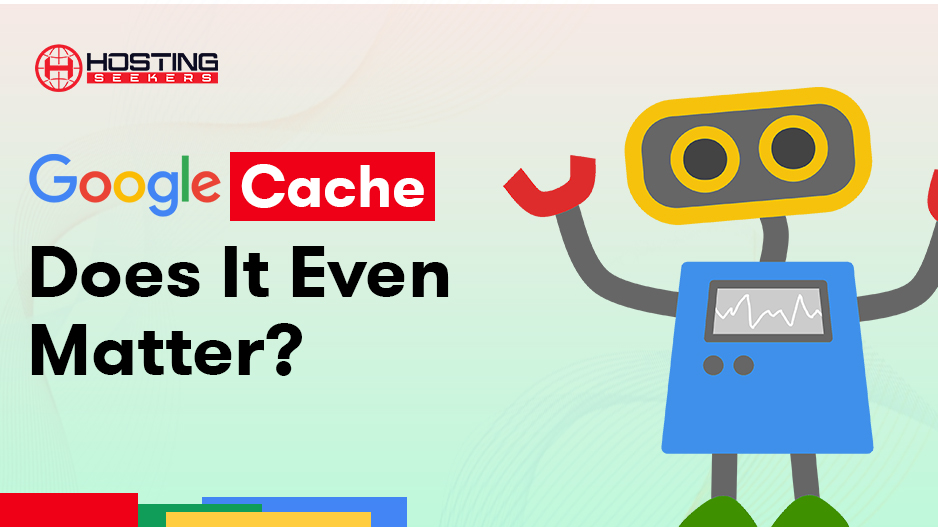 What is Google Cache And How Does It Work?
IT
Technology
December 7th 2021
Launching your new website? Well, Google bots will find it, eventually. 
All thanks to its smart database, Google cache.
According to the sources Google uses crawlers to scan content on websites. But, this is not the only job of Google. It also records and stores all scanned web pages in a database on its servers, which is called Google Cache. – Source
In this blog, we will talk about Google cache, its significance, and how to remove it, if needed. 
Let's get started.
What is Google Cache? 
Google web crawlers are on the constant lookout for new & updated web pages. When they index any particular pages, they make a backup of these pages and store them in a unified database, called Google cache.  
In other words, Google cache is an HTML backup of the content taken at a certain point or during a site's indexing. These cached pages are stored as a backup and can be retrieved later for different purposes. 
---
How Can You View Google Cached Pages?
Next, you would want to know how you can view your site's cached pages. So, here we go.
You can view page versions using Google cache either manually or through extensions.
View page versions through Google Search
In the Google search, type the website URL you want to view page versions for. In this case, we are doing it for hostingseekers.com.
On the Google search results page, you will see the URL hostingseekers.com. Click on the three dots to the right of the URL, as shown in the image below.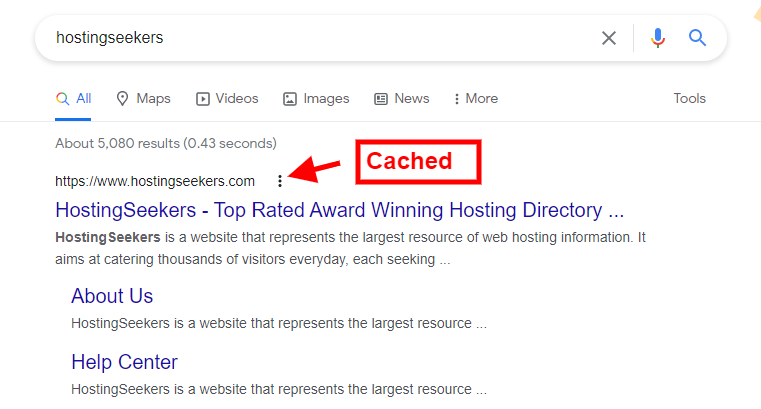 On clicking the three dots, a pop-up will appear on the screen. Click on "cached" on it. This will redirect you to the cached version of the Hostingseekers website.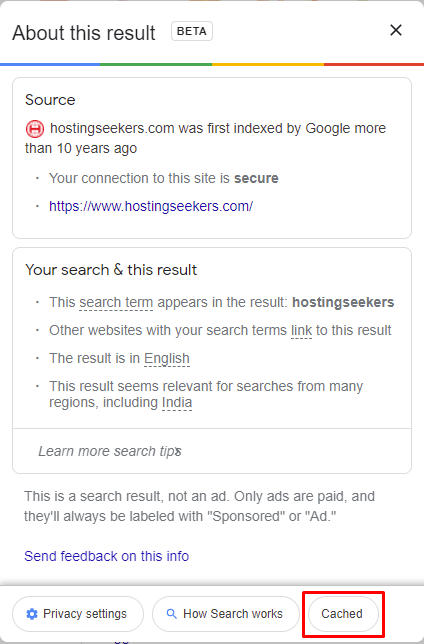 Check out the banner on the top of the page. It contains the date and time when the snapshot was taken and a link to get back to the current page.

Alternatively, you can type the syntax, "cache: URL" in the Google search bar to get the cached version of the website/page you want. For example, on typing Cache:hostingseekers.com in the search bar, you will be redirected to the same page, as we just discussed above. 
View page versions through Google Cache Checker
You can find different tools online for the same, like the Small SEO Tools.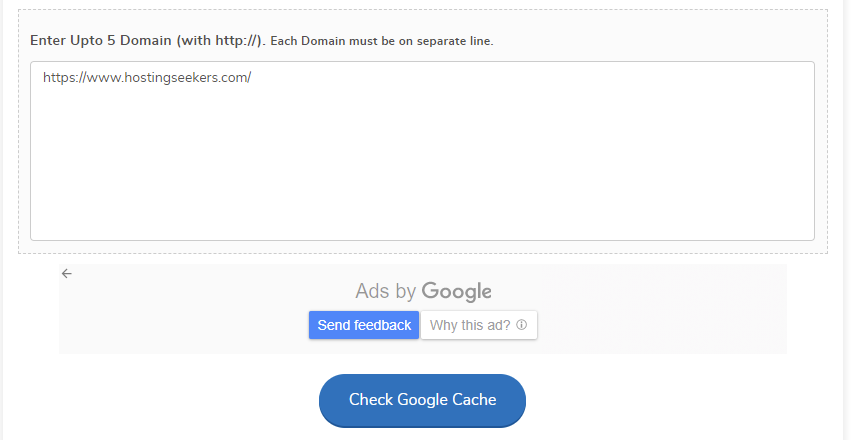 On clicking the "check Google Cache" button, the tool will display the result (see image below). The result will have a cache URL and a link to access the cached version of the page. 
Note: With this tool, you can check up to 5 URLs for their cache. 

Other Tools to View Google Cache 
Below are two tools you might like:
The Web Cache Viewer

Wayback Machine Web

(Archive Version)
---
Why is Google Cache Important? 
If you are an internet user, which obviously you are, Google cache is primarily useful for you. It allows you to browse web pages that are having problems loading or loading slow. Google cache can make website cached content available to users during such downtimes.
If you are a website owner and your website goes down due to some glitches, Google cache will provide users searching your website with its cached version. This will prevent them from navigating away to your competitors. 
Besides, you can also learn about how your site is indexed and diagnose problems using your site's cached version. 
Reasons why it is important to cache websites
If you are wondering what is the need to view old versions of web pages, here is the answer:
---
---
To Check If There's Any Duplicate Content 
Have you ever noticed that on clicking on a cached page, you land on a different page you didn't expect? This may possibly happen due to duplicate content. 
When Google finds two sites with almost similar content, it may not keep them separate in the index and hence caches any one of them. 
Googlebot caching several pages under the same link probably means that you have duplicate content on your site. Note that duplicate content is bad for SEO, and if this happens, you need to change the content as soon as possible. 
Track What Your Competitors Are Doing Differently
So, let us assume you've been competing on a challenging keyword with your competitor site for months. 
For about 5 to 6 months, you successfully maintained a high rank. But all of a sudden, your competitor websites take the number one position on Google. 
Now, how will you analyze what went wrong? 
In such a situation, you can check the cache of your competitors' sites to see what they have done differently. Simply, draw a comparison with how the website looked previously and figure out what changes they have made. 
By knowing their unique strategy, you can implement them on your site and get benefitted. 
To Check Content Errors
Content matters the most! If you do not feel thrilled while visiting your website, you need to re-evaluate the content on your website.
Most of the time, the website content does not meet Google standards. In short, it contains either plagiarism or repeated content. 
You can use text-only tools to determine if your site content contains any errors or keyword stuffing. We suggest you make it a habit to examine your website's Google cache once a month. 
To See How How Fast Your Website Is Indexed 
When Google determines that your website has informative and relevant content depending on the keywords used, it will start indexing your website regularly. 
With the help of Google cache, you can see how often your website is getting indexed. You can also get an idea of whether your content is according to your target audience or not. 
---
---
Use It To Retrieve Your Old Website
Google cache is a fantastic way to see how much your website has changed over time. It is also a way to create a backup of your site. 
Accidents can happen anytime which may lead to data loss. So, you need to have some way of backing up your data. And cache is one such way. Although caching of websites does not replace the entire data, you can still get an idea of how your website looked before the incident struck. 
---
Limitations of Google Cache 
Every aspect of SEO has its limitations, and so does Google cache. 
Let's dig deeper.
Google Cache Won't Tell How Frequently Your Web Pages Are Crawled
One of the biggest misconceptions with Google cache is that it tells you the last time your site was crawled. Some people also believe that Google updates its cache every time its crawlers crawl a page. 
All these facts are untrue!
Google's senior webmaster trend analyst, John Mueller gave clarity on the topic in a Twitter help thread. He said, "In general, we do not always update the cached page every time that we crawl a page. Especially when the page does not significantly change, we may opt to just keep [sic] the old date on it."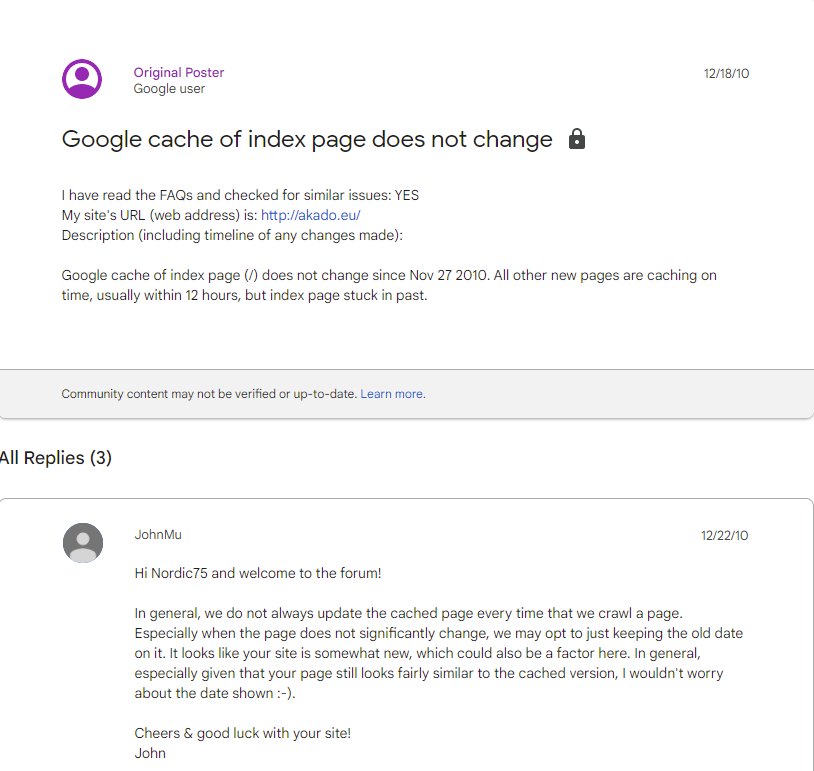 Pro Tip: You can find your crawl report of your website on Google Search Console under the Settings sidebar. It gives you complete details about when, how often, and with which bot your website (and not a specific page) was crawled. 
The Page Is Not Rendered Properly
This may happen if your Chrome is not updated or if you are using a different browser. This is because Google's Web Rendering Service uses the recent version of Chrome (since 2019). 
Another reason could be the missing resources. For instance, if the page that Google backs up refers to resources like JavaScript and it is no more available for that page, the page won't render properly. 
Some Pages Are Not Backed Up 
If you are trying to see cached pages for your website and you are unable to see them, there are chances that your pages are not cached at all.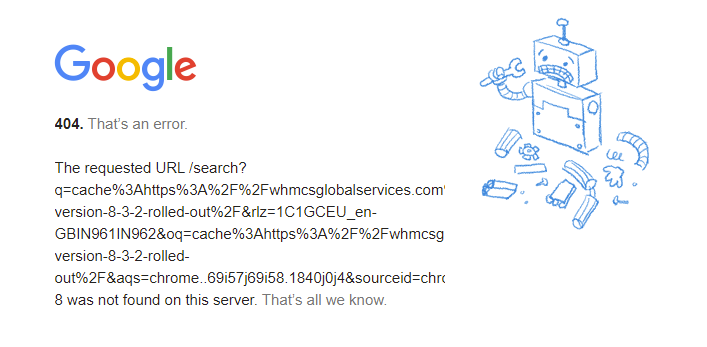 Well, this does not mean that your web pages have not been indexed by Google crawlers. There can be several reasons for this:
Your website uses JavaScript.

Having meta tags like

noindex

or

noarchive

on your web page may prevent them from being cached.

The page may have duplicate content. 
---
Is It Important to Clear Cached Files? 
Yes! But it depends on your cache settings. The cache can grow up to take a lot of disk space on your computer. It may result in the browser working slower than usual. 
Outdated resources stored in your cache impacts websites' loading time and can show incorrect information. For example, you can have difficulty viewing any new changes done until you delete the browser's stored cache. 
Can You Remove Google Cached Pages? 
Yes, and it's easy. all you want is to use noindex and noarchive tags such as rel=canonical. 
These tags are a smart way to keep your web pages and at the same time not have them cached. 
Another way is to ask Google to remove URLs from the cache. Go to the Google search console and click removals in the sidebar. Then click on a new request. You will come across two options at this point: Temporary remove URL or clear cached URL.
In temporary removal, the URL will not appear for six months. Clearing URL straightforwardly means that the cache will be removed. And whenever the website is crawled again, the cache will reappear. 
---
Recently Launched cPanel SEO Tool Gains Traction
---
See What Information Google Caches
By now, we have made clear that some websites are cached more regularly than others. And it is a good thing. You are posting content that is of utmost relevance, and Googlebot recognizes the same. 
So, here is an idea! Why not see how frequently your competitor's website is being cached. Find all those websites related to your niche that are getting cached often and smartly mimic the same actions on your website. 
This can be tricky, you need to be clever with any update you decide to implement. If you see a top-performing competitor's website upload a minor weekly feature to their site, consider doing the same thing to look for results. 
---
Frequently Asked Questions
Q. How does Google Cache work?
A. Google creates a copy of web pages it crawls for indexing and stores them to be accessed later by clients and servers. These copies can be accessed when the website is down or in the event of a temporary timeout.
Q. Is Google Cache important?
A. Google Cache does not help in SEO. However, it enables webmasters to access pages at times when their web pages or websites are down or affected by temporary timeout. Also, webmasters can use Google cache to make improvements in their SEO strategy by comparing the new and old versions of their and even their competitors' websites. 
Q. Does Google Cache all websites?
A. No, Not all web pages are cached. The reasons may include:
Duplicate pages

A website uses JavaScript

Meta tags like noindex or noarchive may prevent webpages from being cached. 
Q. Should I clear Google cache?
A. If you are experiencing slower page loads on your browser, you should clear Google cache. Clearing Google cache improves your browsing experience.
Q. How do I view cached history?
A. To view the cached history, you may use the Web Cache Viewer Chrome extension. Alternatively, you can do a Google search of the web page or site you want to view the cache history and click on the 3 vertical dots and select the "cached" option. The results that open will give details of its cached version. The third way is to type, "cache: URL" in the address bar and search. For instance, cache:https://hostingseekers.com. The results will get you the cached version of the desired URL.
---
Conclusion
Google cache does not tell you when your site got indexed last time. 
However, it helps you analyze where your site lacks and you can look for any scope of improvement. As we told you before, you can use the Google search console to view if your page has been indexed or not. 
Do not attach stress with Google cache files; it hardly improves your rankings. Google cache is more about getting to know your website and its performance better. You can also use it to see what kind of changes your competitors are making once in a while if rankings get affected. 
Some Other Links Worth Checking:
Different Types of Web Hosting
Explore the Difference Between HTTP vs HTTPS.
Trending Posts
Table of Contents Introduction What is WHMCS? What is The Cost o...

When it comes to upgrading or buying a new PC, choosing between AMD and Int...

In our today's blog, we will discuss Dell vs HP vs Lenovo to help you choos...