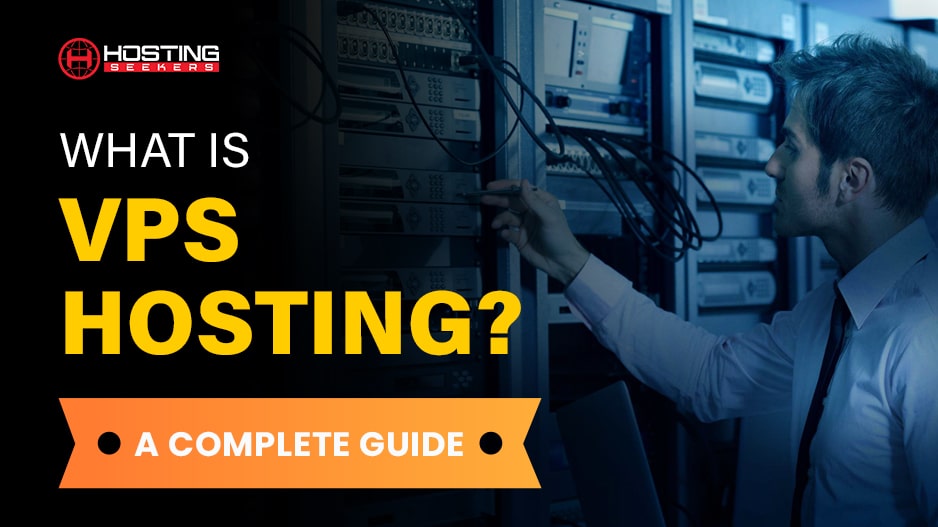 What is VPS Hosting? Everything You Need to Know in 2023
VPS
November 19th 2021
Businesses constantly seek efficient and reliable hosting solutions for their applications and websites. One of the solutions that has gained popularity is the VPS (Virtual Private Server). If you are a beginner looking to upgrade your existing hosting plan, understanding VPS and how it can benefit your business is crucial.
 Also, as a beginner, do I need VPS Hosting? Fret Not; this guide aims to provide you with a precise understanding of VPS's features, benefits, and considerations. Let's get started and explore more about VPS hosting and its functionalities.
---
VPS hosting is expected to reach USD 8.3 billion market size by 2026 (Source: hth.guide )
---
What is VPS Hosting?
VPS hosting is a hybrid of shared and dedicated hosting advantages. A physical server is separated into several separate virtual machines or VPS. They run their operating systems separately. Each VPS operates entirely independently from the other. This is a much more cost-effective way for website owners and businesses. It offers several distinct advantages as well. VPS helps businesses to start small and gradually build up as they need more resources.
Understanding VPS Hosting
Imagine a man building a building with ten apartments. He might only need part of the building to be part of the family. A single loft might be enough for him and his family. In computer terms, the whole building is a dedicated server, while in the single flat, there is a VPS. Like the building, an entire dedicated hosting server can cost a lot. A VPS will only cost a fraction of the server, just as a single flat will cost much less than the entire building.
Types of VPS Hosting
VPS typically comes in two different configuration types – single server VPS or Cloud VPS. The kind of VPS hosting 101 a user chooses entirely depends on the features and requirements that the particular website needs.

Single Server VPS:
A single server VPS is when several VPS can be hosted on one physical server. This means multiple servers are connected to one single physical server.   
This is a more economical option as only one physical server is needed to serve multiple VPS. In this case, one of the significant drawbacks is that it could be more easily scalable. Since there is a single physical, it might be limiting. This also offers low availability. The level of security is much higher than in the case of shared hosting.
Cloud VPS:
These are hosted across several different VPS or a local cloud. This is where many dedicated servers are pulled together to form a hardware cloud. It can be stored across several physical servers, so there is not a single point of the server. In this case, one of the most significant advantages is that if there is a complete hardware failure, it can be repaired without losing any data since it is stored on the cloud. It is more scalable, accessible, and reliable. It is also suitable for those who want their websites to be faster.  
Both cloud and single-server VPS have their pros and cons. The type is easier to decide if a website owner is sure about opting for the Best VPS hosting. While single-server VPS can be more economical, cloud VPS is more secure.
---
When Should You Consider Upgrading to VPS Hosting?
---
Advantages of VPS Hosting 

Virtual Private Server (VPS) hosting offers several advantages over other hosting options, making it a popular choice for businesses and individuals. Here are some critical advantages of VPS hosting:
Enhanced Performance and Reliability
VPS hosting allocates dedicated server resources to your website or application. This means you don't have to share resources with other users, resulting in improved performance and reliability. You have more control over your server environment, ensuring your website operates smoothly even during peak traffic. 
Cost-effectiveness
VPS hosting strikes a balance between shared hosting and dedicated hosting in terms of cost. While dedicated hosting can be expensive, VPS hosting provides a cost-effective solution that offers reliable resources and improved performance at a fraction of the price.
Customization and Control
VPS hosting gives you more control over your server environment than shared hosting. You have root access to your virtual server, allowing you to install and customize software, configure server settings, and optimize performance according to your needs.
Scalability
VPS provides scalability options to accommodate the growth of your application or website. As your requirements rise, you can easily upgrade your resources without experiencing downtime or disruptions.
---
How is VPS Different from Other Types of Hosting?
| | | | | |
| --- | --- | --- | --- | --- |
| Comparison | Performance  | Security  | Control  | Pricing  |
| VPS vs Shared Hosting: | Performance might be slightly better for users of VPS  | VPS hosting is more secure since there are fewer websites on one server.  | VPS hosting allows more control and customization from the user's side.  | VPS is slightly more expensive than shared hosting  |
| VPS vs Dedicated Hosting:  | The performance of a dedicated hosted website will be much more than a VPS-hosted website  | Dedicated hosting is more secure than VPS hosting.  | A user has absolute control of the server in dedicated hosting.   | Dedicated hosting can be costly. It is more expensive than VPS hosting. |
| VPS vs Cloud Hosting:    | Cloud hosting might mean the overall performance could be better since the resources are shared in this case  | Cloud hosting is less secure than VPS hosting since the resources are distributed in this case. | VPS might be slightly less customizable than cloud hosting. | Pricing entirely depends on the kind of cloud or VPS hosting a user opts for. |
---
Cloud vs VPS vs Dedicated Server Comparison
---
Do I really need VPS Hosting
? 
How to select the right type of VPS provider for your website?

---
9 Factors to Consider while Choosing a VPS Hosting Provider
---
VPS hosting can be complex, with thousands of web hosts providing these services. It is essential to do thorough research before investing in one VPS provider. This will help the website owner to know the tricks of the trade and not get fooled. Here are some essential steps to follow before choosing a VPS hosting service provider:
1. Assess Requirements
A website owner can predict the traffic that the website will attract. This can give an idea of the storage space, disk space, speed, and cores that the website would need. This is the first step to selecting the right provider since it will clarify the business idea and operations.
2. Assess Packages
Web hosting providers offer a variety of packages to meet the needs of different budgets and websites. These packages typically include different amounts of resources such as RAM, SSD storage, CPU cores, and bandwidth. The number of resources allocated to each package increases as the price increases.
3. Read Reviews
Web host directories have genuine reviews by experienced users. These reviews and blogs posted online can be beneficial for a first-time user. They highlight the positives and negatives of each web host to give a better idea of their strengths and weaknesses. Engaging and communicating with the community can be a great way to understand the industry better.
4. Customer Support
Sometimes, the server is down, and the public cannot view a website. This happens in case of downtime and can bring down the visitors to a website. In these cases, the website owner might want to contact the host. The host needs to have a 24*7 customer support service for users.
---
Managed VPS Hosting vs. Unmanaged VPS Hosting
---
Pros and Cons of VPS Hosting
Pros of VPS Hosting
Instant Deployment: There is no waiting time for a website owner to opt for VPS hosting. It can be deployed in minutes rather than hours. This makes the starting of the business more accessible and faster
Cost-Effective: In the case of VPS, there is little or no cost inventory. Website owners only pay for what they use. The website owners can choose and use these resources according to their budgets and plans. In this case, the cost is also directly proportional to the scaling of the website and the features it uses. 
Flexibility: There is a high level of flexibility in the case of VPS. This means that when a website owner does not need some resources, they can let go of them. If they need more help, they can deploy more. They only pay for what they use. Hence, upgrading or downgrading is easily possible in this case.
Fast migration possible: Since there are multiple servers, a website owner can migrate to another server in case of downtime. This is more possible in the case of cloud VPS. One can upgrade VPS immediately with rapid data migration.  
 VPS hosting has successfully increased the number of users shifting to it from other forms of web hosting. It is an excellent alternative to dedicated or shared hosting. If the features are understood well and used wisely, they can make a website a long way with its wide range of benefits.
Cons of VPS Hosting
Less security: If physical security is essential or businesses require absolute certainty that their data is kept from any other website, VPS might not be a good option. A hosting company generally does not issue a separate IP address, because of which the risk is a little more than dedicated servers.  
Compromised performance: The performance of a VPS does not reach that of a dedicated server. Vendors tend to limit server performance to maximize the units that the server can support.
Need for Technical Know-How: VPS hosting might be complex for those who have no technical knowledge. It is generally recommended to those with some proficiency or a team of experts to manage VPS-hosted websites. Experienced users can only understand some terms and packages in this case. 
---
Who Should Not Use VPS Hosting?
VPS hosting comes with its own set of pros and cons. Here are some cases where users are recommended not to opt for VPS hosting. There might be other kinds of hosting that might be better for these users.
Without technical knowledge 
VPS can be a difficult concept to understand at first. It is recommended for people with basic VPS knowledge rather than beginners. VPS is a good option if a user has some knowledge or a team of experts.  
Low-traffic Websites
If there are websites that have low traffic or have just started, then VPS could be a more expensive option than shared hosting. Shared hosting might work for them, and at a budget too. Hence, a website owner might opt for shared hosting rather than VPS hosting if too many resources are not needed.  
Heavy data websites
Although VPS is considered secure, it is ultimately a shared and dedicated hosting hybrid. A website might need a separate IP address. Hence, the website owner should opt for dedicated hosting if susceptible and confidential data cannot be shared. Dedicated hosting might cost more, but it will keep all information safe.
---
---
Best VPS Hosts You Can Choose From

---
How to choose best VPS Hosting Provider?
---
Hostinger is a popular website with great reviews from experienced users. It provides top-level data backups, round-the-clock support, and unlimited hardware and SSD space. Hostinger also provides a 30-day money-back guarantee if a customer is unhappy with the services. All Hostinger VPS servers are backed by BitNinja, which protects and monitors their infrastructure. 
A2 Hosting is known for its reasonable prices. It has the best reviews for fast and capable services at fair prices. The website has standard and turbo VPS plans with different cores, SSD storage, and RAM storage. However, all packages have free SSL certifications, free website migration, a money-back guarantee, and accessible customer service.
BlueHost provides standard, enhanced, and ultimate VPS hosting services packages that one can choose from. This depends on the number of resources a single website will need and the budget of the website owner. After signing up, BlueHost also provides 24*7 customer support to its VPS users. With unlimited bandwidth and reliable power, it also offers a straightforward dashboard for its users to operate from. 
HostGator provides its customers with great VPS hosting experience. With full root access to users and near-instant provisioning, the host also has highly trained experts to assist with software and hardware issues. Best known for its powerful VPS add-ons like upgrade storage and backup, it is a reliable platform with a user-friendly interface. 
DreamHost provides managed VPS hosting services for primary, business, professional, and enterprise. These depend on the business type, storage space requirement, and budget. With a 100% uptime guarantee, scalable RAM, and the best reseller hosting and sub-account features, it is one of the highest-rated web hosts online.   
Each cloud host's specialty and unique factor distinguishes it from the rest. Choosing the right web host and then the right VPS package can be tiresome. However, this is a crucial step to ensure a website's success. 
---
How to Set Up a Virtual Private Server (VPS)?
---
Frequently Asked Questions
Q. What is the difference between managed and unmanaged VPS hosting?
A. Managed VPS hosting is when all server maintenance and upgrades are taken care of by the hosting provider whereas unmanaged hosting is when it is taken care of by the customer. While managed VPS hosting is more expensive because of experienced experts, unmanaged VPS hosting services are less expensive.
Q. Is unmanaged VPS hosting better than managed VPS hosting?
A. Unmanaged hosting is better for those customers who have employed experts and have good knowledge of the administration of servers. Configuring applications can be difficult without sound knowledge. However, managed hosting makes all of this easier and can troubleshoot issues as well.
Q. Is VPS hosting free?
A. Most VPS hosting packages are only free for a couple of months after which a user has to pay for them.
Q. What is the difference between VPS and VPN?
A. VPS and VPN are completely different technologies. While VPS is a hosting server, VPN is a technology that can keep privacy and security when a customer is online. However, it might be possible to use a VPS service to create a VPN. 
---
Wrapping Up
VPS web hosting is an effective and easy way of web hosting. It is beneficial for both the host as well as the website owner. With several advantages like flexibility, scalability, and economical packages, it might be a great way to get started in the industry. However, one should know security and performance issues before committing to an investment.   
A rise in security concerns and the need for enhanced customizations are a few reasons the VPS market has seen a boom in recent years. This article overviews VPS hosting, its pros and cons, and who it is best suited for. A list of popular VPS hosts can also be reviewed here.
Trending Posts
Table of Contents Introduction What is WHMCS? What is the Cost o...

Summary:  SSD vs SAS vs SATA drives in detail to determine which of these t...

In our today's blog, we will discuss Dell vs HP vs Lenovo to help you choos...