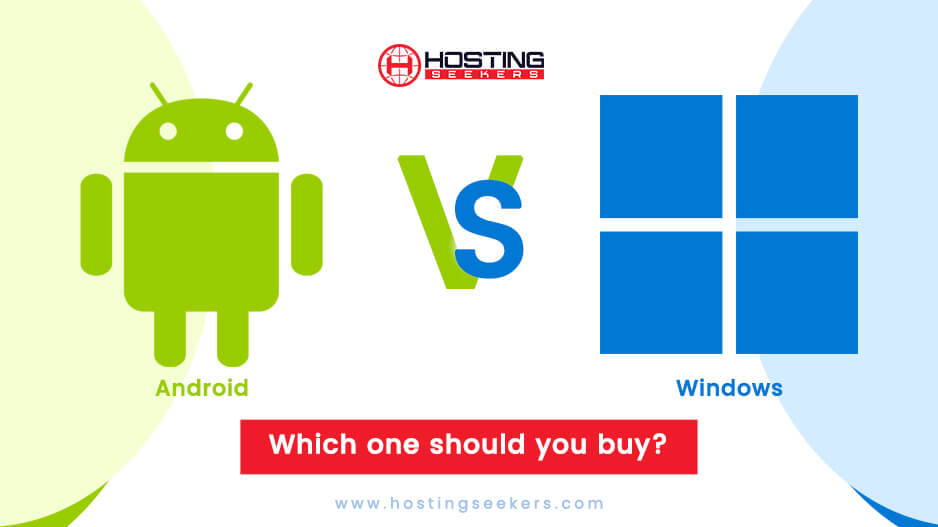 Android vs Windows – Which is better?
IT
Technology
April 7th 2022
Having distinct individual features, the Windows and Android fight seems never-ending. Read our blog on Windows vs Android to find which of these can work best in your favor. 
Both Android and Windows have loyal customers across the globe. As the operating system, Android takes away 41.59% of the global market share. On the contrary, Windows stands at 31.12%. However, when it comes to tablets, data suggests that Android leads with 45.99% while Windows is at 0.03% globally. This is not a surprise given that Windows tablets are relatively new.
Choosing a new device can be overwhelming for most. Making sure one invests in the right kind of operating system can be tricky. We understand that it is crucial to make an informed decision and understand the offerings inside out when buying any device. With a comprehensive comparison of Windows vs Android, a user can analyze the best operating system. This will not only improve productivity and efficiency but also provide a better experience. 
This article will analyze android vs windows in depth. It will not only help you make an informed decision but also help you understand your own requirements from an operating system.
---
ANDROID: Everything You Need To Know
Android, a Google-owned open-source platform, is one of the most famous Linux-based operating software. Given its ability to support multiple applications and programming languages, it is a common choice for people who need a variety of applications on a daily basis and for gaming enthusiasts. 
If a user is looking for a reasonable tablet with impressive battery life and a powerful processor that can do basic tasks, android tablets are a great choice. They are solid investments with great security features as well. It is great for everyday activities like browsing the web or streaming videos. It suits casual users better because of the limited storage. 
Top Features of Android:
User Friendly

Android Beam

Synergies with Google

Technical Features

User Friendly
Android focuses on the user-friendliness of its user interface. With the innovation in technology, Android constantly upgrades the interface and adds new features including the intuitiveness of the OS. Android supports various applications offering a wide variety to its users. It also supports apps being run simultaneously. It also supports multiple languages.
Synergies with Google
Given that Android is Google-owned, it enjoys synergies with Google including messenger services such as GCM (Google Cloud Messaging). This is a service only available for Android users. This allows data to be sent from one device to the other –  not only the usual text messages that can be sent to the other user but push notifications as well. For example, if one Android user wants to send a notification about a discount on an e-commerce application, he/she can simply send a notification to the other user. 
Android Beam
Android Beam has existed for years now but is not very visible on the settings of devices. It is a feature using which the user can transfer or share any file. If there are two Android devices, any file can be transferred from one to the other. If the NFC option is selected, the two devices have to be in physical contact. These files do not have to necessarily be pictures, they can be YouTube videos, contacts, and more. This might be applicable for only some applications, mostly the ones created by Google itself. 
Technical Features
Android has a wide range of useful technical features including WiFi and Bluetooth connectivity, multiple media support like JPEG, MP3, GIF, MPEG4, etc., WIFI direct to connect apps on the same network instantly, etc.
Android is a clear winner for gamers and those looking for the casual utility of the device. Android offers a powerful package but doesn't perform too well with multiple tasks. So, evaluate your choices well and decide accordingly.

---
---
WINDOWS: All That It Has To Offer
The Windows operating system is ruling the charts in the last few years. The devices are capable, budget-friendly, and are easily available to users today. There are, in fact, both budget as well as premium devices run by Windows. These are ideal for students and professionals who work from home specifically. They are lightweight and portable, which adds to the convenience. Windows is great for casual use since it is beginner-friendly and has all the basic features that come with an affordable price range.
Top Features of Windows
Control Panel
Task Manager
Disk Cleanup
Cortana

Control panel
The Control Panel setting is easily available on a Windows device. There are easy ways to access this on the home page or desktop. It is a one-stop to configure and manage various different Windows functions. It can also help the user alter the keyboard and mouse settings. Multiple users can be added to a single device with different passwords here as well. The power options can be controlled here as well. In total, Windows devices can be made highly customized with the control panel.
Task Manager
The task manager option can be opened on any Windows device. It is generally used for closing programs that are not operational or are frozen. They might be using up more memory and power, which can be avoided using the task manager. It also provides the user statistics on the usage of their device. This helps them understand which applications and programs are being used more than the others.
Disk Cleanup
The disk cleanup option can be used to clear up memory space and make the device much faster. This is extremely easy to do and does not need expertise as such. All the files and folders that are temporary or unnecessary can be viewed at once. These can be deleted to make the device much faster. Simply deleting a folder from the desktop might not clear up space since it still remains in the recycle bin. The disk cleanup option deletes the folder from the system, making it faster and more efficient.
Cortana 
Cortana is a relatively new feature on Windows devices. This feature helps the user conveniently use the device with voice messages. Cortana is like a voice assistant with which the user can control the whole device. Any application or program can be opened, calls can be made, etc. The user can use the microphone to instruct Cortana and give instructions as voice commands.

Windows has been the most used operating system when it comes to PCs, but tablet users also now have multiple reasons to choose Windows over other operating systems. It offers better security features and overall performance on different devices.
---
---
Which is Better: Android vs Windows 
Android – a preferred choice for gaming
Android – as an operating system gives its users a world of choice. Android tablets are often cheaper and users can do more in terms of consumption. Because of the nature of the Android operating system, more can be customized as well. Although this is a great feature, it can be confusing for first-time users. They often provide users with expandable storage and plenty of apps to choose from. Android might be a better choice for those who are looking at gaming and entertainment. The quality of gaming is also better for Android.
Windows – a preferred choice for Windows Application users
Windows – OS for tablets is a new entry on the battlefield but has become very popular in recent times. It is a convenient tablet that makes the user comfortable sooner. While Windows might not offer millions of free app options, it does offer a heightened security measure. If you are considering buying a tablet, Windows tablets are relatively cheaper but can be a little more expensive than the Android tablet options available in the market. This might be a more beneficial option for students since it has applications like MS Word, MS Excel, and MS Powerpoint. 
So, which is better for you – Android vs Windows?
The ultimate decision of Android OS vs Windows OS especially for tablets depends on the needs of the users and the activities the users wish to perform. For example, if the user will use it to study data or type out a lot, a Windows tablet might be better. But if the tablet is mostly for entertainment purposes, an Android tablet might do the job. Experts would describe a Windows tablet as a replacement for a laptop while an Android tablet is a bigger version of a mobile phone. 
---
---
Frequently Asked Questions  
Q 1. Can Windows run on an Android tablet?
Ans. No, Windows and Android are two separate platforms. Hence, Windows will not support the Android platform. However, there are a few ways in which an Android tablet user can download the Windows software on the tablet. This might require the user to download a specific app or connect to the PC and change the software. 
Q 2. Will the operating system of a tablet affect the user's experience?
Ans. Yes. Different operating systems have different pros and cons. An Android-operated device might be more powerful in processing while a Windows-operated device might have better battery life. Features like screen size, screen resolution, battery life, portability, and personalization might affect the user's experience.
Q 3. Which is better – Windows vs Android?
Ans. The answer to this depends on the user completely. If the tablet will be used for work or by a student, then Windows might be a good choice. If the tablet is more for casual purposes like streaming videos, browsing the web, or gaming, then Android tablets are better.
Q 4. Which features are better in an Android tablet?
Ans. Along with the best web hosting and downloading a wider variety of applications, it is a great choice for those looking at tablets for gaming. Android devices are fairly simple and cost-effective when compared to other options in the market.
Q 5. Which features are better in a Windows tablet?
Ans. If a user is looking at more professional use for the tablet, Windows tablets are great. They offer stylus usage as well as a Bluetooth mouse and keypad, which makes it very close to a functional laptop. It has also got better battery life.

---
---
Conclusion
The Windows vs Android debate is a long-standing one, which has been thought about by many experts. It is not an easy choice for consumers, but it is important to understand that Android and Windows serve different purposes. 
While Android tablets have their own advantages, Windows hosting providers are very different, focused mostly on security and performance. So, when it comes to the question – android vs windows tablet – which is better – it is not a straightforward yes or no. It might be difficult to choose a tablet when you are spoilt for choice. But making smart decisions can go a long way. Hope this article will help users to do just that – understand their requirements, understand the features of the operating service, and then make a meaningful investment.
Trending Posts
Table of Contents Introduction What is WHMCS? What is The Cost o...

When it comes to upgrading or buying a new PC, choosing between AMD and Int...

Summary:  SSD vs SAS vs SATA drives in detail to determine which of these t...