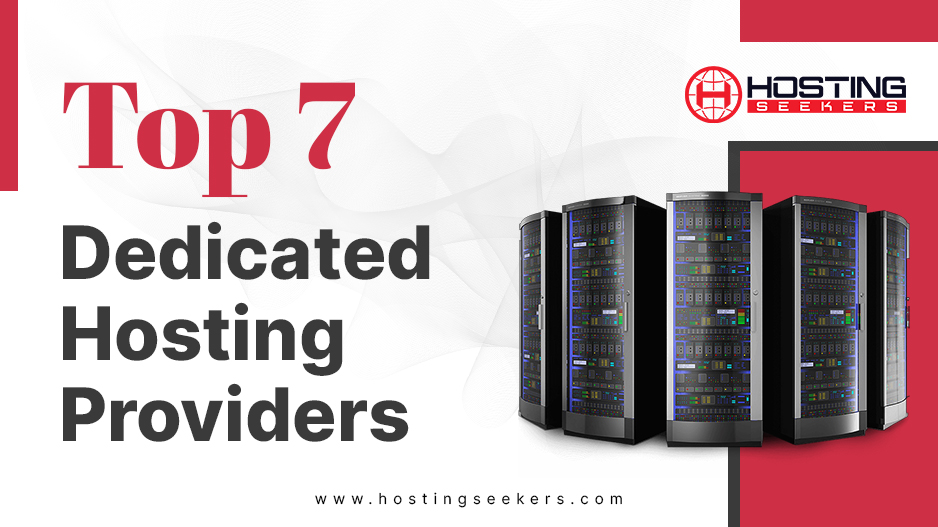 7 Best Dedicated Server Hosting Providers of 2023
Dedicated Server
August 1st 2023
Dedicated servers are a premium option for businesses and individuals seeking unparalleled control, performance, and security for online ventures. A reliable server hosting solution provides a physical server dedicated solely to a single user, offering many benefits shared or virtualized environments cannot match. This article explores the top 7  dedicated server hosting providers that have gained prominence for their exceptional services and features.
Global Dedicated Server Hosting Market size is expected to grow at a CAGR of 18.9 % through the forecast period. (Source: maximizemarketresearch.com )
While finding a relevant hosting plan and approach, many organizations came across dedicated server hosting. But, the question remains same for them, that what are the best dedicated server hosting and how to select one.  
You can find various providers online, but there are only a few, who are offering authentic services. And by reading further, you will get to know about them all.  
So, let's start reading and get the answer to WHAT and HOW?
---
7 Best Dedicated Server Hosting Providers
Redswitches is a prominent name in the hosting industry, which offers full-fledge and superior quality dedicated server hosting. It has various data centers in different continents, through which it assures data reliability and availability in every situation. In addition, it provides free sever management, leading to save an exponential server maintenance cost.  
Moreover, it offers the following features, making it an outstanding cheap dedicated server provider:  
Built-in tools to deploy the application assuring no modification and modernization in the source code. 

 

Horizontal and Vertical scaling, enabling to utilize as many resources with pay according to utilization basis. 

 

24/7 Available support services for all the 200+ dedicated servers available across different continents. 

 
If you want to leverage a dedicated server hosting with some additional benefits than others, then red web hosting is a good choice. It offers multiple in-built tools, helping to scale up the performance and speed of the website. In addition, its hosting cost is very minimal with an assurance of 99.9% uptime. 
Moreover, if you get stuck with any technical or non-technical issue, their support team will be available within 1 hour to resolve every issue. Also, Red Web Hosting has a money back offer, under which they ensure to refund overall money within 30-days with no questions asked.  
From multiple domain hosting and automated data backup to executing multiple scripts, it enables to perform all the essential functions.  
If you are looking for an enterprise-based dedicated web hosting provider, then JOIVHost has got all the required infrastructure. It provides a complete cloud-based solution, getting managed by experts to assure maximum uptime and performance in every hour. Its services are available around the clock and you can avail and upgrade it anytime.  
Moreover, it offers the below-listed features, aiding in optimizing the overall application:  
SSD storage, assuring RAID protection and faster request execution. 

 

Control Panel (cPanel) for controlling, managing, and streamlining the core operations.

 

Complimentary DDoS protection to never let system crash. 

 

Single click installation along with CDN network upon the Cloudflare platform.

 
From hosting a blogging website to a full-fledge responsive business website, HostingSeekers fulfills all the requirements. With a dedicated server, your website won't be affected by some other website's traffic or performance. If your website witnesses a high number of daily transactions, and needs to be up and running 24/7 with no chance of default, then you must try dedicated hosting.
In addition, HostingSeekers is the ideal platform to find a top-rated dedicated server hosting providers. It is a hosting place that lists thousands of top web hosting companies from across the world. The site shows genuine user reviews so you can rely on these without a second thought.
If you are looking for fully managed and cheap dedicated web hosting, VPS ground is a one-stop solution. Its servers are 200x faster than others and ensure data integrity and confidentiality. In addition, it provides a free domain of your choice, if you buy an annual plan from it. Moreover, you will get SSD storage, automated daily data backup, 24/7 expert support for the overall year, and free SSL certificate installation.  
Besides this, there are special services that you can only get through VPS Ground. And, these are inclusive of:  
Free access to webmail services (POP3, IMAP, and SMTP)

 

Padlock sign in the URL with 2048-bit RSA key encryption

 

SMS API for all operators with custom plans

 
Glowhost offers both managed and unmanaged dedicated server hosting and you can select anyone from it. Whether you are a startup with limited funding or a large-scale enterprise, it has packages for all requirements. Moreover, it offers easy resource scalability, which can help you to flawlessly increase productivity in agile environments. Also, they allow you to utilize the operating of your choice and handle operations as per your comfort.  
They have multiple data centers in America, Mexico, Australia, the UK, China, the Netherlands and many more countries. And, if you select their managed hosting plan, all your complexities get eliminated. It covers hardware, software, security, IP filtering, configuration, and maintenance of all the primary computation assets. 
From free SSL to free migrations, Moxihost provides an extensive range of dedicated hosting services through a cloud infrastructure approach. It comes with an auto-installer for effortlessly configuring the WordPress websites. And, it also provides cPanel with Sitepad, Immunify 360 and CloudLinux for better management.  
Besides this, it makes you hassle-free to maintain data integrity and confidentiality through built-in security controls. It consistently monitors the servers and assures their working is up-to-the-mark.  
Furthermore, with its unlimited migrations, you can flawlessly shift your websites to robust platform. As a result, your customer-satisfaction, retention and conversion rates will surely go up. It also has Softaculous, allowing to installation of more than 400 applications through a single click.  
In this competitive market, Moxihost can assuredly help you with dedicated server hosting.
---
Steps to Find The Best Dedicated Server
For finding the best and cheap dedicated server hosting, you must focus on the following steps:  
Research online and analyze the plans of all potential dedicated server hosting providers.

 

Shortlist the providers and analyze their services.

 

Assure whether the provider is offering support services and built-in security controls or not.

 

Check for cPanel, SSD Storage, and free SSL.

 

If all the above requirements are getting matched, then select the service provider and start hosting your website.
---
Concluding Up:
From where to get
Cheap Dedicated Hosting
? 
While finding the best dedicated server, you can get confused. But, you can easily streamline this procedure through HostingSeekers. It is the prominent partner of leading dedicated hosting service providers, offering exceptional services.  
You can select any provider from HostingSeekers and all your requirements will get covered. From free SSL and data security to SSD and 24/7 support services, you will get all of them. 
Trending Posts
Table of Contents Introduction What is WHMCS? What is the Cost o...

Summary:  SSD vs SAS vs SATA drives in detail to determine which of these t...

In our today's blog, we will discuss Dell vs HP vs Lenovo to help you choos...