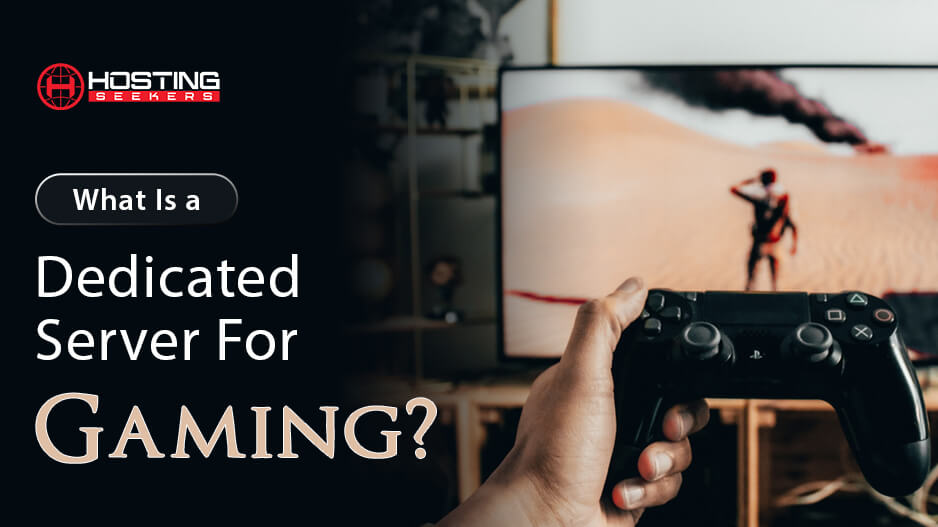 Dedicated Server For Gaming – Does Every Gaming Business Need It?
IT
Technology
March 15th 2022
When you have full control over your gaming environment, you tend to deliver an improved & customized gaming experience to your gamers. This is what makes having a dedicated server for gaming significant.
A slow service, especially a gaming one is sure to annoy your customers causing them to shift to your competitors. Dropped games, or slow loading times can quickly turn their gaming experience into an unpleasant one. The best solution to this is having a powerful game server that helps you deliver a powerful gaming experience. And here's where a dedicated server for gaming comes into play.
In this article today, we will explore dedicated game hosting companies and all their aspects in detail.
So, let's get started. 
---
What is a Dedicated Server in Gaming?
A dedicated game server is an independent, fully-remote server that hosts games and all remote clients. This type of private server allows gamers to access a stable, reliable, and fast connection to the games, including memory-intensive multiplayer games. What's more? You don't have to share server resources with other apps or sites.
With the dedicated game server in gaming, you get more memory, processing power, and storage than any other hosting for your games. Gaming companies who wish to create a stable environment for their players typically prefer dedicated game server hosting to host their games online. 
---
---
How Does A Dedicated Server For Gaming Differ From Regular Dedicated Hosting? 
Dedicated game servers are different from regular servers. A dedicated server in gaming use high-quality graphic cards that are required to deliver rich graphics and media to players. On the other hand, a regular server doesn't need rich graphic cards. 
There are mainly two types of game servers – centralized server system and distributed model. In a distributed model, the users can download and install tools on their local systems to access games online. These servers are also sometimes called listen servers. 
In the centralized mode, players can go online and start playing without installing any simulator or client tools on their local laptop or PC. 
Both distributed and centralized systems need the power to manage a load of online gamers as a number of gamers play at the same time. 
Low latency and fast ping results are essential to gaming sites. It may annoy gamers if their server has high latency. Experienced gamers typically choose servers with the lowest ping rates. 
Further, dedicated game servers consume a lot of bandwidth than legacy servers. Also, unlike dedicated game servers, a regular server can survive on much lower power and hardware specifications. And for all these reasons, a dedicated server for hosting is more expensive than regular dedicated server hosting.
---
How Do Servers in Dedicated Game Server Hosting Work?
A dedicated gaming server manages all the responsibilities of hosting. It keeps gamers in sync with the game and handles various duties, including player locations and activities, game rules and scores, load-outs, and physics. 
The server does not run the game engine nor does it render anything. So, instead of having a graphical card (GPU), a dedicated gaming server needs high amounts of CPU and RAM. It instructs client machines on what to offer. The client machines are responsible for game controls, graphics, and sound.
Such a setup is critical to fulfilling gaming requirements and does not let games crash or lag. While you can run your own dedicated game server, a convenient and more affordable option is to rent it from a game server provider. They will take care of the hardware and its pricing, monitoring, security, and overheating. In addition, you also get higher bandwidth and a faster and more responsive gaming experience. 
---
---
Benefits of Dedicated Server For Gaming 
Reliability
Complete Control
Handle High Traffic Demand
Security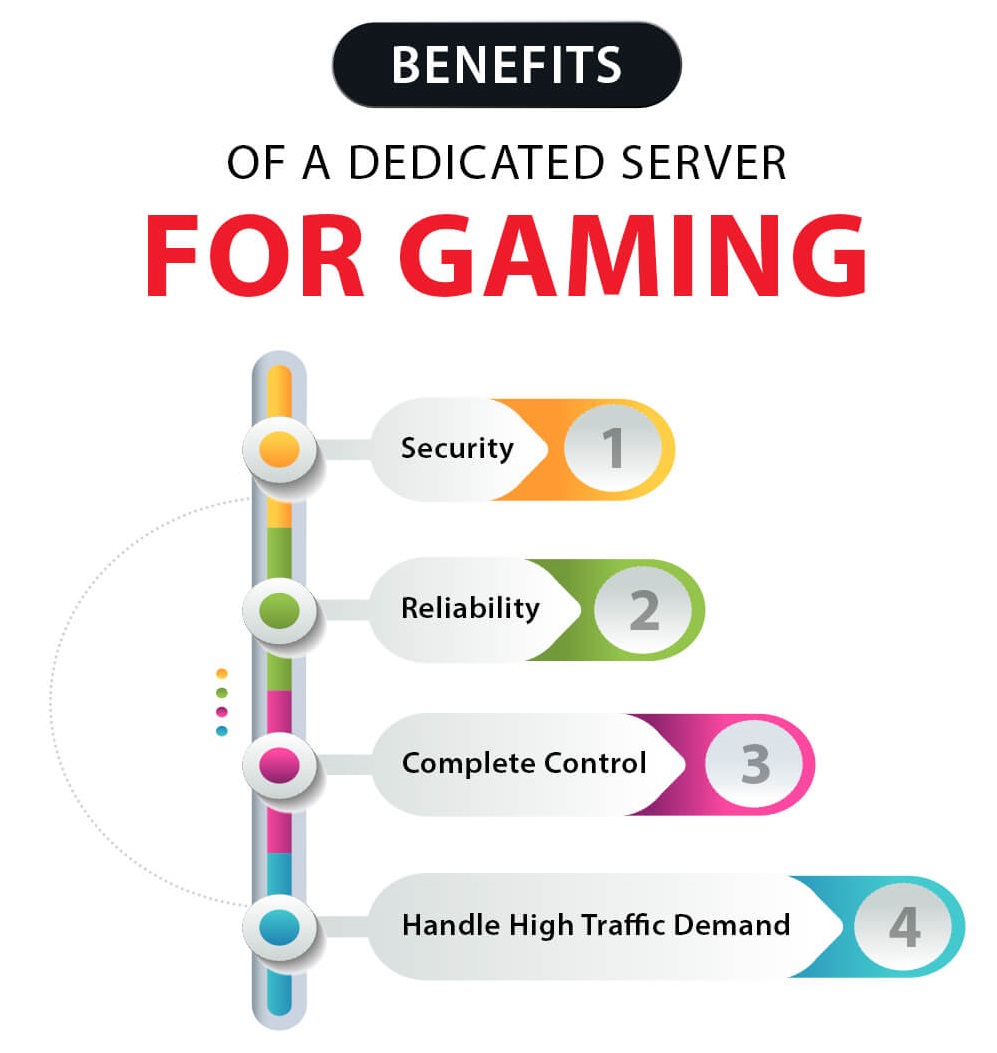 Let's get to know the advantages of buying the best game hosting services. 
Reliability 
Dedicated gaming servers come with continuous monitoring, cooling systems, a high level of power, and backup. This makes the game available to your players around the clock. In addition, gaming servers have the best quality hardware and excellent connectivity. This maintains the server efficiently and prevents any client machine from experiencing lags, slowdowns, sync issues, or game crashes. 
Complete Control 
With dedicated game hosting, you have complete control over your gaming experience. You can configure the server as per your need, choose the operating system of your choice. Set up game configuration, and install custom scripts. You can also place a max cap on the number of gamers playing a game, so you can manage the memory load. You can also set the rules of the game yourself and make changes anytime you want.
Handle High Traffic Demand 
Dedicated servers can handle high traffic efficiently. Thousands of gamers can play at the same time without affecting the server performance. As said, the server administrator can keep a check on the number of gamers to prevent overcrowding on the server. 
Security
Dedicated servers are generally more secure than regular web servers. Game server providers generally invest in cybersecurity such as protection from DDoS, scheduled backups, firewalls, and manual backups. 
Server admins can also control who can access the server to know who is playing the game at any time. This helps them protect the servers from intruders. 
---
SSD vs SAS vs SATA: Whi is better for a Dedicated Server?
---
Do You Need A Dedicated Server For Gaming? 
The question of whether or not you need a dedicated server for gaming is quite obvious. In most cases, users don't need to interact with a dedicated server directly to play their favorite games online. However, users who prefer a more personalized experience can opt for dedicated game servers. 
Also, many single-player games that do not need any online features do need dedicated game hosting. Further, the games that use online features through peer-to-peer connections use one of the user's machines as the "host".
---
Frequently Asked Questions 
Q 1. What is a dedicated server in gaming?
Ans. A game server is a private server located remotely that hosts games and clients. It is very powerful and offers many benefits in terms of game speed, performance, and reliability.
Q 2. Are dedicated servers better? 
Ans. Yes, dedicated game servers are better than cloud or VPS in terms of CPU performance and resource management. 
Q 3. Where I can find the best game hosting services?
Ans. At HostingSeekers, you can find some of the industry's best game hosting services offered by top game server providers. You can choose the best game hosting based on your gaming requirements and budget. 
---
---
Conclusion 
Dedicated game server hosting is the most stable way to deliver the best gaming experience to your players. If you are struggling to find the best game server providers at budget-friendly plans, explore HostingSeekers. Dedicated server packages available on our marketplace offer a wide range of options to customize the gaming experience of your players.
Trending Posts
Table of Contents Introduction What is WHMCS? What is the Cost o...

Summary:  SSD vs SAS vs SATA drives in detail to determine which of these t...

In our today's blog, we will discuss Dell vs HP vs Lenovo to help you choos...