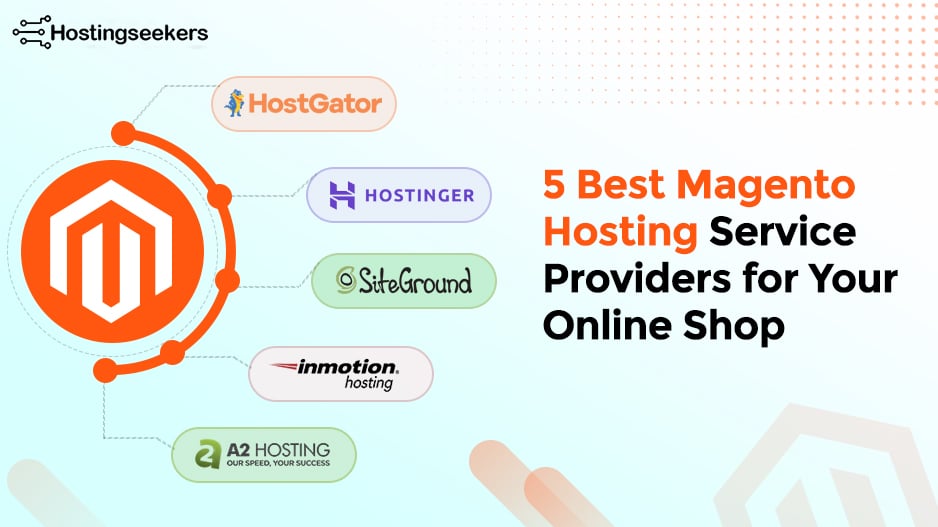 5 Best Magento Hosting For Your Web Shop | In-Depth Review
IT
April 28th 2021
Magento Hosting – Table of Contents
Magento is a powerful open-source and efficient eCommerce-oriented CMS.
---
So…you are thinking of running an online store and we really appreciate your idea.
This is why we recommend you consider Magento, one of the best frameworks to implement your webshop. With Magento Hosting, you can build amazing, feature-rich online stores with the help of its fine-tuned support.

Well, there is a large number of businesses using Magento to develop their eCommerce websites because of its flexibility and performance speed. Moreover, it allows you to customize your online store easily as per your requirements and you can create developer-friendly websites in a matter of minutes using Magento.
However, before you take any further steps, you must know the factors to consider when choosing web hosting and only then you can choose the best Magento Hosting for your business.

So, let's get started!

What is Magento?
Magento is one of the most powerful and Open Source eCommerce platforms dominating 29.1 % market share. It is one of the most popular and complete CMS for virtual stores today that carries a multitude of functionalities and flexibility to make your online store project outstanding.
Its advanced category structure, configurable product management, catalog composition, up-selling/cross-selling functions, currency, tax, transport management, and 24*7 support means you have full control over your online store.
Since Magento comprises everything from flexibility to customization, it's no wonder that it's the best option for online merchants all over the world.
---
Recommended Read: Best Linux Hosting Companies
---
Why Choose Magento Hosting?
Since there are several alternatives to Magento Web Hosting, but the question is why you should choose it?
Well, there are major reasons behind this:

1. It's Secure
All the eCommerce companies prioritize the security of their web store and a webshop implemented using Magento is secured on its own. Also, it protects your website against all sorts of security threats and guarantees security by updating its security patches from time to time.
2. It's Multi-functional
Magento comes with several pre-loaded features, which makes it easy to use and you can get started easily. Unlike other platforms, one does not need to worry about customizing the Magento to meet your requirements and you can directly focus on what exactly matters to your business.
3. It's Open source
Magento is free to use and everyone can customize it without any technical assistance. This is something that is popular and highly demanded among professionals. Besides, the Magento hosting source code and data structures are not disclosed and this is what makes it secure even after being used by many users.
4. It's Speedy
Magento has been designed in such a way that it will never slow down your website even if you feed a large amount of product data. Besides, it is capable enough to speed up the process by storing various kinds of data like product information, payments, orders, OMS, and much more. 
5. It's Flexible
If you are looking for an extremely flexible and highly customizable hosting solution, then nothing is better than Magento hosting. It's default features are so powerful and helpful enough to manage your webshop without any major experience. With Magento, you can bring your web store imagination into reality. If you are still confused, then this guide will help you choose the right storage space: Cloud Computing vs. On-Premises.
Some Other Reasons to Choose Magento:
Manage Multi-sites/multi-stores

High Precision

Customization Freedom

Easy Marketing

High quality graphic themes

Consumer orientation

Simplified administration

24*7 Technical support



---
Not considering Magento Host seriously might lead to risk harming your online business.
---
Benefits of Magento Hosting
Today there are dozens of eCommerce platforms but nothing can compete with Magento. It is built up with an open-source platform for online retail and is highly recommended for your next eCommerce project.
Here are some of the benefits you will get if you use Magento Web Hosting  as a CMS for your e-commerce store:
Flexible content management

SEO and mobile-friendly

Built-in upsell and cross-sell

Easy third-party integrations

Highly secured eCommerce store

Smart search option for buyers

Host multiple websites easily

Support multiple languages and currencies

Extensive Magento community

Makes product management easy
---
Azure vs AWS vs Google Cloud – Who's The Best Cloud Service Provider?
---
5 Best Magento Hosting Providers and Services
In the subsequent section, we will talk about each of these hosting companies in detail.
We help you choose the Magento Web hosting you need!
1. HostGator
HostGator is one of the best Magento Hosting offering a complete package of Magento  Web Hosting services with efficient features. This is one of the best Web Hosting Service Providers that offers an automatic Magento installer to make the the installation processor easier for the end-users. The company is famous for offering some extensive features like unmetered storage space and bandwidth, an unlimited number of sub-domains, email accounts, FTP accounts, and a 99.99% uptime guarantee.
The company offers shared, reseller, enterprise, and cloud Magento hosting plans and even after using HostGator Magento web Hosting Services, you do not get satisfaction, you can claim your refund within the next 45 days.
Technical Specifications of HostGator
Unlimited Domains

One-Click Installs

Unmetered Bandwidth

Unlimited Email Account(s)

Unlimited Databases

FREE Positive SSL

FREE Dedicated IP

Email Marketing Included (NEW)

Unmetered SSD Disk Space

Free G suite for 1 Yr 

Free Dedicated IP

Unmetered Transfer

Free Positive Comodo SSL 
Reasons to choose HostGator
1. Trusted by millions – Magento Hosting offered by HostGator is trusted and tested by thousands of businesses worldwide and everyone says it's the best, no matter if you are a beginner or an expert online seller.
2. Advanced Control Panel – With every Magento Web Hosting Plan offered by HostGator, you will get the latest Control Panel and you can track website statistics, error logs, Blogs, Carts, Forums, and Counters easily.
3. Bullet-proof Security – HostGator includes an absolutely free IP table firewall, secured VPS firewall, and DDoS protection to keep your Magento Hosting online store safe and secure to keep your website running smoothly.
Plans and Pricing
Currently, HostGator offers the following Magento Hosting plans:
Plan 1. Hatchling Plan – Starting at $2.75/mo*
Plan 2. Baby Plan – Starting at $5.95/mo*
Plan 3. Business Plan – Starting at $5.95/mo*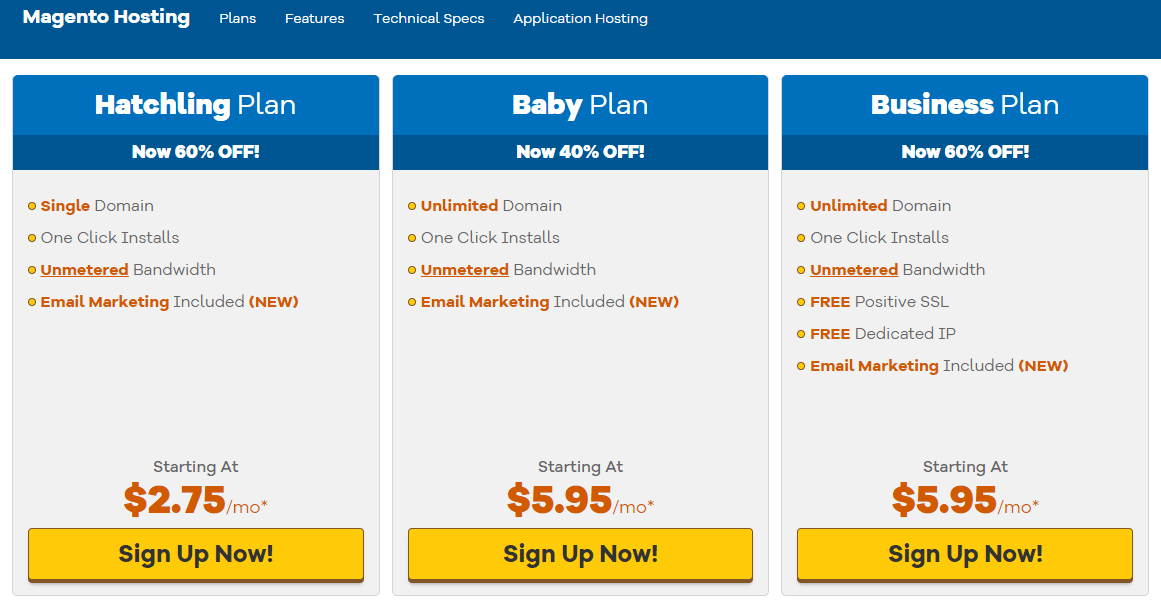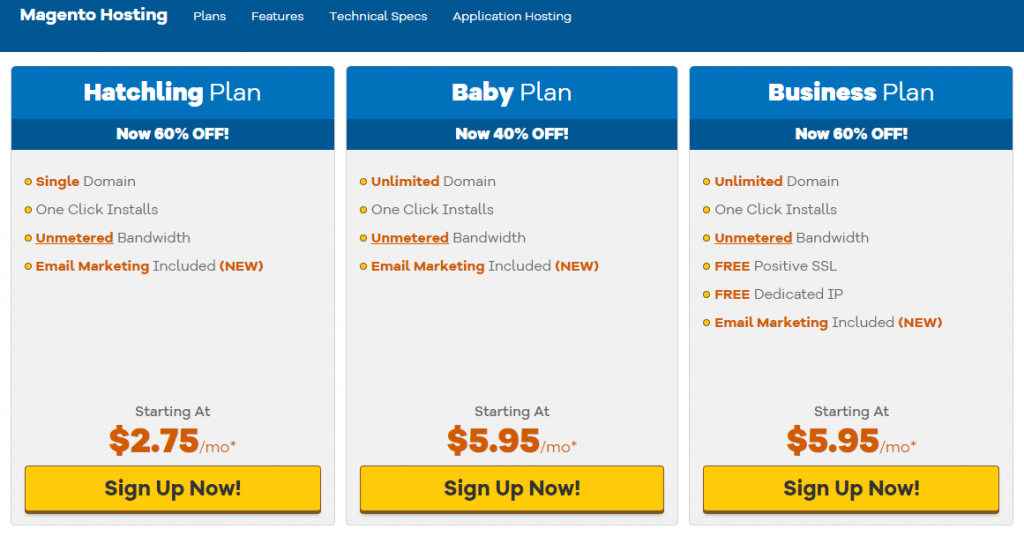 ---
2. Hostinger
When it comes to affordable Magento Hosting with competitive pricing, Hostinger is a name that cannot be skipped. The company was founded in 2007 and has been serving Magento Web Hosting solutions since 2011 with great features. Hostinger offers three different shared web hosting plans that include Single, Premium, and Business and with each of its plans comes with a domain name, which is completely free.
Choosing Hostinger Magento Hosting means you will never regret for investing in it.
The company offers different plans with excellent features and the pricing of each hosting plan is cheap. Moreover, if you get stuck somewhere, the company's technical support team is always available to get you through difficult situations.
Technical Specifications of Hostinger
Free Email Accounts

Free SSL, Domain, CDN

Daily Backups

Unlimited Bandwidth, Databases

Dedicated Resources, IP Address

Free Migration

DNS Management

Managed WordPress

WordPress Acceleration

30 Days Money Back Guarantee

Cache Manager

Access Manager

Multiple Data Centers

SSH Access, GIT Access

99.9% Uptime Guarantee

24/7/365 Support
Reasons to choose Hostinger
1. Free Weekly Backups – Mishaps occur without any prior notices and someday you may lose your website due to it. However, if you choose Hostinger as your Magento hosting provider, then you do not have to worry about your website being lost due to any disaster as it takes automatic backup of your website on a daily basis.
2. Git integration – Hostinger's best Magento web hosting plans allow you to keep track of your website's activities and Git is one of the most used tools to accomplish such tasks.
3. 24/7/365 Support – Hostinger offers you round-the-clock technical support to help you get out of the problems. The support team of Hostinger responds to you within a minute and you can ask them about the setups, installation, and any other issue you are facing.
Plans and Pricing
Right now, Hostinger offers the following Magento Hosting plans:
Plan 1. Single Shared Hosting – Starting at $0.99/mo*
Plan 2. Premium Shared Hosting – Starting at $2.19/mo*
Plan 3. Business Shared Hosting – Starting at $3.99/mo*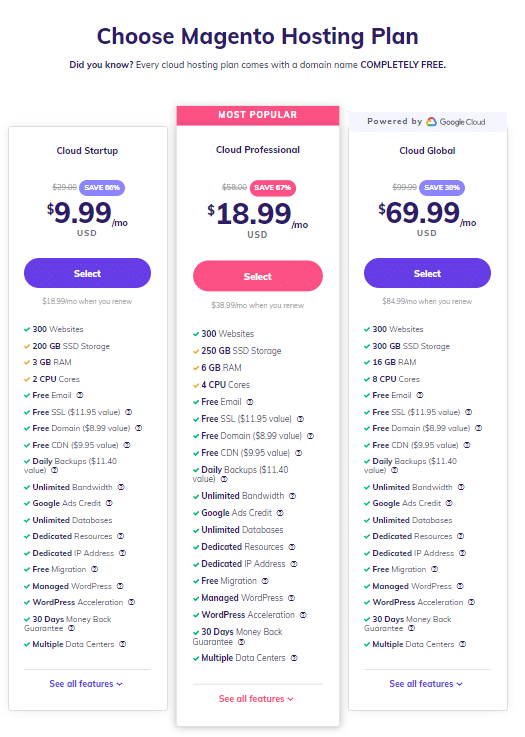 ---
3. A2 Hosting
If you are looking for a Magento Hosting service with faster page loading speeds, then you should go for A2 Hosting. The company has been serving different web hosting services considering the latest web hosting trends since 2001 and is well known for the super-fast page loading speeds.
The company has served the fastest server speeds to date with 99.99% uptime to date.
Besides, A2 Hosting offers a decent client area look so that your users can navigate easily and you will get all the required functionalities like Support, Domain, Billing automation, etc. You can access cPanel simultaneously along with several amazing features.
Technical Specifications of A2 Hosting
Unlimited Websites

Unlimited NVMe Storage

Free & Easy Site Migration

Free Automatic Backups

Turbo (Up To 20X Faster)

5X More Resources

Money-Back Guarantee
Reasons to choose A2 Hosting
1. Super Fast Page Loading Speed (285 ms) – Faster page loading speed makes your clients stay on the page for a long time and this helps to improve your organic ranking too. A2 Magento Web Hosting offers 285ms page loading speed and this is one of the biggest reasons that large sized businesses love it.
2. 99.97% Uptime – Choosing A2 Magento Hosting means, you will never have to worry about the websites' downtime. The company offers 99.97% uptime so that your business never slows down.
3. Free Site Migrations – If you are handling multiple websites and want to migrate one to another seamlessly without facing any downtime and data loss issue, then A2 Magento Web Hosting is the best option for you.
Plans and Pricing
Right now, A2 Hosting offers the following Magento Web Hosting plans:
Plan 1. TURBO BOOST – $9.99/mo*
Plan 2. TURBO MAX – $14.99/mo*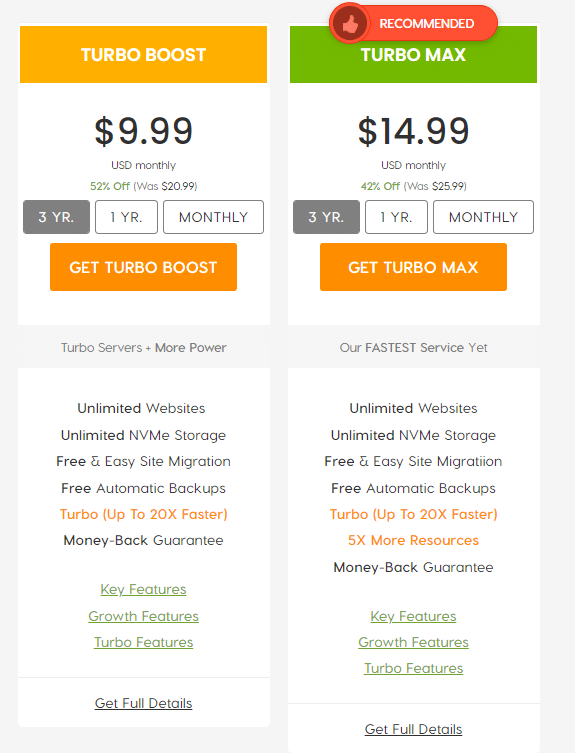 ---
4. InMotion Hosting
InMotion has been serving hosting services since 2001 and handling more than 300,000 domains till now. It is one of the most reliable and well-known names that offers 24/7 technical support and absolute data transfer services. The company offers cheaper Magento Hosting plans with amazing services and features.
With InMotion hosting, you will get a mature infrastructure with high-speed drives.
Its existing customers praise the company for the great user experience they offer and the speed of websites. 
Visit InMotion Hosting Website
Technical Specifications of InMotion Hosting
Fault-Tolerant Disk Space

Dedicated IP Addresses

Control Panel [cPanel Demo]

FREE Automated Data Backups

Max Speed Zones™ (Various Data Centers)

Quality Dell Servers

MySQL Database Support

Domains/Websites Allowed

Private SSL

SPAM Safe Email Accounts
Reasons to choose InMotion Hosting
1. High Scalability – The company offers different Magento Hosting plans for every sized company and you can pick any of these plans according to your business needs.
2. 24/7/365 Support – Facing any installation or management issue with your Magento Web Hosting? You can always contact their technical support team via phone, email, or chat and their experts will get you through it simply.
3. Super Fast Speed – The Magento Web Hosting servers of InMotion Hosting comprise an inbuilt SSD storage that enhances the speed of your webshop and allows you to choose the desired data center location as per your convenience.
Plans and Pricing
Currently, InMotion Hosting offers the following Magento Web Hosting plans:
Plan 1. VPS-1000HA-S – $29.99/mo*
Plan 2. VPS-2000HA-S – $49.99/mo*
Plan 3. VPS-3000HA-S – $83.99/mo*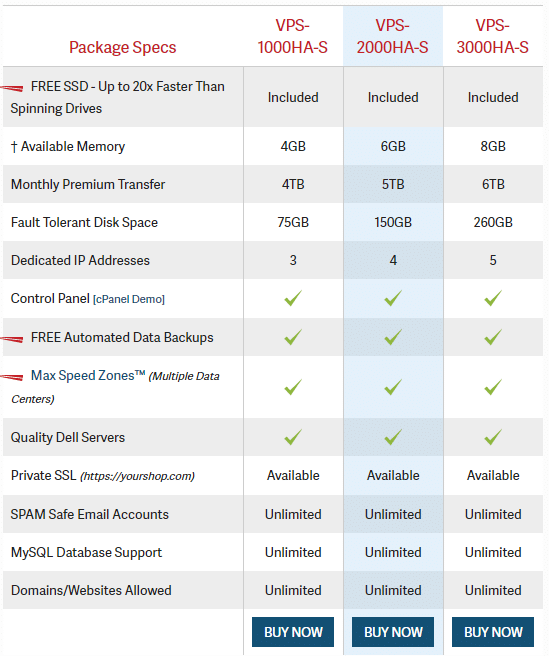 ---
5. SiteGround
Another best Magento Hosting provider is SiteGround that easily outranks other companies. The company is hosting more than 450,000 domain names all around the world and has its data centers in the United States and other countries of Asia. SiteGround's Magento Web Hosting plans come with various amazing services and rich features.
Small business owner and want a superior uptime? Go for SiteGround.
Moreover, the company makes navigation extremely easy and user-friendly for all Magento customers. 
Visit SiteGround Hosting Website
Technical Specifications of SiteGround
Unmetered Traffic

Free SSL, CDN

Free Daily Backup

Free Email

Managed WordPress

Out-of-the-box Caching

Unlimited Databases

100% renewable energy match

30-Days Money-Back
Reasons to choose SiteGround
1. Easy Installation – If you will purchase the SiteGround Magento Hosting service, then you will get a free domain and you can choose the domain name of your choice. Or, if you want to install the Magento on your own, then the company offers a helpful wizard to get you started easily.
2. Custom Billing – The one thing that makes SiteGround stand out from other Magento Web Hosting providers is their excellent customer service. You can contact their support team 24/7 through their ticket system and you will get an absolute solution for your issues.
3. Automatic Backups – SiteGround offers almost all the functionalities to run your webshop smoothly and takes control of your settings. Your website with automatically get cached and you will get free SSL, CDN, and email to keep your website up all the time.
Plans and Pricing
The company is offering its Magento Hosting services in the following plans:
Plan 1. StartUp – $6.99/mo*
Plan 2. GrowBig – $9.99/mo*
Plan 3. GoGeek – $14.99/mo*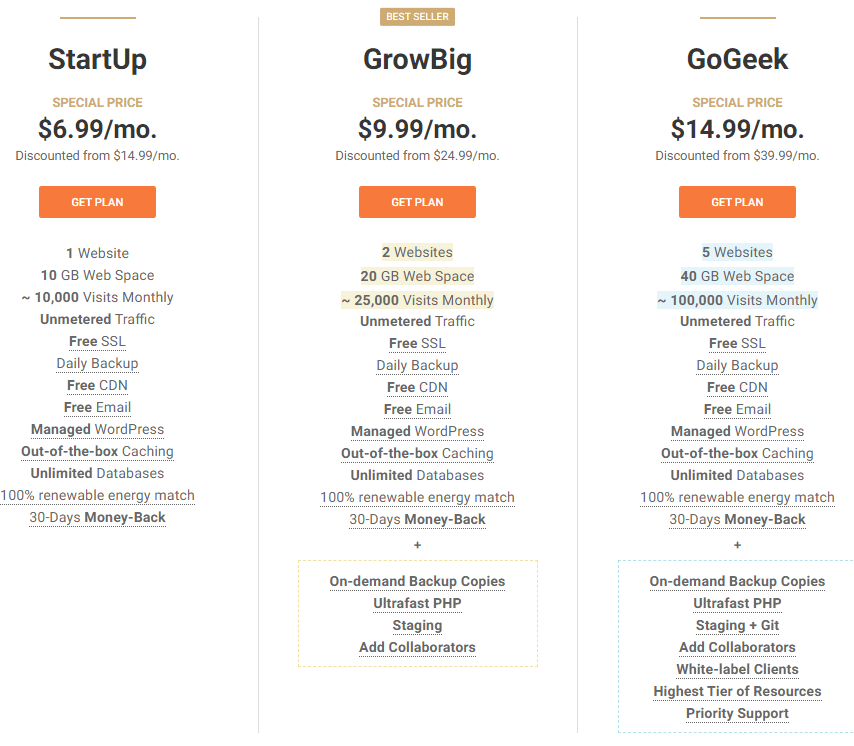 If you want to discover more Magento Hosting providers, then hit the button below and apply the category, services, and pricing filters to find out the best Magento Web Hosting service for your business.
Discover More Magento Web Hosting Companies
---
Wrapping Things Up!
So these are some of the best Magento Hosting service providers among which you can choose any as per your budget, required services, and webshop size. However, before finalizing your Magento host, it is recommended to consider their uptime and customer support service timings.
Finally, recapping my best Magento Web Hosting providers list:
HostGator (Best Overall)

Hostinger (Scalable Magento Web Hosting)

A2 Hosting (Blazing-fast Speed)

InMotion (Best VPS Magento Web Hosting)

SiteGround (Best For Small Businesses)



All the Magento Hosting service providers listed here, offer quality services and if you choose any of these companies as your hosting provider, then consider their technical specifications and availability to make a wise decision.
Your Magento Web hosting provider says it all about your online business. Make the decision like your business future depends on it.
And that's true!

---
Frequently Asked Questions
Q. Does Magento offer hosting?
A. No, Magento does not offer any sort of hosting but it's an eCommerce CMS that works as an operating system for eCommerce webshops that manages all the facets of an online store from inventory to marketing to billing.
Q. Is Magento free or paid?
A. Magento is a free and open-source online store software in its "standard" version. However, you will have to pay for the web hosting, the domains, the add-ons, the SSL certificate, and the payment platform.
Q. Does Magento require coding?
A. In order to use Magento as your CMS for your online store, you must have prior coding knowledge to make customizations and use it at its best.
Q. How much does a Magento site cost?
A. The cost of your Magento site depends upon the website type. If you are handling a basic site, it will cost around $20,000 to $45,000. But, hosting a high-quality website may run from $20,000-$45,000.