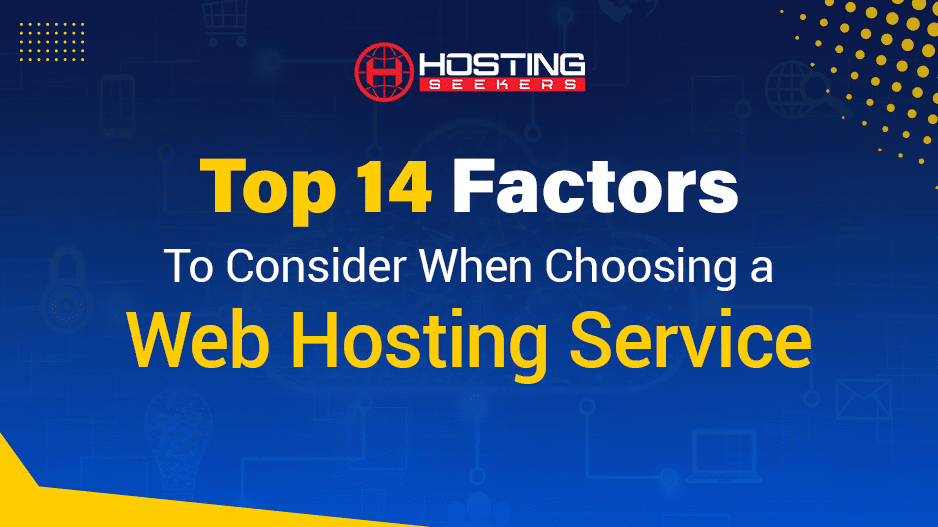 Top 14 Factors to Consider On How To Choose a Web Hosting Service
Linux World
January 22nd 2021
If you are looking for a solution that How to choose a web host for your business, Then you have landed at the right place. Let's say your business has an amazing product, and you have a good sales and customer support team. Despite all this, if you don't have a reliable web host to deliver the best online experience. It is vital your business has a strong web strategy. It all begins with a website.
---
You will agree that official business websites are indispensable for any digital business' success. It is the best way to communicate and show what your brand is (products and services).
---
With a diverse range of options available on the Internet, it's challenging to choose the best hosting company and if you want to drive a great amount of online presence to your website then it is important to stay updated with the top web hosting trends. 
This guide will help you make that decision. 
---
Best Tips to Consider on How to Choose a Web Host For Your Online Business
Here are the top 14 tips to consider before choosing a web hosting service:
1. Your Website Type
2. Its Uptime
3. Its Pricing
4. Website's Performance
5. Control Panel
6. Website's Scalability
7. Website's security
8. Backup
9. Error monitoring
10. Customer Support
11. Storage Availability
12. Website's Analytics
13. Ratings and Reviews of the Host
14. Addon Services
---
Baffle Raises $20 Million To Deliver Advanced Cloud Data Protection Solutions
---
List of Top 14 Tips to Consider When Choosing a Web Host
Now, let's explore these tips in detail and decide accordingly which hosting company and package best suits your needs.
1. Type of Website
First and foremost, it is important to determine the nature of the website that you have. Cross-check if the web hosting provider has worked for a similar business like yours or not? 
For example, if you have an e-commerce store, the factors you will be considering are performance, network latency, ability to carry on background tasks, and front-end delivery activities. 
2. Uptime
Do you know that Google suffered millions of dollars when recently there was a 45-minutes downtime for Gmail, YouTube, Google Maps, and Google Docs? CDN Fastly Temporary Service Failure Crippled Major Websites Worldwide
There is one common thing that upsets all, clicking on a link that is not opening. 
This not only annoys you as a user but also Google itself. So whenever you are hiring a website hosting service, go for a company that promises the best uptime. 
Staying online is extremely important for your business website. So when you are looking for a hosting provider, you have to see how stable your provider is. A good uptime score is more than enough to tell whether a web host is stable or not.
The closer to 100%, the better the service availability is guaranteed. Go for the company offering uptime above 99%.
3. Pricing
When you are searching for web hosting companies, you will find many service providers that offer similar services for different prices.
This is because there always are many different factors to consider on how to choose a web host. You have to see what you want as your requirements are important.
 If you're hosting a simple webpage and there is not much traffic, it is always good to go with the cheapest of the available services. If you're looking to host a more complicated website, consider other features as well.
4. Website Performance
To perform exceptionally well, it is important that your website has a strong internet connection. This speed is directly proportional to the bandwidth that is available. If you have a slow connection, it will take a lot of loading time which is ultimately going to frustrate the users. Therefore the speed of connection into their servers is the backbone of every company.
You have to be very careful as Google uses page speed as a search ranking factor. Your website has to load quickly if you want to improve your SERP rankings and gain more organic traffic.
Here are a few tips that will help you choose the right hosting provider:
Assess the total bandwidth of the complete plan providers. This will make it clear how much traffic your website can take. A high number clearly means more people can visit your website without impacting the performance.

When the hosting company gives unlimited bandwidth, cross-check the facts. 

Explore the disk space and also the processing power. If you wish to have different media files and collect the user data, a 10GB storage with less RAM won't be sufficient. 

Check for built-in caching. This feature will allow your user's browsers to download the web page after visiting the website. 

Look for built-in caching. This feature will let your users' browsers download your web page after they first visit your site. This way, the browsers can simply display the elements of the same page every time your users return, which can cut down the loading time.
---
 Recommended Read: List of Top 6 Web Hosting Trends of 2022
---
5. Control Panel
You must be aware of the control panel, right?
The Control Panel is the user interface that directly manages your website. It is another great feature that includes how to choose a web host. 
If the control panel you have chosen is a challenge to use, what is the point? Every time you need to make a small change that could be a huge inconvenience for you.
Well, the most popular control panel is cPanel as it is widely used across the globe by many companies. Others include sPanel, Plesk, etc. 
6. Scalability
Every online merchant regardless of the type of business he owns plans to grow over the years. When that is the case, make sure that the web hosting company allows requesting upgrades to a higher plan. This is a budget-friendly and convenient solution especially when you end up using all your hosting resources and are willing to scale them up.
It is not recommended to frequently keep switching from one hosting provider to another. Therefore, it is better to hire good hosting providers and stick to them.
Some hosting companies provide different types of hosting like VPS hosting, shared hosting, reseller hosting, dedicated hosting, etc. where you can choose a plan as per your requirement. 
This turns out to be very useful if you're anticipating a traffic surge in certain periods like Cyber Monday or Black Friday.
7. Security
A good web hosting company should be the one that uses encryption technology between the user and the server, or between the Web host server and your business server. 
This helps to ensure that communication is encrypted and protected from the intruders who plan to hack your crucial data.
If you haven't yet implemented effective website security measures, it is the right time to do so.
Keeping that in mind, here are few considerations to make when you look for your potential web hosting provider:
SSL certificate:

SSL better known as Secure Sockets Layer helps encrypt any data transmitted between your web server and the visitors' browser. It helps in avoiding the sensitive information of your users from getting hacked.

Antivirus scanner: Antivirus helps in detecting and removing any malicious

software that can lead to damage to your website.

Firewall:

Firewall is a very secure system that helps in filtering and preventing different types of cyberattacks.

DDoS mitigation: By DDoS we mean

, Distributed Denial-of-Service that helps in preventing intruders from exhausting your server resources and also taking down your website.
8. Backups
Having backup services is extremely important so that website files don't get lost due to any type of accident. When you have backup services, there is no need to build your site from scratch. You can get it backed up quickly.
Always go for a web hosting service that performs regular, automated backups with single-click restoration. This way, you will not worry about backing up your website yourself. There are companies that provide a daily or weekly backup service, depending on the type of plan that you choose.
---
Also Read: Amazon Web Services has announced the launch of Amazon Braket
---
9. Error Monitoring
If you are new to web hosting, it is obvious that you will require some guidance on how to choose a web host. To prevent glitches from damaging your users' experiences, your provider will monitor everything and notify you regarding the same.
Reputed companies will be very clear when it comes to informing where they are finding issues related to performance, security, server usage limit, etc.
10. Customer Support
The Web never sleeps, and neither should your Web host customer support team. You may need help any time so your hosting service provider should offer quality service that answers your questions at any time, in the language you speak.
Reliable and responsive customer support is always of great help when you are looking forward to fixing issues. 
Make sure the hosting company has live customer service like chat, email, or phone call service. The company's support team should be able to get back to you as quickly as possible and resolve your query. Besides this, it is also important that the company should also provide comprehensive documentation so that you can effortlessly access everything.
11. Storage availability
It is quite obvious that your website will have text, images, videos, and different media files besides codes. So, your hosting company will give you dedicated space, where you can store all of your website's code and media files.
Depending on the type of your business, you will need more or less storage space for the files that you will keep adding continuously. Go for a web hosting company that provides you with the service that best suits your needs.
Make sure you share your requirements with the website hosting company in advance. If you need more amount to tell them and also if you need less. This will help in saving money that you would pay for unnecessary space.
This is a very basic functionality every web hosting company provides. You get a domain, a server, and a storage space. 
---
Which one is best for your business? Cloud Computing or On-Premises
---
12. Analytics
It is good that you also start learning about the built-in analytics that the hosting agency offers. Analytics helps in driving your marketing and content strategy. Real-time updates make everything more accessible.
Go for a web host that makes it hassle-free for you to integrate changes to your website. Look for one that allows for simple and straightforward login abilities, both to make updates to content and to access features such as email.
In the long run, using a web hosting service that is too complicated to operate will be a pain.  There should be features like an easy-to-use control panel that allows you to not only access and edit any aspect of your website, but also use search engine optimization tools.
13. Ratings and Reviews of the Host
Before deciding on a company and falling for lucrative offers, take out some time to explore the reviews and feedback of the previous customers. This provides great information about their quality standards and trustworthiness.
Always choose a web hosting provider that holds a decent market value over a host that offers huge discounts. Paying a little more can help to get headaches in the long run. 
14. Addon Services
When you grow your business, you want add-on services. 
This allows you to create several domain names and websites while sticking to one host. In addition to this, it saves your money as you don't have to pay multiple hosts. This also allows you to have SEO benefits. Search and choose wisely. 
Key Takeaway
If you pay attention to the aforementioned tips, you will certainly have a lot more confidence when dealing with how to choose a web host. There has to be a lot of groundwork and research if you genuinely want a reliable web hosting provider. Remember that if you spend a few extra days testing potential choices before deciding, it can save you a lot of money and time in the long run.
---
What are the 5 different types of web hosting to Consider in 2022?
---
frequently Asked Question
Q. How do I choose a good web host?
A. Before choosing a web host you can consider these 14 points: Your Website Type, Its Uptime, Its Pricing, Website's Performance, Control Panel, and many more.
Q. What are the four basic types of web hosting?
A. Here are the four basic types of web hosting services 
1. Shared web hosting service
2. Cloud hosting
3. Dedicated hosting service
4. VPS Hosting
Q. What is web hosting?
A. Web hosting is an online service that allows you to publish your website on the Internet.
Q. Do I need a domain for a website?
A. To make an identity of your website you definitely need a domain name.
Q. What is WHOIS?
A. WHOIS is a public database that contains a list of general information about who owns a domain and how to get in contact with them.
Some Other Links Worth Checking:
Read on Latest Web Hosting related blogs
Check Out the top web hosting Black Friday Sale
Trending Posts
Table of Contents Introduction What is WHMCS? What is the Cost o...

Summary:  SSD vs SAS vs SATA drives in detail to determine which of these t...

In our today's blog, we will discuss Dell vs HP vs Lenovo to help you choos...