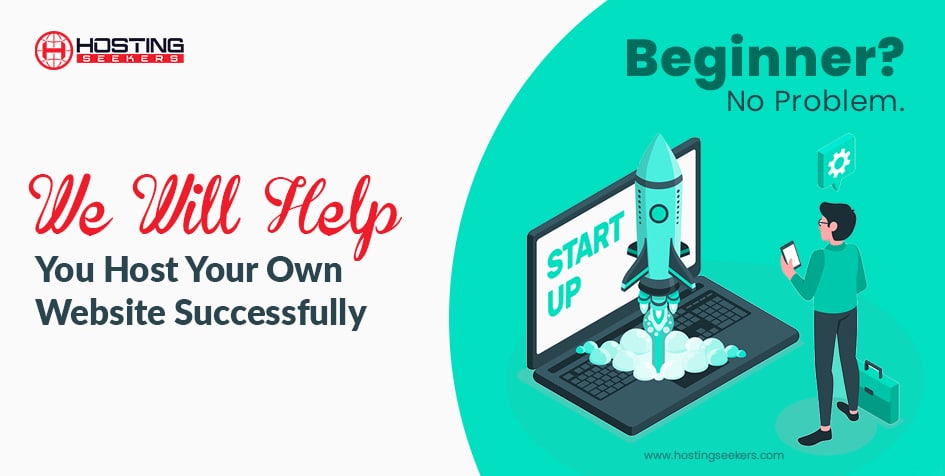 How to Host Your Own Website In 5 Simple Steps – Complete Guide
IT
Technology
May 20th 2021
What's common in the world's 1.7 billion websites? Well, they all use hosting for their websites.
Hosting servers are the home of all the websites available on the Internet today and allow users to access and interact with your website from all over the world.
No matter if it's a fun blog website, eCommerce website, or educational website, non-profit website, or portal website, everyone needs a reliable, fast, and scalable website to be successful on the Internet.

However, the main question here is how to host your own website?
If you have landed on this page while searching the resolution for the same query, then don't worry. You will get the best possible solution to host your own website here even breaking your bank.

So, without any further ado, let's get straight to the steps for the same.
---
Not sure of cloud hosting services? Explore this comparison guide: SaaS vs Pass vs IaaS
---
Here is How to Host Your Own Website in 5 Simple Steps
Step 1. Determine The Type of Your Website
Step 2. Choose The Best Hosting Provider For Your Business
Step 3. Register Your Domain Name
Step 4. Choose The Right Website Builder
Step 5. Cross-check And Test Your Website
---
It is recommended to follow each and every step carefully so that you can host your own website successfully.

Let's start!
Step 1. Determine The Type of Your Website
Since there are 5 main types of web hosting, you must have to decide the right type of web hosting for your business.
Hosting Type

          Best For

New Websites

Small Blogs

Websites With Minimal Traffic

Speedily growing websites

Small/Medium Business Websites

High impressions Websites

Websites with more than 100,000/mo*

Large-sized businesses

Businesses require large storage space

Cloud Hosting

Business requires instant scalability

Confidential database websites
Step 2. Choose The Best Hosting Provider For Your Business
After choosing the suitable type of web hosting, your next big step is to choose the best web hosting service providers for your business.
You have to decide the best web hosting site on the basis of the following factors:
Estimated monthly traffic

Expected business growth

Space you require

Level of customization

How fast your website should be

Type of information

Number of IP addresses

Technical support hours

Guaranteed uptime

Scalability

Bonuses (like a free domain name/SSL certificate)
You can directly sort out the best type of website for your business on Hostingseekers. Here you will get a list of hundreds of best web hosting sites among which you may decide the best type of web hosting for your business by applying category, server location, pricing, and other filters.
Step 3. Register Your Domain Name
If you are excited about hosting your own website then, keep in mind that choosing the right domain name is essential as it will reflect your business on the web.
Your domain name is like a physical address, but digital. Therefore, it is suggested to choose the right domain name that says it all about your organization. Here is a list of top domain name service providers so you can choose the best one for your business.
Step 4. Choose The Right Website Builder
Once you have got the best hosting service and the perfect domain name, the next big step is to start building your own website. Once again, you have multiple options to choose from including the contracted hosting services and website builders.
In order to host your own website successfully, check if it is possible to customize your website and use the best templates, videos, and other media to make your website interactive.
You can refer to any of the following website building platforms:
Wix

Weebly

Squarespace

Duda

GoDaddy

WordPress

Shopify

Big Commerce
Besides, you must follow all the latest trends in web hosting industry.
Step 5. Cross-check And Test Your Website
Once your website is ready and you must test it and see if it is working properly on different devices (like desktop, tablet, mobile, etc.) and web browsers (like Chrome, Safari, Firefox, Microsoft Edge, etc.).
You can use various tools to check your website speed, schema markup, and other factors that are going to impact your website.
Moreover, if you see any area of improvement (well, it's obvious) then go ahead and make the required corrections. After all, this, start adding your products or create various blogs or pages that say the best about your business and get started with hosting your own website to grow exponentially.
---
---
Expert Techniques to Expand and Grow Your Own Website
Congratulations!
You have your own website now and it's time to tell the world about it, especially to your target audience. Here are some of the best practices to do the same:
Make your website visually attractive

Improve the loading speed of your website

Optimize your website and content to rank higher

Write an attractive "About Us" page and use catchy headlines on the overall website

Promote your website to various social media platforms using engaging content

Interview relevant and well-known people in your niche

Cover long-tail keywords in your website

Provide easy-to-see, clickable contact information

Optimize your website well for mobile and other devices

Pay attention to 4xx errors, duplicate URLs, mixed content, HTTP & HTTPS issues.

Analyze the strategies your competitors are following
Besides, all these techniques, you must follow these tips to promote your web hosting business.
That's all!
---
Here are the steps to Optimize Your WordPress Website For High Speed
---
Let's Wrap It Up!
Now you have seen that hosting your own website isn't that complex as you thought. The steps given here to host your own website are super easy and you don't even need to hire an expert to establish a website.  Before you go live with your website, it is recommended to consider all the crucial factors to choose a web host and follow each step carefully on the basis of the complexity of your website.
All the best!
Trending Posts
Table of Contents Introduction What is WHMCS? What is The Cost o...

When it comes to upgrading or buying a new PC, choosing between AMD and Int...

In our today's blog, we will discuss Dell vs HP vs Lenovo to help you choos...