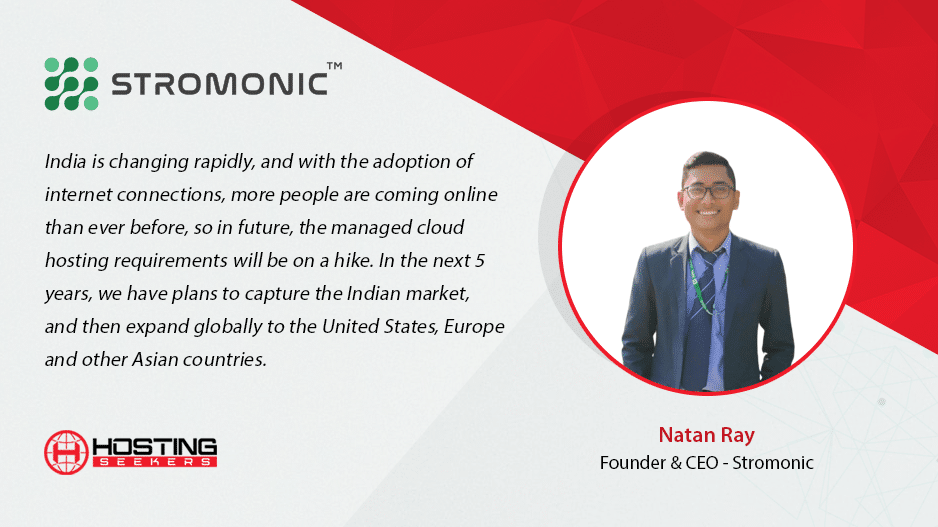 An Exclusive Interview With Natan Ray, The Founder of Stromonic
Interviews
September 14th 2021
With wider adoption of the internet and an increased number of businesses moving online, the demand for hosting solutions is on an all-time rise. The spread of COVID-19 might actually have been a blessing in disguise for tech companies.
We recently interviewed Natan Ray, the Founder, and CEO of Stromonic. We asked Natan questions about his motivation to start Stromonic, the services they offer currently, and the future he imagines for his company. The aim of Stromonic is straightforward – making websites efficient by offering the latest tech solutions.
Story
HostingSeekers: Please introduce your company and give a brief about your role within the organization.
Natan: I am Natan Ray here, the founder of Stromonic. It's a premium managed WordPress hosting platform, exclusively powered by Google Cloud, where our team manages all the crucial server management tasks, so our clients can focus on their business growth.
HostingSeekers

. How did you start Stromonic? What's the story behind it?
Natan. I started Stromonic back in 2017 with other co-founders in Dehradun when I realized managed cloud & WordPress hosting should be hassle-free and pocket-friendly with all the latest features which are required for clients to succeed online. 
In the past, I designed & developed several WordPress websites for clients. The other co-founders are from a system administration background. So when I picked up the idea to build a managed WordPress platform, we were all on board. And that's how it's all started.
HostingSeekers

. What sets you apart from your competitors?
Natan. We successfully adopted Google Cloud as our infrastructure, it's known for its extraordinary reliability and performance. We chose Google Cloud over others as the deal-breaker for us was – performance.
We also implemented Cloud Load Balancer, Cloud CDN for free to offer stable performance during peak hours. While others integrated NGINX on their platform, we decided to benchmark NGINX and LiteSpeed both. LiteSpeed performed better of course, in all situations including load testing to sending multiple concurrent visitors. 
So, basically, what we have implemented on our platform, we benchmarked each of them over other alternatives. We always would like to go the extra mile with our clients, that's why we never compromise with our quality. We believe in our products and their quality is the main differentiator from others out there.
---
Services
HostingSeekers

. In your opinion, what makes a good hosting service? What are some of the key points to look into when users are choosing a web host?
Natan. Accordingly, to the Edelman trust barometer special report, 70% of consumers trust brands while making a purchase. A good company will think about customers' success, before themselves. They shouldn't compromise the quality, for extra profit, but unfortunately most of them out there are doing this to make their balance sheet wealthy. A hosting provider should provide quality hosting services with reliable after-sales support. Because getting clients is important and retaining clients is more important.
On the other hand, if anyone is looking for good hosting service, I would suggest not selecting low-cost hosting providers. New users, most often fall for this trap and end up losing their website due to server crashes, hardware failures, database corruption, etc. Always, select a provider, who invests in quality infrastructure, proper backup solution, and has geo-redundancy. Most hosting providers use low-grade and cheap data centers as their infrastructure. If you check their benchmark, they don't even meet the hosting standard. So, before picking up any low-cost deal, be sure to ask the above points to the hosting provider.
HostingSeekers. What is your best-selling package?
Natan. We have multiple best-selling services on our website. At first, our exclusive WordPress Hosting powered by Google Cloud + LiteSpeed, then VPS Hosting – mostly developers who love to manage their server on their own, like our plans.
HostingSeekers. What is your customer satisfaction rate according to you? What steps do you take to cater to your customer's needs and requirements?
Natan. We are extremely flexible hosts, for us customer trust is foremost and we are dedicated to their success. Our customer satisfaction rate is 97% and most of our clients love to recommend our services to their network, in fact, most of our highest paying affiliate partners are our existing clients who do believe in our offerings.
We also actively collect feedback from our clients and implement them on our platform. According to me, a brand should be customer-driven. At Stromonic, we listen to clients' featured requests, drive our brand accordingly.
HostingSeekers. What kind of support system do you offer to your clients for catering to their queries and issues?
Natan. We have almost all kinds of support channels to help our clients, this includes ticket support, email support, live chat support, and telephonic support. According to our internal survey, we resolve 89% of support tickets on the first reply and our average response time is 15 min over help desk support.
---
Future Plans
HostingSeekers. Do you plan to offer multiple locations Dedicated servers to your customers in the future?
Natan. We currently have an Indian data center for dedicated server offerings. And we are on our way to launch to more exotic locations like Singapore, Tokyo, Sydney, the Netherlands in the future.
HostingSeekers. Do you have any plans to expand your services to the Middle East or countries like China, rapidly growing in the Cloud Network?
Natan. Currently not. Due to some security policies and government rules, we are currently not looking to expand in Middle East countries. But, if the situation changes then we may consider it in the future.
HostingSeekers. Where do you see Stromonic in the next 5 years?
Natan. We are the first India-based managed cloud platform, who successfully integrated Google Cloud services to offer eco-friendly & sustainable energy-powered hosting to its customers. India is rapidly changing, and with the adoption of internet connections, more people are coming online than ever before, so in the future, the managed cloud hosting requirements will be on a hike. In the next 5 years, we have plans to capture the Indian market, and then expand globally to the United States, Europe, and other Asian countries.
Trending Posts
Table of Contents Introduction What is WHMCS? What is The Cost o...

When it comes to upgrading or buying a new PC, choosing between AMD and Int...

Summary:  SSD vs SAS vs SATA drives in detail to determine which of these t...