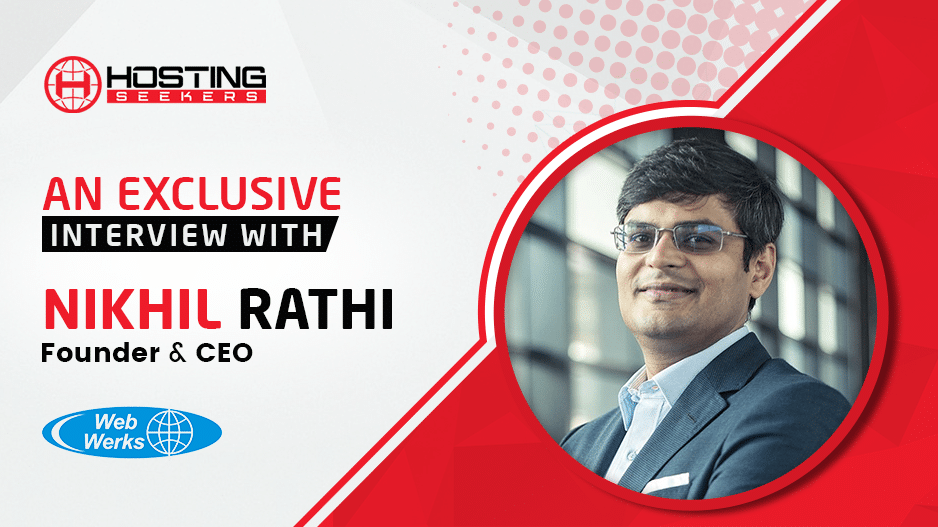 How Web Werks Is Transforming Web Hosting Industry With Mr. Nikhil Rathi
Interviews
September 17th 2021
Founded in a cramped bedroom in 1996, Web Werks received "US $30" as their first funding round to host a single web page. Fast forward 25 years, Web Werks entered into a joint venture with Iron Mountain raising US $150mn to expand the data centre infrastructure in India.  
We recently interviewed Nikhil Rathi, the founder and CEO of WebWerks. Nikhil's story is an inspiration for not just young entrepreneurs, but also for anyone trying to make it big in the web hosting industry. 
Read this interview to know more about what exactly Web Werks offer, Nikhil's take on the company's future plans and their sustainable business approach.
HostingSeekers: What does Web Werks offer? 
Nikhil: Web Werks is India's leading Colocation and Cloud Solution Provider. It delivers Wholesale, Retail, and Hyper-scale colocation facilities through its data center facilities in Mumbai, Delhi, and Pune. The data center facilities have the flexibility necessary to accommodate specific customer requirements. All of our solutions are delivered as per global standards and solution expertise, with unmatched local capabilities. 
Web Werks has innovated a cloud-ready operating model for speed and resilience – a single platform that can span private, distributed, and public clouds so that customers can manage their traditional and modern applications using a consistent cloud platform. 
Web Werks network ecosystem comprises a rich fabric of local, regional, national, and global Tier-1 carriers, 180+ ISPs, major CDNs/ OTTs, and cloud service providers (CSPs). Our rich interconnection ecosystem extends its connectivity to three of India's largest peering exchanges, along with cloud on-ramp with major Hyperscaler cloud providers like AWS, Azure, and Google.
---
HostingSeekers: Web Werks has been around for a little more than two decades now. But what's the story behind Web Werks? How was the idea conceptualized?
Nikhil: Web Werks was founded in a cramped bedroom when the Internet was a fairly new concept in India, with a princely "funding round" of $30 to host a single web page. The company steadily built portals, hosted services, and the data center business grew out of the hosting group because at one point Web Werks was hosting around 5,000 resellers and around 85,000 websites worldwide.
Today, Web Werks has grown into one of India's most trusted colocation providers. 
---
HostingSeekers: Reports show that web hosting is one of the few industries to have benefitted from the pandemic. How do you think the COVID-19 situation has affected the hosting industry? How long-lasting do you think this impact will be?
Nikhil: The COVID-19 outbreak has resulted in incremental demands for web hosting services. Web hosting providers have enabled businesses to showcase their products and services by providing an online virtual space. The growth of the web hosting services market is mainly driven by factors such as a surge in the number of SMEs and their efforts to mark their presence online; proliferation of mobile marketing platforms; rise in the demand of managed solutions, and availability of web hosting solutions with good server performance and features at economical rates. There will be continual growth if providers can provide scalability and maintain uptime. 
---
HostingSeekers: Congratulations on your joint venture with Iron Mountain! How are you planning to utilize the $150 m investment by Iron Mountain?
Nikhil: In February 2021, Web Werks entered into a joint venture with Iron Mountain wherein it raised US $150mn to fuel the data center expansion in India. Web Werks intends to speed up the data center expansion across the country. The focus will be placed on further developing its three existing markets immediately along with an expansion into Bengaluru, Hyderabad, and Chennai. Since its announcement in February, the joint venture has already bought a land parcel in Mumbai for MUM-2 facility expansion of 12.5MW. Along the same lines, the company also signed an MoU with both the Karnataka and Tamil Nadu governments worth Rs 750 Cr and Rs 700 Cr respectively to set up data centers in those states. The data center in Bangalore, the IT hub of India is expected to have a potential of up to 20 MW with further expansion possibilities. The next 18 months will be full of exciting new developments as the joint venture begins to build at scale with speed.
---
HostingSeekers: You recently signed an MOU with the Government of Karnataka for $100 m, so we know that you'll soon be expanding to Bangalore. However, do you plan to expand your data centers to North India anytime soon?
Nikhil: Web Werks launched its first data center in the NCR region of India in 2020, giving the region a comprehensive range of secure space options, sector-specific standards, and power configurations for all its network, content, and enterprise customers. 
NCR-1 data center is 70,000 sq.ft. gross space offering standalone building in phase-1. We are expanding this existing campus in phase-2. NCR-1 is strategically located in the dense data center belt of North India, serving the states of Delhi/ NCR, Haryana, and Uttar Pradesh.
---
HostingSeekers: Web Werks is known to focus on sustainability. How do you take care of the energy efficiency in your data centers?
Nikhil: We are committed to using 100% renewable energy and efficient solutions. Web Werks' data centers are Carbon Neutral contributing towards Global Go-Green concepts. We run efficient PUE, which is 1.66 using efficient technology, and plan to have captive solar power as a renewable energy source to be Green.
---
Recommended Read: Interview With Natan Ray, The Founder of Stromonic
---
HostingSeekers: With cloud computing solutions gaining traction, what do you think will be the future of shared hosting?
Nikhil: Over the last decade or so, advancements in web hosting have made it easier for anyone to run a blog or website of their own. Organizations have taken advantage of these advancements to grow in size and in the diversity of products and services they offer. Web hosting has now become a necessity for every business that cares about its online brand.
From buying products and services online to enrolling in online education courses, the internet has become an indispensable part of our lives. It is a boon for eCommerce sellers and other businesses who can contact their customers easily anytime and promote their products seamlessly by creating an online presence. One of the many reasons why there are over 1.5 billion websites on the world wide web today.
The growing importance of online presence drives the demand for web hosting services. This is a golden opportunity for web hosting providers. But to make full use of this opportunity, it is important to stay on top of web hosting trends.
---
HostingSeekers: Reflecting on your experience, do you have any advice for the budding entrepreneurs exploring business opportunities in the hosting industry?
Nikhil: Web hosting has now become a necessity for every business that cares about its online brand. Things are constantly changing as far as web hosting solutions are concerned. Keeping track of the advancements in the space is therefore important to ensure that you are always hosted on the newest and fastest technology and platform. According to host inspection, hanging on the old can immensely harm your site's performance, search engine rankings, and ultimately the reputation of your brand.
Trending Posts
Table of Contents Introduction What is WHMCS? What is the Cost o...

Summary:  SSD vs SAS vs SATA drives in detail to determine which of these t...

In our today's blog, we will discuss Dell vs HP vs Lenovo to help you choos...