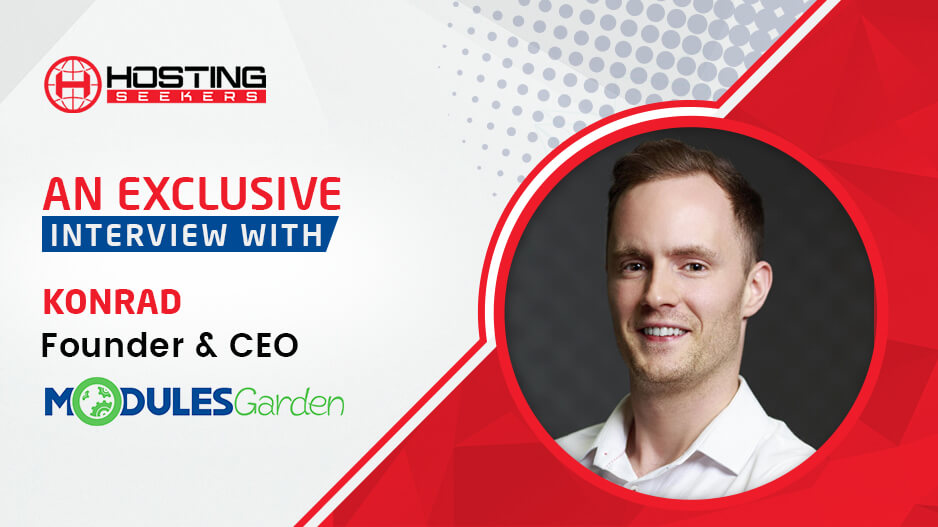 An Exclusive Interview With Konrad, Founder & CEO Of ModulesGarden
Interviews
March 24th 2022
Konrad Keck is the Founder and CEO of ModulesGarden – a renowned web hosting automation company. Konrad established his company in 2011 with the aim to help customers seeking a unique approach to their businesses. He has several other ventures including EasyDCIM and PanelAlpha running successfully. He is a multi-talented individual and always looks for new business opportunities.
---
Story
HostingSeekers: What does ModulesGarden offer? What role do you play within the organization?
ModulesGarden is specialized, as the name may suggest, in the development of modules related to the web hosting industry. The main platform we work with is WHMCS but we do support other billing systems like Blesta along with such control panels as cPanel, Plesk, or DirectAdmin. The core of our business consists of over one hundred off-the-shelf products available at our Marketplace, but we also provide custom software development and developer outsourcing services for clients who have specific requirements. On top of that, we are responsible for the following standalone solutions:
EasyDCIM – a full automation solution for the providers of dedicated servers.
MetricsCube – a business analytics tool with a Live Dashboard and advanced reports for WHMCS.
PanelAlpha – our newest platform for managed WordPress providers that will soon see the light of day.
I hold the position of Founder & CEO, and personally supervise the flow of product development, assist with all kinds of custom project inquiries as well as provide ongoing guidance for our standalone solutions.
HostingSeekers: ModulesGarden has been around for more than a decade now. How was the idea conceptualized?
The idea first popped in my head while I was working as a freelance programmer, soon after completing some basic projects for the WHMCS community. It turned out that there is a huge niche just waiting to be filled by a reputable company providing a great quality service. By fueling our mission with that very concept, we were able to develop at a rate that surpassed our wildest expectations – just in a few years we grew into a large office with an international presence, gathering more than 50 employees, and delivering an astonishing variety of products and services.
---
Services
HostingSeekers: What is your best-selling package or offering? How has it evolved with time?
We offer three key modules in our ModulesGarden Marketplace that have gathered a particularly vast community, which are DNS Manager For WHMCS, Proxmox VE VPS For WHMCS, and cPanel Extended For WHMCS. For instance, the DNS Manager For WHMCS module was built from scratch by me personally 9 years ago, however, over time it has received a tremendous makeover led by our Product Development team, including a dozen 3rd party integrations and multiple different configuration scenarios to cover the needs of even the most demanding customers. Even at such an advanced stage of development, the module still has great growth potential – just recently we have released its next-level 3.0 generation, which has been aesthetically modernized, and enriched with new functional powers.
HostingSeekers: How do you differentiate your services from the competition?
Two words: quality and reliability. I cannot think of any other software house active on the web hosting market that could boast this many years of professional activity, such a wide circle of clients, or one that would maintain such a high level of service. Interestingly, 7 out of 10 of our very first customers still actively use our modules – I think that kind of speaks for itself when it comes to our professional reputation, especially considering that we nowadays cater to the needs of over 30,000 clientele.
We are well aware that this radically changed landscape requires from us much more than just sticking to the once established patterns of operation, and that's why we always make sure our strategies keep up with the times. Some of the ongoing actions we are taking to make a name for ourselves include:
We cooperate on an ongoing basis with dozens of the largest companies regarded as the lifeblood of the web hosting industry, which translates to exclusive access to the deepest know-how and the ability to develop our products in a way that is difficult to copy and therefore out of competitors' reach. As a matter of fact, many of our products are under the official patronage of industry giants!




What sets us apart is also our attention to detail, and making sure our products are as perfect as only possible considering various

limitations beyond our control. As the saying goes:

the devil is in the detail

. A large piece of our budget goes directly into developing and improving our existing solutions to the maximum capacity. And what

can I say, customers, love it!




Another aspect that ModulesGarden is often recognized for is our personalized, very customer-centric way of providing support services, which are not pressed into a rigid framework as in the case with many global companies. Our goal, as simple as it may sound, is complete customer satisfaction, and we go to great lengths to achieve this: we fix problems directly in the customer's environment, we prepare on-the-fly fixes for reported bugs, and we provide comprehensive advice on various business issues, not necessarily related just to our products and services.




We act quickly and efficiently. We react to all kinds of industry transformations, adapt, and offer what customers need at any given moment. Add to that the fact that major market changes occur at least a few times a year, and you will easily realize that what we strive for is really no small feat!
---
---
HostingSeekers: How do you measure the quality of customer service at ModulesGarden? What would you say is your customers' satisfaction rate?
In our company, one of the most profound insights into the quality of customer service comes from the ongoing process of collecting and analyzing various types of ticket-related data. We measure how well our 3-level Support Team is performing in terms of speed, efficiency, and quality to form a detailed picture of what's great about our customer services, and what needs some further improvement.
We do collect customer feedback via brief surveys on an occasional basis, but we are particularly careful with that kind of interaction because we do not want our clients to feel bothered in absolutely any way. Everyone sooner or later gets fed up with automated "How would you rate our service" emails, don't you think? 
Another aspect that tells us a lot about the level of customer satisfaction is the high number of returning customers as well as clients using our solutions for multiple years in a row. Statistical figures combined with our ongoing observations lead us to believe that customer satisfaction is at a very high level at ModulesGarden.

HostingSeekers: What growth strategies do you implement to expand your services in a new market?
We have always tried to analyze the current IT market sentiments to understand the evolving needs of our customers. For instance, if our team observes an increased demand for a particular system, control panel, or even a specific layer of automation, we are always quick to create the product that will satisfy these specific expectations. This is exactly how the expansion of our product base was going for these past 10 years.
HostingSeekers: ModulesGarden recently launched PanelAlpha. What do you plan to achieve from this latest addition and what can your users expect?
PanelAlpha is being developed as a WordPress automation platform making it easy for the providers to expand from just regular web hosting into specialized application hosting, and scale the services from shared hosting into VPS, cloud, and bare-metal types of web hosting. I believe that PanelAlpha has more than enough potential to completely revolutionize the approach that thousands of WordPress providers currently have to their craft. At the same time, it can create quite an unprecedented opportunity for all the web hosting companies just dipping their toes into the water by giving them a robust WordPress-aimed solution that covers billing, customer self-portal, and automation.
HostingSeekers: Reports show that web hosting is one of the few industries to have benefitted from the pandemic. How do you think the COVID-19 situation has affected the hosting industry in Poland?
We can clearly see that the interest in web hosting solutions both in Poland and worldwide during the pandemic has increased, and this trend only seems to grow stronger with time. Due to a number of changes forced by the COVID-19 situation, affecting the way we work, behave and spend free time, the world needs IT solutions more than ever before, which further drives web hosting.
The level of demand for web hosting services has easily exceeded what many companies had shyly hoped for during those hectic times. However, I don't have any specific statistics about it, it's more of anecdotal evidence from the fellow entrepreneurs we have been in contact with. As far as I'm concerned, things have pretty much settled down after the first blow of unexpected chaos, and are more or less "back to normal".
---
---
Future Plans
HostingSeekers: Where do you see ModulesGarden 5 years from now?
We definitely want to strengthen our standalone products by that time and reach new markets with solutions like MetricsCube and PanelAlpha which can scale extremely well for other platforms. Other than that, we hope to still be the number one pick for WHMCS modules, and who knows, maybe we'll get to be known for an even bigger base of standalone projects than today.
HostingSeekers: Reflecting on your experience, do you have any advice for budding entrepreneurs exploring business opportunities in the hosting industry?
I feel that the web hosting industry, despite being rather crowded already, is still open to innovation, and most importantly, more than ever focuses on the customer experience. Implementing new ways to enhance the interaction between the end-user and the product never fails to create a new opportunity – companies like DigitalOcean or ManageWP have successfully managed to thrive on this particular strategy. Just as there is a real demand for the services, so is there a technological potential yet to be tapped, but you have to find your unique selling point and break a standard approach.
Trending Posts
Table of Contents Introduction What is WHMCS? What is the Cost o...

Summary:  SSD vs SAS vs SATA drives in detail to determine which of these t...

In our today's blog, we will discuss Dell vs HP vs Lenovo to help you choos...