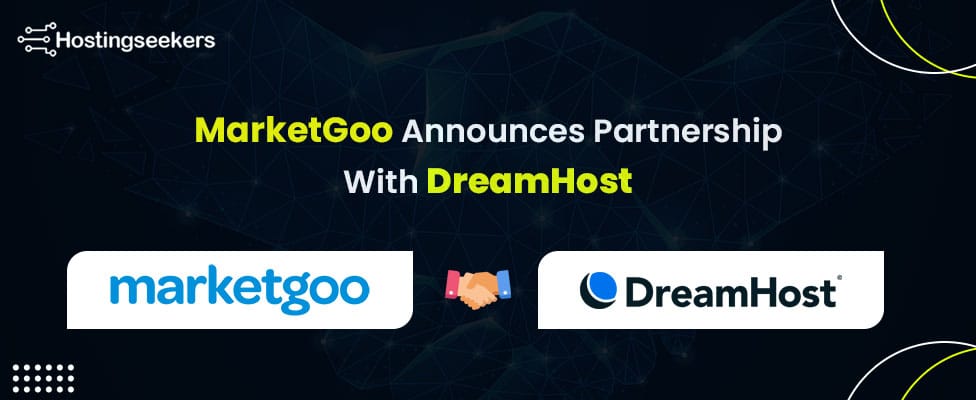 DreamHost Announces A Strategic Partnership With MarketGoo To Deliver Advanced SEO Guidance Worldwide
Business News
April 14th 2021
MADRID & BREA, Calif.–(Hostingseekers)–Apr 14, 2021– MarketGoo, an SEO expert helping small businesses to improve their online presence, traffic, and search engine ranking has announced a partnership with DreamHost, the best cloud infrastructure provider.
The whole sole purpose of this long-term strategic partnership is to offer highly customized SEO recommendations to all online businesses worldwide.
The SEO Toolkit being used by DreamHost is powered by MarketGoo and it is enabling all DreamHost customers to enhance the visibility of their online business by well optimizing their website for greater visibility on search engine result page.
It is helping businesses to drive massive quality traffic to their websites for greater online success.
"We are solely focused on assisting business website owners to enhance the presence of their online business, attract the new target market, and captivate their existing clients." quoted Micah Sachs, SVP Product at DreamHost.

He added, "Our highly-customized SEO Toolkit always provides expert-level guidance to DreamHost users all across the globe and enabling them to amplify their presence on the Internet world dramatically. MarketGoohas built an amazing SEO toolkit with world-class services and we are thrilled to share it with millions of website owners who have picked DreamHost as their online shelter."
---
Do you know: InMotion Hosting Expanded Its Services With Acquisition of RamNode
---
A Step Towards Everyone's Online Sucess
From now on, DreamHost clients will be able to perform overall website SEO audits, download the website evaluation reports, and take the necessary steps need to enhance their business visibility. The DreamHost SEO Toolkit can be used as a WordPress plugin or a web application easily. 
The SEO Toolkit offered by MarketGoo is ideal for all the users who want to enhance their rankings and quality traffic on Google search results even without outsourcing expensive SEO consultants. This toolkit scans the entire website in one go, detects all the loopholes, and provides ideas for improvements.
This keeps clients updated with the latest website reports, provides customized website improvement plans and step-by-step instructions to optimize their websites with the latest and most updated Google standards.
MarketGoo SEO Toolkit Features
Highly customized for businesses

User-friendly and easy-to-use

Offers complete website optimization plan

Tools to increase website quality traffic, inbound links

Overall website analytics to improve on-time results

Competitor tracking and analytics

Optimize website for mobile

Provide tips to improve performance

Monthly website SEO reports

Google Analytics Integration with website
At the conference, Wences García, CEO of MarketGoostated, "MarketGoo and DreamHost has been in a close relationship for many years and the main reason similarity between us is our strong culture.
This strategic partnership is powered by both company's mutual commitment to guide our clients to grow their online success on the web and at MarketGoo we are thrilled to work closely with such an amazing team of experts."

About MarketGoo
MarketGoo is one of the best companies helping online businesses to broaden their reach by offering them the best SEO tools and tips and online success. The company was founded in 2012 and working hard to deliver the most useful digital tools to let companies achieve their business goals.
About DreamHost
DreamHost has been helping small businesses, entrepreneurs, individuals, and developers all over the world to make their business better over the Internet since 1997. The company is a world leader in Managed WordPress Hosting and is the home of around 1.5 million websites and satisfied over 400,000 customers.
---
Recommended Read: 10 Best Cloud Hosting Providers All Over The World
---