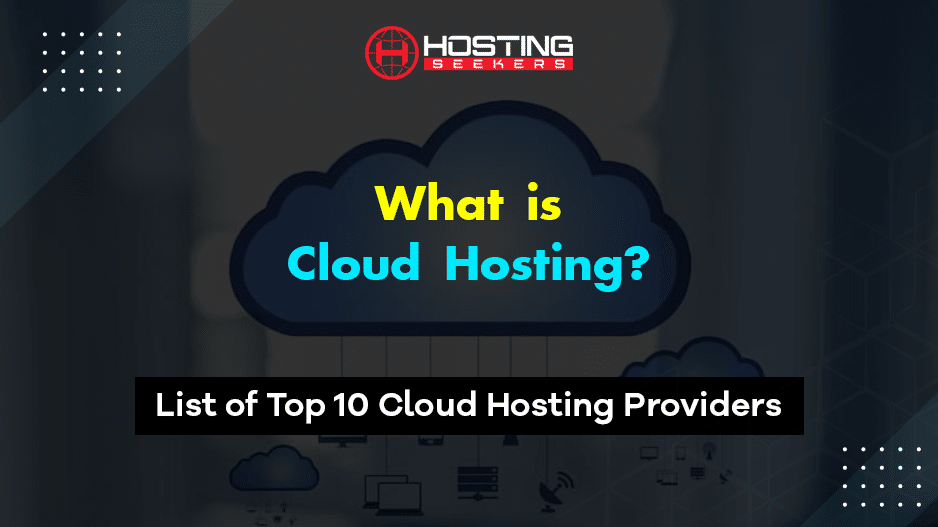 What is Cloud Hosting? List of Top 10 Cloud Hosting Providers
Cloud Industry
February 4th 2021
Cloud hosting is a simple yet meaningful term that has gained widespread use over the years. With the exponential increase in data use accompanying the transition in the digital 21st century, it has become challenging for companies to keep all of their vital information, programs, and systems up and running on in-house computer servers.
The solution to this issue is one that has been around for years, but that has only recently gained widespread application for businesses. Cloud computing allows users to access all the features and files of the system without having to keep the bulk of that system on their own computers. Many are already using a variety of cloud computing services without even realizing it like Gmail, Google Drive, TurboTax, and even Facebook. Yes all of these services, users are sending their personal data to a cloud-hosted server that stores the information for later access. And as useful as these applications are for personal use, they're even more valuable for businesses that need to be able to access large amounts of data over a secure, online network connection.
What is Cloud Hosting?
Cloud Hosting is web hosting using different servers in order to balance the load thereby maximizing the uptime. Instead of taking the help of a single server, your site can tap into a "cluster" using resources from a centralized pool. Understood the point? This simply means if one server fails, another one keeps everything running.
Visualize the cloud as a web of different computers that are interconnected. When more machines are connected to the network, more resources are added to the overall cloud.
How does Cloud Hosting help?
Benefits of Cloud Hosting
1. Flexible Pricing Structure
When you take up hosting services, you are likely to pay a monthly charge for utilizing server resources (whether you use them completely or not) 
With cloud hosting, you only pay for what you use. Sometimes when there is unexpectedly a lot of traffic on your website, instead of completely upgrading your package, it is better to choose cloud hosting services. This way, you can scale your resources easily and not pay for what you aren't using.
Just like your server resources, you can often scale your expenses on a cloud platform. Why overpay for services you are not utilizing to their fullest when you can be in constant control of your monthly costs? Shared hosting and even VPS servers often come with fixed pricing, but most clients rarely utilize more than 10% of their account capacity. You can do the math of all the savings you can make in the long run.
For most cloud servers you'll have access to an intuitive site management dashboard that allows you to view your website's performance in real-time.
2. Redundant Server Environment
With most types of hosting your site lives on a single server. If there is an issue in that particular server, then your website would go offline and you wouldn't be able to get back online until that server is fixed. 
On the other, when you are taking the help of cloud hosting, a website backup will take over your existing site within seconds. Well, not all redundancy is created equal. With cloud hosting, you'll have a concurrent live version of your website that your host can load immediately. That means when one server collapses, the other continues working.
3. High Uptime and Availability
When you are taking the help of traditional hosting your site's uptime depends upon the physical server environment. If there is something wrong, it will affect your website. 
Your website is virtually using the resources of multiple servers. Therefore, it becomes easy to transfer to another server if one goes offline or there are any technical issues.
4. Speedy Server Setup Process
You can effortlessly deploy a cloud hosting server in record time. The only case when it will take time is when you are doing it for the first time for a beginner shared hosting package.
This is quite time-consuming if you want your website to run online quickly. There is another issue when you're doing a host migration and you're stuck waiting for the server to be ready.
5. Faster Website Speed and Performance
Most cloud servers can offer you blazing fast speed. In addition to being able to effortlessly increase your site's capacity, cloud hosting also allows for easier load balancing between multiple server environments, which can help to put much less strain on a single server's resources.
Of course, the server hardware foundation will also influence the speed of your site, so look for a cloud host that has multiple caching layers, premium server hardware, and low-density servers.
6. Best for Sites With Scalable Traffic
If the traffic level is uneven, it becomes difficult to look for a host that'll give you the best value for your money. But, cloud hosting, gives you the ability to easily scale your server resources up and down as per the requirements. This level of scalability is undoubtedly hard to find anywhere else.
7. Simple Server Management Dashboard
Earlier, it was a huge challenge to manage cloud servers. This is because it required technical expertise. But today, you can easily keep track of your hosting and scale it on demand via an intuitive dashboard. Well, there is no need to have a technical background just to run your cloud server.
8. Reduce Your Overall Environmental Impact
If you are someone who is concerned regarding their environmental impact but needs a hosting solution that goes beyond traditional shared hosting, go for cloud hosting without being hesitant.
This is because, with cloud hosting, you're utilizing overall datacenters and are only using the server resources you actually require at the moment. By streamlining your resource and data use you're creating less of an environmental impact.
9. Your Data Delivery Speed Increase
One of the most significant cloud hosting benefits of cloud hosting is the ability to provide quicker and faster data access. Modern cloud hosting services can instantly detect which server is closest to a given user so they receive content from the nearest source, minimizing delays and page loading times. Using powerful cloud servers to distribute load also takes some of the burdens off your local hosts and speed up page requests.
10. Important Services Are Accessible Anywhere
Cloud hosting benefits do not solely help in improving public-facing websites. They also play a key role in provisioning data services for internal business users.
Organizations that operate multiple retail centers host their sales software in the cloud. This helps their employees at the individual level to instantly submit performance data.
11.High-Security
You must be thinking that keeping data safe is going to be quite a challenging task especially when you're dealing with distributed cloud computing? Well, that is not the case. 
However, the robust cloud hosting principles help in overcoming natural disasters and service outages for enhancing your security stance. For example, if you have server hardware that meets security standards like PCI DSS and HIPAA. Don't think about security or whether the hardware is suitable for secure payment processing.
Operate your systems safely as you take the help of cloud hosting that fulfills necessary requirements.
12.Customization
Cloud hosting gives you the freedom to tweak around and then optimize your platform. That is best when you have some administration skills. But even if you don't, the best cloud hosting providers give fully-managed services with seasoned professionals taking care of everything.
List of top 10 cloud hosting service providers?
With cloud hosting, you get a part of the so-called cloud cluster. As opposed to traditional web hosting, where you get a certain amount of space from a single server.
Bluehost
One of the most popular and highest rated web and cloud servers. The service offers excellent uptime levels, 24/7 customer support, fast download speed, and high-quality service. 
The Bluehost cloud caters to fast, efficient WordPress compatibility and superlative security system in partnership with CloudFare. The overall website creator tool is highly intuitive for website requirements. It also provides a consistent website backup protocol so that data is recoverable. 
Key features:
Seamless WordPress integration

Fully customizable websites

Easy to use dashboard

A complete suite of tools

Built-in security

Budget level pricing
Hostgator
For Cloud Hosting, there are three plans i.e. Hatchling Cloud ($4.95 per month), Baby Cloud ($7.95 per month), and Business Cloud ($9.95 per month). Its monthly price for Website Builder starts at $3.84 per month. Prices for the other services are shown in the below screenshot. 
For hosting a website, Hostgator's a cloud platform is the best choice. The cloud hosting platform spreads the site load across multiple virtual servers. 
Key Features:
Simple to use

Solid plans

Tempting prices with initial discounts 

Hatching Cloud 
DreamHost
DreamHost makes cloud computing accessible to anyone. Dreamhost cloud computing services include cloud computing and cloud object storage.
You can run it based on Linux, BSD, or Windows in a serverless environment based on SSD storage and next-gen processors. 
The plans start from as little as $2.50 and the highest priced one is $100. Unmetered bandwidth to 16GB of RAM, 4 CPU cores, and a free SSL security certificate. 
Key Features:
Open-source platform 

Powerful hardware

Computing and storage options

Free backups available 
CloudOye
CloudOye offers a diverse range of cloud products like Cloud storage, cloud load balancers, cloud database, cloud backup, and more. The hosting service provider has an impressively broad and expanding client base as the public cloud is designed to meet important business objectives. They make the management of public cloud hosting servers easy with a self-service, friendly portal. Operations can be run using a browser or mobile application. 
Key Features:
Flexible billing

Auto-scaling

Security

High-performance storage

Disaster recovery

Redundant storage

VM template library
Inmotion Hosting
Inmotion provides a web hosting solution to build the website. It also provides marketing design support. It provides services for maintenance & security, SEO, and Marketing Guidance. Shared hosting services are offered for static websites, content management systems that are database-driven, and custom applications.
Key Features:
Free website transfer

Free Inhouse WordPress migration tool

SSD drives on all plans

Free CDN (150+ server locations)

Inhouse caching 

AI server monitoring system

Auto updates
Hostinger
This is a versatile platform allowing you to focus on your business. Auto-managed and powerful, the cloud service utilizes the latest technology to deliver redundancy, account isolation, and performance. The Hostinger system administrators take care of the updates and maintenance for optimizing the online presence. 
Key Features:
Ample resource allocation

daily backups

Free dedicated IP, SSL, Domain

Integrated Caching 

LVE Containers

30 days money-back guarantee



A2 Hosting
Plans to Consider:
Shared Hosting $3.00 monthly

WordPress hosting $3.00 monthly

Managed VPS hosting $25.04 monthly

Managed Dedicated hosting $141.34 monthly

Reseller hosting $13.22 monthly
Considered as the fastest web hosting service providers, A2 Hosting was launched in 2001 in Ann Arbor, MI. The turbo servers give users a free 20x page load time which is a major Google ranking factor. 
Website speed no just affects the tanking but also the bounce rate, on-page time, and conversion rate. It offers Linux and Windows-based servers, SSD caching, CDN, and SSL for all the plans. There are a few plans that cater to uptime monitoring and regular backups while others offer malware scanning and automatic patching. 
A2 Hosting delivers managed hosting service 'HostGuard'. The subscribers have access to a 24/7/365 "Guru Crew" support team that manages the network, hardware, software, and security. You also get a solid 30-day money-back guarantee.
iPage
Plans to Consider
Shared Hosting $1.99 monthly

WordPress hosting $3.75 monthly

VPS hosting $19.99 monthly

Dedicated server $119.99 monthly

Cloud hosting $9.99 monthly
Started in 1998, iPage hosts over a million websites. This is a US-based hosting provider that has two data centers in the US that operate the entire global business. The average uptime of iPage is 99.97 percent with a loading speed of around 787 ms.
Key Features:
24/7/365 support services

30-day money-back guarantee

Easy WordPress install

Ecommerce functionality

Site analytics
One of the most noticeable features is the inexpensive shared hosting service.
iPage doesn't claim to offer unlimited bandwidth. But low-end hosting plans don't require a tremendous amount of traffic capacity. If you are looking forward to a surge, connect with the company and it will help you out.
You get a bunch of freebies even in the lowest-priced plans. It gives $100 in ad credits both for Google and Bing along with free SiteLock web security.
The best feature is its 24/7 telephone customer support and lives chat offering while you also get a 30-day guarantee on top of its low price.
MochaHost
Plans to Consider:
Web hosting $1.95 monthly

WordPress hosting $2.48 monthly

VPS hosting $7.98 monthly

Dedicated hosting $18.99 monthly

Reseller hosting $9.87 monthly
This company is exclusively customer-centric and the prices of the plans don't balloon once you have opted for a plan. What's more? You get a lifetime price-lock guarantee.
Key Features:
180-day money-back guarantee

Free website builder

100% uptime

Enterprise data centers

Lifetime free domain name
As far as customer support is concerned, you get 24/7 customer support inclusive of 24/7 toll-free callback phone support. You also get a free domain name and SSL certificates if you are a MochaHost customer. There are 500 free templates available that will custom-design your website and also site migration service. Most of the plans are e-commerce ready to have shopping cart software.
For serious business-oriented customers, you get a comprehensive range of VPS and cloud hosting. You get Java Tomcat hosting including shared and private JVMs and Java VPS offerings.
Kinsta
Plans to Consider:
Shared hosting $1.95 monthly

WordPress hosting $2.48 monthly

VPS hosting $7.98 monthly

Cloud server $19 monthly

Reseller hosting $9.87 monthly
Launched in 2013 with the goal of creating the best WordPress hosting provider platform, the primary focus of this hosting service provider is to focus on working with WordPress experts to create hosting with speed, security, and stability setting industry standards.
Key Features:
Fully managed

Free migration

Ultimate speed

Google cloud platform

Daily backups
They have a powerful and easy to use dashboard where multiple sites are visible at once. You can also view analytic reports, manage users, and view resource usage.
If you own a substantial business and want to scale your hosting as you grow, you have a tier of 10 different plans. The total number of websites are increased, also SSD storage, and monthly visitors.
All the plans have free unlimited migration from several different hosts, automatic daily backups, manual backup points, 24/7 support, and there is a white-labeled cache plugin.