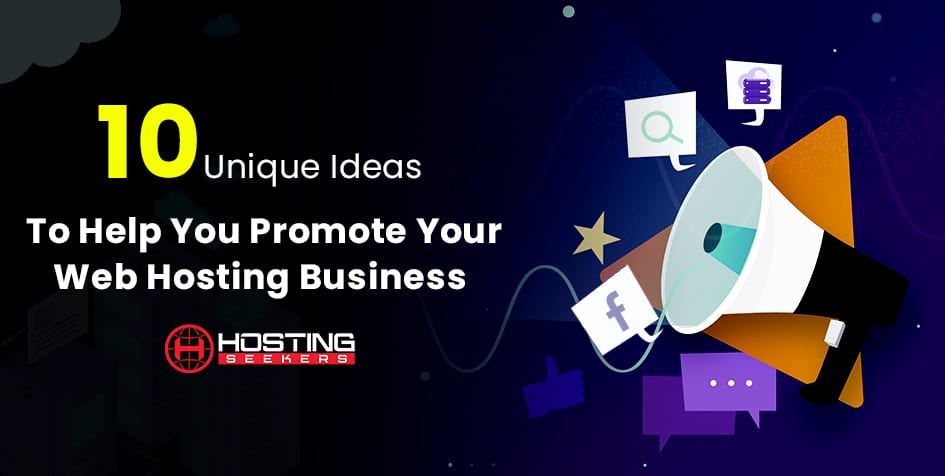 10 Smart Tips To Promote Your Web Hosting Business | 2021
IT
May 13th 2021
Why Do We Need to Promote a Web Hosting Business?
The Internet has totally revolutionized our way of living and especially in this pandemic, it has become even harder to sell something or promote your business without being online.
When we have a web hosting company, it becomes our primary concern that how we are going to sell through our hosting business or promote it on the web.
Though it's completely true that the web hosting industry is being oversaturated these days, still there are ways to save your business by applying various ultimate tips to promote your web hosting business and increase your sales exponentially.
Find Out The Factors to Consider While Choosing a Web Host

In this technical guide, we will disclose some amazing tips that will help you to promote your web hosting business so that you can grab the right audience.
10 Proven Ways to Promote Your Web Hosting Business in 2021
Tip 1. Power Up Your Social Networks

Tip 2. Properly Optimize your website

Tip 3. Be Active on Hosting Forums

Tip 4. Create Strong Backlinks

Tip 5. Post Press Releases

Tip 6. Send Email Newsletters

Tip 7. Try Paid Promotion

Tip 8. Offer irresistible Discounts

Tip 9.  Actively Communicate to Your Network

Tip 10. Respond appropriately to negative comments
In the subsequent section, we will elaborate on each tip and show you the actual ways to grow your web hosting business amazingly.
Before that, you must know some of the top Web Hosting Trends of 2021.
Tip 1. Power Up Your Social Networks
Today social media is everything and most of your audience is active there, So, it's important to promote your business on all the social networks and create a proper social media strategy for the same. Social media is the absolute right place to promote and show what your hosting business has to offer.
Tip 2. Properly Optimize Your Website
Choosing between multiple web hosting service providers is really complex and somehow if you have accomplished this and want to increase the ranking of your business then it's necessary to optimize all the content of your website including meta tags, alt tags, internal linking structure, and other SEO parameters so that Google can offer a guaranteed user experience to your clients.
Tip 3. Be Active on Hosting Forums
In order to make your business well-recognized all over the world, you must choose the best type of web hosting service and be active on all the platforms where your true audience and their problems lie. Forums related to hosting are one of such platforms and you must be active on all the hosting forums and offer informative solutions to the clients so that they actually feel your brand exists for the best.
Tip 4. Create Strong Backlinks
A backlink is something that appears on some other website and referring search engines and users to your website. Therefore, publishing your company's products or services on other recognized websites will signal Google that other related websites are linking to this resource so there is something important and it will also help to increase the domain authority of your web hosting business website.
Tip 5. Post Press Releases
Press releases have always been an amazing medium to grab the immediate attention of media and B2B users to your web hosting business. So, if your business launches something new, achieves something extraordinary, then announce it through press releases and your business will be recognized well by your target audience.
Tip 6. Send Email Newsletters
Email newsletters are also one of the most effective ways to connect your clients on a personal level. Through email campaigns, you can share your latest web hosting business news, products, or services with your customers and if they like what you have to offer, you will get guaranteed sales.
Tip 7. Try Paid Promotion
Creating a marketing campaign on social networks and search engines is a key step to promote your web hosting business. It is the best and fastest way to grab your audience. To save your paid promotion budget, you can run these campaigns only in specific target countries.
Tip 8. Offer Irresistible Discounts
Everyone loves offers and great discounts. So, you should also offer your audience genuine offers and amazing discounts so they can complete their journey from a visitor to a loyal customer. Also, while offering discounts, you must monitor your services and tech support quality.
Tip 9.  Actively Communicate to Your Network 
Isn't it annoying to not receive a prompt response? Hell, yeah. So the most common mistake we often repeat is that we neglect the communication with our visitors and equivalent we lose our followers. So it's important to read and reply to all the messages with an appropriate response.
Tip 10. Respond Appropriately to Negative Comments
Social media exposes all types of businesses and their downsides, so be prepared to deal with all sorts of negative comments diplomatically. If someone leaves an offensive comment on your network, it is recommended to resolve the case through private communication, and deleting such comments hides the real face of your business. Therefore, reply intelligently and professionally – always.
Recommended read: List of Best Magento Hosting Companies
Wrapping Things Up!
Promoting your web hosting business is one of the main challenges these days in front of all small or large-sized businesses. This is why we have represented some of the best strategies and tips to promote your web hosting business so that you can reach a large audience even without throwing so much of your money or investing a large number of resources. It is advised to follow all the tips we have disclosed here and let your business shine bright all around the world