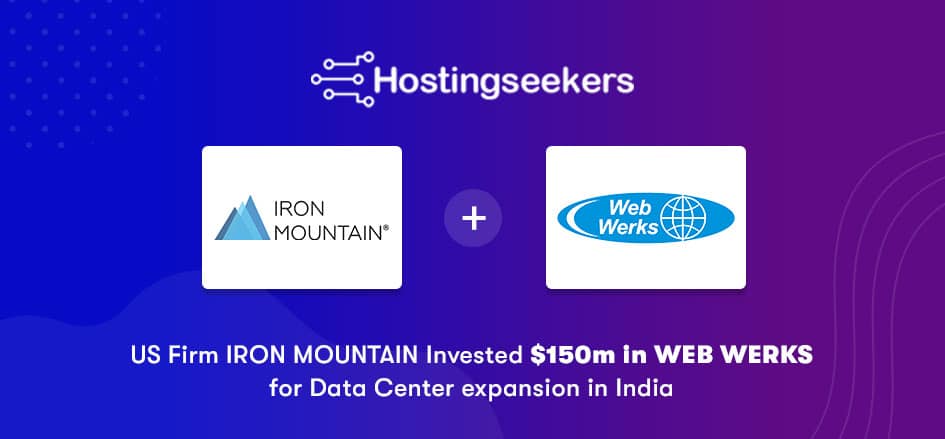 US Firm Iron Mountain Invested $150M in Web Werks to Drive Rapid Innovation at the Edge
Business News
March 1st 2021
In recent months, the COVID-19 pandemic has overturned many lives and businesses on an unprecedented scale, which has increased the adoption and use of cloud services. To fulfill the rising demand for data centers, Iron Mountain joined forces with Web Werks, one of India's leading independent data center providers.
Iron Mountain's joint venture agreement with Web Werks' founders Nikhil Rathi (CEO) and Nishant Rathi (Director) will solidify and accelerate data centers expansion across different Indian cities, more specifically Chennai, Pune, and Delhi NCR.
Summary: Iron Mountain will invest $150 Million in primary equity into Web Werks for the next two years to accelerate its geographic and digital expansion across different Indian cities. The first phase of the transaction will be closed within the next 90 days, subject to customary closing conditions and termination rights.
Web Werks, India's most trusted Tier III Data Center Providers Company recently announced its strategic association with Iron Mountain Inc. (NYSE: IRM), which will invest US$150 Million to expand its Data Center footprints to India.
Iron Mountain will be the majority stakeholder in the venture. This business investment will allow Web Werks to escalate its operations to its existing markets and later expand to Hyderabad, Chennai, and Bangalore. Investing in Web Werks will expand the support for Iron Mountain's existing hyper-scale, network, and enterprise clients and help the company to grow exponentially in the pan-India region.
Michael Goh, General Manager Asia Pacific at Iron Mountain Data Centers quoted "Right now we have 15 data centers and 6000+ Servers globally with the best-in-class service support and uptime. We aim to expand our digital footprints geographically and Asia is one of our target markets as it is predicted to grow tremendously in the next five years. Since Iron Mountain has a single data center in Asia, so India is our first priority to cover as the demand from this specific region is very high because of fewer resources."  
Today, India is one of the largest telecom markets in the globe, and according to a recent study by JLL, the Colocation Data Center market size in India is expected to grow from 375MW in H1 2020 to 1,078MW by 2025, a CAGR of 20% registration for sure.
A recent study was done by  Global Data Centre Colocation & Interconnection, according to which Asia will account for more than half of the global colocation market by the year 2025 and will be driven by the major emerging markets like India.
"We are always committed to delivering the best services to meet the business requirements and this investment will definitely bring high growth and good returns to the global market. Right now, the Indian Data Center market is growing rapidly and we are thrilled to be an early mover to supply the services in the areas with high demand and low supply. We are pleased to support Web Werks for continuous growth and success. Moreover, excited to provide Iron Mountain data center existing customers access to this rising marketplace." stated Mark Kidd, Executive Vice President & General Manager of Iron Mountain Inc. (NYSE: IRM).
In this Joint Venture Agreement, Deutsche Bank acted as the exclusive financial advisor to Web Werks on the fundraise, Khaitan & Co and Ernst & Young acted as the exclusive advisors to Web Werks.
About Iron Mountain
Iron Mountain Incorporated (NYSE: IRM), is the global leader for storage and information management services. The company is trusted by more than 225,000 firms all around the world with a real estate network of around 93 million square feet in 56 countries. Iron Mountain sheds and protects trillions of valued assets, like confidential business information, sensitive databases, and cultural artefacts. It provides solutions to secure stored information, digital transformation, cloud services, and much to mitigate cost and security risks.
About Web Werks
Web Werks operates 3 highly connected data centers one in Mumbai and others in Pune and Delhi NCR along with 3 global Points of Presence (POPs), with a combined footprint capability of 225,000 square feet. The company provides the access to a neutral interconnection ecosystem of carrier, content, and cloud service providers.
Web Werks is now listed on HostingSeekers. Hostingseekers is the fastest growing web hosting directory on the web covering more than 200 companies worldwide.
For more Web Hosting Business news, stay connected with Hostingseekers.