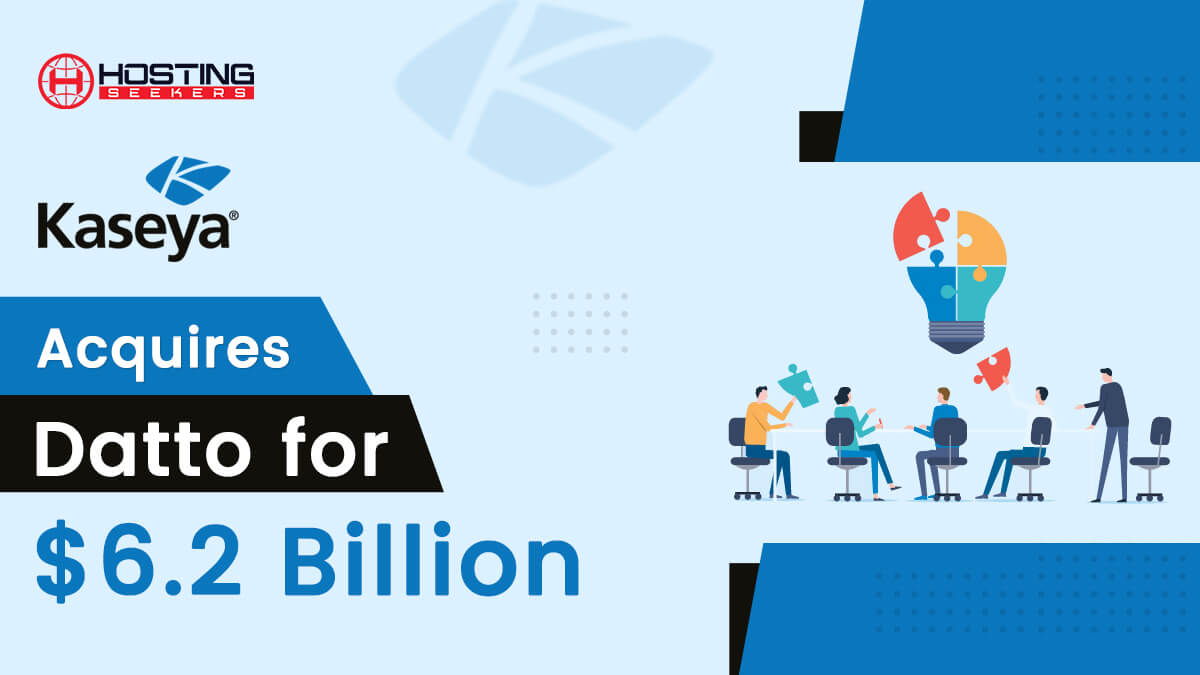 Kaseya to acquire Software maker Datto for $6.2 Billion
Business News
News
April 12th 2022
Datto is a global cybersecurity and cloud-based software solution provider, built for MSPs. The company now has entered into a definitive agreement for Kaseya to acquire Datto for $6.2 Billion. Kaseya is well known for providing unified IT management and security software for MSPs and SMBs.
Fred Voccola, Chief Executive Officer (CEO) at Kaseya, said, this is exciting news for Kaseya's global customers, as they can now expect to see more functional, innovative, and integrated solutions as a result of the purchase. Datto has a great commitment to its customers and employees. They have a focus and mission clear and that makes us a natural fit, that will help our valuable customers to reach a new level of success.
Mr. Voccola further added Kaseya is always known for its outstanding track record of retaining the brands and cultures of the companies we acquire that supercharges the product quality. We are very excited to experience what lies for us – Kaseya and Datto together will serve the best service to our customers.
The all-cash purchase is financed by an equity consortium led by Insight Partners, which also has participation from renowned investors like TPG Capital and Temasek.
---
Cloud Applications, Servers, and VMs:
Kaseya always provides best-in-class technology to help business owners to manage, secure, and backup their IT infrastructure. Kaseya provides various IT management solutions like IT Glue, RapidFire Tools, ID Agent, Spanning Cloud Apps, RocketCyber, Graphus, TruMethods, and Unitrends. The company is headquartered in Miami, Florida, and is privately held that has a presence in over 20 countries.
MSPs will gain cyber resilience, efficiency, and growth with Datto's Unified Continuity, Networking, Endpoint Management, and Business Management solutions. Datto's products are serving a worldwide ecosystem of MSP partners to provide service to more than one million organizations globally.
Datto is aimed to provide protection against costly downtime, and data loss in servers, virtual machines, and cloud servers. It also manages everywhere data lives, right from proactive dynamic detection and prevention to quick and flexible recovery from data loss and cyber disasters. The company has its headquarters in Norwalk, Connecticut, and operations in Australia, Canada, Chine, Denmark, Germany, Israel, Netherlands, Singapore, and the United Kingdom.
---
Transaction Completion:
The acquisition is scheduled to take place in the second half of 2022 and is subject to customary closing conditions, which also include the receipt of all necessary regulatory approvals. Along with unanimous board approval, shareholders that represent approx., 70% of Datto's issued and outstanding common stock have already been given their written permission for the transaction.
This deal won't require permission from any other Datto shareholders. Once the transaction is completed, Datto's common stock will no longer be listed on the New York Stock Exchange. So, till the time deal gets completed, the firm will continue to work fully separately.
---
Who are their Advisers?
Kaseya's legal advisory was Willkie Farr & Gallagher LLP, and their financial advisor was Evercore.
Datto's legal advisors were Kirkland & Ellis LLP and financial consultants were Qatalyst Partners.
Some of the well-known players of the industry like Golub Capital, Blackstone Credit, Ares Management Credit Funds, Owl Rock Capital, Oak Hill Advisors, and Carlyle Global Credit are providing funding for this deal.
Financial legal consultants of Kaseya were Paul, Weiss, Rifkind, Wharton & Garrison LLP. Davis Polk & Wardwell LLP advised them of financial sources. The legal counsel of Temasek was Sullivan & Cromwell LLP.
---
If you enjoyed reading this news, you are surely going to cherish these too –
Trending Posts
Table of Contents Introduction What is WHMCS? What is The Cost o...

When it comes to upgrading or buying a new PC, choosing between AMD and Int...

In our today's blog, we will discuss Dell vs HP vs Lenovo to help you choos...