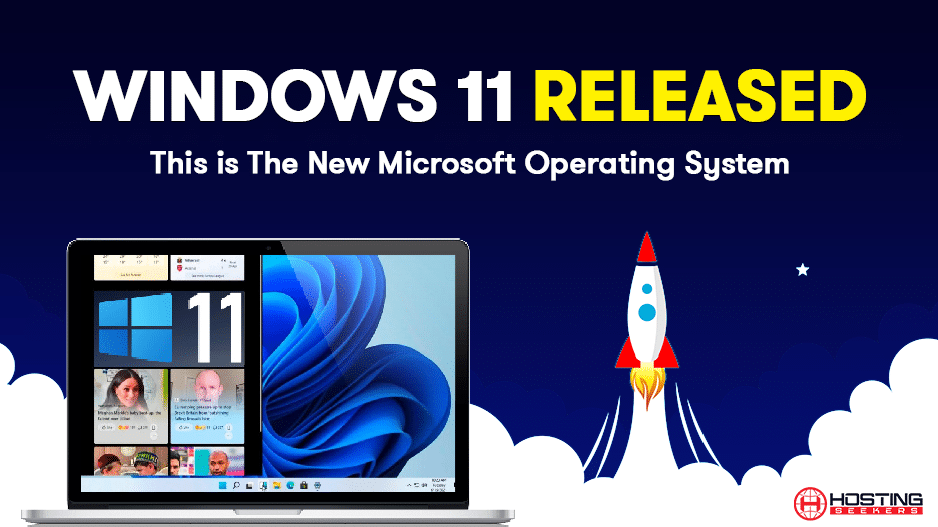 Microsoft Windows 11 Launched Officially | You Must Know About It
Business News
Event News
June 25th 2021
Windows 11 Officially Released! What Is In Store For You?
This Thursday Microsoft has revealed its new Windows 11 operating system, the first major update that came after six years of launching Windows 10. All the PCs operating on Windows version 10 will be able to update it in late 2021 or early 2022 (for free).
Microsoft says that Windows 11 will seem different from Windows 10 and will be much faster as compared to prior Windows versions.
---
Everything Microsoft Announced About The New Launch
Microsoft has revealed a completely new evolution in its operating system, which it baptized as Windows 11. The new Windows version presents a renewed design with a multitasking function to assign different measurements and shapes to your windows. To some extent, the redesigned Windows 11 brings Microsoft closer to its competitor in the market for computer OS, Apple, whose UI already has many of the features that the Redmond firm now adopts.
Microsoft has enhanced almost everything and optimized Windows 11 for better productivity. Now, users can share something from mobile to computer in a single touch. Talking about graphical changes, the start menu is shuttle adapted to every user and you will get several new icons, returning widgets, floating menus, and rounded corners.
The Lives Tiles are gone and the Taskbar becomes centered. Windows 11 relocated the Start button and it will use Cloud and Microsoft 365 to display recent files regardless of platform or device one has seen them on before, even if the files were opened on iOS or Android device.
---
Do you know?
CDN Fastly Temporary Service Failure Crippled Major Websites Worldwide
---
Top Windows 11 Features That You Never Had Before
New Start menu and taskbar design

Lots of scope for customization in widgets

Snap groups to set up your screen as you want

Full integration with Microsoft Teams and Xbox

Third-party apps can use their own payment systems 

A more congruent, rounded, and minimalist poster design

Automatic allocation of spaces on the screen

Touch device, pen, and voice support enhancements

Much cleaner and more harmonious appearance
During the Windows 11 Launch Event, Microsoft Chief Product Officer, Panos Panay quoted "Our sole aim behind the redesigned Windows 11 look is to make you feel incredibly calm and deliver you a next-level user experience. At the same time, our Windows team has worked greatly to make everything simpler and faster for you."

Panay added, "Windows updates are supposed to be 40% faster, however, the starting of your machine and browning experience should feel much faster, and Windows 11 is here to make all it happen".
---

Other Good Things Windows 11 Has Presented To Its Users
Apart from all the highlights, Windows 11, the successor to Windows 10 has so much more to offer. For instance:
Windows 11 titles as the most secure platform in Microsoft's history

All the browsers will work faster on this operating system

Windows 11 will be highly Direct 12x compatible

Microsoft Store is completely redesigned for ultimate user experience

Android users can install and open native Apps in Windows 11 (in an open platform)
The words CEO of Microsoft, Satya Nadella:
"Windows 11 is one of the most important updates to Windows of the last decade and so the expectations of users were in high gear. That's why Microsoft has presented Windows 11 on the table with an agile and competitive system. We want developers to have an opportunity to develop their own platform on Windows 11 and unleash the innovation inherent in each of us."
---
Windows 11 Outlook
Microsoft's next-generation operating system was launched to the world, through a 45-minute presentation and pointed out several characteristics of its operation as a platform. The company indications have shown that Windows 11 will be available as a free update for new and existing PCs. It is scheduled to begin in late 2021 (nearly Christmas) and will continue through 2022. The new Windows OS makes everything super fast and comprises thousands of smart features so that the world can experience a completely revolutionized windows experience.
---
Loved It?
Here is How to Download, Install & Upgrade to Windows 11
Trending Posts
Table of Contents Introduction What is WHMCS? What is the Cost o...

Summary:  SSD vs SAS vs SATA drives in detail to determine which of these t...

In our today's blog, we will discuss Dell vs HP vs Lenovo to help you choos...