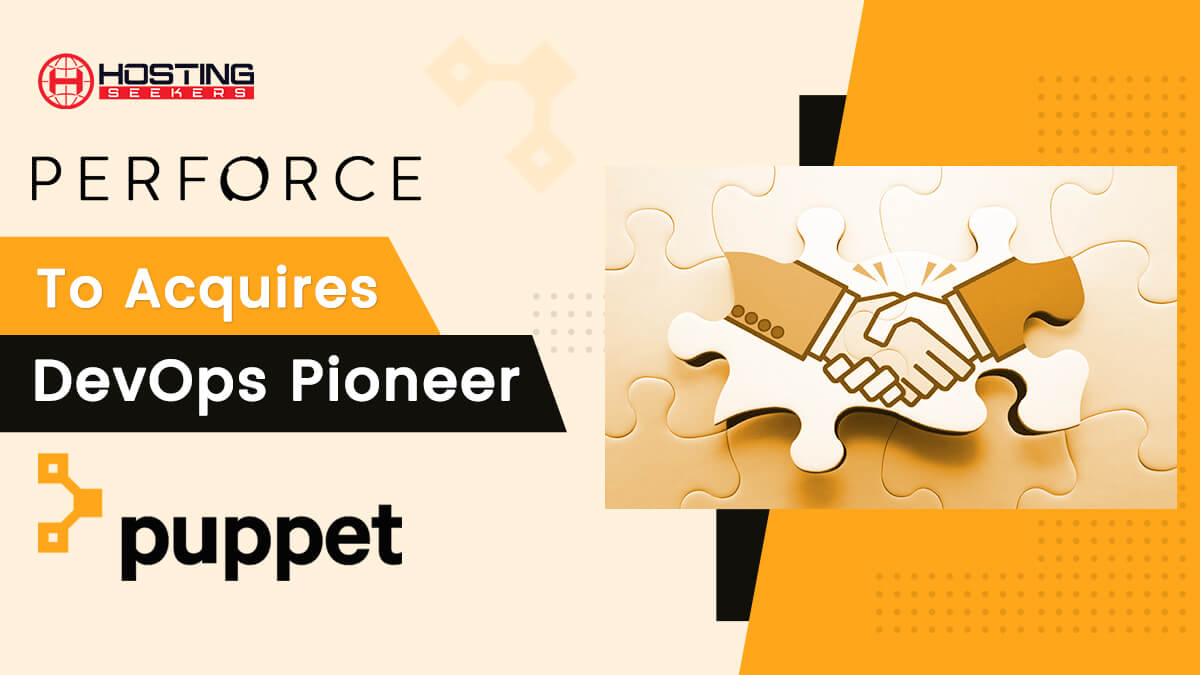 DevOps Blockbuster: Perforce Acquires DevOps Pioneer Puppet
Business News
News
April 13th 2022
Puppet is an infrastructure automation software platform that allows its customers to update, distribute, monitor, and protect software across physical and virtual servers. The company is now acquired by Perforce Software. Perforce Software company is backed by Francisco Partners and Clearlake Capital Group. The monetary value of the acquisition is not yet disclosed.
Puppet's solutions is well known for helping businesses with their digital transformation journeys along with increasing efficiency, reducing errors, improving security, and speeding up software delivery for DevOps teams. Puppet is an early developer of the now-famous technology 'infrastructure-as-code'.
Puppet is an open-source and commercial solutions provider that has helped over 40,000 businesses. The company's infrastructure automation technology helps its customers to improve security posture, compliance, and business resiliency beyond the data center and into the cloud.
This acquisition is scheduled for the second half of 2022.
Mark Ties, Chief Executive Officer (CEO) at Perforce Software, said, this acquisition will expand our product offering range by adding new capabilities for enterprise DevOps teams to manage and secure their critical infrastructure. He further added along with Puppet we focus on providing access to a product portfolio to all our customers. This will enable them to drive innovation on a global scale. We are happy to welcome the Puppet team and will continue to offer the same level of customer support, services, and community as the Puppet has established in the market.
---
Complex Automation Issues will be Addressed:
Yvonne Wassenaar, Chief Executive Officer (CEO) at Puppet, said, the company is been working in the DevOps space for over 15 years with an aim to provide the best infrastructure-as-code and operations. Now going forward, we believe that enterprise customers are looking for strategic partners who can provide them with more breadth and depth across the entire DevOps lifecycle, which can easily be done by integrating Puppet into Perforce. At Perforce we believe to be positioned better to service the breadth of DevOps needs of our customers, while accelerating our own innovation to ensure that customers can deliver, operate, and automate their infrastructure at scale in data centers, across clouds, and out to the edge.
The addition to Puppet is Perforce's existing DevOps portfolio, which allows the company to maintain its emphasis on DevOps in order to scale and address some of the world's most complex automation issues. Puppet and Perforce Software together focus to provide solutions to some of the world's major enterprises from banks and technology sectors too. Together they will assist in driving innovation at their combined customer base, which includes 40 Fortune 50 organizations.
Evan Daar, Partner at Francisco Partners, and Sean Courtney, Senior Vice President at Clearlake, in a joint statement, claimed, that with our strategic acquisition, Perforce is positioned to capitalize on market tailwinds driving demand for IT infrastructure automation. The addition of Puppet will further enhance the capabilities that Perforce can offer to all its valued customers, which help them to drive continued momentum for the platform.
---
Backup by Investment Companies:
The main target of Clearlake Capital, founded in 2006, are various industries like technology, industrial, and consumer. The company at present manages more than $72 billion in assets, and its top investment principals include led or co-directed more than 300 transactions. The company has its operations in Santa Monica, California, with affiliates in Dallas, Texas, London, United Kingdom, and Dublin, Ireland.
Francisco Partners, which already has invested in more than 400 technology businesses since its inception over 20 years ago, makes it one of the most active and longstanding investors in the field.
---
If you enjoyed reading this news, you are surely going to cherish these too –
Trending Posts
Table of Contents Introduction What is WHMCS? What is The Cost o...

When it comes to upgrading or buying a new PC, choosing between AMD and Int...

In our today's blog, we will discuss Dell vs HP vs Lenovo to help you choos...