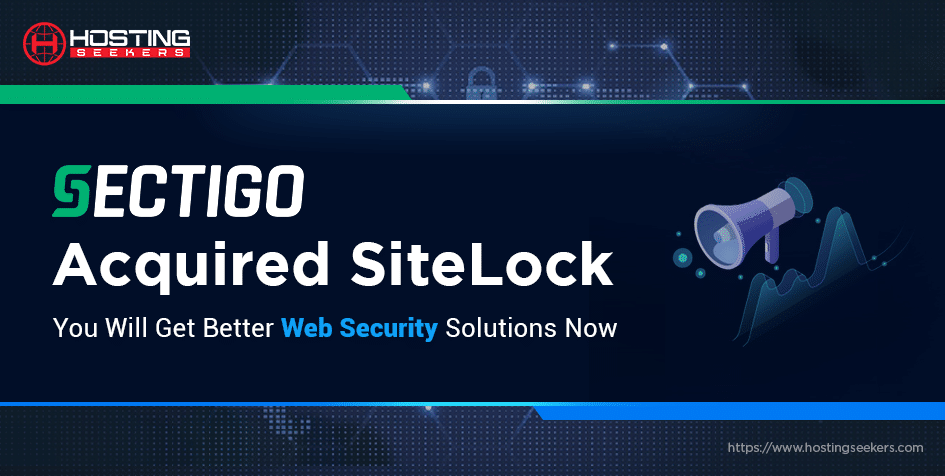 Sectigo Announced Acquisition of SiteLock to Provide Advanced Web Security Protection and Monitoring
Business News
May 6th 2021
ROSELAND, N.J., May 6, 2021, | Hostingseekers – Sectigo, a global leader in Digital Certificates and modern web security products, recently announced the acquisition of a global website security leader, SiteLock. This acquisition expands the product base, partner network, customers and reaches over 16 million websites secured by SiteLock. This strategic decision will solidify the market-leading position of Sectigo in the arena of Web Security.
Continuously increasing cyber-attacks and security threats in the era of remote work, demands advanced website security techniques and tools. Considering this, Sectigo acquired the world's best cybersecurity products developer SiteLock to keep websites safe and secured.
---
Do You Know DreamHost Also Has Announced A Strategic Partnership With MarketGoo?

---
Sectigo has been working hard in the Web Security platform which has grown its business enormously in the 2020 second half and the company has helped thousands of businesses to improve their security and ensured their business continuity.
According to a recent Web Security and Threat Report by Sectigo, 20% of Small or Medium-Sized businesses have experienced a data breach in the last year and 37% of breached websites claimed that they were using enough security measures in place at the time.
Michael Fowler, President of Partners and Channel, Sectigo stated "SiteLock is a well-known and highly trusted brand of website and network security. Right now businesses are facing frequent website attacks which are making them vulnerable and directly affecting their revenue. This is what inspired us to acquire the world's best-automated security solution and this will surely strengthen business's security on the web and will prove to be a better decision for the online industry."
In reply, Tom Serani, Chief Channel Officer, SiteLock quoted "As a world leader in cybersecurity solution providers for both large organizations and small businesses we offer the opportunity to grow their business exponentially. Now we are a part of Sectigo, a trusted web security solution provider, we will continue to develop and deliver the best world-class website security solutions to safeguard businesses all across the globe."

---
Baffle has raised $20M in an ongoing series of funding, led by Celesta Capital
---
About SiteLock
SiteLock is a global leader in modern cybersecurity solutions for web businesses.  The company offers cloud-based, advanced technical solutions to secure websites from major cybersecurity threats and attacks. SiteLock also offers reliable, cost-efficient, and accessible web security solutions to automate the detection of cyber threats and prevent web businesses from future cyberattacks.
About Sectigo
Sectigo is a leading cybersecurity solution provider offering TLS / SSL certificates, DevOps solutions, IoT, and PKI management to ensure multi-layered web security. The company is popular for its Certificate Authority (CA) and satisfied over 700,000 customers in past 20 years of business. Sectigo continuously partners with the world's famous cybersecurity organizations no matter if it's small or large and delivers automated public as well as private PKI solutions to prevent web servers, websites, and applications.
---
Related: European Environment Agency Colocated In DigiPlex's Copenhagen Site